By Dan Rubinstein
Photos by Chris Roussakis and Petr Maur
Prime Minister Justin Trudeau toured the Bayview Yards technology and entrepreneurship centre on April 25, meeting with the people behind several of the startups and organizations based in the renovated heritage building, including Prof. Tony Bailetti and Dan Craigen of Carleton's Global Cybersecurity Resource (GCR).
"We had a chance to talk to the Prime Minister about all of the cybersecurity work that we're doing," said Bailetti, the director of Carleton's Technology Innovation Management (TIM) program, who is cross-appointed to the Sprott School of Business and the Department of Systems and Computer Engineering.
"He was very positive about Carleton's role in the entrepreneurship and innovation community, and very supportive of what we're doing."
Trudeau was shown a prototype "canary," a sensor device that can be installed in a company's server room to detect intrusions, such as a malware attack.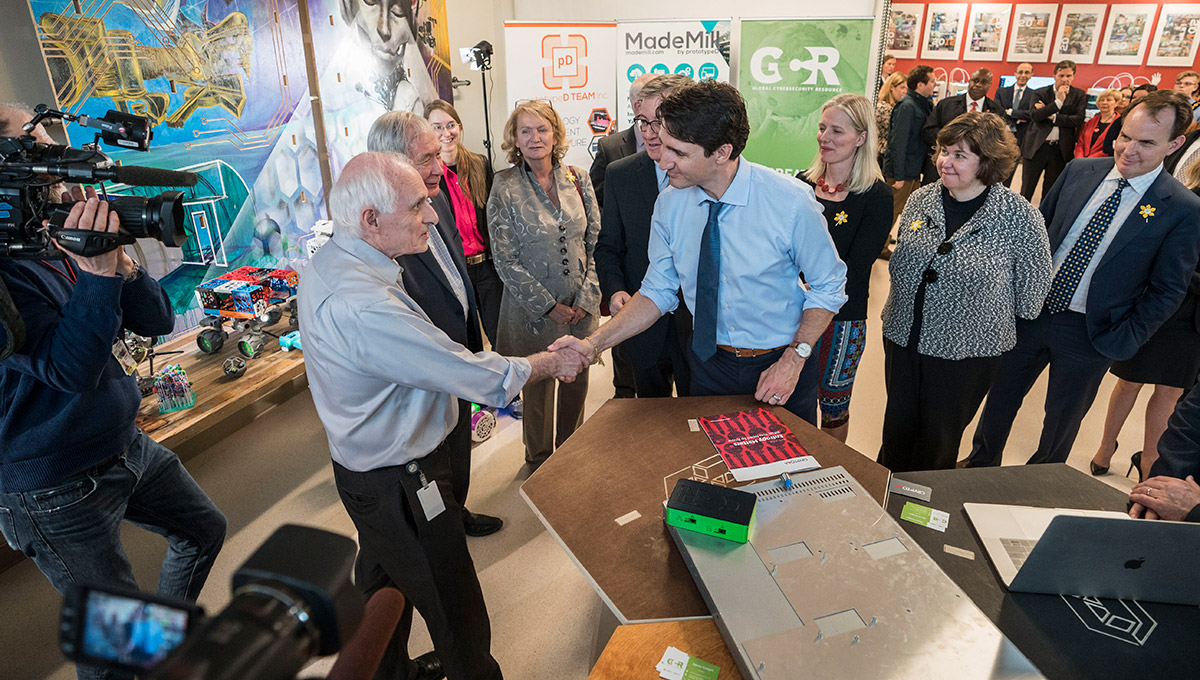 A Local Cybersecurity Partnership with Global Implications
The device was developed by the GCR and put together onsite at Bayview Yards in the MadeMill makerspace. More than a dozen Ottawa-area companies have joined a pilot to test the canary through a partnership with the Barrhaven Business Improvement Area, and others are poised to sign on to the trial.
"We have worked very closely with startups such as Crypto4A to help them build their businesses," said Bailetti. "These companies have benefited from our cybersecurity expertise and are good examples of how Invest Ottawa, the GCR and MadeMill have helped companies move forward with their programs.
"Carleton is a player in terms of entrepreneurship and cybersecurity. I'm very pleased that we were able to showcase some of our strengths."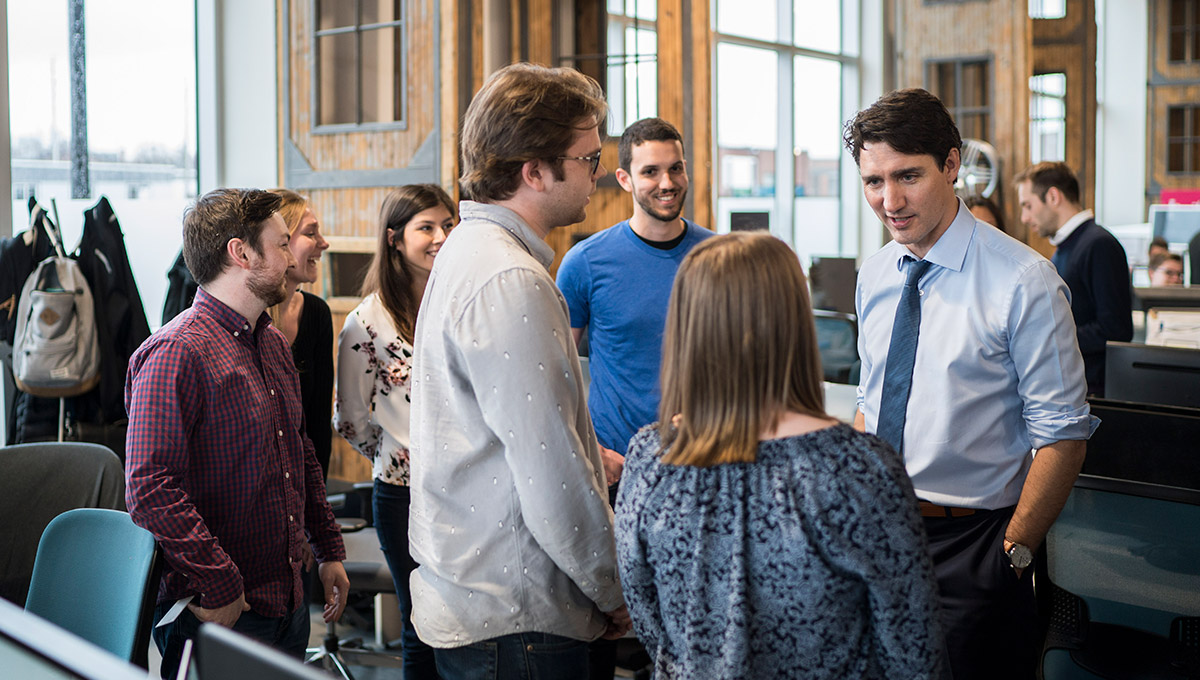 Tackling Cybersecurity Challenges
Funded by $3 million over two years from the Federal Economic Development Agency for Southern Ontario's Investing in Regional Diversification initiative, the GCR is using academic expertise to tackle cybersecurity challenges while providing students and recent graduates with the educational experiences they need to become successful in the tech sector.
"It was great to have an opportunity to discuss what we're doing with the Prime Minister," said Craigen, director of the GCR. "He understood what we're about and we got our message out.
"It was a good experience not only for the GCR, but also for Invest Ottawa and everybody else at Bayview Yards. The Prime Minister's visit demonstrates the importance that the federal government puts on these types of entrepreneurial enterprises."
Trudeau was invited to Bayview Yards by the economic development agency Invest Ottawa, which is headquartered in the building. He was joined by Minister of Environment and Climate Change Catherine McKenna, Kanata-Carleton MP Karen McCrimmon, Mayor Jim Watson and other officials.
"Bayview Yards is a leader in the early stages of the fourth industrial revolution," said Bailetti, "and our Carleton team is part of the leadership."