Prime Minister Justin Trudeau's state visit to India this week is focused on promoting the empowerment of women and girls, and on enhancing economic links between the two countries.
A pair of new programs launched by Carleton University's Canada-India Centre for Excellence (CICE) and its partners in India will help Canada work toward both of these goals.
The Canada-India Acceleration Program (CIAP) for female technology entrepreneurs will provide seed funding, access to business incubation services, mentorship from seasoned entrepreneurs, connections to large corporations and other support for 100 women-led tech startups — 50 from each country — over the next five years. It was announced during an event with Minister of Innovation, Science and Economic Development Navdeep Bains on Feb. 20 in Mumbai.
"Innovation is about finding solutions, and great ideas can come from anywhere and anyone," said Bains. "We cannot ignore half of our world's population as we strive to find solutions to the problems of today and create the jobs of tomorrow. Canadian companies are increasingly exploring India as a destination for investment, and we are proud to participate in a partnership that will help even more startups expand beyond Canada's borders."
"Carleton is proud to participate in this exciting program through the Canada-India Centre on campus," said Carleton President Alastair Summerlee.
"This program will benefit women entrepreneurs, which is not only in keeping with the federal government's commitment to empowering women entrepreneurs and supports the joint trade initiatives between Canada and India, but it also supports the commitment by Carleton to foster entrepreneurship."
Karen Schwartz, Carleton's acting Associate Vice-President (Research and International), participated in the announcement in Mumbai. Her office is the parent organization for the CICE, which jointly created the CIAP with the All India Council for Technical Education (AICTE), India's national regulator for a network of 10,500 colleges and institutes.
The AICTE and CICE signed a memorandum of understanding last year to develop entrepreneurship-oriented training and other bilateral opportunities for economic and social empowerment.
"CICE was established to enhance co-operation between Canada and India in science, technology, trade and policy," said Dr. Pradeep Merchant, chair of the CICE's governing council and a member of Carleton's Board of Governors. "CIAP will prepare Canadian women entrepreneurs to develop skill sets and expand their businesses into the vast Indian market. At the same time, we will invite Indian women entrepreneurs to enter the Canadian market with their unique businesses."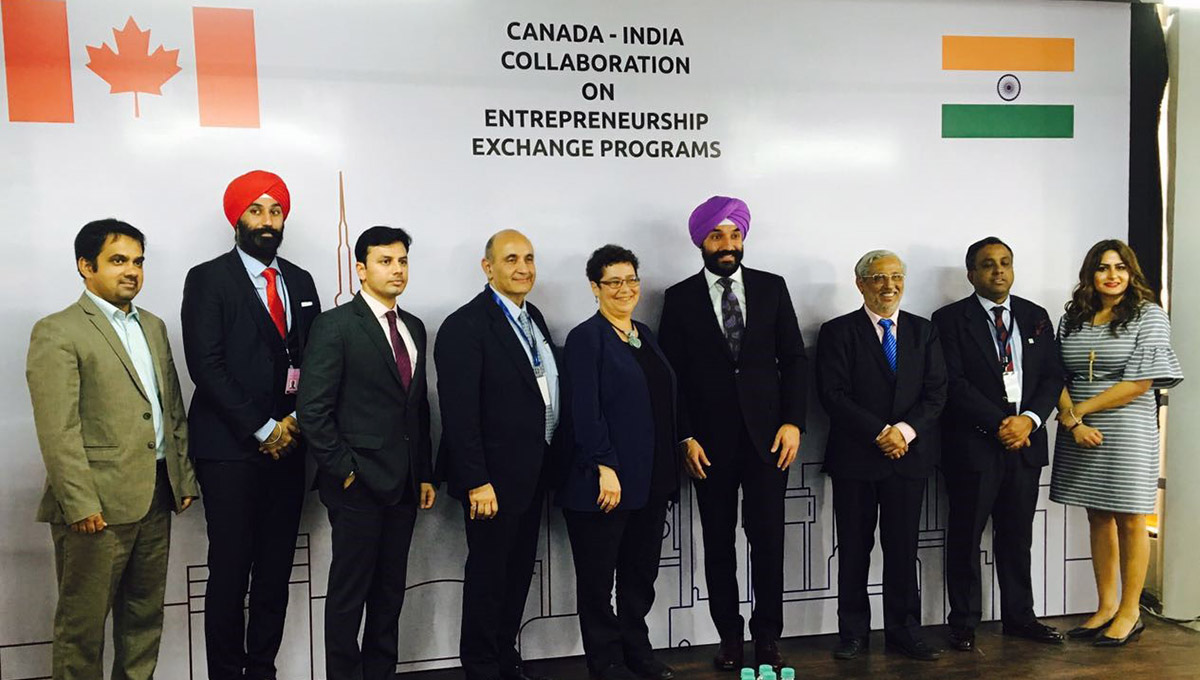 Carleton's strong track record on entrepreneurship
The new program will be modelled after Carleton's Technology Innovation Management (TIM) program and the university's Lead To Win business incubator, both of which have successful track records. The CICE will also consult with Carleton's Centre for Research and Education on Women and Work (CREWW) on leadership development for participants.
Carleton is contributing funds to the initiative and has been raising money outside the university, including $1 million from international investment fund NRI Startup India, which is focused on technology startups that are based in India or looking to do business in India.
Ten women-led tech startups from across Canada that are looking to enter the Indian market will be selected this spring for the first year's cohort. A similar process will identify 10 Indian companies seeking opportunities in Canada, concentrating on firms based in cities that aren't already saturated with startups.
"Promoting Canadian small businesses, especially those led by women, is a key part of CICE's mandate," said CICE Manager Harry Sharma.
"We are excited to be launching CIAP and making a large, emerging market like India more accessible to Canadian businesses."
"The government of India and AICTE are committed to supporting startups and creating a startup culture and ecosystem," said AICTE chairman Anil Sahasrabudhe. "India is developing into one of the largest startup systems in the world. Our emphasis has been on supporting women entrepreneurs and startups. We are confident that this engagement will go a long way to creating new avenues of growth, better collaboration, jobs for youth and developing a strong entrepreneurial culture in India."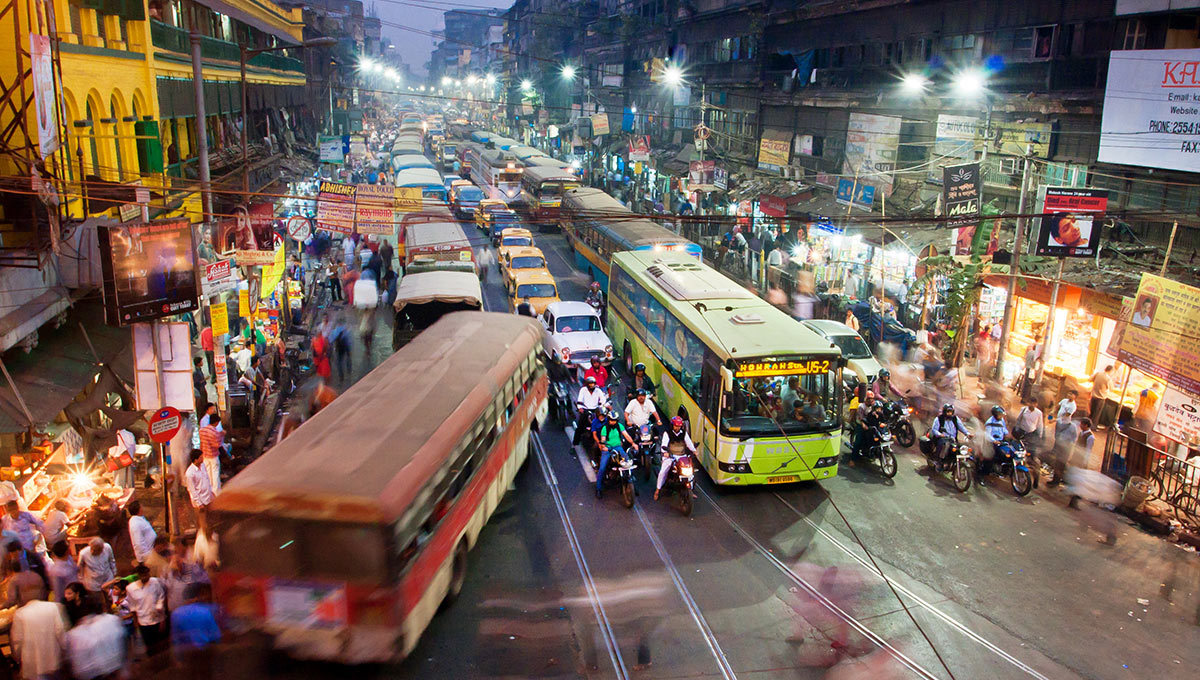 Training city planners for India's Smart Cities Mission
The Prime Minister's trip to India also cemented the Canada-India Smart Cities Centre of Excellence for Capacity Building (CI-SCECB) project, which will tap into Carleton's expertise in areas such as wastewater treatment, urban infrastructure and municipal governance to train Indian city planners.
India is in the midst of a massive US$15 billion Smart Cities Mission to upgrade and modernize civic infrastructure in 100 cities and 500 smaller towns, but the project faces significant challenges in areas such as institutional capacity for planning and design, governance, and the legal expertise needed to negotiate complex contracts.
Through the CI-SCECB, Carleton's CICE will offer training programs in Ottawa for Indian planners and designers. These programs will leverage the university's existing capacity and networks of researchers associated with several different Carleton units, including the Centre for Urban Research and Education (CURE), the Carleton Urban Research Lab (C-URL) and Global Water Institute (GWI), as well as Mohamed Ibnkahla, who holds the NSERC/Cisco Senior Industrial Research Chair in Sensor Networks for the Internet of Things.
India's Smart Cities Mission represents a significant opportunity for Canadian companies and institutions, which can help with and benefit from both economic and social development. But a lack of capacity in India creates risks, which the CI-SCECB intends to alleviate by training 150 urban planners over the next three years and building platforms and tools for smart city planning, with support from at least 50 Canadian graduate and undergraduate students.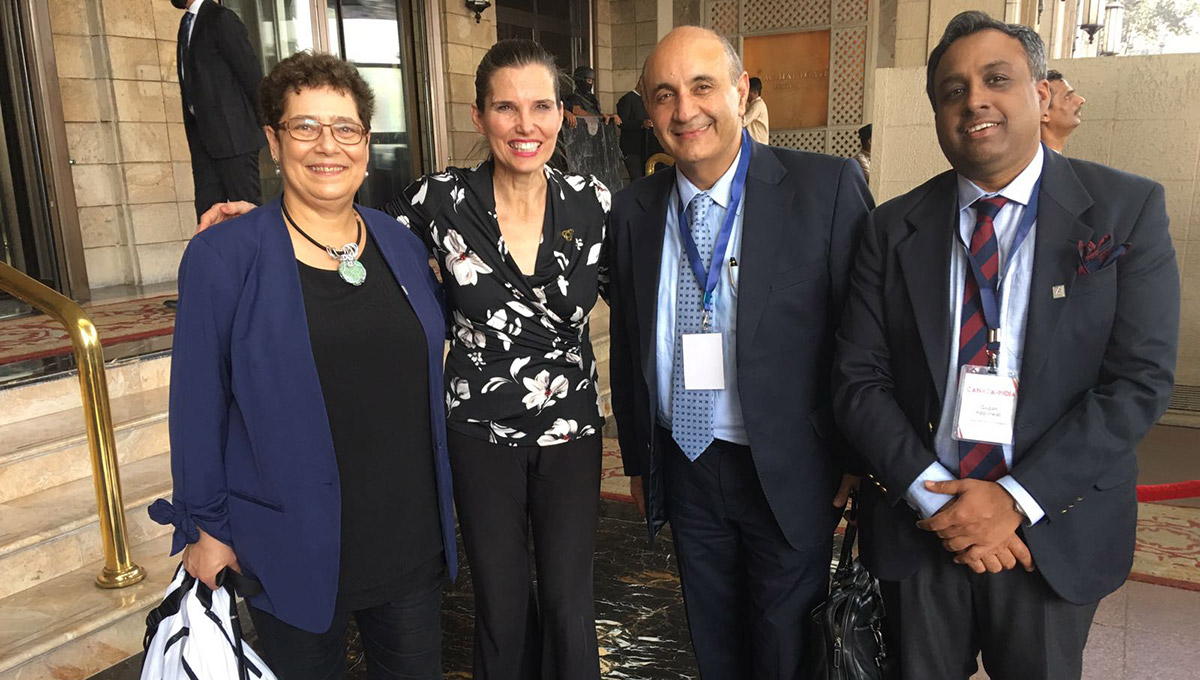 Female entrepreneurs a focus for PM Trudeau
"Canada and India share a special bond, and are linked by tremendous people-to-people connections," Trudeau said in a release before departing for India.
"The more than one million Canadians of Indian origin make the relationship between our two countries a truly special one. I look forward to … further strengthening the Canada-India friendship."
While in Mumbai, Trudeau participated in a women's leadership roundtable and met with a number of business executives to discuss how Canadians and Indians can benefit from new opportunities to cooperate in the global economy and promote women's economic empowerment.
According to the federal government, India is the fastest growing major economy in the world and a priority market for Canada. Two-way merchandise trade between the two countries was worth $8 billion in 2016, and bilateral trade in services reached $2.1 billion that year, a 1.9 per cent increase from 2015.
Canada is also a leading education destination for Indian students, and India is the second largest source of international students for Canada's universities, colleges and schools. Roughly 124,000 Indian students had a valid Canadian study permit in 2017, an increase of more than 60 per cent compared to 2016.
Establishing stronger connections to India is also a priority for Carleton and the eight-year-old CICE, which is at the forefront of the university's efforts to enhance its international reach.
The CIAP program is the biggest initiative undertaken by the CICE, and Carleton intends to pursue similar projects with partners in Africa and Brazil.