The construction progress on Carleton's new Health Sciences Building, a crane-topped concrete structure rising above the Steacie Building, may be the biggest change students notice when they return to campus for another academic year. But they will also be greeted by an array of new Carleton programs, services and faculty as the university's evolution continues in more subtle ways.
The top level of the seven-floor building has been poured and work is on schedule for completion in July 2017, with the first classes expected to be held inside next fall.
Other infrastructure changes over the summer include improvements to the Bronson Avenue-University Drive intersection, which has been re-engineered for better traffic flow onto and off campus, and renovations to the Glengarry House residence, Loeb Building and MacOdrum Library.
Beyond new construction, one of the changes that will impact students most significantly is the newly formed Centre for Student Academic Support (CSAS), a centralized collection of services designed to improve learning inside and outside the classroom.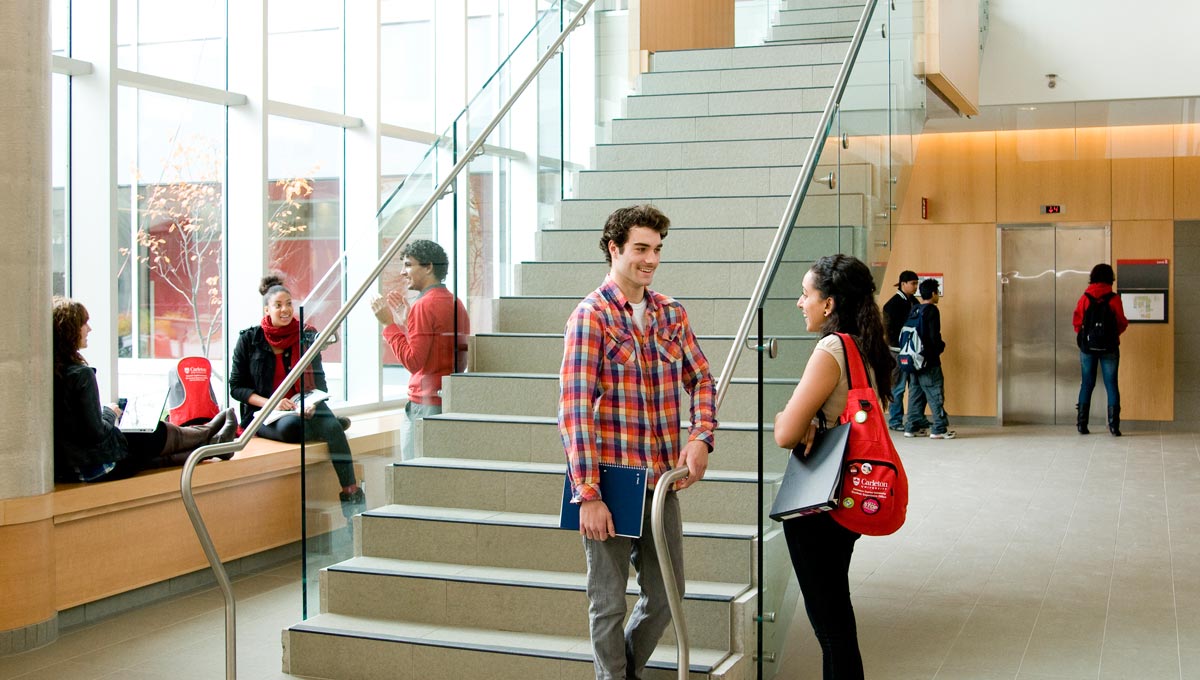 Bringing together Carleton's Learning Support Services, Writing Tutorial Service, the Bounce Back program that helps first-year students by assigning them to an upper-year mentor, Peer Assisted Study Sessions and Peer Assisted Subject Coaching initiatives, the CSAS will be better able to provide an integrated approach to academic skill development.
Any Carleton student who wants to improve their academic and writing abilities, develop effective study habits or receive help from a peer so they can better understand course material is encouraged to visit the centre's new collaborative learning space on the fourth floor of the library.
"As Carleton continues its efforts to enhance student success, I am pleased to highlight the new Centre for Student Academic Support," says Suzanne Blanchard, vice-president (Students and Enrolment) and University Registrar. "CSAS will provide students with updated tools, workshops and support to improve their academic success."
Carleton programs: new and
re-imagined choices for
undegraduate students
If necessary, students will be able to use these types of support services to help navigate through several Carleton programs that launch this fall.
Carleton now offers a Bachelor of Information Technology: Information Resource Management joint degree program with Algonquin College. The program will provide students with a broad understanding of information management, as well as specific capabilities in managing digital resources as they relate to research data, websites and social media.
The redesigned Bachelor of Communication and Media Studies (BCoMS), which replaces the Bachelor of Arts in Communication Studies, reflects a more dynamic approach to studying communication and media at Carleton during a time of rapid transformation and change.
"It's a re-imagined program," Josh Greenberg, director of the School of Journalism and Communication, says about the BCoMS. "The program has evolved because the media and communication environments, and the field as a whole, continues to change. Our major goal is to help students understand and navigate the increasingly networked and deeply integrated forms of communication and media that shape our politics, economies and cultures."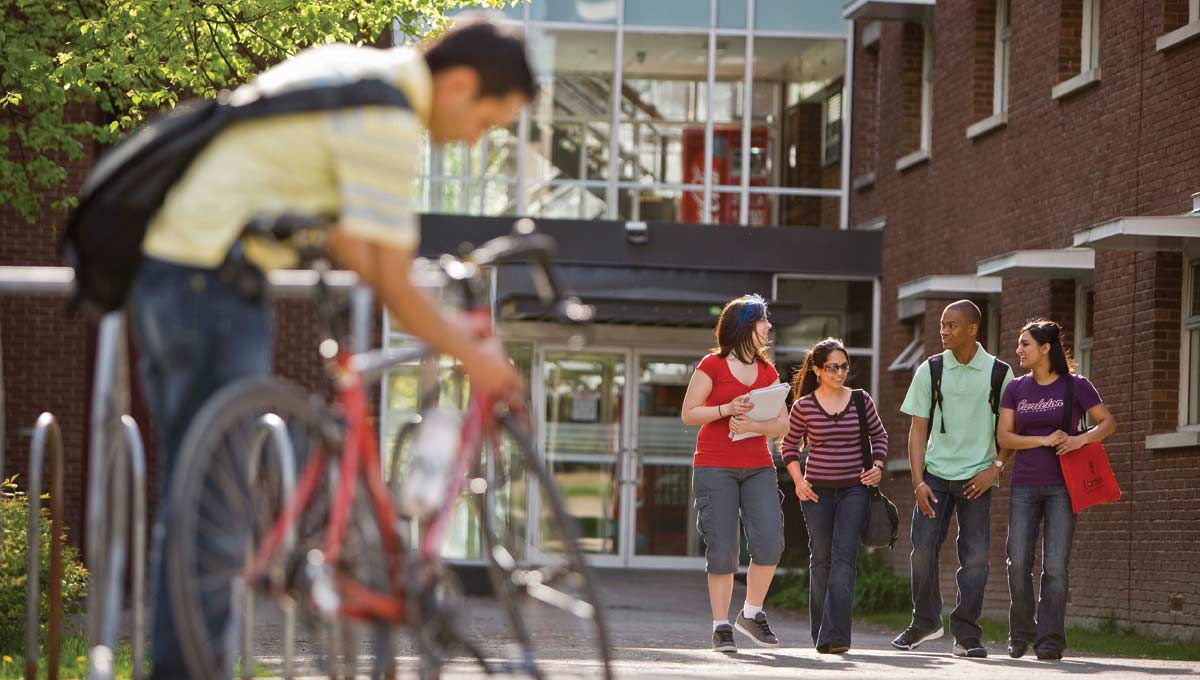 A provincially mandated review in 2013 was one of the key drivers of the program redesign. "It was an opportunity for us to take stock of what we do well, identify areas where we can improve, determine what new courses we should offer, and map a strategy for renewal and growth," explains Greenberg.
Moreover, the School has over the last couple years added several new professors who provide both complementary and unique takes on this ever-changing field, bringing expertise in open data, algorithms and software studies, creative labour, global activism, food and culture, visual media, and communication theory and history.
The introduction of a stand-alone program in communication and media studies has been very attractive to prospective students. Applications into the first year of the program are up by 70 percent.
More great options for graduate studies at Carleton
Graduate students also have more options to consider, including:
The Master of Entrepreneurship, a new degree stream in the Technology Innovation Management (TIM) program. This stream has a business focus, and while the other TIM degree streams (MEng/MASc) require a bachelor's degree in Engineering or Science, the MEnt is open to business graduates as well as science or engineering grads.
A Post-Baccalaureate Diploma in Accounting is open to graduates of any bachelor degree program in any discipline and delivered entirely online. This diploma provides the core accounting courses required for entry to the CPA (Certified Professional Accountant) professional education program or the Sprott Master of Accounting, both of which are pathways to achieving the CPA designation.
Master's students can now attain an MBA with a concentration in Finance and Economics, and an MA in Economics, with a concentration in Financial Economics, in just 20 months. More details are available here.
"Students in the MA/MBA pathway will graduate with two degrees in less time than it would take to pursue both degrees individually and save tuition while gaining valuable skills," says Lorraine Dyke, associate dean, MBA programs.
"This dual degree combines the theoretical and quantitative orientation of the Economics MA program with the MBA's focus on managerial applications and management skills," says Keir Armstrong, chair of the Department of Economics. "This double skill set will give graduates an important advantage when they enter the work world."
Carleton is also launching new master's and PhD programs in Information Technology that will provide students with the skills they need to succeed in a demanding and evolving field.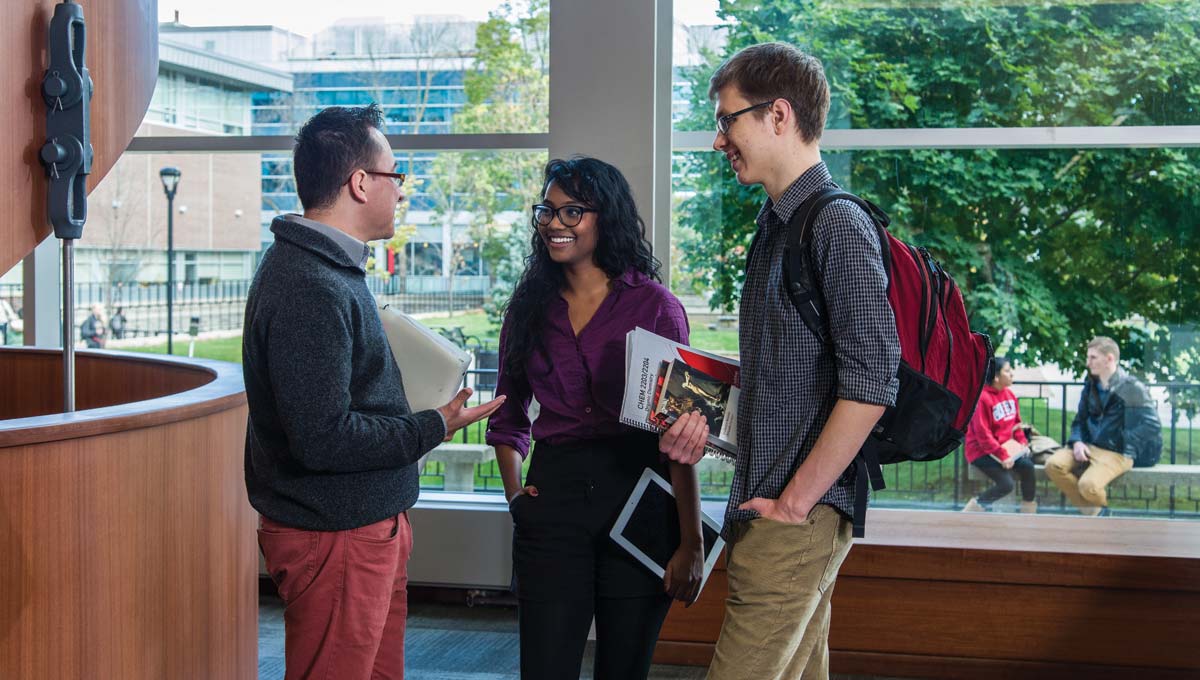 "These exciting new graduate programs build on the success of our unique Bachelor of Information Technology offered jointly by Carleton and Algonquin College and will provide a gateway for undergraduate students and information specialists already working in the field to gain a deeper understanding and a higher level of skills," says Anthony Whitehead, director of Carleton's School of Information Technology.
The master's degree consists of two programs: Network Technology (NET) and Digital Media (DM). Those pursuing the NET program will cover the design, management and operation of computer networks. They will develop research skills through courses and a project framework. The thesis-based DM program will focus on areas dealing with the development of content and technology for entertainment, education and communication.
"These programs will benefit from a continuing partnership with industry that has always been a key strength of our engineering and technology programs at Carleton," says Rafik Goubran, dean of the research-intensive Faculty of Engineering and Design. "Our graduates will be prepared to fill an expanding need, as job opportunities in new digital media and network solutions are rapidly growing in both the public and private sectors in Canada and globally."
Meanwhile, Carleton's Graduate Diploma in Public Policy and Program Evaluation (DPPPE) will now be offered exclusively online, in order to provide a more flexible delivery model to prospective students.
The need for evaluators who are able to work in domestic governments, international development agencies, consulting firms, business and non-profits is growing as pressure to demonstrate policy and program performance and impact is increasing. The DPPPE will prepare students for roles as evaluators and as managers of evaluation.
As well, an innovative team of academics in the soon-to-be officially renamed School of Indigenous and Canadian Studies at Carleton University are preparing for the launch of a new program in fall 2017 – the Bachelor of Arts (combined honours) program in Indigenous Studies.
It will offer Indigenous and non-Indigenous students the opportunity to study the historical and contemporary experiences of Indigenous people, both in North America and internationally. Modelled on the Algonquin "Mamiwininmowin" concept of "aditawazi nisoditadiwin" – walking in two worlds – the program will combine academic instruction with traditional Indigenous teaching practices.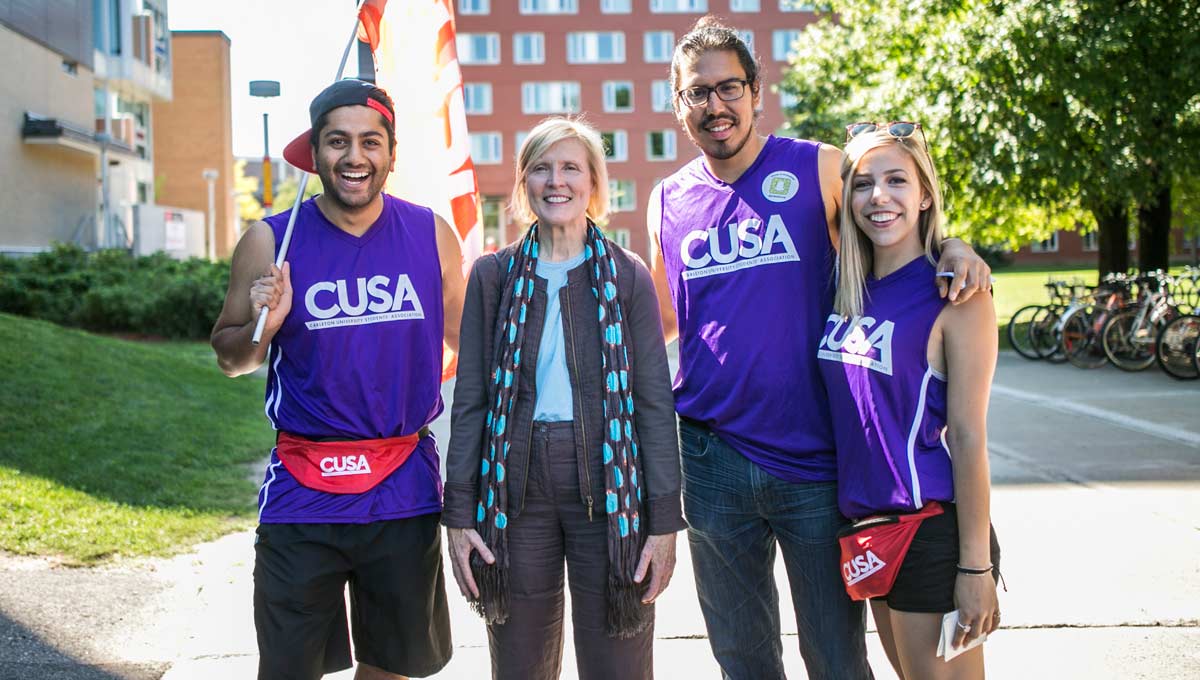 More than five dozen new faculty members join Carleton
With new courses come new faculty – more than five dozen this fall. Among the new faculty are:
International Business Prof. Frank Jiang, whose research focus combines corporate social responsibility and international business strategy.
Accounting Prof. Katherine Ruff, whose research focus is charity social performance reporting/social impact reporting.
Social Work Prof. Nimo Bokore, who looks at female war survivors and resettlement challenges.
Law and Legal Studies Prof. Umut Ozsu, whose research interests lie principally in the area of public international law.
Pablo Heidrich, who teaches in the Bachelor of Global and International Studies, is an international political economist who specializes in natural resources and development in Latin America, and international trade policymaking amid financial crises.
New Faculty of Arts and Social Sciences faculty to watch out for include Gunnar Iversen (Film Studies), Karen Herbert (Geography and Environmental Studies), Tonya Davidson (Sociology), and Xuan Thuy Nguyen (Child Studies).
From Intention to Action programs helps students better manage stress
Admission into Carleton's successful From Intention to Action (FITA) program, which helps students better manage stress and improve their academic performance, continues in September.
To participate in the unique and effective program, undergraduates or grad students must commit to meet one-on-one with a co-ordinator for an hour a week on 12 consecutive weeks. The co-ordinators are all staff members or master's-level interns trained in counselling.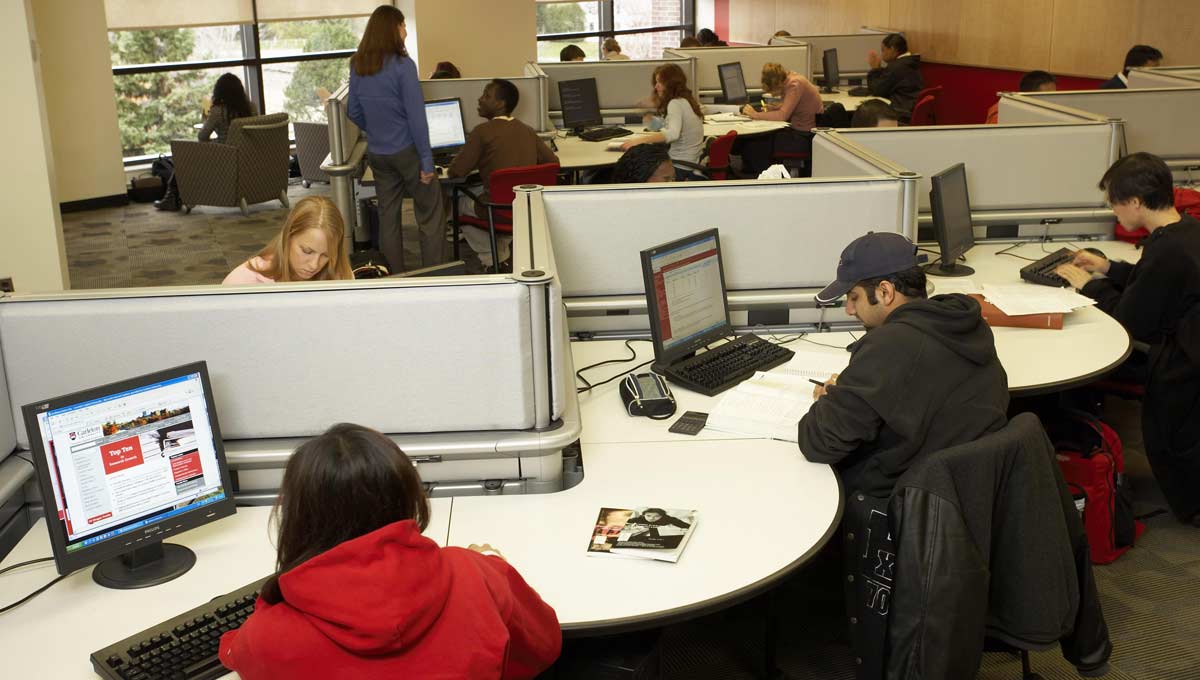 This fall, in concert with the university's Paul Menton Centre for Students with Disabilities (PMC), FITA will be piloting a new digital detox and physical fitness component. Students will pledge to unplug from social media and do something active for a certain amount of time each day or week.
Last year, the PMC's 25th anniversary, about 250 students were helped by FITA, and PMC Director Larry McCloskey expects similar enrollment this year.
Students with physical disabilities who use the PMC's services may want to check out six new pieces of accessible workout equipment installed in the Fitness Centre.
Funding for the equipment — which includes a chest press, seated rowing machine and wheelchair treadmill – came from a crowd-sourced fundraising effort through the Carleton Disability Awareness Centre, the university's Dedicated Access Fund and a federal accessibility awareness fund.
Carleton Ravens varsity teams ready for another strong season
In other news from Carleton's Department of Recreation and Athletics, longtime assistant Kwesi Loney was named the new head coach of the Ravens men's soccer team following the departure of Sandy Mackie, who served as the Ravens head coach for the past 24 seasons, and Fred Juett was appointed as the new head coach of the Ravens women's soccer team.
Four Carleton graduates, including slalom kayaker Michael Tayler, modern pentathlete Melanie McCann, sailor Erin Rafuse, sprint canoer Mark Oldershaw, and one current student, slalom canoer Cameron Smedley, competed for Canada at the Olympics in Rio.
Ravens rowers Anna Currie and Hunter Amesbury were named to Canada's 2016 FISU World Championship Rowing team and are competing in the World University Rowing Championships in early September in Poznan, Poland, while Nordic skier Carrington Pomeroy was selected to participate at the 2017 FISU Winter Games.
Several graduating Ravens have signed semi-pro or professional contracts, including women's soccer player Veronica Mazzella (Dayton Dutch Lions, Women's Premier Soccer League) and men's hockey players Joey West (HC Amiens, France), Mitch Zion (Brampton Beast, East Coast Hockey League) and Patrick Killeen (Ritten Sport, Italy).