Story and photos by Samphe Brulé
On a sunny, mid-July morning in Dawson City, Yukon, Carleton University Geography master's student Astrid Schetselaar hops into the passenger seat of a pickup truck and departs for a three-day drive up the Dempster Highway.
Schetselaar rides alongside Sandra MacDougall, managing engineer for the highway, which runs for 740 kilometres, from Dawson City to Inuvik, NWT. Every 50 or so kilometres, MacDougall throws on her hazards and pulls to the side of the road.
The women walk to the highway's edge and scramble into the ditch. A culvert directs surface water so it drains below the roadbed. After months of sitting in front of a computer, signing onto Zoom calls and retrieving data from the Yukon government's Transportation Engineering Branch, Schetselaar is finally seeing firsthand the infrastructure she's learned so much about.
Schetselaar's research quantifies the financial impact of climate change on highway infrastructure maintenance in the Yukon. The territory's highway network traverses continuous and discontinuous permafrost, and as ground temperatures rise, permafrost thaws and the surrounding infrastructure deteriorates, losing structural integrity.
It's an expensive problem that can have massive consequences for remote communities in the North, such as Inuvik and Tuktoyaktuk, that rely on road access.
This past summer, Schetselaar spent three weeks in the Yukon with a group of 10 Carleton master's students on a Northern Studies field course. Her classmates were working on projects in areas such as water management, digital knowledge keeping and food distribution, including a partnership in the Yukon village of Mayo with the First Nation of Na-Cho Nyak Dun, which has a long-term agreement with the university to collaborate on multidisciplinary research.
Carleton's Northern Studies program provides students with an opportunity to understand northern environments and societies through an interdisciplinary lens, culminating in an annual trip North. Students connect their classroom learning with applied research to develop expertise in the types of policies and programs that would benefit northern Canada.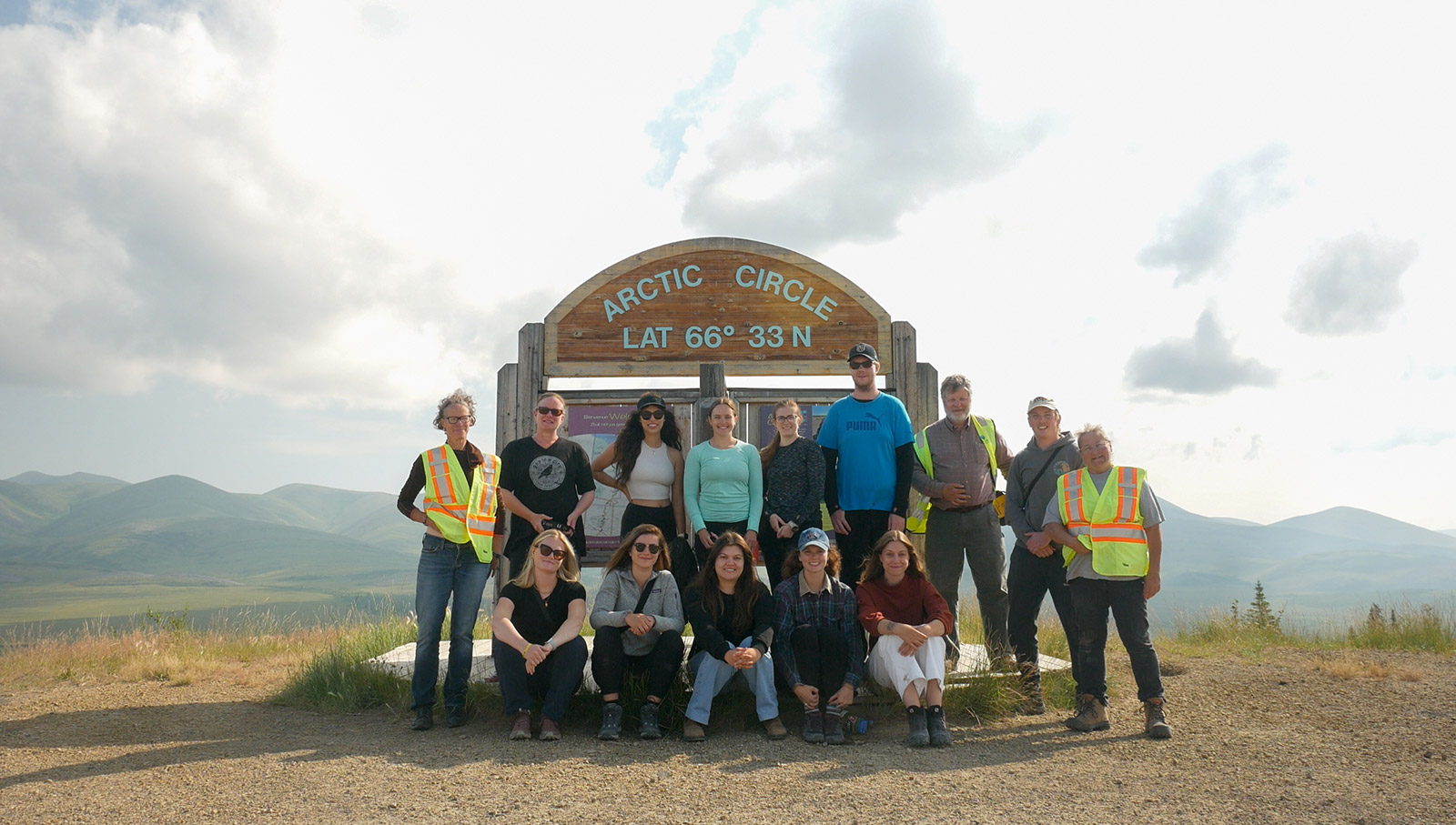 Women in STEM in the North
After nine hours on the road, Schetselaar and MacDougall, followed by a three-vehicle caravan carrying the rest of the Carleton cohort, arrive at the Eagle Plains Hotel, where road foreman Cathy Brais joins the group for dinner.
Brais runs the crew that repairs the highway and also serves as an ambulance driver and EMT. (She's wearing a T-shirt that reads, "I'm trained to save your life, not kiss your ass.")
At 9 a.m. the next morning, with Brais and MacDougall leading the way, the caravan pulls out for another full day of driving.
MacDougall and Brais are among the foremost experts on the Dempster Highway and are role models for women in science and engineering.
"My time with Sandra and Cathy brought much insight into how the North is able to maintain highway infrastructure to ensure safe and reliable connections between northern communities," says Schetselaar.
"It was also interesting to learn about the different issues that maintenance crews deal with to ensure safety for all users of the highway."
Schetselaar's supervisor is Geography and Environmental Studies Prof. Chris Burn, who also supervises the Northern Studies graduate program.
An internationally-renowned expert on permafrost thaw slumps — which occur when ice-rich permafrost thaws, rock and soil slide towards the highway and grassy plains give way to steep, muddy cliffs — Burn has travelled to the Mayo area every year for four decades.
"The field course gives our students direct experience of life in a small community in Canada's North," says Burn, "and an appreciation of the challenges that result from competition between environmental sustainability and industrial development."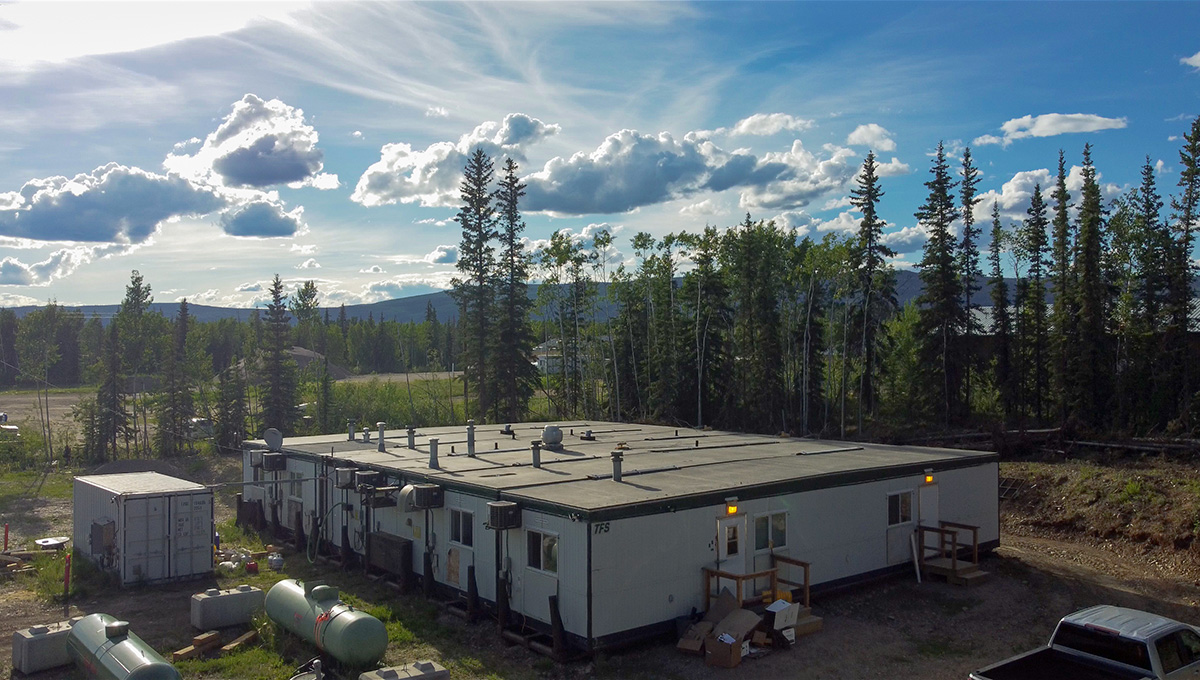 Learning About Culturally Appropriate Solutions
While Schetselaar's field work took place along the Dempster, other students spent their time in Mayo, learning from and collaborating with leaders like Na-Cho Nyak Dun Chief Simon Mervyn and the First Nation's implementation and governance manager, Adrienne Hill.
Students Elsy Willis and Carly Zulich conceptualized a detox team framework for alcohol addiction. Formal detox services are not currently available in Mayo, so they met with Elders and local healthcare workers to understand what a culturally appropriate approach to detox could look like.
In their final presentation to the Na-Cho Nyak Dun Council, Willis and Zulich outlined a patient-centred program led by locally-trained and trauma-informed Indigenous alcohol and drug counsellors.
The field course provided them with a unique perspective on healthcare access in the North.
"I knew I wanted to practise medicine, but this experience has cemented my passion for becoming a doctor in the North," says Willis.
"In order to truly address health, a plethora of healthcare options must be provided that are culturally rooted and address the social determinants of health.
"This field course has inspired me to ensure that the medical services I provide integrate these concepts," Willis continues, "to offer services that are relevant in the Northern context."
The Northern Studies trip affirmed the value of experiential education in anchoring students' learning.
"I was able to see firsthand how climate change has impacted the landscape," says Schetselaar.
"My experiences on this trip helped me appreciate the challenges Northerners face in the fight against climate change."