Growing up in Brampton, Ont., Charlene Theodore was an avid reader with endless curiosity about the world. Her family always kept her bookshelves stocked and encouraged her to develop a deeper understanding about history and social issues, which sparked her initial interest in law.
"Through my own reading and learning about Black history, I identified pretty early on that the laws in place at different areas in our collective history had been used as a tool of oppression for Black Canadians, Black people across the diaspora and Black women specifically," Theodore says.
"That same tool of oppression was also what we needed to fight that oppression and reverse those injustices," Theodore shares, noting that reading stories about people who were wrongfully convicted fueled a desire to help right those wrongs.
Ultimately, she says change comes down to legal advocacy, explaining how "lawyers have been at the foundation of every major chapter of social progress that we've had in this country, from pay equity to LGBTQ2+ rights."
Coming from a family of Ravens, she followed in their footsteps and enrolled in a double major in Law and Psychology at Carleton University.
"Coming from Toronto, Carleton is a wonderful place to go away and immerse yourself in your studies," Theodore says, highlighting the location in the nation's capital, the physical campus and Ottawa's connection to federal politics that made it a perfect choice for her.
Upon graduation, Theodore returned to Toronto to begin her career and worked full time for several years.
"Although my Carleton education equipped me well to get a rewarding job right out of school, I reminded myself that I've had this dream since I was 16 and not to let it pass me by," she explains.
She then made the decision to enrol in law school as a mature student, which led to a successful career as a workplace lawyer that took her from the African Canadian Legal Clinic to the Ontario Nurses' Association and the Ontario English Catholic Teachers Association.
Not Another Decade
In September 2020, Theodore was elected president of the Ontario Bar Association (OBA), becoming the first Black lawyer to hold the position in the organization's 114-year history.
"The fact that I assumed the role of president after the murder of George Floyd, in the midst of a global reckoning on anti-Black racism, not to mention a pandemic that was having a disproportionate impact on vulnerable and marginalized communities, made the existing responsibility carry more weight," says Theodore. She also recognized the opportunity within the social unrest to continue her work as a volunteer and an advocate to create real change.
Theodore began the position ready to support the profession through these challenging times with two groundbreaking initiatives. As many lawyers and firms are re-imagining their workplaces, Theodore's Work that Works initiative focuses on providing the ideas, tools and know-how to build productive, profitable, modern, healthy and inclusive work environments for lawyers.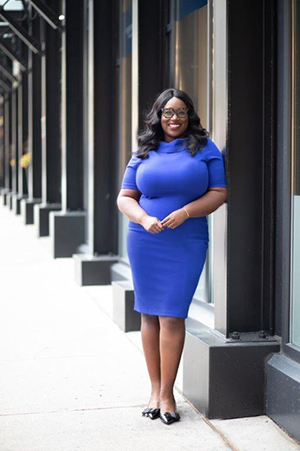 "I feel really fortunate to be in a position to help lead critical change in concert with our 16,000 members, lawyers, justices, students, teachers and partner organizations," she says. "The organization and I saw it as a chance to show our commitment that existed before the uprising to really moving the dial in advancing equality, diversity and inclusion in the legal profession and across the justice sector."
Theodore notes that lawyers are well-positioned to recognize inequalities and have devoted a significant amount of time, energy and resources to equity, diversity and inclusion. She also acknowledges that in this role, she has been given the opportunity to transform those intentions and resources into concrete action and establish a road map for other industries to follow suit.
"I recognize the responsibility and also the context in which we arrive at my presidency only in 2020," Theodore says, explaining that the presidential term is only one year. That's why her second initiative as president, Not Another Decade, sets an ambitious agenda for tackling inequality in the justice sector and beyond over the next 10 years.
"The issues that are facing the bar today are far more complex than those that we were facing when the organization was founded and I realize they cannot be resolved in just a year," she says.
As a first-generation Canadian, Theodore was raised with the value of community, a principle that guided her journey throughout undergraduate studies, law school and today as a professional lawyer.
Getting involved within organizations helped her connect the work she is doing to the broader picture of how it impacts society. Her advice for young people is to get involved as soon as possible.
"Your time as a student is the best time to start learning about the importance of self-care and community involvement," she says.
"I wouldn't be where I am today without the support of the communities I belong to."
Monday, March 8, 2021 in Law and Legal Studies, Leadership
Share: Twitter, Facebook