By Adam Landry
Photos by Ainslie Coghill and Ringo Chiu
Aerospace engineering graduate Andrew Rader (BEng/03, MASc/05) still remembers the first uninhabited aerial vehicle (UAV) he built as it took to the skies during the final year of his undergrad at Carleton.
"Developing a UAV for my fourth-year project was an unforgettable experience," he recalled.
"It was the first chance I'd really had to work on an aircraft through all of its design stages."
Now a Mission Manager with SpaceX in Hawthorne, California, Rader returned to campus on Jan. 15, 2018 to speak with students about his experiences at Carleton and in industry, as he offered unique insights about career planning and development.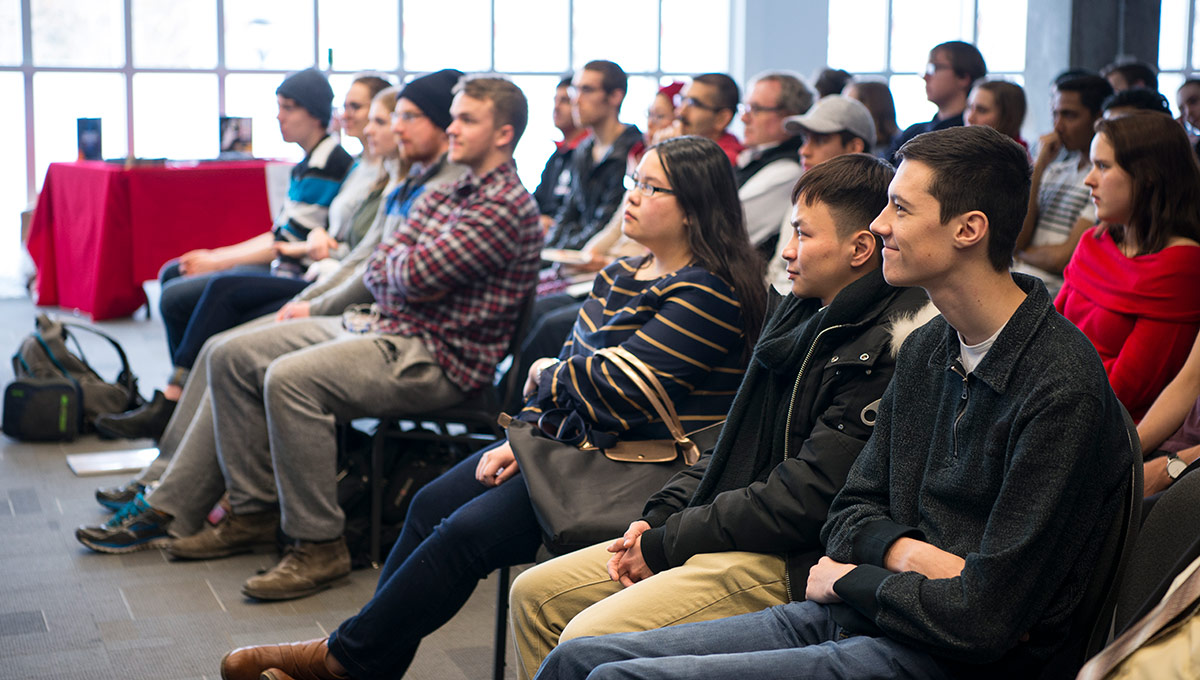 In delivering his talk to a packed room of more than 170 students in Residence Commons, Rader displayed a distinct enthusiasm for discovery, along with an underlining message that the sky doesn't always have to be the limit.
Having first joined SpaceX in 2014, Rader currently leads a team that co-ordinates all technical and programmatic aspects involved in launching a multi-satellite space mission on the company's reusable Falcon Heavy rocket.
"We're responsible for all of the technical interfaces between the satellite (spacecraft) and the rocket," he explained. "Essentially, we look at everything you would need to know to launch a satellite safely."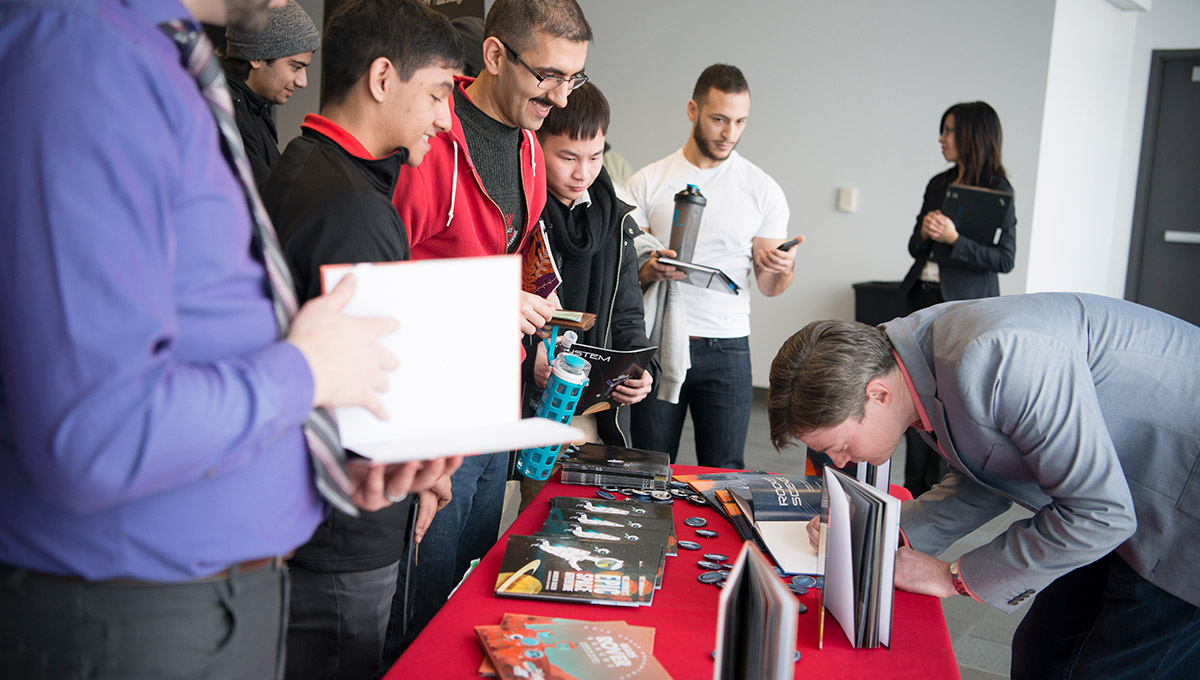 Importance of Embracing New Ideas
During his presentation, Rader emphasized the importance of embracing new ideas and exploring different ways of thinking, illustrating how his own non-linear path took shape as his interests evolved over time.
"When I was in high school, I wasn't sure if I wanted to study medicine or engineering or even art," he said.
"By the time I arrived at Carleton, I was really interested in airplanes and wanted to design them, but while I was here I found my interests beginning to shift towards space, especially during my master's."
After completing his undergraduate degree, Rader chose to continue his studies at Carleton by pursuing a Master of Applied Science in Aerospace Engineering. Under the supervision of Prof. Fred Afagh, now Interim Dean of the Faculty of Engineering and Design, he found an opportunity to work with the National Research Council, looking into stabilizer optimization to reduce vibrations in F18 fighter jets.
"It actually had a bit of a biology component because the method we used sort of mimicked natural selection in evolution," he noted in describing the research. "Essentially, we tested different solutions and retained certain characteristics of each based upon their effectiveness so that we could 'cross-breed' them all and produce a superior outcome."
Rader spoke highly of his former supervisor, praising his ongoing dedication towards students.
"Prof. Afagh was a fantastic mentor from the first class I had with him," he said. "Even before we really had the chance to chat a lot one-on-one, you could tell he was extremely invested in helping all of his students. He would always go the extra mile to make sure we understood everything."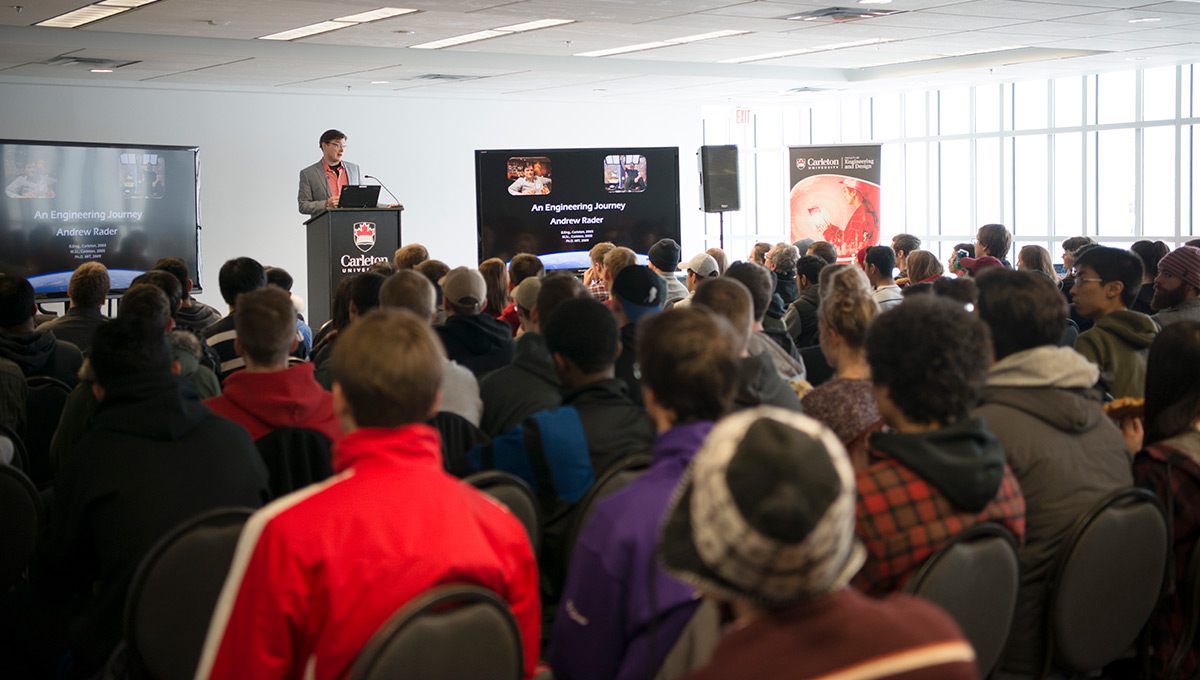 Graduate Studies Put Rader on the Road to SpaceX
While Rader recognized the wide array of career options available to Bachelor of Engineering graduates, he also described how graduate studies provide another edge in the job market and open the door to a broader range of opportunities.
"Graduate studies is definitely something that can set you apart from other candidates," he said.
"It demonstrates that you have that extra level of expertise, which is something that can make all the difference for many employers."
Rader also explained how studying for a master's gave him the opportunity to take a step back and think about what he really wanted to pursue as a career.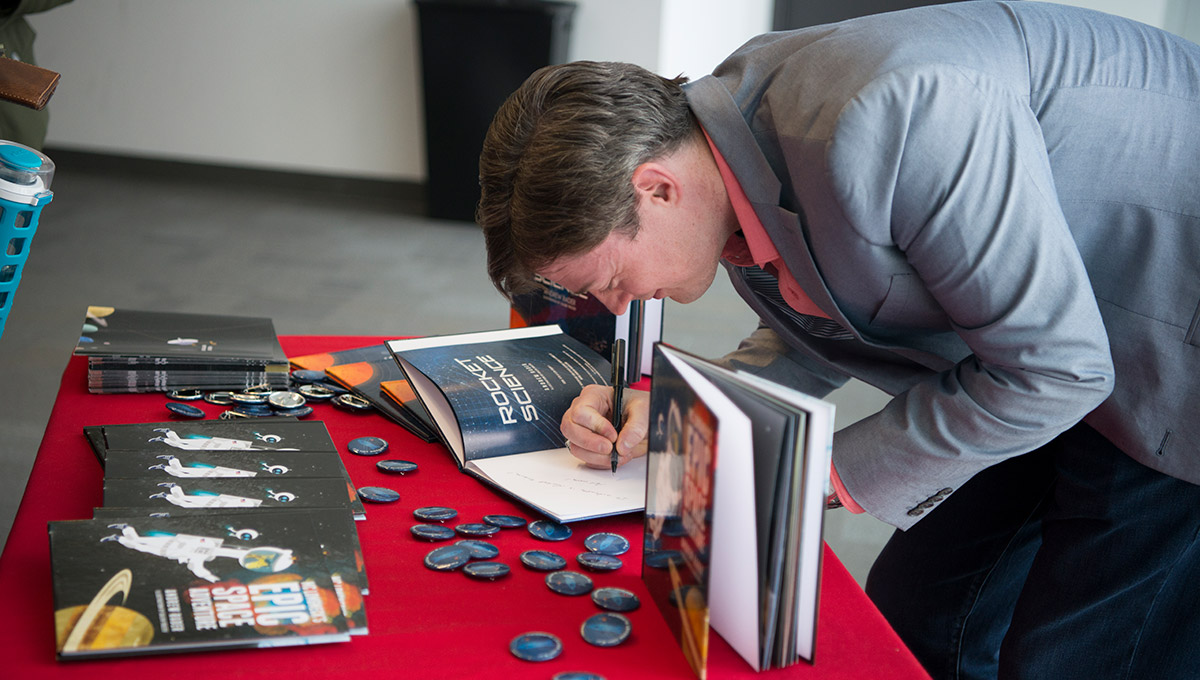 "When it comes to your undergrad, there's so much to learn and take in that it's not uncommon for people to lose sight of what they actually want to do with all of that knowledge," he noted. "For me, graduate studies helped to develop my skills in greater detail, but also provided me with an opportunity to find a little more direction."
While Rader looked back fondly on his master's experience over the course of his presentation, he went on to pinpoint a particular undergraduate course in aircraft performance and design as being vital to his career success.
"Even though these days I work more on spacecraft than aircraft, it's kind of all very similar when it comes to the design process," he said. "I didn't take very many classes on space while I was here, but the entirety of my undergrad provided a foundation in things like physics and fluid mechanics that I still apply to what I'm doing today."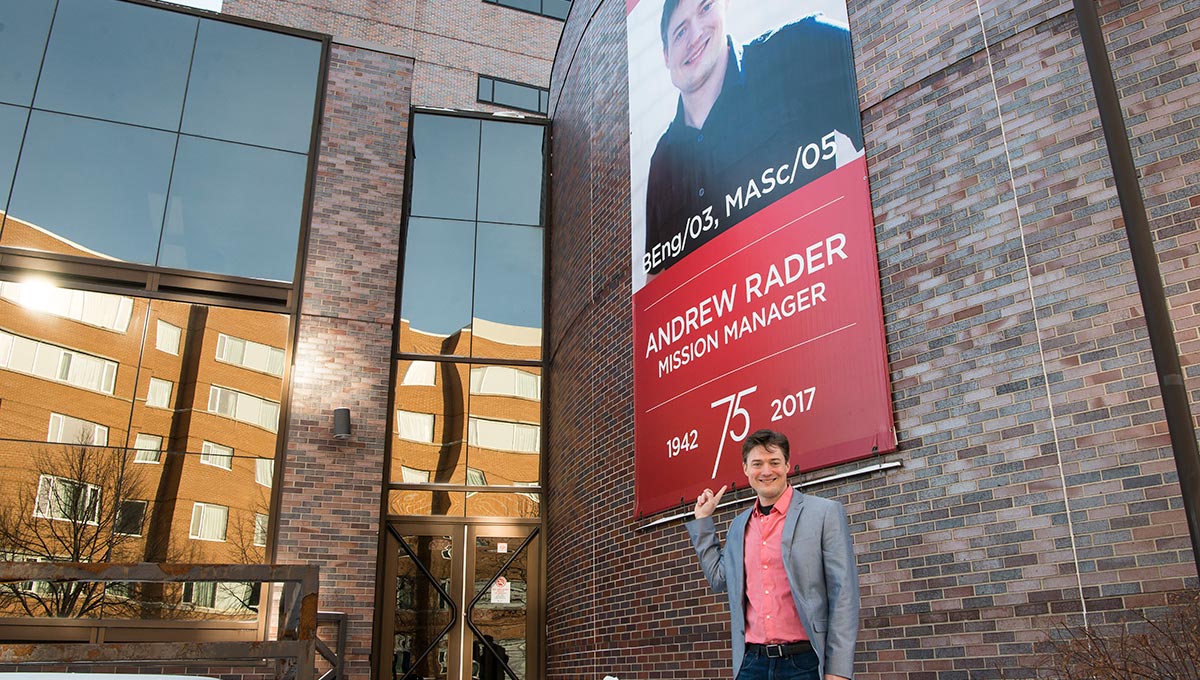 Setting a Course for Space
After completing his studies at Carleton, Rader decided to pursue a PhD in Aeronautics/Astronautics Engineering at the Massachusetts Institute of Technology, where he focused in part on the well-being of astronauts. While he had already begun altering his course towards space during his master's, he explained how studying countermeasures for long duration human space flight ultimately resulted in his current focus on spacecraft design.
"I had a bit of a moment where I realized that, while it's great to study humans in space, there's not much application for it until there are lots of people travelling up there regularly," he said. "That's when I knew I wanted to build spacecraft because having lots of humans in space will fuel further developments in space technology."
Having himself been in the running for two separate Canadian astronaut selection campaigns, Rader also shared his hopes of one day going to space and possibly even walking on Mars.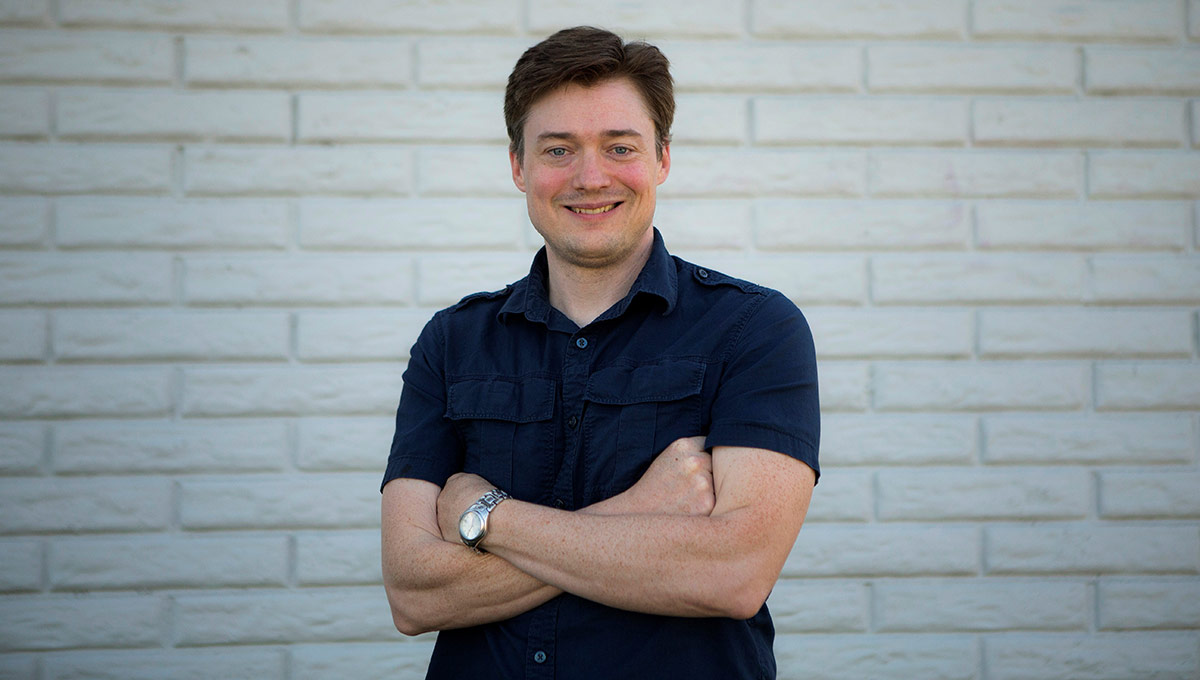 "Becoming an astronaut is something that I will continue to strive towards," he said.
"It would be an incredible privilege to participate in scientific discovery, observe our planet from orbit, and share my sense of wonder with the people of our world."
Rader also looks to inspire the next generation of scientists and engineers, having authored a series of illustrated children's books focusing on space exploration, such as Mars Rover Rescue, MC Longneck's Epic Space Adventure and his most recent release, Rocket Science, an aerospace engineering manual aimed at children aged six to10. Despite the title of his newest book, Rader made sure to note that it really isn't rocket science when it comes to getting kids interested in science, technology, engineering and math (STEM).
"The majority of people establish their interests at a very young age and these tend to stay with us throughout our lives," he said. "All it takes to spark tomorrow's explorers is to show them a glimpse of where STEM can take them. Their imaginations will lead them the rest of the way."
---
Interested in learning more about Carleton's graduate programs in engineering and design? Visit our Graduate Admissions page to explore our wide selection of Master's and PhD programs.
Wednesday, January 24, 2018 in Alumni, Engineering
Share: Twitter, Facebook