By Dan Rubinstein
Photos by Chris Roussakis
Luminaries from Canada's particle physics community gathered at Carleton University on Oct. 3 to officially open New Eyes on the Universe, a unique travelling exhibition showcasing monumental discoveries of the Sudbury Neutrino Observatory (SNO) and its successor, SNOLAB, a world-class science facility two kilometres below the surface of the planet at an active nickel mine in Sudbury, Ont.
"It's a real pleasure to be here and celebrate the contribution that Carleton has made to the SNOLAB program," said the facility's Director Nigel Smith. "One of the wonderful things about SNOLAB is that not only is it a great academic collaboration, but it's also a great partnership with federal funding agencies and the commercial community. It shows what can be done when you bring all these stakeholders together.
"This is a really exciting time for Canadian science," continued Smith, "and SNOLAB is primed to play a major role going forward."
The 800-square-foot exhibit, produced by Sudbury's Science North with input from SNO and SNOLAB researchers, features 40 panels with spectacular images documenting the history and development of SNO and SNOLAB, interactive video kiosks, a virtual tour of SNOLAB and its experiments, and the stories of the people behind the science.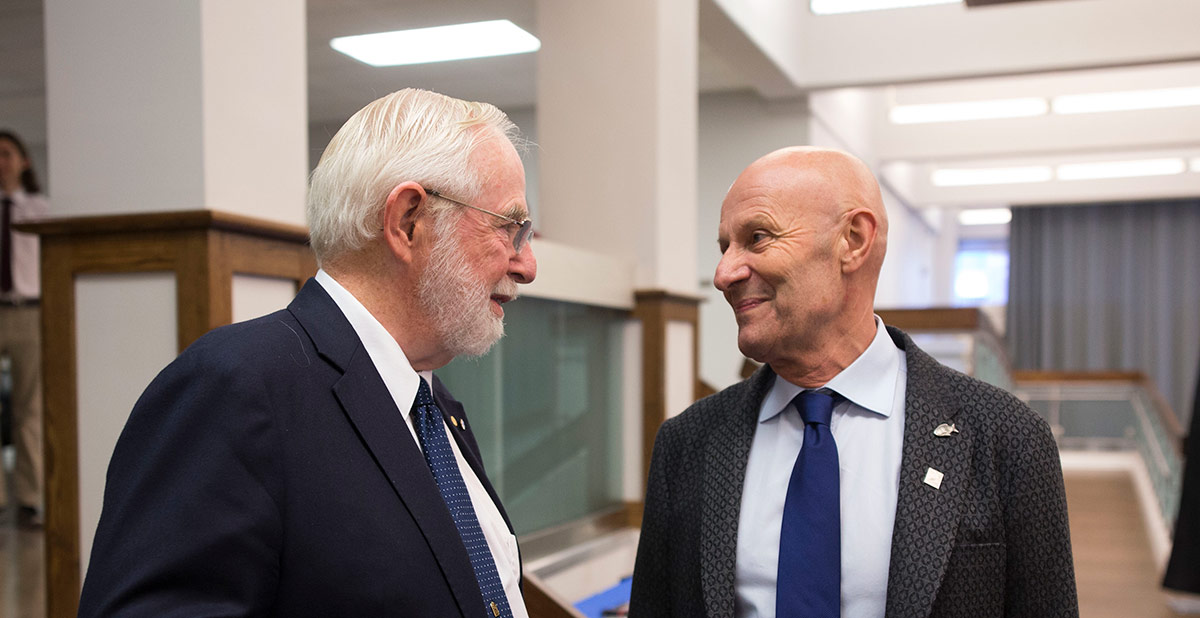 SNOLAB Gave Rise to
a Nobel Prize Winner
Nobel Prize-winner Art McDonald, whose work at SNO helped lead to the breakthrough discovery that neutrinos have mass and change identities as they travel from the sun to the Earth, is a life-sized video presenter.
"They give the Nobel Prize to one person, but really, the work was done by a large group of people," McDonald said at the opening of the exhibit, which runs until Oct. 23. It is open to the public daily in Fenn Lounge, Residence Commons, between the hours of 10 a.m. and 4 p.m.
McDonald went on the praise his longtime collaborator David Sinclair, a distinguished research professor at Carleton and the original director of SNOLAB, for submitting the initial proposal and overseeing the construction of a facility that "attracts people from around the world to come to work with Canadians."
Sinclair, who is working toward mounting the major nEXO experiment at SNOLAB, said that exhibits like New Eyes on the Universe help educate the general public about the work of particle physicists, "which is a critical part of research.
"It is one of the ways we try to convey the excitement of our work," he said.
The SNO experiment not only led to a Nobel Prize-worthy discovery, added Sinclair, but also to new scientific questions. The research now under way at SNOLAB springs from both the scientific and technological achievements of SNO.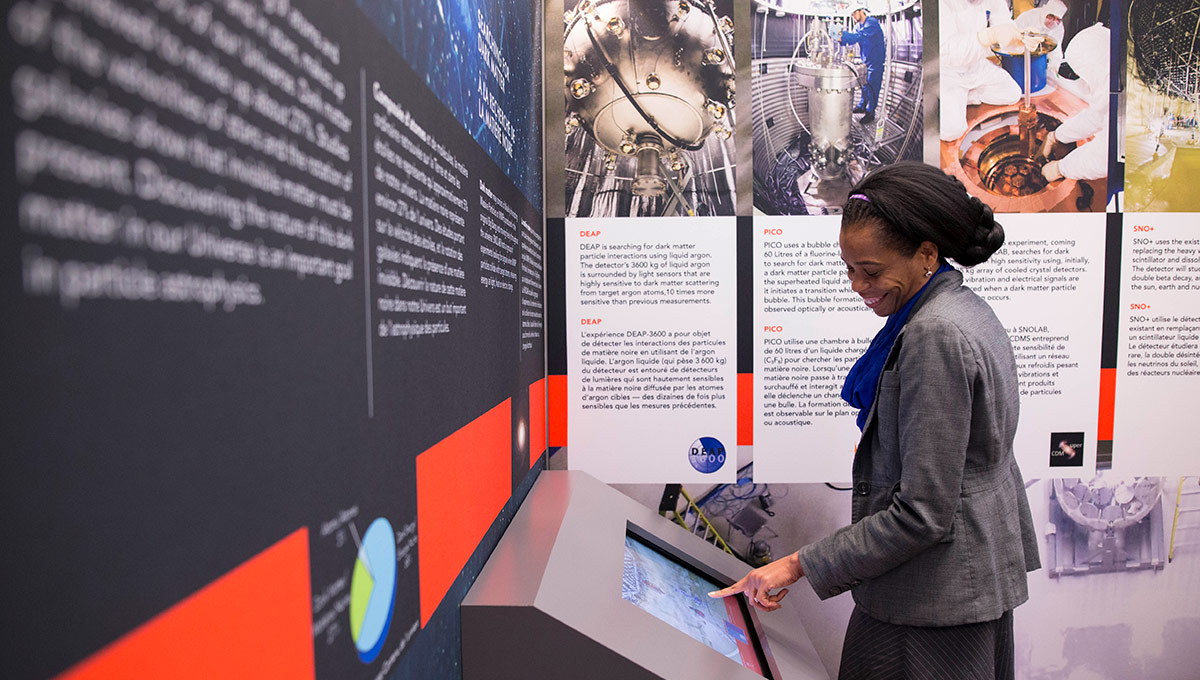 Conveying the Excitement of SNOLAB's Discoveries
Carleton President Alastair Summerlee admitted that physics was not his forte in high school. "If I had David as my teacher," he said, "maybe my life would have been different."
It's important for researchers to explain why they do the work they do, said Summerlee, and the impact that this work can have on the lives of others.
He was struck by the fact that hundreds of people have contributed to the success of SNO and SNOLAB, and sees their collaboration as a metaphor for how we must work together to address the fundamental challenges facing the world today.
A series of special events will be held at Carleton to complement New Eyes on the Universe, which was first shown at Canada House in London's Trafalgar Square on July 1, 2016.
There will be a Science Café with Carleton PhD candidate Andrew Erlandson — who is working on Carleton Prof. Mark Boulay's DEAP-3600 experiment at SNOLAB — in Carleton's Fenn Lounge at 6:30 p.m. on Oct. 11
Sinclair will deliver a lecture on the SNOLAB legacy, also in Fenn Lounge, on Oct. 17 at 7 p.m., while internationally renowned theoretical physicist, Lawrence Krauss, a Carleton alumnus and director of the Origins Project at Arizona State University, will give a talk in the Kailash Mital Theatre on Oct. 22 at 7 p.m.