By Dan Rubinstein
Photos by Chris Roussakis
Carmen Robertson, who is from Saskatchewan's Qu'Appelle Valley, moved to Calgary after high school.
Even though her family is Lakota and Scottish, she didn't see much Indigenous art growing up on the prairies.
So, one afternoon, when she walked by the Imperial Oil building in downtown Calgary and looked in the windows, Robertson stopped in her tracks.
Shocked by the amazing colours and imagery she was seeing, she went inside to investigate. Hanging in the lobby — an unlikely setting for an epiphany — were the renowned Anishinaabe artist Norval Morrisseau's erotic paintings.
"It made such an impression on me — that's when I made the decision to study Indigenous art," says Robertson, who became the Canada Research Chair (CRC) in North American Indigenous Art and Material Culture at Carleton last summer.
"I wanted to focus on contemporary Indigenous art, which was not easy at the time."
Today, she studies Morrisseau's work through a scholarly lens. She publishes widely on his art and, in 2018, was awarded a large Insight grant from the Social Sciences and Humanities Research Council (SSHRC) to investigate all aspects of the artist's life and work from 1955 to 1985, collaborating with a team of 14 researchers from across Canada.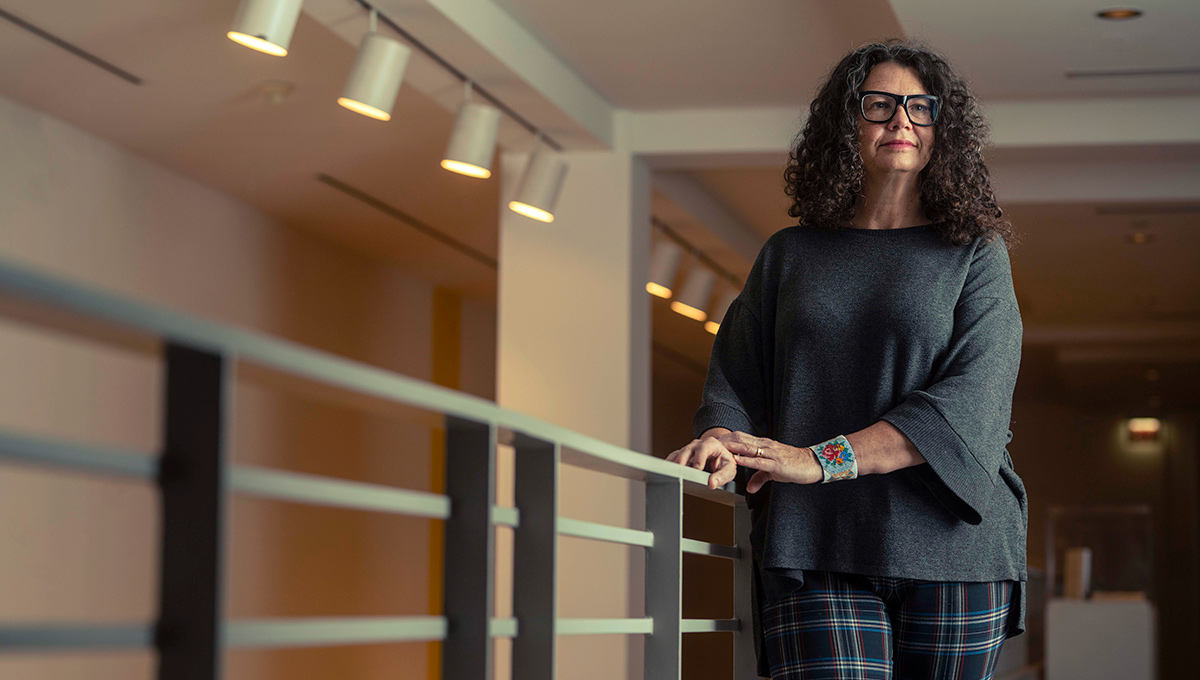 Studying A Key Figure in Indigenous Art
Morrisseau, who is considered the Mishomis or grandfather of contemporary Indigenous art in Canada, has been a key figure in Robertson's research and teaching over the years.
His iconic style (a dazzling blend of bright colours, traditional stories, spirituals themes and political messages) represents a cultural shift that the CRC position at Carleton will allow her to explore more deeply — the move away from looking at Indigenous art as museum artifacts and instead interpreting it from a gallery and curatorial perspective, paying attention to the political and social-economic expressions of the people behind the work.
In 2016, Robertson released two books about Morrisseau and she has also co-authored, with her partner Mark Cronlund Anderson, the groundbreaking 2011 book Seeing Red: A History of Natives in Canada's Newspapers.
Robertson is also an independent curator and curated the work of contemporary Hunkpapa Lakota artist Dana Claxton in the exhibition and symposium "The Sioux Project — Tatanka Oyate" for Regina's MacKenzie Art Gallery in 2017.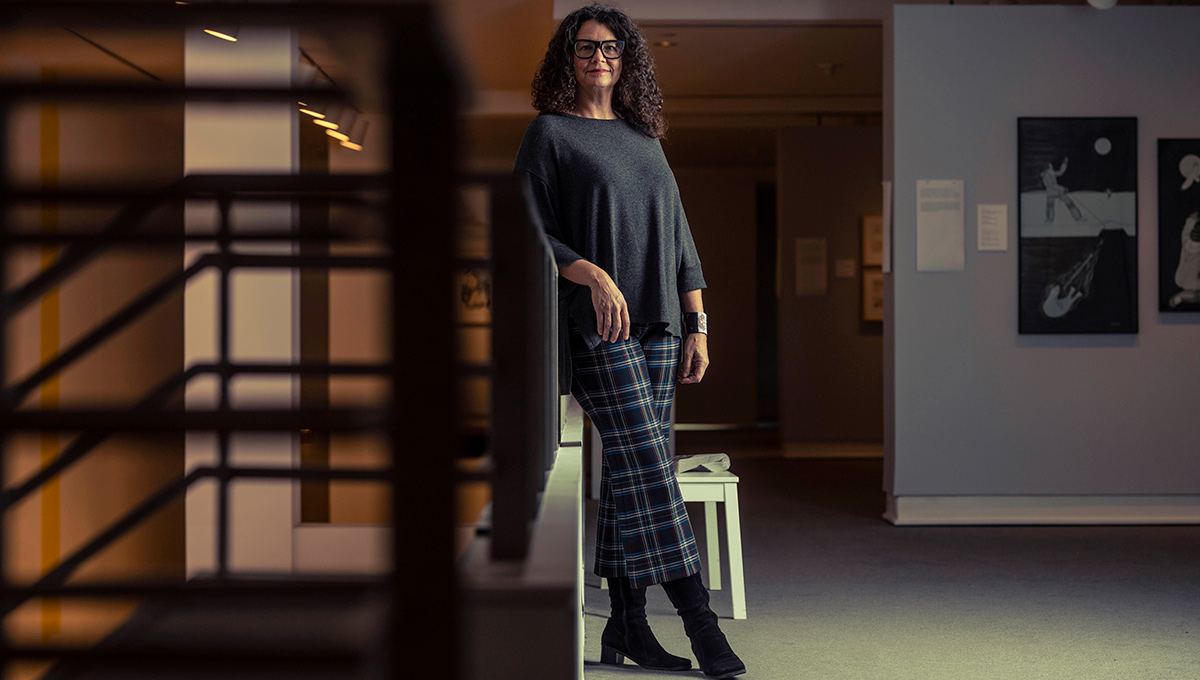 Exploring Indigenous Aesthetics and Curation
Robertson spent the past 17 years as a faculty member at Saskatchewan's First Nations University of Canada and the University of Regina (U of R), teaching Indigenous art history and curatorial studies. During that time, she served as department head of Indian Fine Arts, associate dean of research in the Faculty of Fine Arts, and was the SSHRC Leader at U of R for four years.
Robertson has been busy since starting at Carleton. In addition to setting up her research projects, she has been teaching a graduate seminar on Indigenous aesthetics. In the winter term, she leads a seminar related to contemporary Indigenous curation.
"It's been a complete whirlwind," she says about the past few months.
"It's all good. But it's been a lot of good."
Contemporary prairie beadwork and Indigenous art theory are also part of her CRC research, which will ultimately lead to a major exhibition and publication.
Robertson — who is jointly appointed between the School for Studies in Art and Culture, the School of Indigenous and Canadian Studies, and the Institute for Comparative Studies in Literature, Art and Culture — had a couple connections to Carleton before coming to the university.
She has collaborated with Art History Prof. Ruth Phillips, who is a co-investigator on the Morrisseau project, and in 2017 she delivered the Department of History's annual Shannon Lecture on "the Indians of the Canada Pavilion at Expo '67."
Relocating to Ottawa will help her study Morriseau because the National Gallery of Canada, the Canadian Museum of History and Indigenous Art Centre, collaborators on her SSHRC grant, have large collections of his work. It will be easier to travel to northwestern Ontario, the region where he was from, to meet with community knowledge keepers and others who knew or worked with him.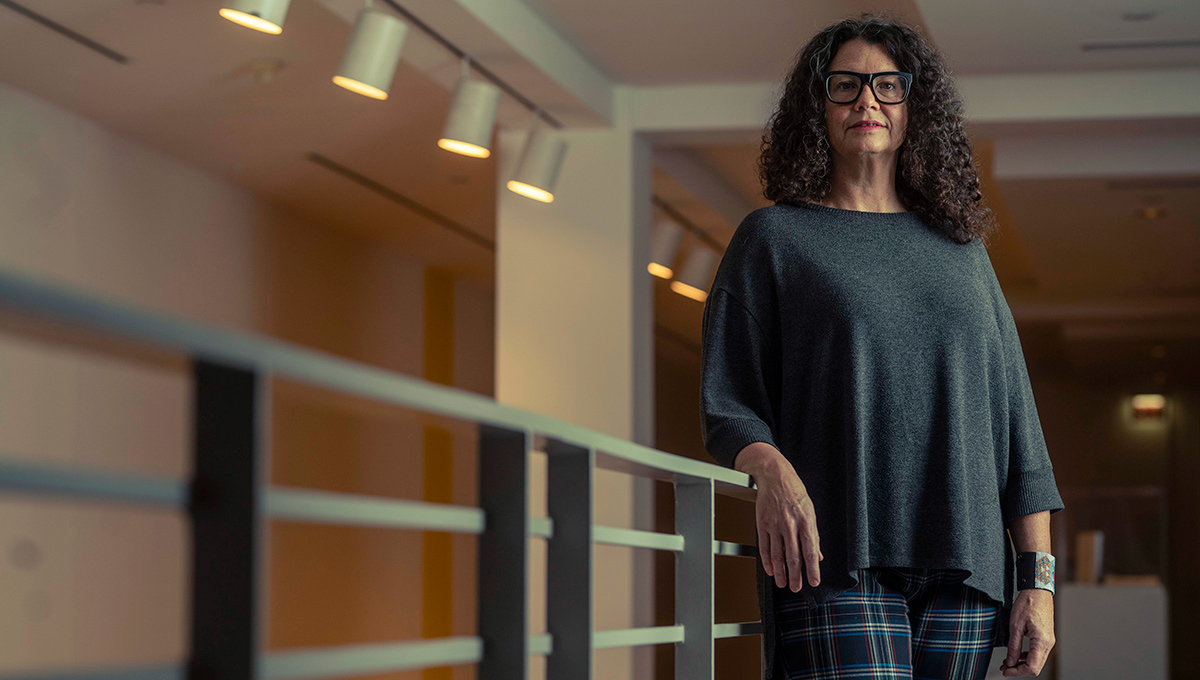 A Journey into Indigenous Identity
Studying Indigenous art, says Robertson, has helped her understand this part of her identity — a journey that gained momentum when her Lakota grandmother was in her 70s and started to share stories from her youth.
Her great-grandmother and great-great grandmother came to Canada with Sitting Bull in 1877 and settled at Standing Buffalo First Nation close to Fort Qu'Appelle after the Lakota Chief returned to the United States.
"She was surprised that we were so interested," says Robertson. "I'm so glad we got to hear many of her stories before she passed." Describing a terrifying scene from her youth when the Ku Klux Klan rode through Lebret, for example, many of the stories her grandmother shared were tainted by racism and colonial policies.
Robertson was the first person in her extended family to enter post-secondary education.
"I started out at a two-year program after high school and never imagined the places I would go, the experiences I would have and the paths that eventually led me to becoming a professor," she wrote in a recent Maclean's magazine feature on tips that every first-year student should know.
"Don't underestimate the importance of embracing experiences outside the university as part of your education. Opening yourself to new ideas and pushing beyond your comfort zone will not only enhance your current academic experience but might inspire you to shift directions and lead you down new learning paths."
At Carleton, Robertson, the first Indigenous faculty member hired as a full professor at the university, has joined the Indigenous Strategic Initiatives Committee, which is tasked with revitalizing the university's Indigenous strategy and re-energizing its relationships with Indigenous communities in the region and across the country.
"Indigenizing" can be a difficult and problematic term, she says. "But I'm encouraged that institutions are not shying away from it. They want to make substantive changes.
"It took a long time to get here, and there is a lot of work to be done, but Carleton is taking steps in the right direction."
Click here for more stories from the Carleton Newsroom.
Monday, January 7, 2019 in Faculty of Arts and Social Sciences, Indigenous, Research
Share: Twitter, Facebook