By Karen Kelly
Photos by Fangliang Xu
Carleton's Fall Graduation 2020, a university-wide online celebration, launched on Saturday, Nov. 14. Watch the celebration at the Carleton Grads 2020 website now!
---
As a child growing up in the United Arab Emirates, Rawan Alkurd's preferred birthday gift was always the latest gadget rather than the latest toy.
"I was not only fascinated with gadgets, but I wanted to learn how to build them," explains Alkurd.
"I wanted to know how to communicate with machines and how to train them to understand things."
The only university path for Alkurd in the United Arab Emirates was electrical engineering, and she went on to earn a bachelor's and master's degree in the subject. But her search for a deeper understanding of machines continued.
"I didn't know much about data science, but I was always fascinated by physics and I loved coding," she explains.
"When AI and machine learning surfaced, I started reading about it and I became even more interested in these technologies."
Alkurd began searching for a PhD supervisor who could help her make the transition into data science and artificial intelligence. She was thrilled when Systems and Computer Engineering Prof. Halim Yanikomeroglu invited her to study with him at Carleton.
"I was looking for a well-established research group with good support and the opportunity to interact with brilliant researchers," says Alkurd, who arrived in 2015. "Prof. Halim is a world-renowned researcher in the wireless communications community, so I was extremely excited to work with him."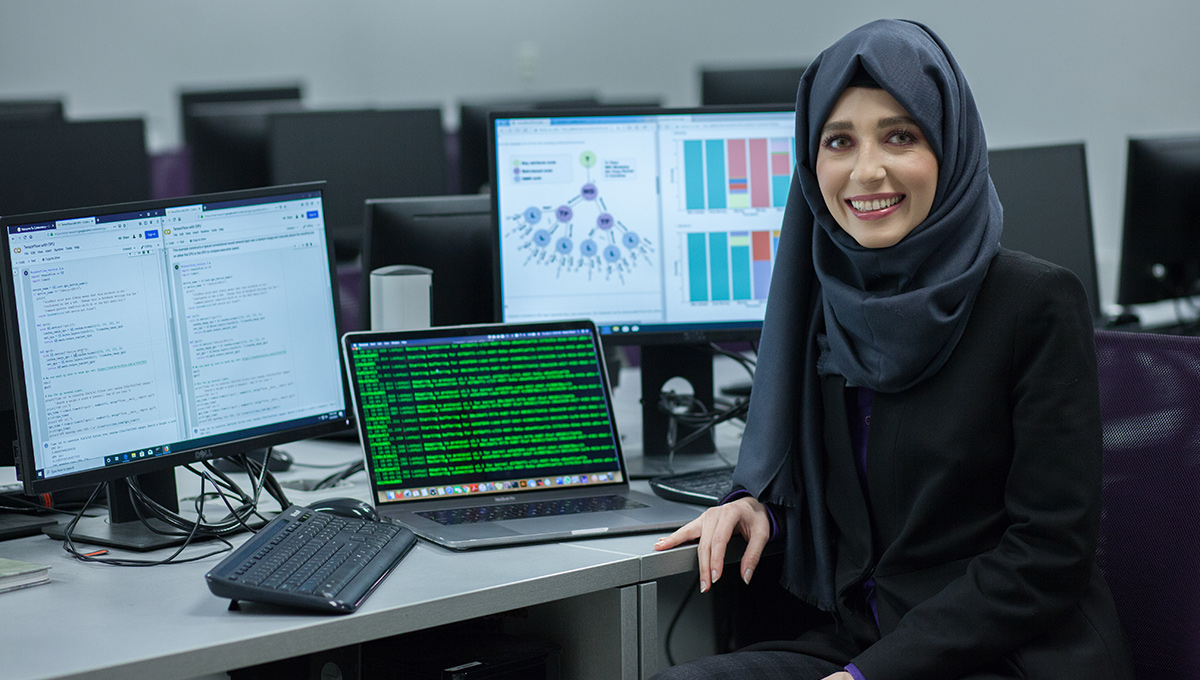 An Idea Drawn from Adversity
It's hard to imagine anything good arising from a frigid night at an Ottawa bus stop, but that is where Alkurd found the inspiration that has fuelled her success.
"It was February and I had just come to Ottawa. I was waiting for hours and it was confusing for me—I was trying to figure out which bus to take," she recalls. "I had no cellphone service while other people were watching videos. That led me to question why the network couldn't detect an urgent need for service."
Alkurd brought the idea to her supervisors, Yanikomeroglu and Sprott School of Business Prof. Ibrahim Abualhaol.
The team had several brainstorming sessions to develop a proposal that would enable a network to personalize the delivery of network services and guarantee a certain quality of service for high priority usage. Then they had to convince others in the field that it was possible.
"The biggest challenge was that this idea was not defined; there was no solid background in the literature," recalls Alkurd.
"We eventually managed to convince them that this was real, not science fiction."
As an electrical engineering graduate, Alkurd faced another hurdle—her own educational background.
"I had to reinvent myself as a data scientist," explains Alkurd. "I trained myself from scratch through online and in-person courses and hands-on projects."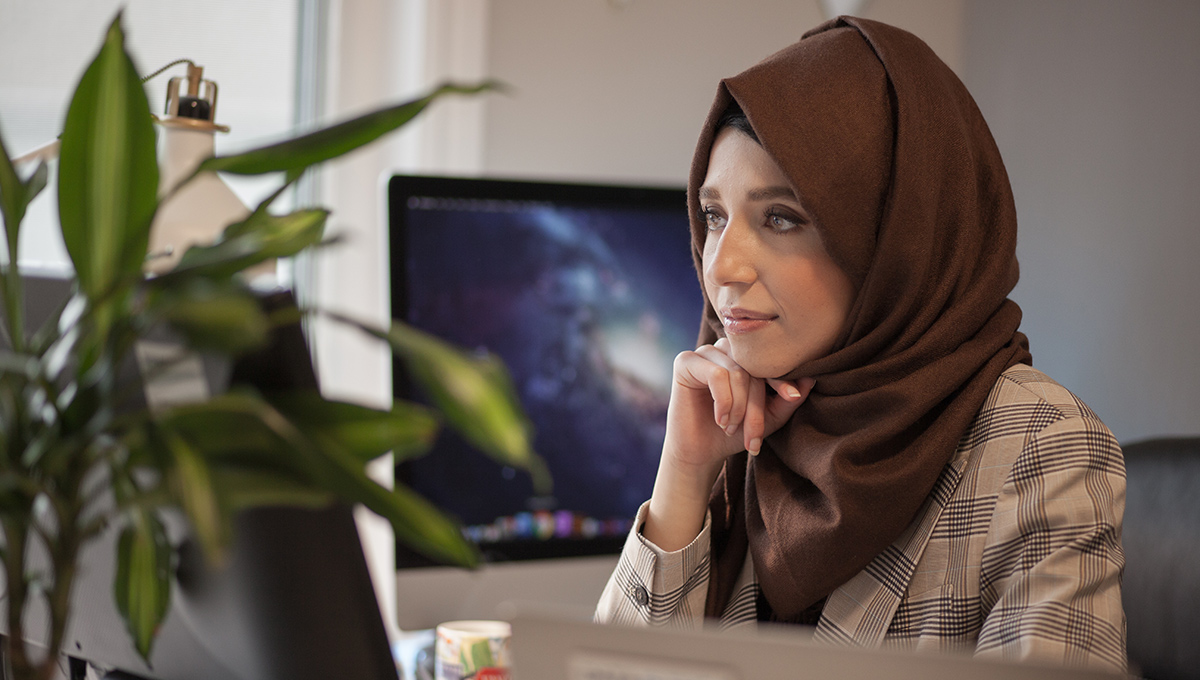 Doctoral Degree and Award Winner
Alkurd has now earned her PhD in Electrical and Computer Engineering and was awarded a Senate Medal for outstanding academic achievement.
Alkurd also won a Vanier Canada Graduate Scholarship in 2016, a prestigious award worth $50,000 per year for three years.
"The Vanier award made me financially independent from the industry and other organizations," says Alkurd.
"It enabled me to own all of my inventions and hence, I have the right to commercialize them."
Alkurd and her supervisors have since secured two patents through Carleton's Innovation Transfer Office. They are also planning to launch a startup up with the support of Carleton University.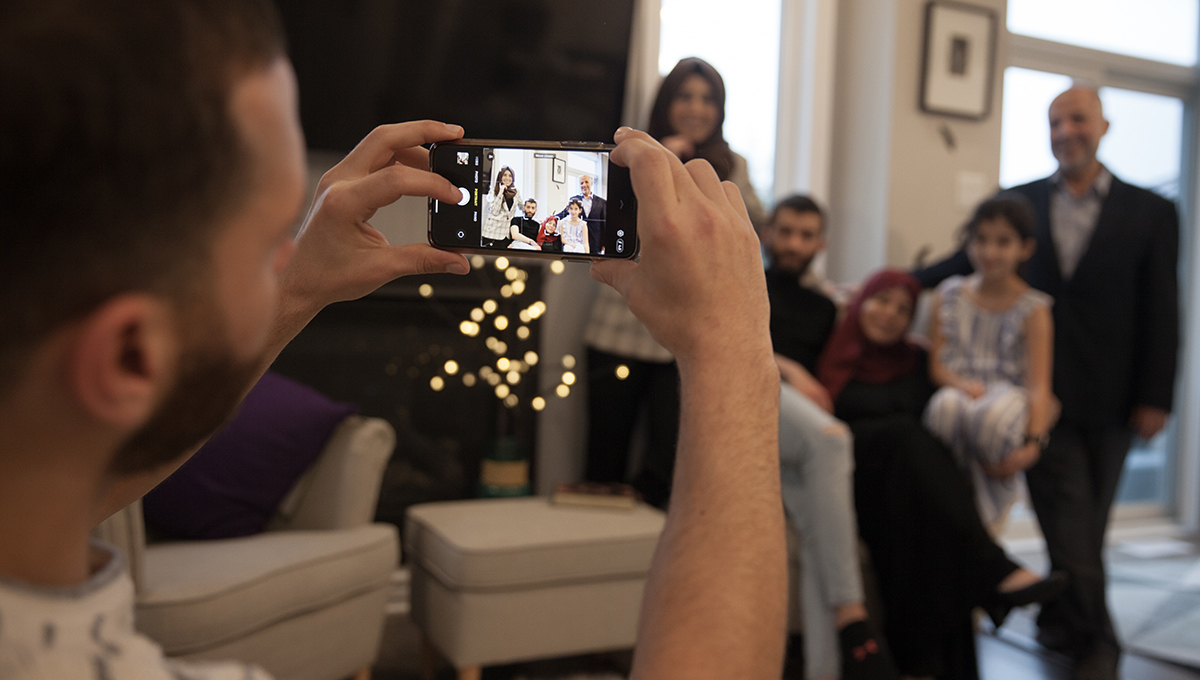 A New Company and a New Country
Not only did Alkurd's PhD change the course of her career, it also changed the lives of her family, who were Palestinians living in the United Arab Emirates.
"We were stateless because we were not allowed to be citizens in the UAE. That was one of the reasons I wanted to come here, to build a life and be part of a community. Two years ago, I convinced my family to start a new life here, as well."
Alkurd says she is incredibly grateful that her parents, younger sister and two brothers have now joined her in Canada.
"I really appreciate all of the support I've received in Canada," says Alkurd.
"Without the Vanier award, I would have struggled to continue my studies. Then there was the support I received from Carleton and my supervisors. And finally, the Canadian government allowed my family to come.
"I have been so fortunate. I can't thank them enough."