Head coach of the Carleton men's football team Steve Sumarah helped take Canada's junior team to gold in the International Federation of American Football (IFAF) U19 World Cup on July 22, along with a handful of Ravens.
"To be able to put together a bunch of guys from all across the country and in two weeks have them come together as a team and beat the host nation of Mexico in front of over 30,000 people was quite the experience to say the least," says Sumarah, head coach of Canada's U19 team.
The tournament was hosted in Mexico City and kicked off July 9. Canada beat Japan 28-22 in the semi-final to take on Mexico, who topped the United States 33-6. In the championship game Canada defeated Mexico 13-7.
"The coaches, the players, the staff, so much went into this tournament," Sumarah says. "But to see the joy on their faces, it made it all worthwhile."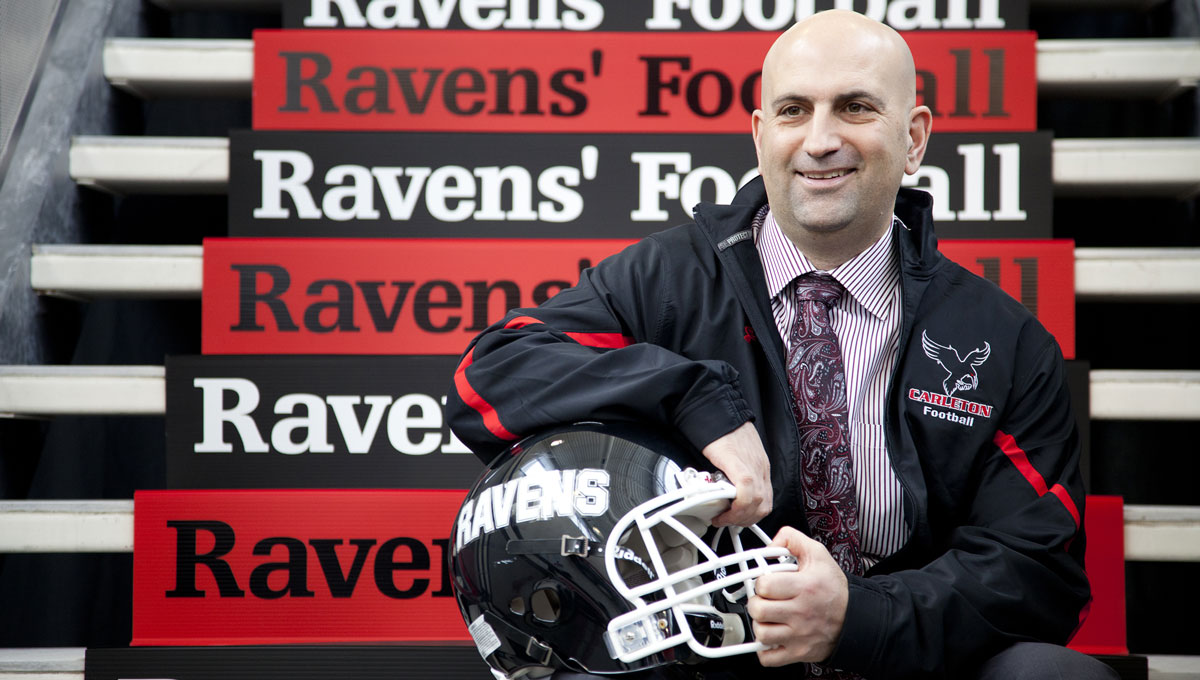 Ravens Football Contributes to Team's Success
Three athletes on the team, including Danny McWhirter, Cole Hepburn and rookie Mathew Goodall, will play on the Ravens team for the 2018-2019 season.
"All three of these guys were major contributor starts on the team and will be major contributors for us," Sumarah says.
Four more integral members of the Ravens team, including Jean-Philippe Asselin, offensive coordinator, Adam Davies, head athletic therapist, Stefan Carty, video coordinator and Wayne Baird, equipment manager, also contributed to Canada's team success.
This makes Canada the first country to win back-to-back titles in the biennial tournament, marking their third win since the cup launched in 2009. In the 2009 and 2014 editions of the tournament, Canada placed second.
Lessons Learned from International Play
Sumarah says he plans on bringing some of the lessons he learned from coaching Canada's team to the Ravens team this year, especially team-building exercises. The team also included a number of potential future recruits for Carleton, he says.
"Down the road, there's probably seven or eight guys we would love to recruit and have play for us," Sumarah says.
The Ravens football team's regular season touches down on Aug. 26 with their home opener against the Western Mustangs. Carleton's homecoming game will take place on Sept. 15, pitting the Ravens against the Queen's Gaels.
The highly anticipated 50th edition Panda Game will be held on Sept. 29 at TD Place Stadium against the University of Ottawa Gee-Gees. The Ravens' season will continue to run until mid-October, with playoffs taking place into November.
Wednesday, August 1, 2018 in Athletics
Share: Twitter, Facebook