Beaded Vamps Show Journey of First Nations, Métis and Inuit Children at Residential Schools
By Tara Jackson
When Deborah Young, a Cree social worker and Carleton University PhD candidate and lecturer, heard the horrific news about the recovery of graves at the former sites of residential schools in the spring of 2021, she knew she wanted to do something. 
"I was deeply moved, as many Canadians were moved, because of my own personal connection to the schools," says Young, whose parents are residential school survivors. "I felt helpless and wanted to do something but didn't know what it would be."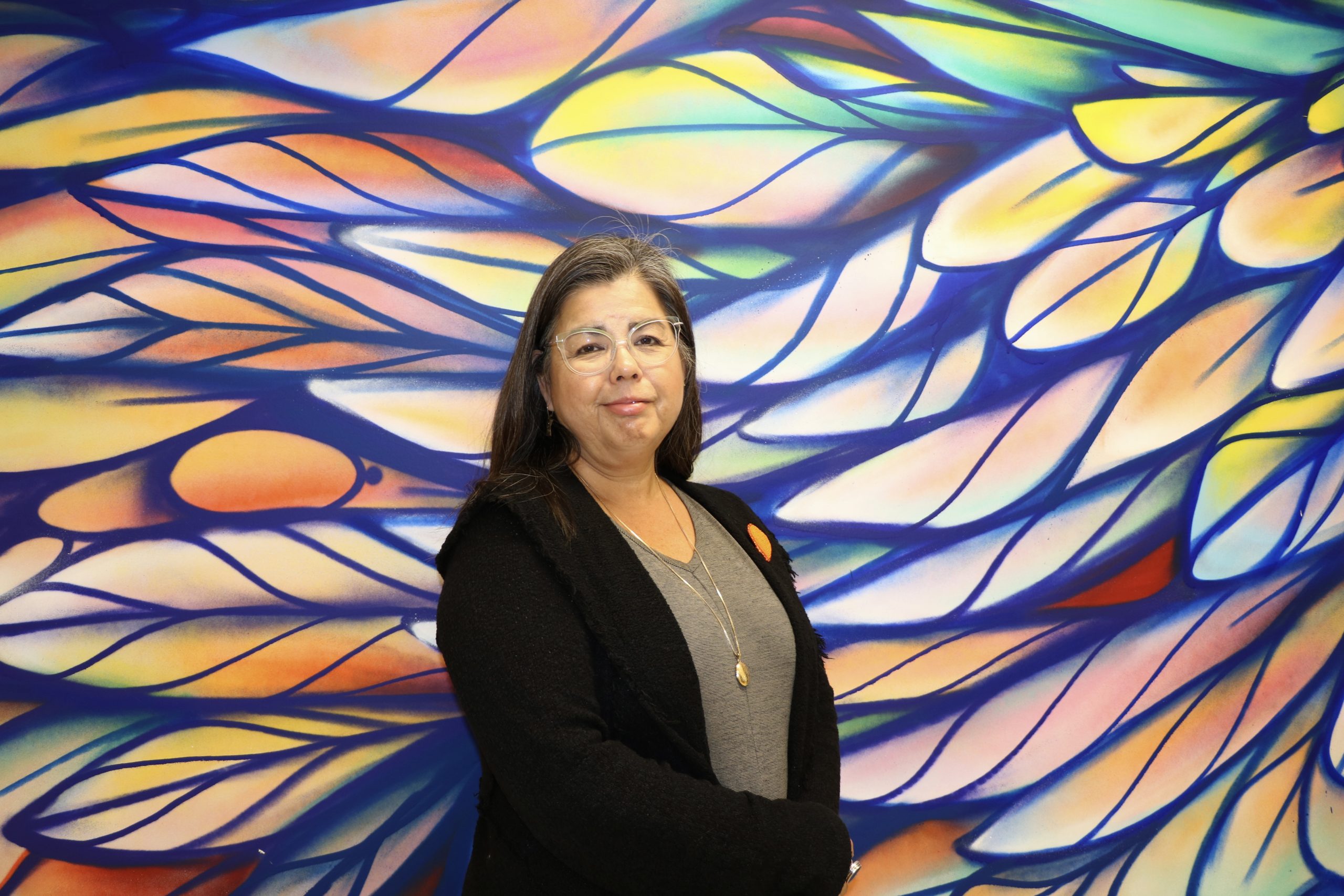 A social media post provided some direction. Young came across a call from a First Nation woman in the Yukon asking for people to create vamps—the beaded upper part of a moccasin—in memory of the children who never returned from residential schools. 
Young, who says she likes the social aspect of beading better than the craft itself, got to work creating a vamp with the intention of sending the completed version to the Yukon. 
But her beaded vamp never made it to the post office.
 
"I was going to send it off, but then something told me to hold onto it because I was sure there would be a similar call in Ottawa and I wanted my vamp to be a part of that," she says. 
A local effort never materialized. So Young took it upon herself to organize a vamp collection in Ottawa in late June 2021. 
Young sent out the call on her own social media accounts and quickly enlisted the help of her colleagues in Carleton's School of Social Work and the Centre for Indigenous Initiatives and Community Engagement to spread the word amongst Indigenous students. 
As interest began to grow, Young found herself in search of supplies to put together beading kits for the community project. As she picked out materials at a local beading shop, an employee asked Young what she was working on. Young shared the details, paid for her purchase, and was surprised to receive a phone call from the same worker later that day. 
"She told me she had talked to the business owner and the store wanted to partner with us," Young says. 
Canada Beading Supply reimbursed Young for that initial materials purchase, went on to supply more beading kits and promoted the call for vamps to its own beading community.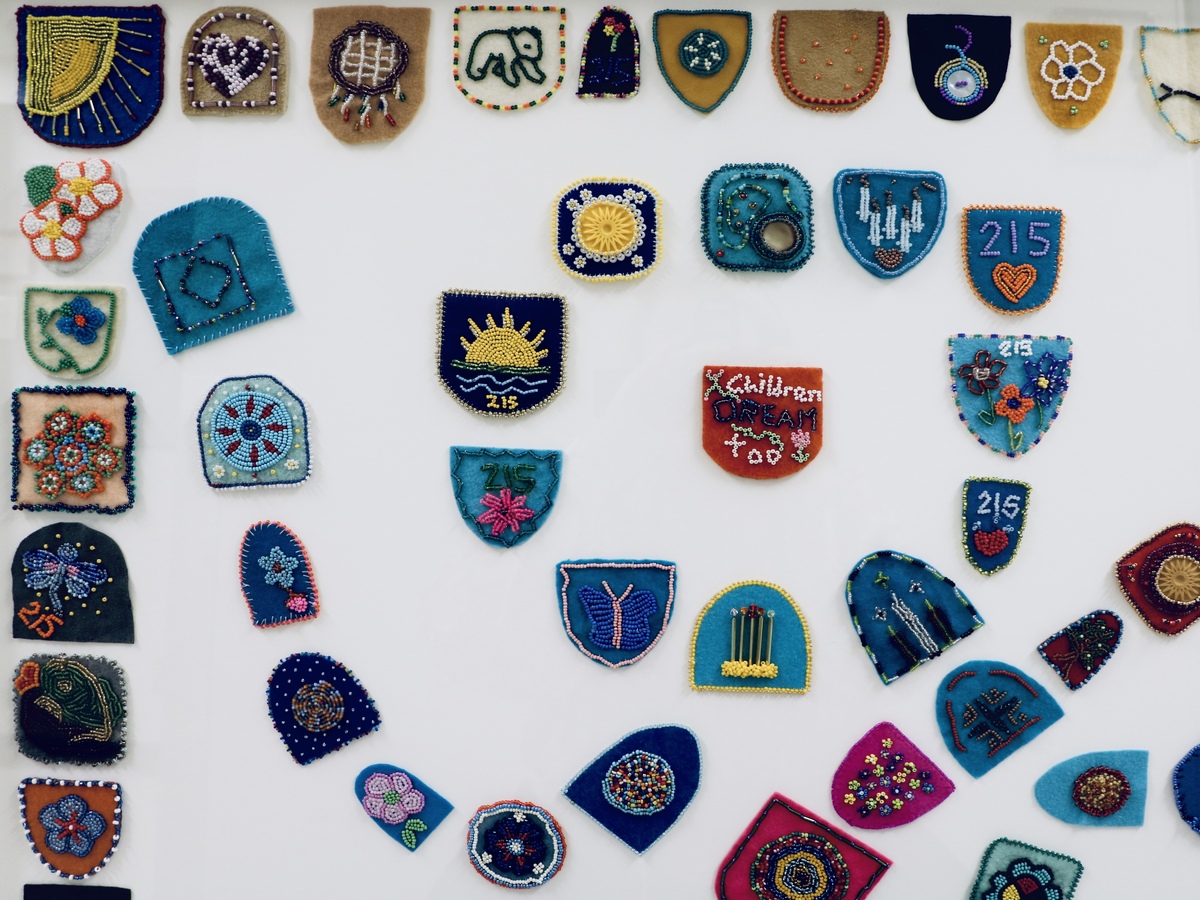 Over the summer and fall of 2021, a growing number of beaders across Carleton, Ottawa and beyond joined the call. Young received messages from social work professors in the United States and the U.K. who had heard about the project and wanted to involve their students. By early 2022, Young had received hundreds of vamps from across North America. 
"It truly was a community effort," she says. "Not all the vamps came from Indigenous beaders; a good chunk came from settler community as well. People were compelled. This touched people's hearts."
All in, the collective call garnered 356 vamps—some stitched on leather, others made with fabric or felt—bearing images of the sun shining on graves, numbers representing lives lost or other commemoration of family members, friends and even strangers. Young worked with Cree/Mohawk artist Michelle Thompson to place the vamps in a series of three frames, designed to represent the journey of Indigenous children through residential schools.
Young says about half of the vamps also came with "profoundly moving" stories, shared via letter or card, and she plans to bring them to an in-person unveiling ceremony at Carleton on Sept. 30. 
The Journey of the Beaded Vamp will showcase the vamps, commemorate the dead and missing children they represent and create awareness of the history of residential schools and their lasting impact. 
Kimberly Murray, Independent Special Interlocutor for Missing Children and Unmarked Graves and Burial Sites Associated with Indian Residential Schools, will speak at the unveiling about the role universities have in advancing reconciliation. 
Following the unveiling, the vamps will be on display in the MacOdrum Library for several weeks before moving to what will be their permanent location in the School of Social Work in Dunton Tower. 
Going forward, Young says she hopes to use the installation as a teaching tool to bring awareness to the lasting impacts of residential schools, particularly within the field of social work.
"I don't want it to be hung up on a wall and have people walk by and not understand the significance of what they see." 
Tuesday, September 27, 2022 in Faculty of Public Affairs, Indigenous, MacOdrum Library, Social Work
Share: Twitter, Facebook