By Joseph Mathieu
Photos by Chris Roussakis
Integral to programs offered by Carleton University's Faculty of Public Affairs (FPA) is the ability to dive deep into research even as an undergraduate student.
That was on display at the FPA Undergraduate Research Internship Showcase on Oct. 16, 2019, where students who participated in the Carleton University Research Opportunity Program (CUROP) shared their summer projects.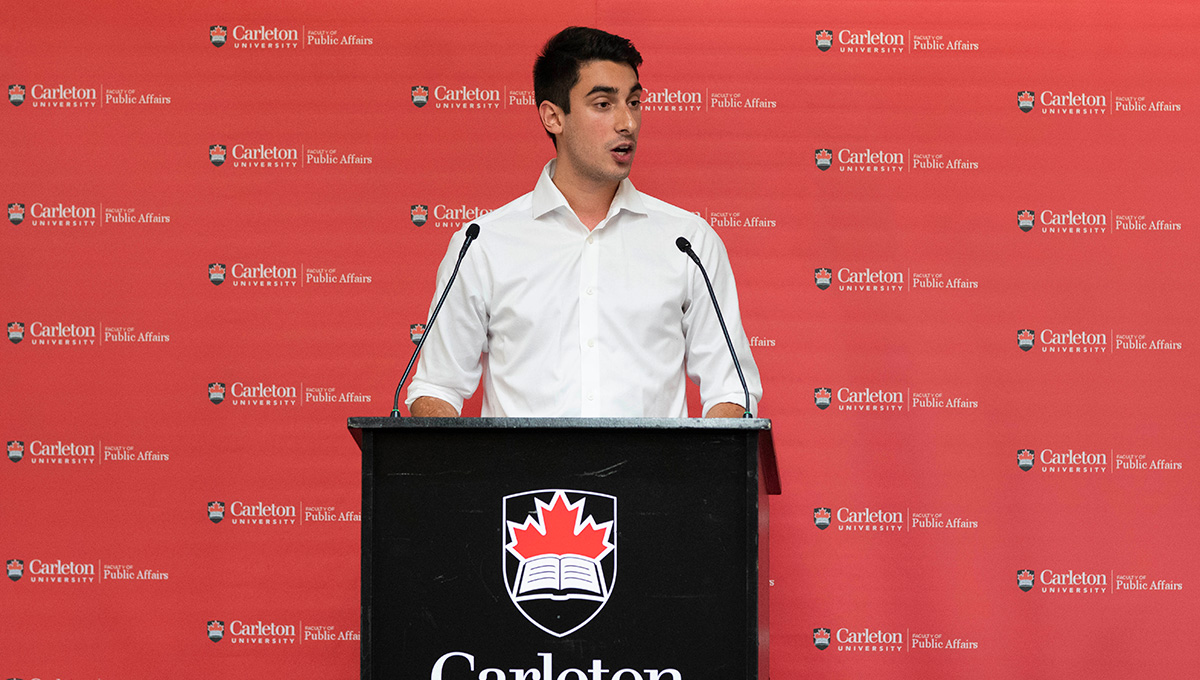 "It was amazing to be able to delve into research about something that you're passionate about," said Harar Hall.
"It's not very often that you get to do that in university, especially over four years where you're trying to build your skills and learn the basics."
Hall, a graduate of the Bachelor of Global and International Studies (BGInS), explored the relationship between art and activism in social justice movements like Black Lives Matter. Her research will continue during a Master of Arts, International Affairs degree at the Norman Paterson School of International Affairs (NPSIA), which is not uncommon for CUROP projects.
Bachelor of Public Affairs and Policy Management (BPAPM) graduate, Hanna Williams, used quantitative analysis to determine the impact of Canada's progressive trade agenda on its free trade agreements. Her research will lead to a paper co-authored with her supervisor, NPSIA Prof. Meredith Lily.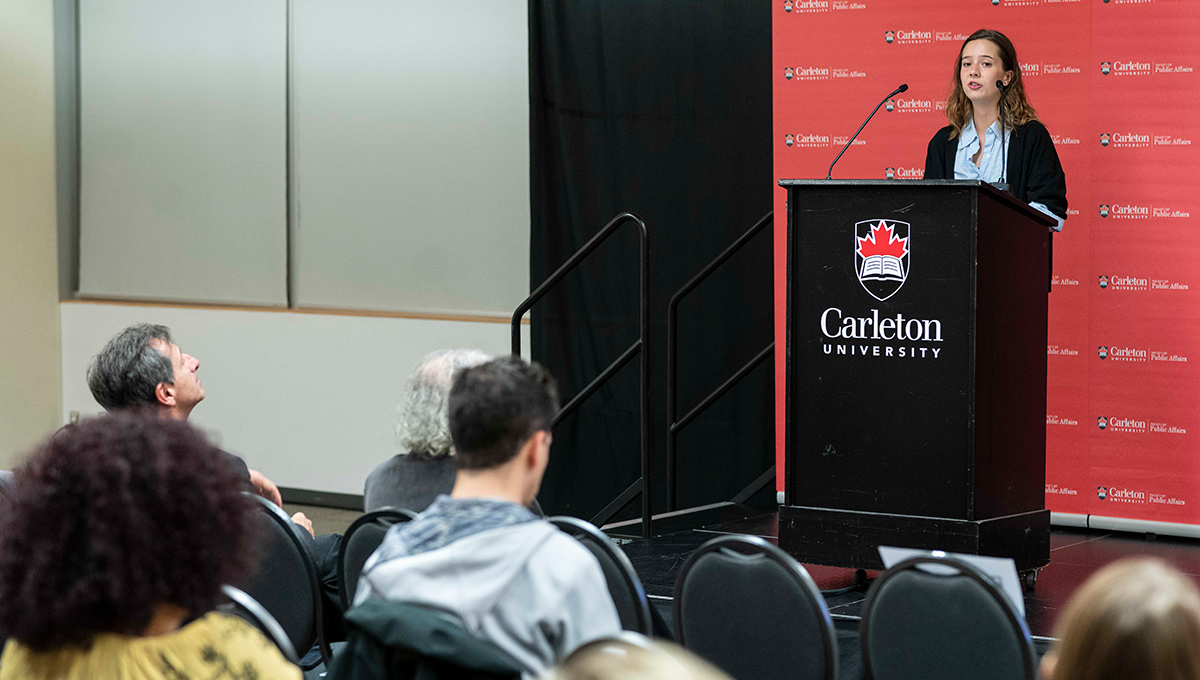 FPA Research Series: Showcasing Skills
The event, part of the FPA Research Series, allowed students to showcase how the program helped them to develop skills in time management, information analysis, critical thinking and networking.
Katrina Valles, who is completing a BGInS with a concentration in Migration and Diaspora Studies, said CUROP allowed her come into her own as an independent researcher.
"I was really forced to stand on my own two feet and take ownership of my project," she said.
"Getting that experience so early in my academic career is an opportunity that students would be hard-pressed to find outside of CUROP."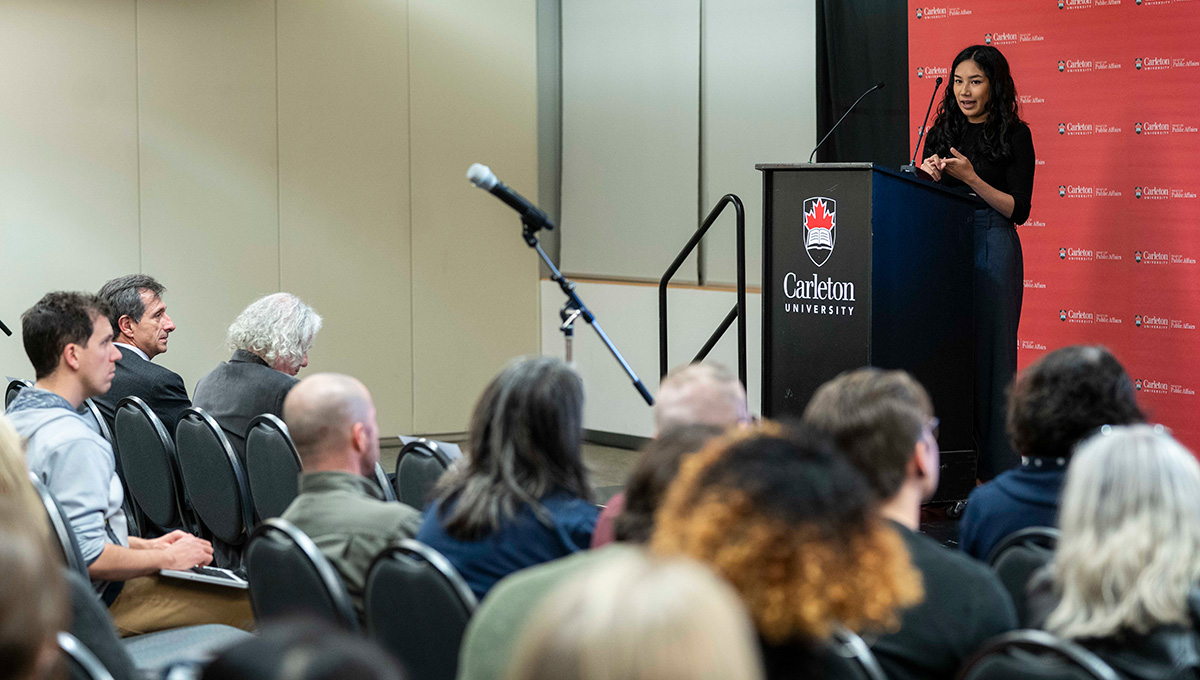 Valles studied barriers to the economic integration of migrants in Peterborough, Ont. As a result of her research, she was invited to participate in developing a new five-year integration plan by the Peterborough Immigration Partnership.
Students who participate in CUROP often opt to study things that aren't attracting scholarly attention. That means the selection of research projects can be quite broad.
"You can see the depth and breadth of research undertaken by undergraduates," said Christina Gabriel, FPA associate dean (Students and Enrolment).
"In the Faculty of Public Affairs, you can do anything you want in terms of research."
BPAPM student Brianna Chadourne studied the effects of appealing to fear in communications about climate change. The alarmist messaging of activist group Extinction Rebellion and the narrative of the UN Intergovernmental Panel on Climate Change (IPCC) offer more harm than help, she said.
"People face more immediate concerns than climate change in their daily life," she said.
"The consequences feel distant and the dominant fear appeals of climate change have no clear ideas of how to solve it."
Rachel Park, a student of Criminology and Criminal Justice, interviewed three former correctional officers to understand how their professional lives and time spent in prisons affected their personal lives. Kirstin Pulles, a BGInS student with a specialization in Global Development, analyzed progressive discourse around free public transit in Victoria, B.C., and Ottawa.
Oliver Debney, a Social Work student, conducted a poster and literature review of Ottawa's Beaver Boxing club and investigated the club's role as a safe space for systematically marginalized persons.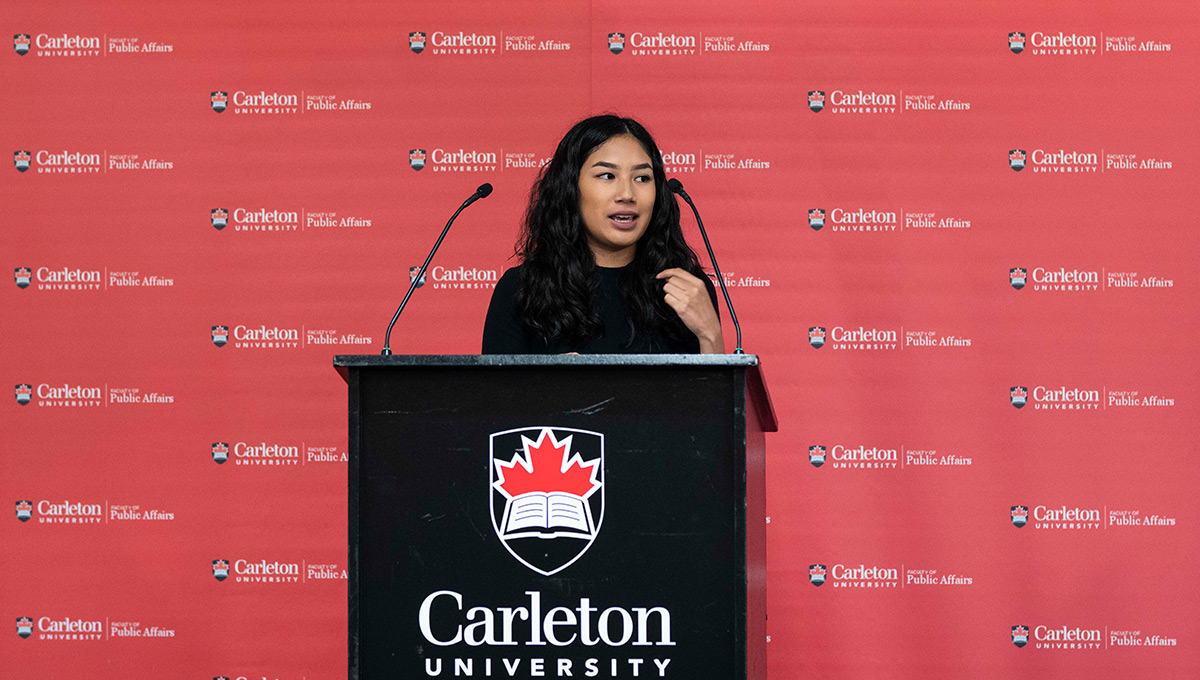 "This is what universities are about:
open doors and open minds."
Some students explored the international stage. Alfredo Porco, taking a BGInS with a specialization in Global Politics, examined how China's Belt and Road Initiative was cementing the country's stake in global influence.
Kateryna Pashchenko spent two months in Ukraine to study 2014 school reforms. She interviewed Ministry of Education employees and secondary school teachers and analyzed the role of education policy in developing the country's values of democracy, tolerance and inclusivity.
"Can emerging democracies use education to develop their country?" asked the BGInS student, who is doing a specialization in Europe and Russia in the World and a minor in History.
The deadline to apply for next summer's CUROP group is Feb. 28, 2020. Through CUROP, FPA students can pursue a summer research project with a $7,500 stipend under the guidance of a Carleton faculty member.
It wouldn't be possible without the help of the supervising faculty who dedicate their summers to helping the program thrive, said FPA Dean André Plourde.
"It's wonderful to have such great colleagues who will take these challenges on and work with these exceptional students to make them grow," said Plourde.
"This is what universities are about: open doors and open minds."