By Ellen Tsaprailis
Photos by Fangliang Xu and Chris Roussakis
Innovative, demanding research and co-op opportunities have helped three Carleton Faculty of Science students to achieve impressive success within their specialized undergraduate studies – the kind of practical learning that can make all the difference in future careers.
As someone who played piano since the age of five, Avery Vine thought he would study music when he went to university. But a Grade 10 computer science course intrigued him and by Grade 12 he had decided he was as passionate about programming as he was about music.
Vine chose to attend Carleton University's computer science program because of its mobile computing stream.
"I already had a hunch that I wanted to develop iOS (Apple operating system) apps," says Vine. "The program gave me a very solid understanding of data structures and algorithms, which are essential pieces of knowledge for any programmer."
All of Carleton's science programs have many experiential components such as field courses, lab work and work terms.
In searching for a practical work placement, Vine used Carleton's online co-op job board to find a posting at TripAdvisor. The company's Ottawa office hired him for the summer in 2018 to work on its restaurants team. He gained practical experience building software that allowed both restaurant owners and restaurant management agencies to purchase and manage ad campaigns for numerous restaurants at a time, such as multiple Subway restaurants in one city.
"Towards the end of that co-op, my manager approached me to ask if I had any interest in continuing to work for the restaurants team, either as a graduate or for my next co-op term, whichever came first," says Vine.
"He offered me the chance to try my hand at iOS development as they knew that it was the stream I was in and I had expressed interest in it before.
"In addition, he presented the idea of working out of their Needham, MA headquarters. I happily accepted both offers, and in January 2019 I moved to Boston to work on consumer-facing features for the restaurants part of the TripAdvisor iOS app!"
Learning how to write safe and readable code is important to Vine and he was able to get a lot of experience doing that at TripAdvisor. "In an app that is used by thousands of people every day, "unsafe" code (i.e. code that is prone to errors or unexpected behaviour) can result in crashes, which are extremely frowned upon for a company this big!" says Vine." This was my favourite work term by far, and it really helped me confirm my choice to push my career path towards iOS development."
When new features are completed or a bug is fixed, other developers are able to look at the code to try to spot issues or mistakes before the code is approved and Vine learned a lot from their commentary. "When I first started working at TripAdvisor, my (initial code was) full of comments from other developers pointing out issues with the code that I had written," says Vine. "Over time—as I learned better practices and gained experience and intuition—those comments became less frequent, and more focused on asking questions for the sake of understanding instead of critiquing what I had written."
The six-month Boston placement also exposed Vine to the concepts of new app architectures that he had not worked with before. "I feel a lot more confident now that I can write quality code in all of my future iOS development endeavours," says Vine.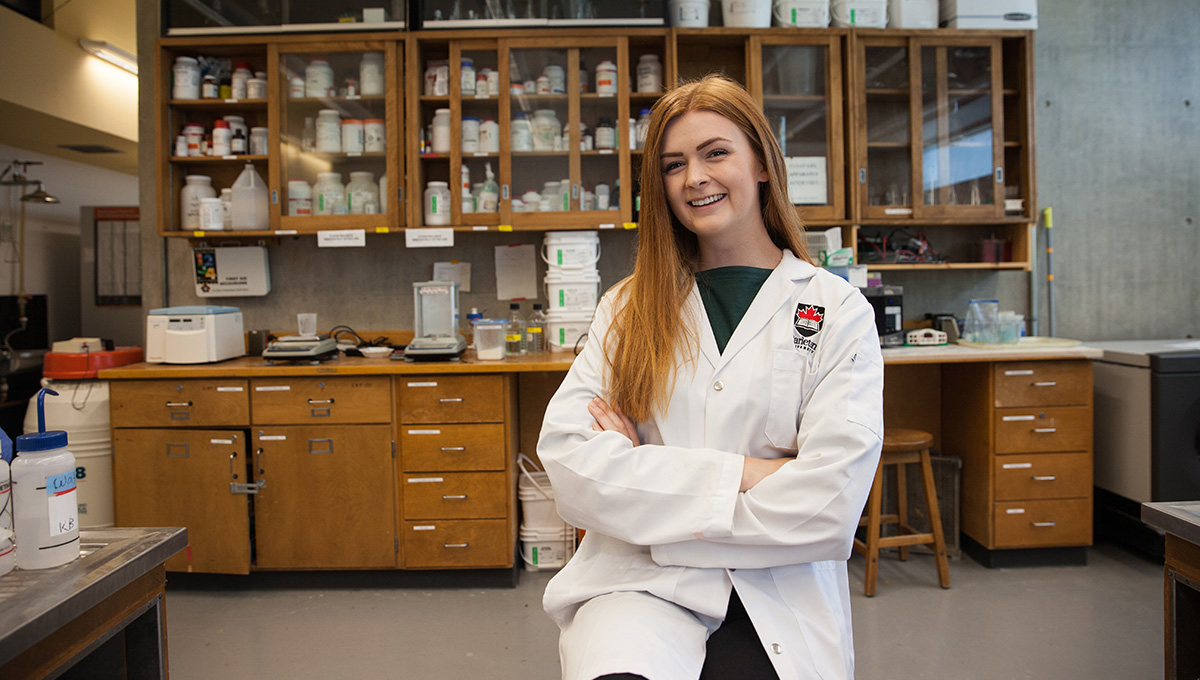 Creating an Impressive Research Toolkit
Neuroscience graduate Elyn Rowe pursued and found the right opportunities at Carleton to create an impressive research toolkit that launched her into a PhD program right after her double major undergrad years.
Awarded the Chancellor's Medal at spring Convocation for her outstanding academic achievements, Rowe began her research experience at Carleton through a summer research internship in Prof. Shawn Hayley's lab. "I worked with some amazing graduate students investigating potential therapeutics for Parkinson's disease, and they became some of my greatest mentors and friends. I continued in this lab through another internal research opportunity at Carleton—I-CUREUS—and learned a lot about overcoming obstacles in research."
From there, Rowe received funding through the National Sciences and Engineering Research Council of Canada (NSERC) to work in Prof. Kyle Biggar's lab, where she stayed until completing her undergraduate degree.
"It was in this lab where I discovered my passion for cellular and molecular biology, and ultimately flourished as a scientist. With support from Prof. Biggar and the rest of the lab, I published two first-author scientific papers and gained many skills that I will take with me into my graduate studies," says Rowe.
"Kyle pushed me a lot and treated me as if I were (already) a graduate student. It was so worth it."
Having learned the link between self-motivation and success, Rowe doggedly pursued professors willing to work with her. She has relocated to Vancouver and started her doctoral studies in pathology and lab medicine at the University of British Columbia.
"I will be working to further understand and develop therapeutics for Alzheimer's disease," says Rowe. "Specifically, I will be investigating apolipoprotein E (ApoE) and high density lipoproteins (HDL—commonly known as the 'good' cholesterol) and how manipulating them may be protective against features of the disease.
"Alzheimer's research has been an end goal of mine since volunteering in the nursing home that my mum worked at when I was young, so I am very excited to get started."
Exploring New Research Applications Through Practical Learning
Heading into his final year in the honours chemistry program is Wondewossen Gebeyehu.
Throughout last year's fall and winter semesters, Gebeyehu had the opportunity to apply practical chemistry through his third-year chemistry course – an independent research course – by analyzing what is in street drugs at a local supervised injection site.
"The work consisted of observing and optimizing the methods that were being used to check drugs in a supervised injection site using a mass spectrometer," explains Gebeyehu.
"This included monitoring the instrument's function and stability, performing some routine maintenance, as well as observing the sample preparation procedures to ensure that analysis results are as accurate and representative as possible."
As an extension to the drug analysis he did, Gebeyehu works at the Carleton Mass Spectrometry Centre (CMSC), where he is continuing this research through grants and scholarships from the Canadian Institutes of Health Research, Health Canada and the Walker Summer Research Scholarship. His project is a collaboration with the University of Ottawa and the Sandy Hill Community Health Centre.
"My work has definitely opened my eyes to the various applications of analytical chemistry. This insight has exposed me to sectors of employment for science majors that I previously had not known about," says Gebeyehu.
"It has also given me a head start with engaging in research and academia, by attending lab group meetings, getting feedback on experimental results, and presenting our findings through reports and at conferences."
Looking to his near future, Gebeyehu is planning to complete a masters in chemistry and pursuing a professional degree in health care afterward. For the moment, he is confident in the practical skills he has gained in his undergraduate years.
"I definitely feel as though I'm in a much better position to begin my honours project in the lab, and potentially a research-based graduate degree afterward. I have gained valuable experience and knowledge both in labs and formal settings."
Wednesday, January 22, 2020 in Faculty of Science, Student Experience
Share: Twitter, Facebook