By Dan Rubinstein
Photos by Justin Tang
For three decades, he composed music for films that helped define Canadian culture.
He collaborated with celebrated artists at home and abroad, including fabled silent-film star Buster Keaton, legendary filmmaker Norman McLaren and beloved New Brunswick bandleader Don Messer.
He played an instrumental role in a production that had a major impact on director Stanley Kubrick, whose sci-fi epic 2001: A Space Odyssey was inspired in part by a documentary featuring a soundtrack by the longtime Ottawan.
And although he was a staff composer at the National Film Board of Canada (NFB) for 30 years, Eldon Rathburn is not a household name. That's why Carleton Music Prof. James Wright wanted to write a book about "one of the most multi-dimensional, prolific and endlessly fascinating composers of the 20th century, who wrote more music than any other Canadian composer of his generation."
And why musicians Adrian Matte and Allyson Rogers, a Carleton Music master's student and master's alumna respectively, produced and arranged a companion jazz album.
"Throughout his entire career he flew under the radar — he was incredibly modest and he shied away from the limelight, but he was always making music," says Wright, whose book, They Shot, He Scored: The Life and Music of Eldon Rathburn, will be launched in tandem with the CD The Romance of Improvisation in Canada: The Genius of Eldon Rathburn at the Carleton University Art Gallery on Nov. 23, 2018.
"He had such a significant impact," Wright says of Rathburn, who also scored the first generation of IMAX films and created a diverse catalogue of orchestral and chamber works, "even if he has been for too long a largely unsung creative figure."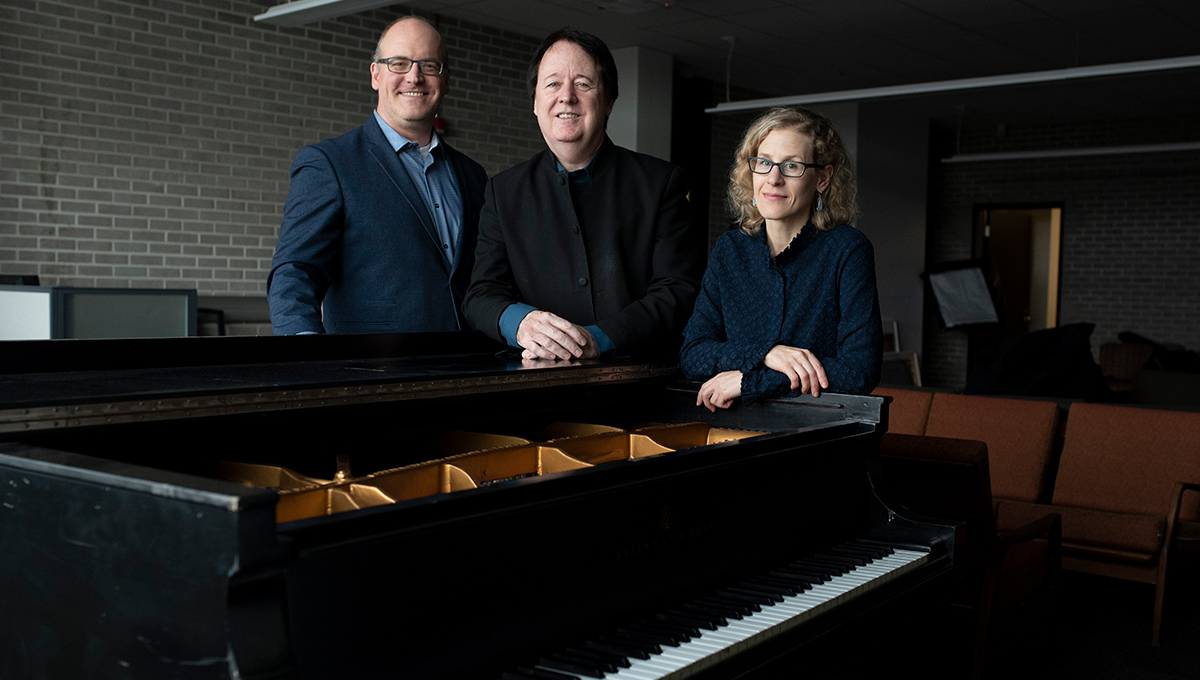 An Indelible Presence in NFB Films
Although Wright had heard Rathburn's music over the years at music festivals and in films, he first connected personally with the composer in 2006, the year before he hosted a conference at Carleton dedicated to the chamber music of Austrian-American composer Arnold Schoenberg.
Rathburn had sought guidance and mentorship from Schoenberg in Los Angeles after winning the prestigious Los Angeles Philharmonic Orchestra Young Artist Award for composition in 1945, and when Wright was organizing the conference, Schoenberg's children told him about "a composer in town" who had connections with their father.
Wright went to meet with Rathburn, who had two condos in Ottawa: one where he lived with his wife, Marguerite, and another full of scores he had composed, as well as musical and cinematic memorabilia and correspondence he had amassed.
---
More Interesting Reads
---
Wright was immediately captivated by Rathburn — "he was a thoroughly delightful man, full of good humour, with an incredible wealth of knowledge, connections and reminiscences" — and the two became friends. Wright knew right away that he wanted to share Rathburn's story in a book.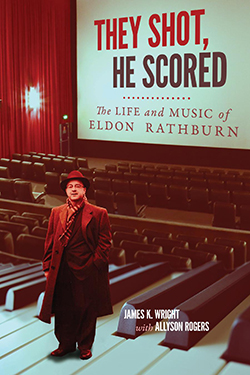 In the weeks and months that followed, Wright started to sift through Rathburn's personal archives and materials held by Library and Archives Canada, in addition to conducting interviews with Rathburn and dozens of people who knew and had worked with him.
Wright also attended a few concerts with Rathburn, until Rathburn's health began to decline in 2008. He passed away in August of that year at the age of 92.
"For more than 30 years, the music of this prodigious composer accompanied over 250 of our productions," former NFB commissioner Tom Perlmutter said after his death.
"The depth of Eldon Rathburn's contribution to the NFB is immeasurable . . .  Eldon's music and humanism are an indelible presence in so many of our finest films. His meticulous craftsmanship and awe-inspiring musical vocabulary have left a lasting mark on Canadian music and film. The history of Canada's public film producer will be forever linked to his prodigious musical accomplishment."
"This project was deeply gratifying from the outset, and it felt so good to know that Eldon died knowing someone was going to write about his extraordinary life and work," Wright says of the book, which will be officially released by McGill-Queen's University Press in March, with a double entendre title that's also a nod to Rathburn's love of hockey.
"He was such a deeply loved and cherished figure. He knew he had a fascinating story to tell as a musician who played a major role in a national institution and gave a musical voice to countless iconic Canadian films."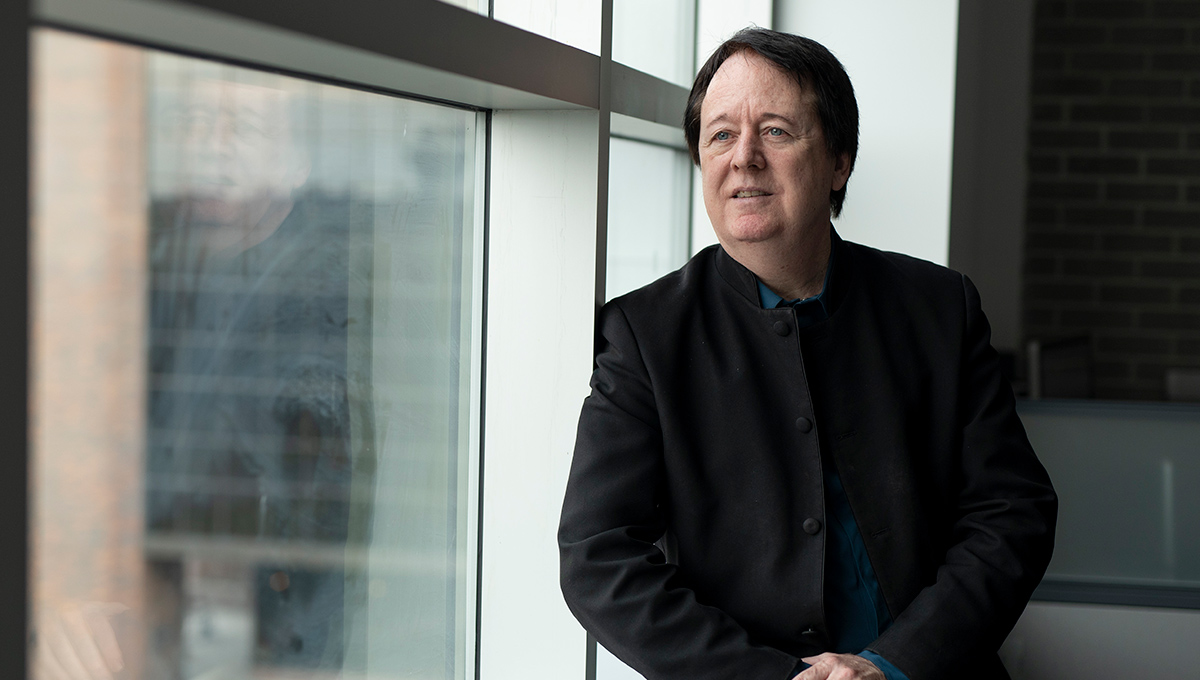 Influencing Stanley Kubrick
It was the 1960 NFB documentary Universe — which creates "on the screen a vast, awe-inspiring picture of the universe as it would appear to a voyager travelling through space" — that had a significant influence on Kubrick's 2001.
Kubrick was awestruck by the Canadian film's otherworldly style, visual effects, music and powerful narration (by the late Canadian actor Douglas Rain, who became the voice of Kubrick's coolly dispassionate computer antagonist "Hal 9000".)
Though he wrote an orchestral score for Universe, Rathburn's expressive and technical palette had versatility that stretched far beyond the norms of traditional classical film music.
"If you wanted a jazz-inspired score, or a country flavour with banjo, you could turn to Eldon," says Wright.
"At other times, he was a romantic at heart. He loved sweeping melodies, pointing back to the 19th century. But he was also obsessed with railroad sounds. He wrote more railroad music than any other composer in music history. He was a true musical polyglot."
It can be challenging if not impossible to "lift" music from a film score into a full album, because it is often comprised of filmic snippets that sync tightly with the plot and visuals.
But when Allyson Rogers — a jazz drummer who completed a master's in Music and Culture under Wright's supervision in 2012 — became a research assistant on the Rathburn project and watched a lot of his NFB films, she discovered that he also wrote killer jazz music.
"Eldon had absorbed the sounds of modern jazz," she says.
"He wasn't somebody who was trying to sound 'jazzy.' He understood the genre and how it moved."
Rogers, who is now completing a PhD on the music of the NFB at McGill University, has been collaborating with guitarist/saxophonist Adrian Matte in jazz, Afrobeat and Cuban bands for about 10 years. They were driving to a gig in Carp in 2015, talking about Rathburn's jazz, when she said: "We should do something with this."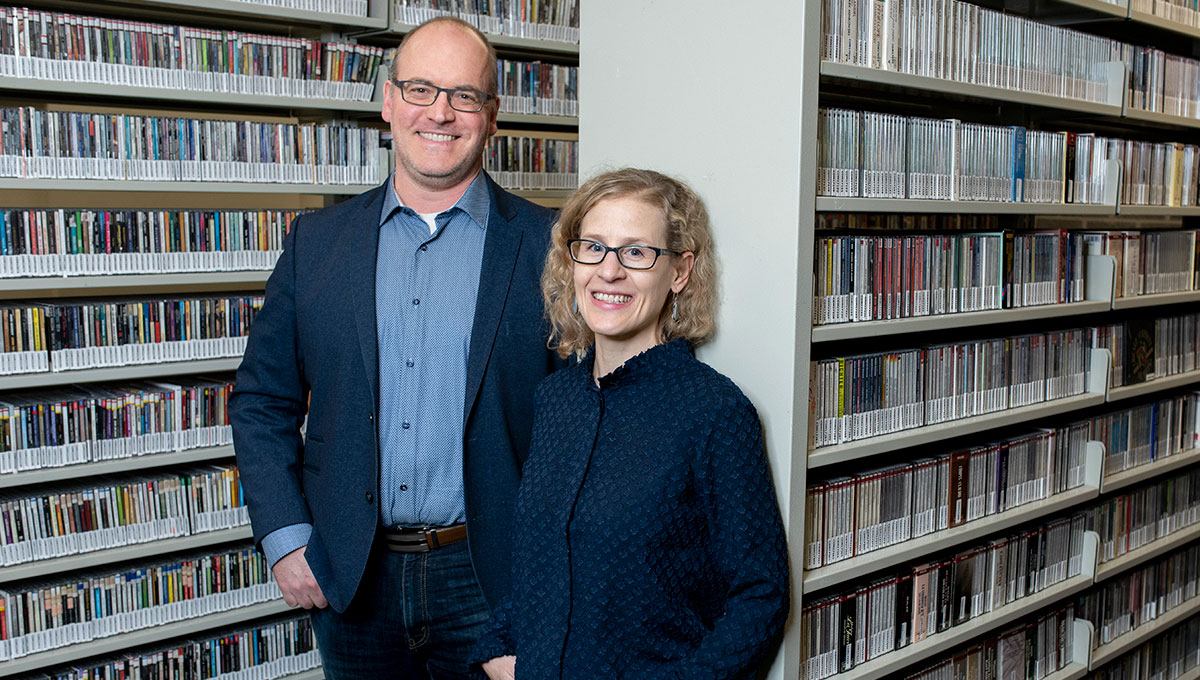 A Chain of Collaboration
"It was a lot of work," Matte, a veteran musician and teacher in Ottawa's jazz scene, says about arranging Rathburn's short jazz pieces into songs for a modern jazz quintet, complete with open sections for improvisation. "It was a like a jigsaw puzzle, and there's been an amazing chain of collaboration all the way through this project."
One of the stranger films they draw upon, Fish Spoilage Control, is a charming eight-minute animated short film from 1956 that "illustrates the proper methods for handling fish to avoid contamination and ensure freshness, from boat to dinner table."
"Such a pedestrian topic," chuckles Wright, "but it features a brilliant jazz score!"
Rogers and Matte had their hands full producing and arranging The Romance of Improvisation in Canada, but the project really gelled when they enlisted the help of an "all-star dream band" of five musicians — Petr Cancura, Kevin Turcotte, Marianne Trudel, Adrian Vedady and Jim Doxas — before heading into the studio.
The first recording session for the album took place on April 21, 2016, on what would have been Rathburn's 100th birthday.
The CD, which has just been released by Montreal's Justin Time Records, is already receiving some early Juno Award buzz.
A tour with the musicians who play on the album — including stops at the Ottawa International Jazz Festival and the National Arts Centre — is in the works for next summer and fall. And because Rogers and Matte have so much material from Rathburn's NFB collection, the musicians have already asked about going back into the studio, she says, "so we know there's going to be more."