By Matt Gergyek
Photos by Mike Pinder and Chris Roussakis
Growing up, Carleton Music graduate Kelsey Hayes was your stereotypical introvert.
Everywhere she went, she became a part of the crowd, fading into the back of a classroom or school bus.
"When I was 11 years old, I couldn't talk to anyone," she says.
That is, everywhere but in front of a microphone. On stage, she didn't just talk- she sang, she performed.
"I think because I was so shy as a kid, having an outlet where I could be free was so important for me," she says. "My parents didn't recognize me [on stage], they expected me to freeze. I just got up there and ignored everything . . .  I could sing in front of crowds of all these people."
These days, the bright and bubbly indie-pop singer and songwriter shows no remnants of her younger self. She walks with power and purpose, emitting a sort of aura, a warm glow that seems to radiate directly from her vocal chords.
"I grew up in a family that loved music," says Hayes, who specialized in singing and songwriting at Carleton.
She recalls dancing around her living room to her father's cherished classic rock collection, playing her own air guitar solos to fan-favourite hits by U2 and The Clash.
Hayes took up the piano at seven, ending up dropping it, but then picked it up again at 11 (along with vocal lessons). At the same time, she began writing her own songs. Finally, at 13, Hayes picked up the guitar.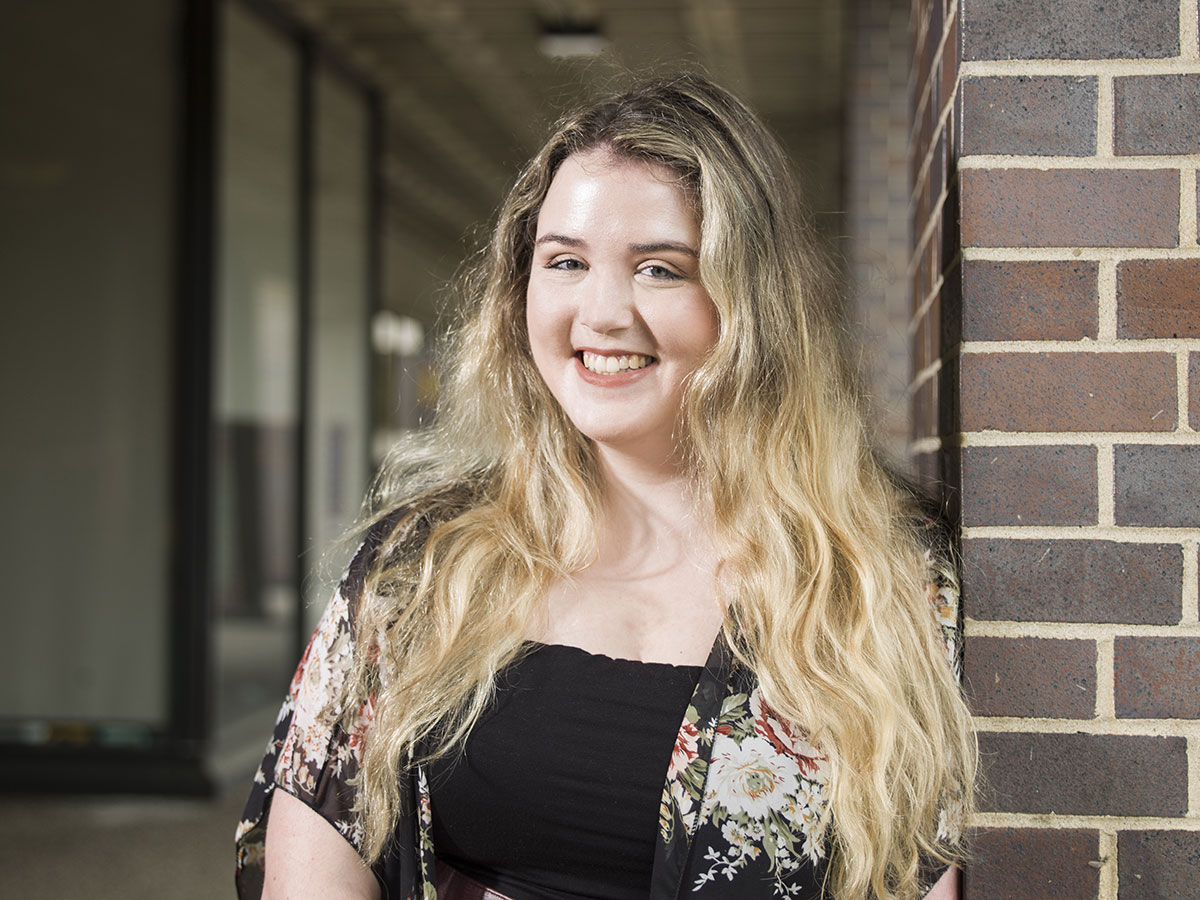 Growing as a Musician
Hayes grew as a musician throughout high school, but said the biggest turning point in her budding career was her last-minute decision to apply to Carleton's Music program, a mere week before university and college applications were due.
"It's a weird timeline, I almost went into international development," she remembers. "I was hearing . . .  these social messages that you cannot succeed in music, you'll be homeless."
Thankfully, a teacher reached out to Hayes and encouraged her to pursue her passion for music. She officially kicked off her degree in 2014.
Hayes praised Carleton's Music program for its extensive hands-on approach and community feel.
"I enjoyed being surrounded by music all the time, every day," she says. "[The program taught me] a lot of the theory and knowledge behind the music that a lot of vocalists don't actually have."
She credits working with artists Kellylee Evans, Mark Ferguson and Giselle Minns, instructors in the program, for helping her talent flourish.
"That was my favourite part, working one-on-one with other musicians."
These days, her artistic abilities have led to a four-piece band, including Jacob Clarke on lead guitar, Evan Davis on bass and Christian Lascelles on drums. The band has played throughout Ottawa. On her own, Hayes toured China in 2016, performing Chinese folk songs.
"One of my absolute goals [in university] was to find really talented, really passionate performers I could get to work with me and create music with," she says. "That was one of the great things I was able to do here [at Carleton]."
A Breath of Fresh Air
At the heart of each of each Kelsey Hayes' song is an irresistibly addictive hook, an earworm, a breath of fresh air.
"I've been obsessed with hooks for as long as I can remember, the catchiest part of a song," she says, tapping her fingers on the table in front of her.
Hayes's music is tinged with the style and themes of some of her influencers, including Adele, Ed Sheeran and Amy Winehouse, but she's ultimately her own incomparable artist.
One of her strongest songs to date, Is It Like That, could be a staple pop hit for both Ottawa and international radio stations, yet it's also undeniably her own work.
The song features her trademark tight and witty lyricism and a beautiful airy hook, but a powerful piano melody and jazz interpolation are seamlessly weaved throughout the track.
The result is nothing short of magical (think of a vocal performance similar to Adele's hit Chasing Pavements layered over the jazzy instrumental of Radiohead's Life In a Glasshouse).
Hayes also has to juggle the business side of things, including marketing, booking and promotion, which can be even more demanding than creative pursuits.
"I'll come out from four hours of writing emails and then I have to go right to rehearsal," she says. "Then I go to rehearsal and I'm so happy again . . .  I kind of fall in love with what I do over and over again."
From the Carleton Music Program to the World
Hayes performs in her jazz duo called Takes Two as well, with guitar and double bass player Jacob Clarke. The duo has performed at all ends of the city, from the Rideau Centre's Bazille to Café Cristal in Barrhaven and beyond.
She has also been featured on a number of electronic songs, including LA by Ottawa-based producer Turhan James and Rapture by Ottawa-based duo Apollo Rising.
In her spare time, Hayes teaches youth the foundations of music.
"You're the person who's first exposing them to what melody and harmony is [and] it's fascinating to teach them new skills," she says.
Hayes couldn't pin-point a favourite moment in her musical career so far, but she has an idea of what it might be come July 6. From 6 to 7 p.m., Hayes and her band will take over the Claridge Homes Stage at Ottawa's Bluesfest.
Hayes said the band has some tricks and surprises planned.
"I feel elation a lot of the time I walk on stage, I feel very strong, I feel excited because I get to share what I do. For me, a music is about human connection- it's not about making a ton of money."
While pop music continues to shift largely towards cookie-cutter formulas and a lack of experimentation (a common fault of any genre, which increases as a genre grows in popularity, according to a study published in 2014 in the journal PLOS One), Hayes says she will fight to continue to be her own artist.
"If you hear a Kelsey Hayes song or I'm featured on a song you listen to, I'm hoping you'll be able to know that's Kelsey Hayes just because of the voice," she says. "It's still a bit like winning the lottery [and] there's no guarantee that I will [get to share my music with the world], but I will keep trying for it regardless, because that's what I'm passionate about."