By Dan Rubinstein
Photos by Josh Hotz and Lindsay Ralph
For more than 30 years, musician, visual artist and Carleton Music Prof. Jesse Stewart has been collecting beach glass from the Great Lakes, St. Lawrence River and east coast of Canada.
He has also been accumulating, with a little help from friends, a stockpile of the small plastic clips used to close bread and milk bags.
Both sets of found objects figure prominently in Jesse Stewart: Icebreaking, an exhibition that recently opened at the Ottawa Art Gallery (OAG) as part of the Firestone Reverb series, where contemporary artists respond to selected works from the OAG's Firestone Collection of Canadian Art.
"Time and Tide" is a four-foot by eight-foot floor piece featuring the aforementioned waterways cut out from reclaimed pallet wood, with the inlaid space filled with thousands of pieces of beach glass. "Best Before," which is almost the same size, hangs on the wall and uses more than 5,000 plastic clips — arranged chronologically by expiration date — to create a pixilated mosaic representation of Arctic ice.
"Just like food staples such as bread and milk, our planet has an expiration date," says Stewart, who looked at Canadian painter Claude Picher's "Icebreaking" — a depiction of ice piles beside the St. Lawrence — and satellite imagery of the North as inspiration for the two pieces. "We need to be taking steps to reduce the negative impacts of climate change and pollution.
"The ephemerality and abstract nature of art lend themselves to creating works that can hopefully convince people to think about the major challenges facing the world," continues Stewart. "To me, that's one of the important roles that artists can play — to encourage people to engage with the world around them."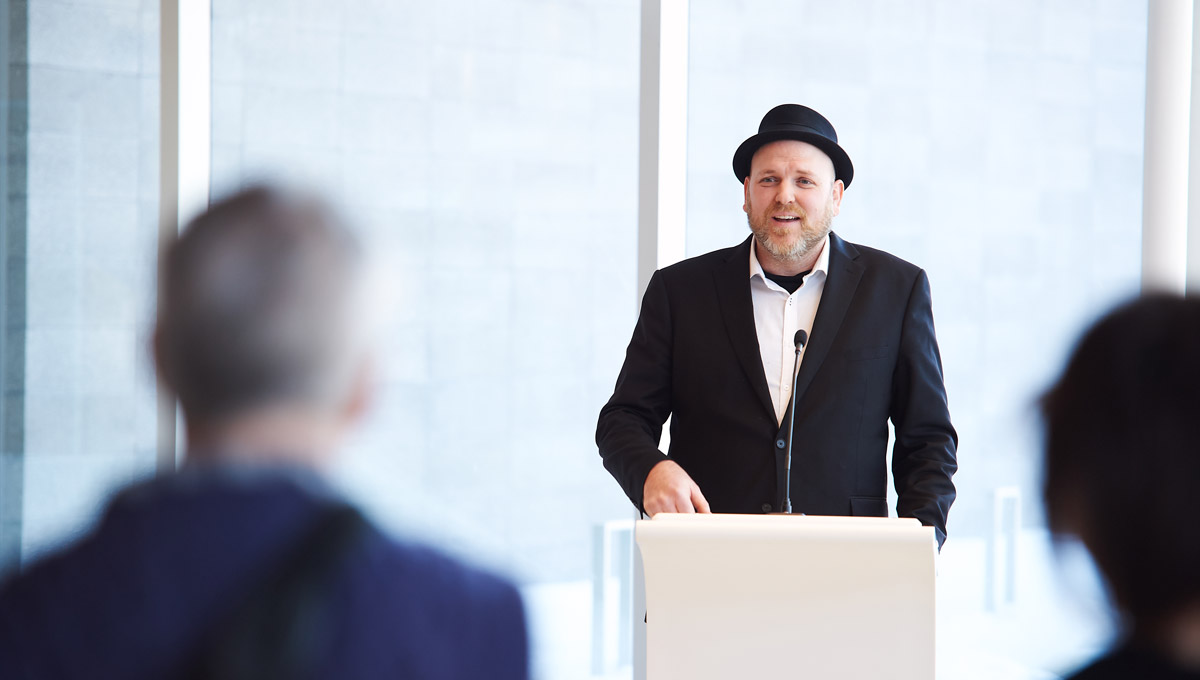 Modernist Works from Influential Canadian Artists
The Firestone Collection, originally established by Ottawa-based collectors O.J. and Isobel Firestone in the early 1950s, contains more than 1,600 modernist works (from 1890 to 1985) by influential Canadian artists such as Maxwell Bates, Edwin Holgate, Arthur Lismer, Henri Masson, Marian Scott and Philip Surrey.
In dialogue with Stewart, OAG curator Rebecca Basciano selected the pieces from the collection that would be featured in this edition of the Reverb series, including works by Picher, Franklin Carmichael and Lawren S. Harris that highlight industrial activities such as mining, smelting and breaking up ice on the St. Lawrence Seaway, all of which fits an overarching theme of transformed landscapes and environmental change.
But three years ago, when Stewart was asked to put together an exhibition, he went to the gallery — before it had moved into its new purpose-built cube building — and was inspired by A.Y. Jackson's winterscapes and a pair of the Group of Seven painter's snowshoes that were also on display.
"That got me thinking about how prominently winter figures into Canadian landscape painting," says Stewart, "and about the impact of climate change on winter.
"It also got me thinking about the roles we all play in effecting change, which in some cases is negative, but can also involve making more responsible choices to help bring about positive change."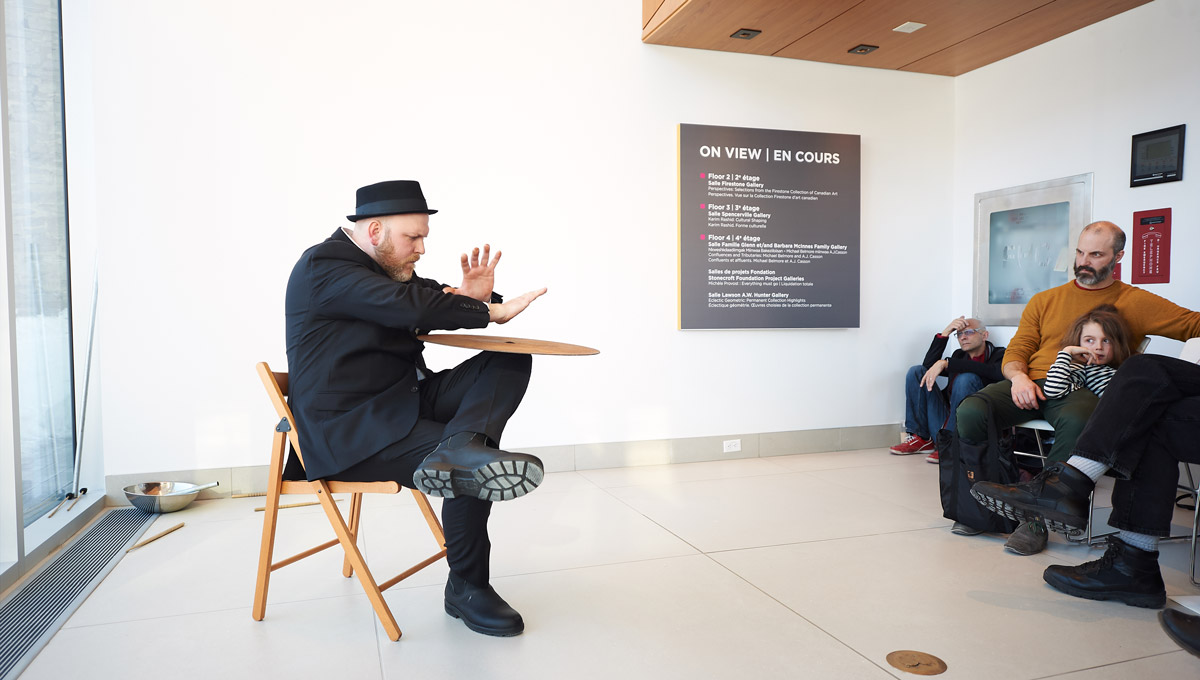 Jesse Stewart: Looking and Listening
Although Stewart is a Juno Award-winning musician and composer, perhaps best known as a drummer, he majored in both visual art and music at the University of Guelph and has always dreamed up works for audiences to look at as well as listen to.
The centrepiece of Icebreaking blends the two halves of his creative practice: "Glacialis," a video of Stewart playing percussive instruments made of ice, recorded during a performance outside Toronto's City Hall in 2010, is projected on a loop onto a white backdrop of angular sculpture stands that resemble an iceberg or glacier.
Glacialis from Jesse Stewart on Vimeo.
"These instruments turned back into water not long after the performance," says Stewart, who performed using everyday objects, including a steel mixing bowl and a folding chair, at the opening of Icebreaking, which will remain on display until June 23.
"There's something about the fragility and impermanence of ice that I've always been drawn to."
He has also always been drawn, whether making music or visual art or teaching, to the importance of speaking truth to power, and trying to have a positive impact on the world.
(Credit information for image at top: Jesse Stewart, Glacialis, 2010-2019, single-channel video projection. Exhibition view, Jesse Stewart: Icebreaking, at the Ottawa Art Gallery, 2019. Photo: Lindsay Ralph.)