By Dan Rubinstein
Photos by Mike Pinder
 Methane emissions from oil and gas production in Alberta are significantly higher than industry reported data and government estimates.
To help meet our climate change targets, Canada is committed to reducing energy sector emissions of this potent greenhouse gas by 40 to 45 per cent below 2012 levels by 2025.
That's a significant challenge. But there's also a tremendous opportunity for accurate emission measurements to shape new regulations — currently being developed by both the federal and Alberta governments — that can help the country turn the tide in this critical front in the fight against global warming.
Methane measurements in Canada's oil and gas sector, and the technical and economic challenges of methane mitigation, were the focus of a full-day symposium on Nov. 21 organized by Prof. Matthew Johnson at Carleton University's Energy and Emissions Research Lab (EERL).
The methane symposium brought together around 130 scientists from academia, government and industry, as well as energy policy experts and elected officials, with participants eager to discuss the latest research and how the data can be translated into impactful regulations.
Among the audience were senior representatives from the Department of Natural Resources, Environment and Climate Change Canada and the National Research Council and CEOs and executive directors from across Canada and the United States, with another five dozen people — including regulatory advisers and lawyers — watching the proceedings via livestream.
"Especially in Canada, there is momentum to take the necessary steps to achieve emission reductions overall," said Daniel Zavala-Araiza, a scientist in the Texas office of the U.S. Environmental Defense Fund.
He collaborated with Johnson on a recent paper which determined that total methane emissions in Alberta were at least 25 to 50 per cent higher than current federal government estimates.
The science is consistent, said Zavala-Araiza: actual emissions are higher than we thought. And while it will take time to implement and reap the benefits of new regulations, he argues that the first steps can be taken now.
"What do regulations need to say to address emissions?" asked Zavala-Araiza. "With accurate measurements, we have the information we need to get this right. And in the end, captured methane is a saleable product. Gas in a pipeline is better for industry than releasing gas into the atmosphere."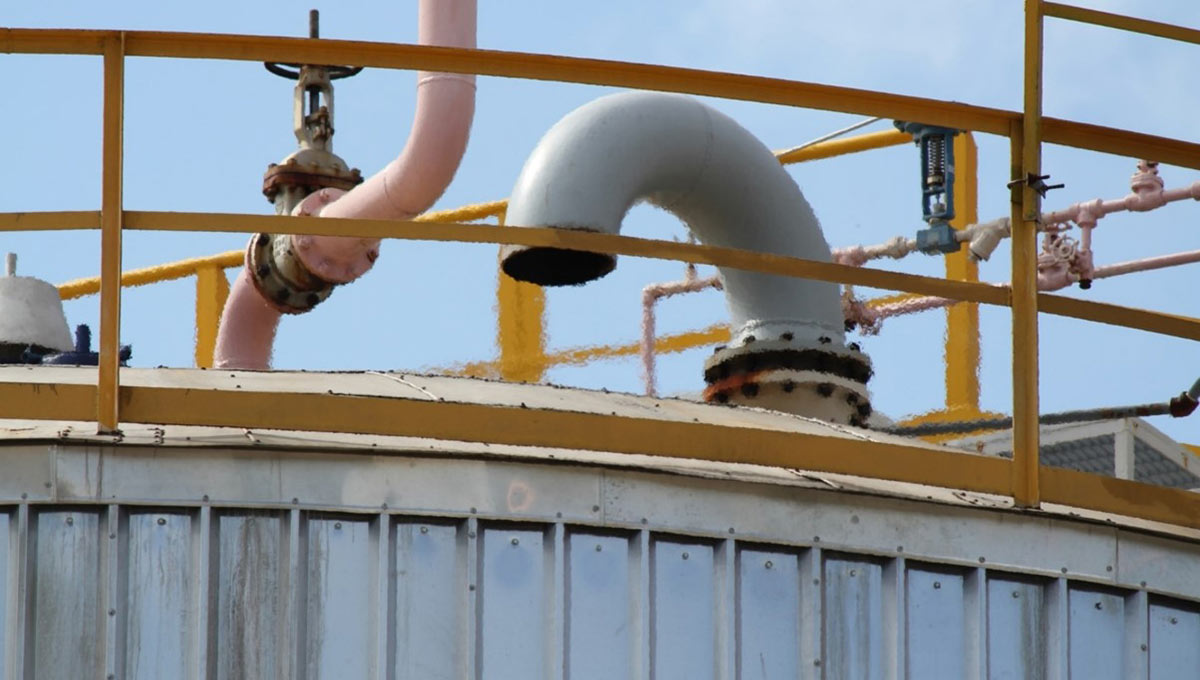 Conducting Airbore Measurements of Methane in Alberta
"Comparisons of Airborne Measurements and Inventory Estimates of Methane Emissions in the Alberta Upstream Oil and Gas Sector" — the paper by Johnson and Zavala-Araiza, published this fall in the prestigious journal Environmental Science & Technology — set the stage for the symposium.
Co-authored with EERL research associate David Tyner, Stephen Conley of Scientific Aviation and Stefan Schwietzke of the University of Colorado's NOAA ESRL Global Monitoring Division, the study was based on airborne measurements of two oil and gas production regions in Alberta in November 2016.
The research project was "really about using evidence-based science to help inform policy and help us make informed decisions," said Johnson, a professor in Carleton's Mechanical and Aerospace Engineering Department, "and to help industry operators identify the most efficient and effective actions for mitigation."
Despite finding that actual emissions are much higher than reported data and estimates, the "good news," according to Johnson, is that greater volumes of methane being produced improve the economics of capturing the gas into a pipeline instead of venting or flaring it into the atmosphere.
Additionally, industry will be incentivized to deploy existing and emerging technologies to detect and control leaks.
Compared to the global warming impact of carbon dioxide, methane is understood to be approximately 34 times more potent over a period of 100 years and 96 times more potent over 20 years. But very little effort has been made until now to measure actual methane emissions from oil and gas production in Canada.
"We've brought together the best range of speakers with direct knowledge of data from the Canadian oil and gas sector," Johnson said in his opening remarks at the symposium.
"Our goal today is to get to: What does this all mean?"
"At Carleton, we understand the fundamental importance of energy and the environment, and how teaching, research and innovation can help us work toward a sustainable future," said Vice-President (Research and International) Rafik Goubran.
The EERL has a long history of national and international multi-stakeholder collaborations with both government and industry, he added. "The breadth of these collaborations and diversity of partners strengthens the impact of Carleton research."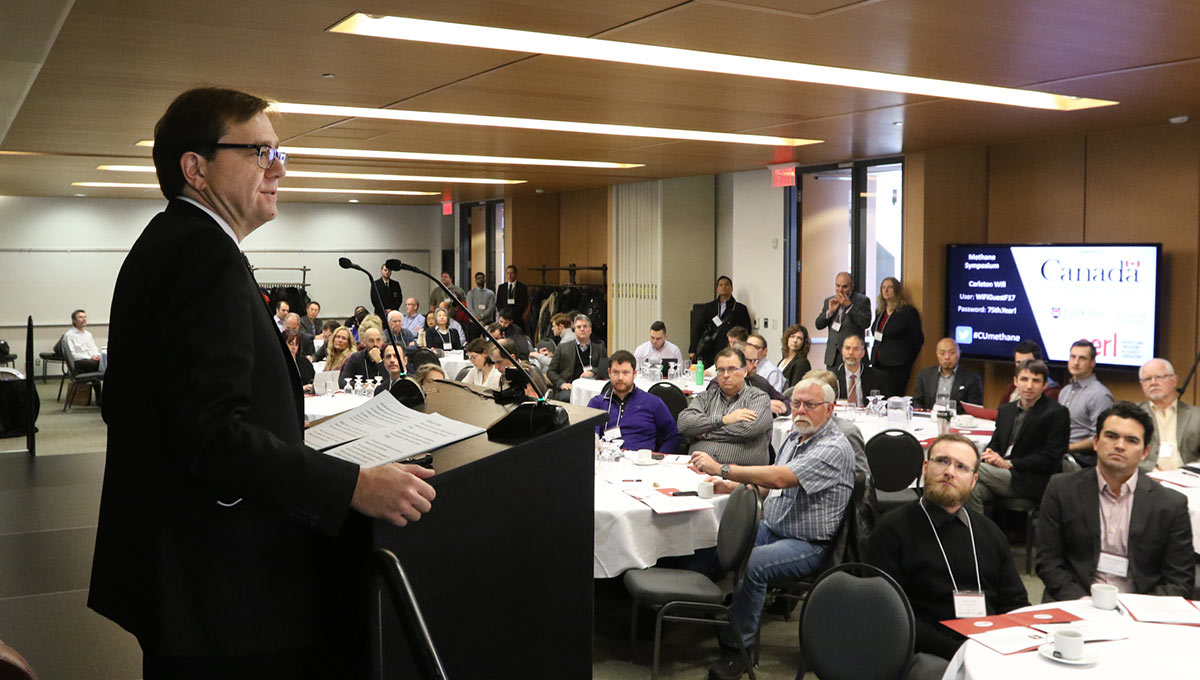 Addressing the Need for Environmental Protection
Speaking at the symposium on behalf of both Canada's Minister of Environment and Climate Change Catherine McKenna and Minister of Natural Resources James Carr, MP Jonathan Wilkinson — parliamentary secretary to McKenna — noted the continued development of fossil fuels requires us to address the need for environmental protection.
"Events like this one today are critical in terms of how we can turn climate action into competitive advantage," said Wilkinson. "Elections come and go, and so do governments, but the science of climate change is an enduring fact. People can debate the Paris Agreement all they want, but the laws of physics can't be wished away.
"Achieving emission reduction targets will require thoughtfulness and significant innovation," he added.
"The shift to a clean growth future will present significant challenges, but innovation is not new to the Canadian oil and gas sector."
In his morning presentation, Zavala-Araiza focused on so-called "super emitters," noting that five per cent of oil and gas production sites in one American region are responsible for 50 per cent of the area's methane emissions — a statistic that's likely similar in Canada.
"There's no reason to think this is only happening in the U.S.," said Zavala-Araiza, showing graphs that detailed comparable emission results around Red Deer, one of the two Alberta zones studied in the project with Johnson.
Better monitoring of super emitters could lead to effective mitigation, he said.
"We should try to apply some sort of triage system," suggested Prof. David Risk from the Flux Lab at Nova Scotia's St. Francis Xavier University.
"When you go to the emergency room at a hospital, not everybody is sent to surgery."
Other speakers in the morning session — which focused on measurements — included scientists Shao-Meng Li and Doug Worthy from Environment and Climate Change Canada (ECCC). Li concentrated on emissions from the Alberta oil sands and the shale gas (i.e., fracking) production region in southern Saskatchewan, while Worthy — the scientific lead for ECCC's atmospheric greenhouse gas program since 1988 — compared provincial-level emissions in Alberta and Saskatchewan.
"One of the things I was told as a young scientist," said Worthy, "is that you can always go back and analyze data, but you can never go back and collect data."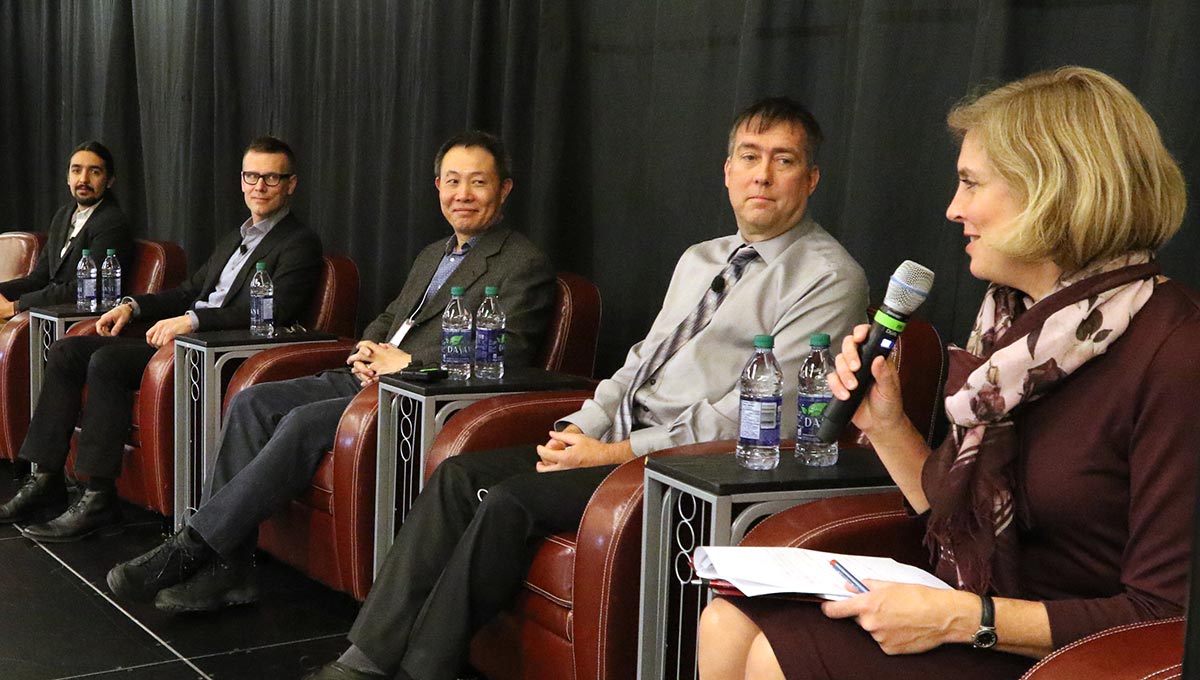 Mitigtating Methane Emissions
The afternoon session, on the technical and economic challenges of methane mitigation, was moderated by Frank Des Rosiers, assistant deputy minister for Innovation and Energy Technology at the federal Department of Natural Resources.
Speakers included Carleton's David Tyner, industry representatives Julie Oxtoby (from Progress Energy, a Calgary-based natural gas company) and Joshua Anhalt (president of methane detection, measurement and management company GreenPath Energy) and, via video conference from Norway, Stephanie Saunier of Carbon Limits, an international energy industry consultancy.
Globally, a large percentage of the needed methane emission reductions can be achieved using today's technologies with no net cost, said Drew Nelson, director of international affairs for the U.S. Environmental Defense Fund's American climate and energy program.
Considering that 25 per cent of the warming we feel today is from methane, he said: "This is about as close to a get-out-of-jail-free card as you can get."
Jurisdictions that impose methane emissions reduction regulations don't necessarily lose energy production or jobs, said Nelson.
"Failure to address methane will cost more jobs in the long run than in not addressing methane."
It's telling, Des Rosier noted, that Canada's government is talking openly about these challenges with academia and industry.
"We're working together to assess the scope of the problem," he said, "and we will work together to come up with innovative solutions."