By Ellen Tsaprailis
Photos by Josh Hotz
Celebrating 20 years at Carleton University, the Arthur Kroeger College of Public Affairs has a new director, Prof. Mary Francoli, who is applying her own communication and political science skills to boost the college's public profile and highlight commonalities across programs as it continues its niche path in the nation's capital.
Focused on responding to changing conditions affecting governance and civic society in Canada and around the world, Francoli says new educational responses are required to address "emerging needs for citizenship and leadership at all levels of society, from the local to the global, and across all sectors."
"The next generation of leaders require a new set of skills and knowledge to manage prosperity, ensure fairness and promote democracy. Building such skills and knowledge is at the heart of each of the programs in the college."
The college opened its doors in 1999 to offer the Bachelor of Public Affairs and Policy Management (BPAPM) program. Created under the helm of retired Prof. Eileen Saunders as a competitive entry, limited enrolment program located in an exclusive college setting, the BPAPM is a policy studies program combining the interdisciplinary study of institutions and public issues with the study of public policies and their administration.
"We embraced the concept of a college to signal that the program would seek to offer both in-classroom education with extracurricular opportunities that would offer a different kind of learning experience," says Saunders, who spent two years creating the program.
"A lot of time was spent researching programs elsewhere and realizing nothing existed in Canada for what we were proposing. As the first director, the biggest challenge was bringing the vision we began with to life." says Saunders.
"There really was no model."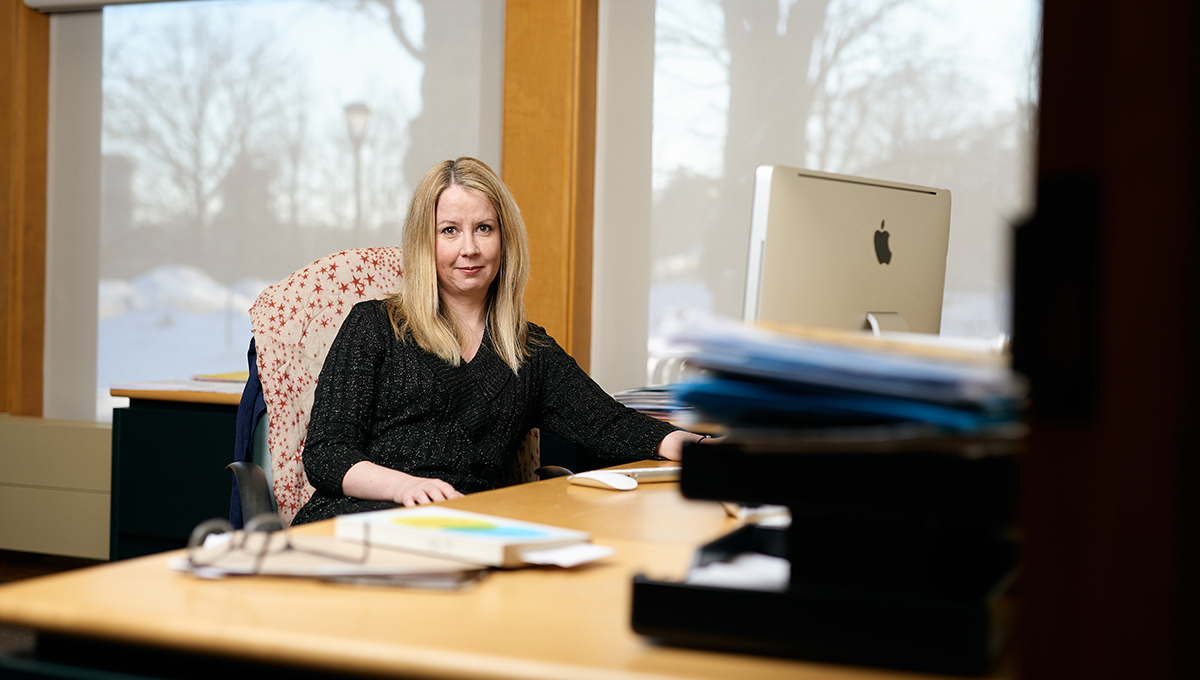 Photo: Prof. Mary Francoli
Fostering a Sense of Belonging
Following the success of its flagship program, the Clayton H. Riddell Graduate Program in Political Management (MPM) was added in 2011. A first of its kind in Canada, the program informs and bolsters electoral politics and parliamentary democracy in Canada and beyond. Four years later, the Bachelor of Global and International Studies (BGInS) program welcomed its first students and set out to educate active and engaged global citizens. Its first cohort is graduating this June.
Kroeger College currently boasts 350 students enrolled in the BPAPM program, 28 in the MPM and 784 students in BGInS.
Named after Arthur Kroeger—a distinguished public servant and seventh chancellor of Carleton University—the university "college" is an ancient concept which fosters a sense of belonging to a scholarly community, often difficult to achieve in large enrolment undergraduate degree streams.
As the college continues to grow and mature, a new degree program will be offered in the fall of 2020, a master's and graduate diploma in Migration and Diaspora studies.
"We are very excited to be working towards the launch of our new MA and graduate diploma programs, the first program in Canada to combine migration studies and diaspora studies," says James Casteel, the program's director.
"Bringing these two fields into dialogue with each other is a productive endeavour that empowers students to address the multinational and transnational ties and practices of migrant and diaspora communities, both historically and in our contemporary world."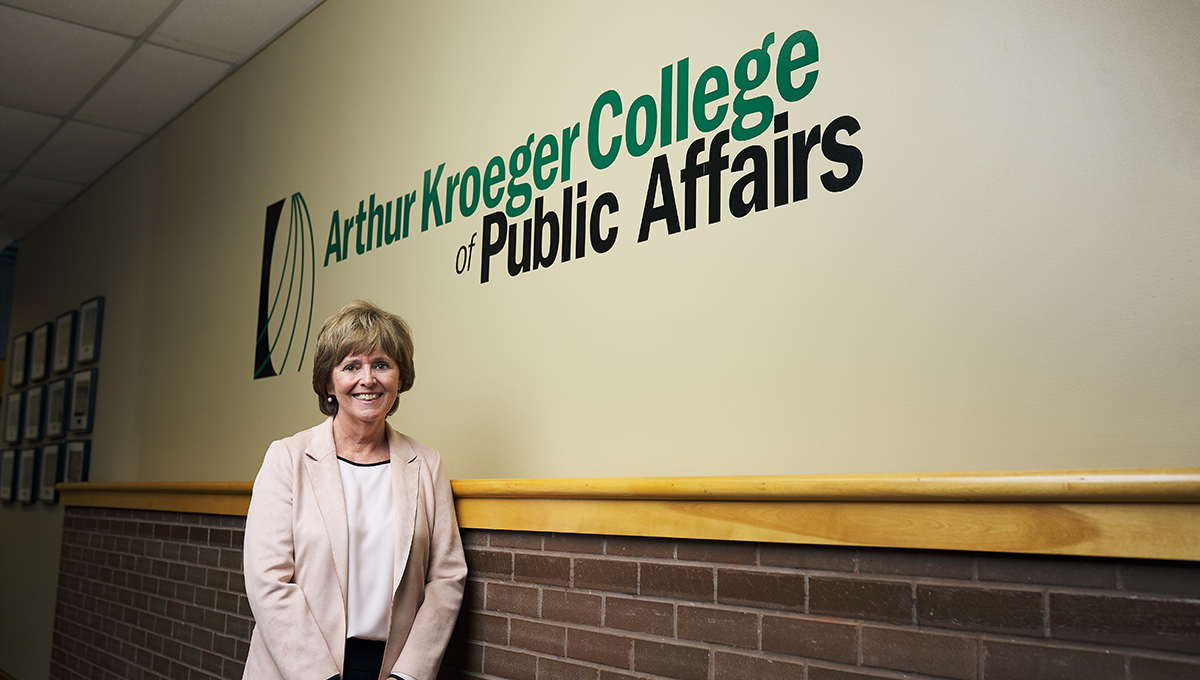 Photo: Prof. Eileen Saunders
Kroeger College Equips and Empowers Future Generations
The two-year master's program will combine academic research with experiential learning opportunities, including both a co-op and practicum.
With more displaced people today than at any time since the end of the Second World War, Casteel says the new graduate programs will "equip and empower the future generations of scholars, practitioners, policy-makers and citizens to more fully engage with the phenomenon of human mobility, and to develop more inclusive, rights-based and sustainable responses."
Francoli is in the process of planning activities to celebrate the 20th anniversary and even though she has not been in the job for long, she says her favourite part so far has been getting to know the students, staff and faculty.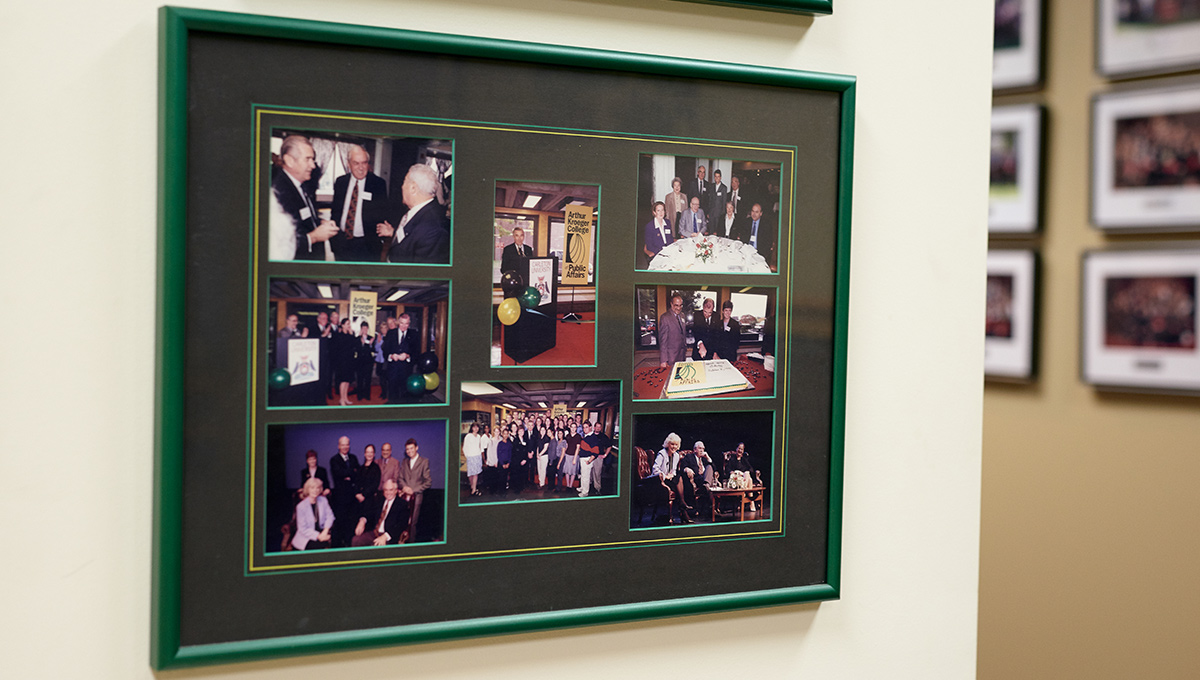 In addition to her teaching duties, Francoli is chair of the International Expert Panel for the Open Government Partnership which involves close to 80 countries. "This work connects me to many people and organizations internationally, to Canadian members of Parliament, as well as members of the Government of Canada and provincial governments.
"My hope is that these connections will facilitate the establishment of new initiatives within the college and my background would allow me to 'speak into' the research and professional cultures of the faculty members and instructional staff who work in the programs within Kroeger College."
Saunders stepped down in 2007 as director and was followed by Prof. Christopher Dornan and Prof. Barry Wright before Francoli took over last summer. Saunders originally hired Francoli in the School of Journalism and Communication and is thrilled to have her take on the role of director.
"She's an excellent choice with a background in both political science and communication studies and has proven herself as a superb teacher and scholar," says Saunders. "She has worked with both government and non-governmental agencies which will serve her well in the college."
Francoli is confident in the college's ability to offer programs that are continuously relevant.
"Twenty years in, I would say the conditions and challenges affecting governance and civil society in Canada and around the world, have continued to evolve and the college has evolved alongside it," says Francoli.
"The interdisciplinary lens offered through the college programs ensures students are able to engage with diverse stakeholders and the world around them in a curious, culturally sensitive, and deeply informed way."