After 12 weeks of robust consultation, research and analysis, the Task Force for a Resilient Recovery that includes Carleton University Prof. James Meadowcroft launched its final report with recommendations for the Canadian government to build on a "green economy" post-COVID-19.
The 56-page report outlines five "bold moves" supported by 22 recommendations and a call for $55.4 billion in government investment over five years.
International counterparts such as Germany, France and the United States have announced ambitious green recovery plans, which make the $5- billion suggestion seem modest in comparison.
Carleton's political science and public policy and administration professor said the arrival of the pandemic brought two crises simultaneously.
"There was, of course, the health crisis, but that led us into economic turmoil because people couldn't work and businesses couldn't operate normally," said Meadowcroft.
The task force's role was to "think about the longer term and various investments that the government can make, to not just keep [people] afloat, but making the economy more adaptable and adjusted for the future," he continued.
While Canada's response to the previous economic crisis succeeded in getting people back to work, it also led to a high-pollution recovery. Therefore, the task force created this report to ensure the Canadian government builds on a future economy that's clean, prosperous and resilient.
If Canada does not invest in a resilient recovery while fighting climate change, it risks falling behind its competitors in the fast-growing global clean economy, said the report.
The first part includes the five bold moves: invest in climate resilient and energy efficient buildings, jumpstart Canada's production and adoption of zero-emission vehicles; go big on growing Canada's clean-energy sectors; invest in the nature that protects and sustains us; and grow clean competitiveness and jobs across the Canadian economy.
All of which will help Canada achieve net-zero emissions by 2050, said the report.
The second half includes an appendix for each point that talks about specific policies which need funding and specific groups that could collaborate with government to implement the various proposals.
Meadowcroft was one of 15 members of the independent group, which included individuals from various sectors, such as finance, policy and sustainability leaders – including the Royal Bank of Canada, the Canadian Council for Aboriginal Business, Insurance Bureau of Canada – academics, expert advisers and foundations.
After months of analyzing international investments and national proposals, the team met for upwards of three hours per day over Zoom calls to narrow down the overarching themes and craft the final five suggestions, explained Meadowcroft.
"It was an amazing process, but we obviously had to do some intense work."
The Five Bold Moves and Investment breakdown
Invest in climate-resilient and energy-efficient buildings, $27.25 billion:
"Almost 13 per cent of Canada's emissions come from buildings," read the report.
Investing to make Canada's building more energy efficient will cut Canada's carbon emission and lower costs for Canadian households and businesses.
Jumpstart Canada's production and adoption of zero-emission vehicles, $7 billion:
While combustion engines have been at the core of auto technology, they are also the world's biggest sources of climate pollution. Since auto manufacturing is one of Canada's largest business sectors, biggest exporters and historically a major employer, it should invest in transitioning toward zero-emission vehicles (ZEV).
Go big on growing Canada's clean energy sectors, $11.5 billion:
Investing in this area would create almost three times as many jobs per investment dollar than fossil fuels, stated the report. "[Investments] also have the potential to dramatically reduce the 81 per cent of Canada's carbon emissions currently coming from energy."
Invest in the nature that protects and sustains us, $4.65 billion:
"Our nature economy is Canada's secret weapon for spurring a resilient recovery from COVID-19," read the report.
Nature is one of the most cost-effective ways to fight climate change and Canada has one of the planet's largest uninterrupted areas of forest, one quarter of its wetlands, 20 per cent of its freshwater and the longest coastline.
Grow clean competitiveness and jobs across the Canadian economy, $5 billion:
With a sector-by-sector capital plan, the Canadian government can invest in accelerating the development and adoption of low-carbon solutions which will lead to providing the same product with a lower environmental impact.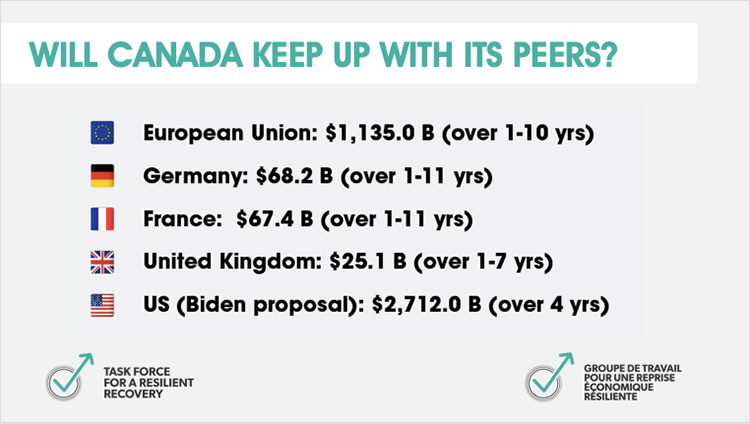 Thursday, September 17, 2020 in Government, Political Science, Public Policy, Research
Share: Twitter, Facebook