By Clarissa Leir-Taha
Photos by Efrem Berhe
Carleton student Efrem Berhe recently spent a day at the reins of one of Ottawa's most important museums, thanks to a student leadership program which connects Canadian students to CEOs around the country.
As a participant in CEO x 1 Day, Berhe was given the opportunity to job-shadow Meg Beckel, the CEO and President of the Canadian Museum of Nature, selected as one of only 20 students nation-wide to participate in the program.
For Berhe, a fourth-year student in Public Affairs and Policy Management, a chance email from Carleton's Career Services provided an ideal opportunity to further his real-world business experience.
Student Leadership Program Helps Participants Grow Their Networks
"I always try to take part in anything that helps me grow my professional network, expose me to different environments, and contribute to my academics and/or career aspirations," said Berhe.
Created by global executive search firm, Odgers Berndtson, the program is designed to foster future business leaders and gives university students a first-hand look into the day-to-day operation of major Canadian organizations.
"Most of the day was spent at meetings, which was great as it allowed me to meet many high profile people from different professions," said Berhe.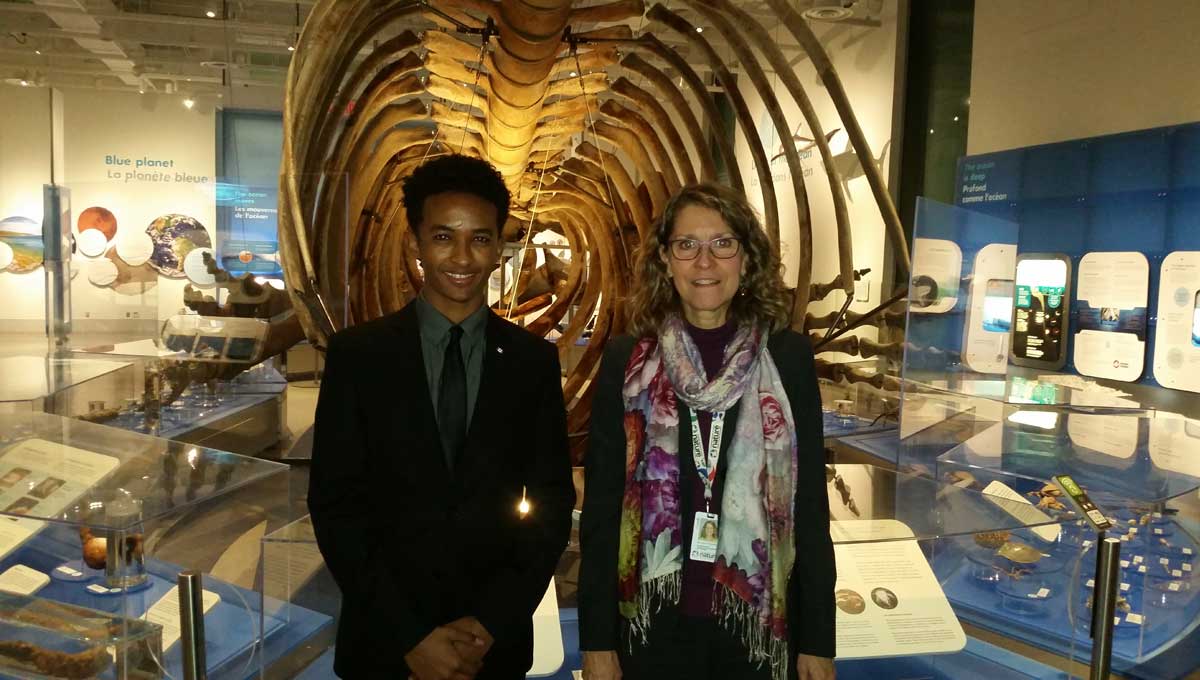 Fostering Future Business Leaders
He added that this included discussing new projects and strategies for the museum, alongside networking with other student leaders and professionals.
Immersing in a behind-the-scenes look is what Beckel said is one of the most valuable aspects of the program.
"We are another employee of an organization with a job to do," said Beckel.  "It just happens to be the job that involves setting the vision, mapping out the strategy with a senior team and inspiring an organization to act on that strategy."
The program stresses the importance of becoming a learning opportunity for both parties involved, a point Beckel said she was reminded of after spending the day with Berhe.
Organizations Benefit from Providing Opportunities
"I think any organization in a city benefits by providing opportunities for students studying in that city," said Beckel.  "I was reminded of the importance of curiosity about an organization, about the whys and wherefores and realizing the value of people asking why."
Despite a difficult admissions process involving multiple interviews and leadership testing, Berhe said he feels his previous experiences within PAPM helped to prepare him for applying and participating in the program.
"I find that my program is very effective in creating an environment that facilitates student engagement," said Berhe.
On top of his studies, Berhe co-chaired the Carleton chapter of the World University Service of Canada in 2016 and recently launched Cayop, an online start-up for facilitating professional development opportunities for youth.
"My hope is to build on what I have learned from this program, and take it to the next level," said Berhe. "I want to apply some of the lessons I have gained to grow my start-up, and the organizations I am involved in."
After mentoring in this year's program, Beckel said she would like to see more CEOs and new organizations participate going forward, in order to benefit youth and the city itself.
"I think that as a CEO, we need to invest in talent, encouraging people to reach as far as they can and want to," said Beckel. "We want to develop talent so it stays in the city and the city benefits from that talent."
Thursday, February 16, 2017 in Faculty of Public Affairs, Public Policy, Student Experience
Share: Twitter, Facebook