COVID-19 closed planet Earth, bringing an era of unprecedented international mobility to a sudden halt. Borders were shut, fleets of aircraft were parked, and entire cities stood still.  Everyone was impacted, some more acutely than others.
"International humanitarian organizations are now faced with limited mobility. They can't reach refugee populations because of shelter-in-place orders," says James Milner, an associate professor of Political Science and project director of LERRN: The Local Engagement Refugee Research Network.
"In the Kakuma and Dadaab refugee camps in northern Kenya, there is fear and uncertainty. There is a lack of information, and programming has been shut down. Legal protection services, education, health services, and even food distribution have been compromised. There is a dual concern about the virus taking root, and of the impact of policy responses to stop the spread of the virus. Those policy responses are further contributing to the vulnerability of refugees."
But even as the pandemic prevents humanitarian workers from reaching people in need, refugee-led initiatives are stepping up to provide key services. When lockdowns were announced, refugee-led initiatives were able to quickly identify emerging needs. They have pivoted their operations to fill these needs, and have helped LERRN identify new sub-projects that will have an impact in the challenging times ahead.
"Clearly, there is a need for urgent action for refugees," Milner wrote in a recent post that was co-authored with a number of refugee leaders.
"But equally important is the need to recognize, support and amplify the action already being undertaken by refugees."
Education Initiative Fights Misinformation
One refugee who is already taking action is Pascal Zigashane, executive director of Urise Initiative for Africa and a LERRN partner.
Urise equips young people with the skills that they will need to find employment – and help rebuild their countries of origin. It teaches courses in information and communications technology, entrepreneurship and peace building.  During the pandemic, it has pivoted to combating misinformation.
"Many people from humanitarian organizations have gone home to isolate themselves and be with their families," says Zigashane.
"People here have created WhatsApp groups, and they are sharing information, but much of that information is not valid. It has not been fact-checked."
The Government of Kenya gives a daily update on COVID-19 and the measures that it is taking to combat its spread, but refugees in northern Kenya have limited access to communications technology. They also have limited access to water and soap, and with more than 200,000 people living in Kakuma's UNHCR refugee camp, physical distancing is impossible.
It's an environment that is ripe for rumours, but Zigashane is fighting misinformation by providing twice-weekly updates of fact-checked COVID-19 information.
"In camp, people are exposed to many other people every day. We want to make sure that people have information that they can trust," says ZIgashane.
"We provide an update on the measures that the government is taking, like the 7 p.m. curfew and the lockdown of the camp. We verify information with authorities – within the country and outside the country."
Zigashane is just one example of a LERRN partner who has been able to adapt their work to respond to COVID-19. Since LERRN's focus is on refugee-led initiatives, many of its projects and partners are well-positioned to meet emerging local needs.
"It demonstrates the importance of local actors. Their capacity to understand the local environment, to navigate it, and to respond within it," says Milner.
"No two contexts are exactly the same, and who is better to understand the nuance and the specificity of each context than the people who live and work there?"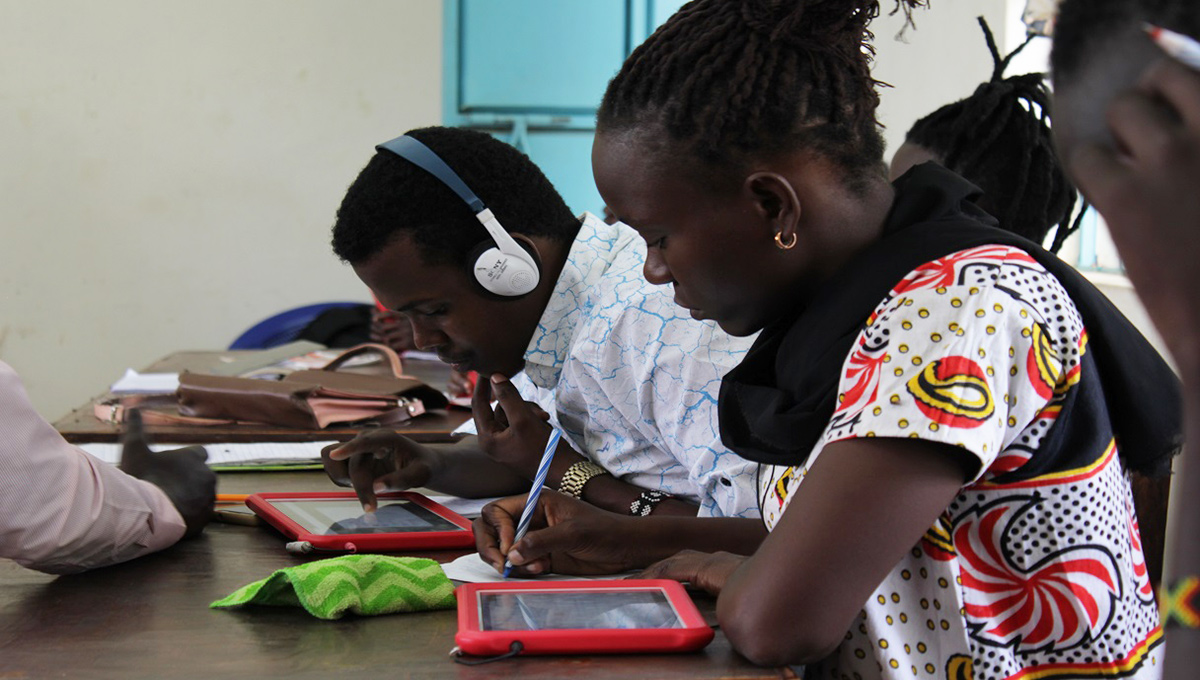 Refugee-Led Group Connects Companies and Workers
In Canada, a refugee-led employment organization and LERRN partner has used remote technologies to adapt to the pandemic while continuing essential work. With offices in Calgary, Toronto and Vancouver, Jumpstart – Refugee Talent focuses on the economic empowerment of refugees and refugee claimants in Canada.  It aims to address under-employment by helping them find jobs aligned with their skill sets, and its Welcome to Canada mentorship program helps refugees understand and navigate their new home.
"I'm a refugee and many of our staff are too," says Mustafo Alio, managing director of Jumpstart.
"One of the characteristics of being a refugee is that we are able to adapt. This is not new to us. We switched to virtual platforms. We started doing a lot of phone calls.  It wasn't easy. How can you shift all our programs all of a sudden?"
Jumpstart's employment support services are particularly important for refugee claimants. As non-citizens, they aren't eligible for emergency assistance programs like the Canada Emergency Response Benefit. To help bridge the gap, Jumpstart is creating Hire Me, an online platform that will connect its clients with employers searching for workers during the pandemic.
"We will be uploading profiles and resumes, and giving access to companies looking to hire workers," says Alio.
"Jumpstart's focus is on meaningful employment, but right now, any employment is meaningful. Many types of jobs are desperately needed – like warehouse workers and grocery store clerks. We started asking people if this was something that they would be open to, and they said yes."
Alio anticipates the new platform to be up and running soon, and there are plans to keep Hire Me operational, even after the pandemic has passed.
"We will return to tackling refugee underemployment," says Alio.

"The platform will connect employers with refugee talent, and refugees with opportunities that offer a career path and space for advancement."