By Ellen Tsaprailis
Photos by Chris Roussakis
They talk shop 24 hours a day.
And love it.
Whether they are grocery shopping or out for dinner, Sean and Jana Sarran spend most of their time studying and helping each other grasp engineering concepts to reach impressive academic success.
At Fall Convocation, Sean and Jana will each receive their Master's in Engineering—having completed their 10-course degrees in just one year.
Moving on to the next challenge, the couple have already started their doctorates in Engineering at Carleton University with a vision of becoming professors and contributing to research.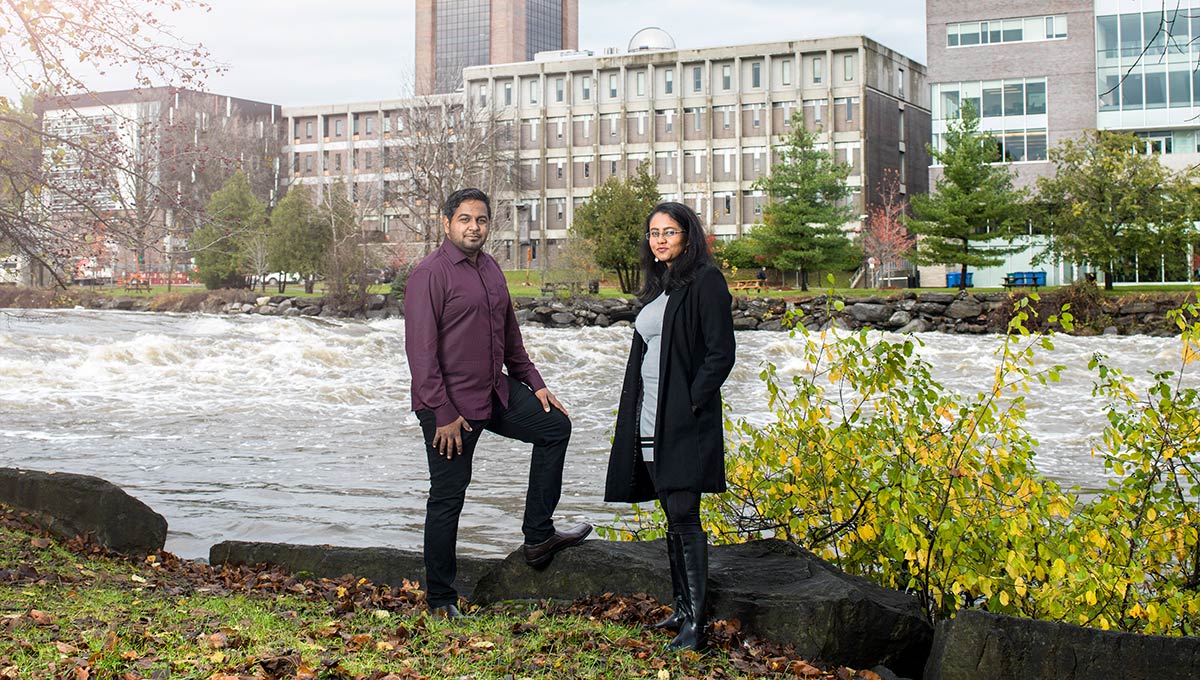 The work ethic of the Sarrans has paid off in monetary relief for their advanced education. Jana and Sean were so successful in their MEng program that the Department of Civil and Environmental Engineering (CEE) awarded them its highest level of departmental scholarship for all four years of their PhDs. The department also awarded them one-year entrance scholarships, teaching assistant positions and research assistant funding from their supervisor.
That supervisor is Transportation Engineering Prof. Ata Khan.
"They are an exceptional couple," says Khan. "Both highly talented, pleasant and appreciate the opportunity to become PhD students."
The couple originally intended to complete their masters and find work, but a research-based course they took with Khan opened their minds to pursuing PhDs. They sought his advice, and because of their high GPAs, Khan was willing to accept them as his next batch of students.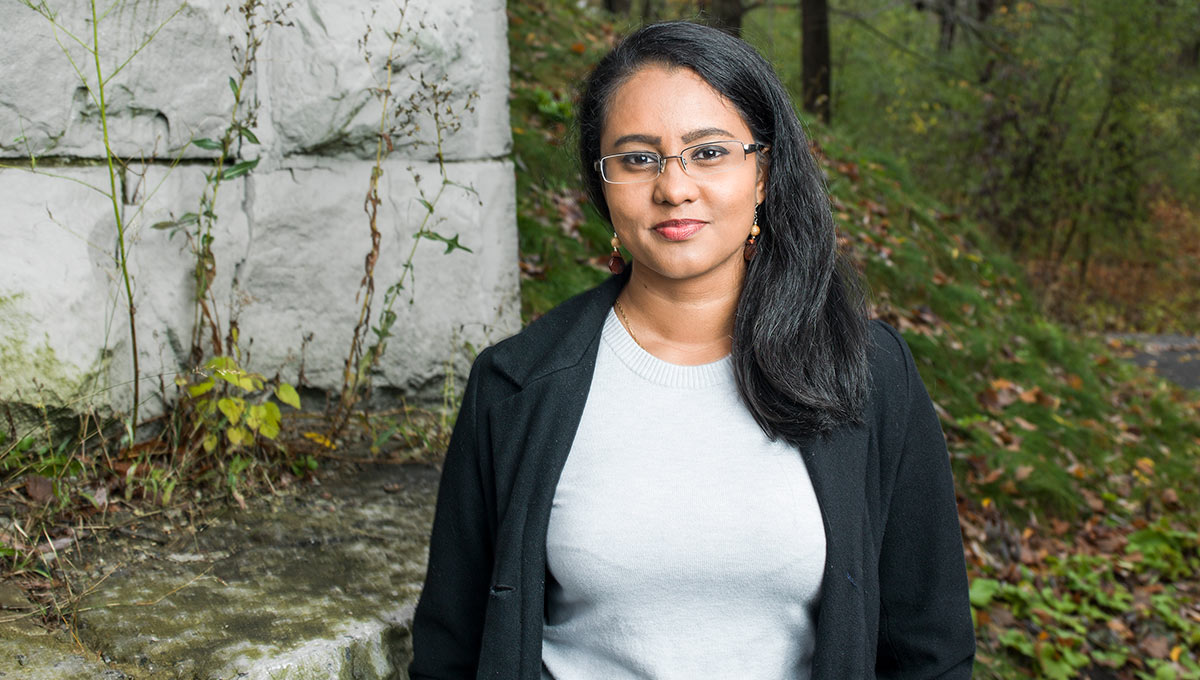 Emigrating from Guyana
Sean, 30, and Jana, 25, immigrated to Canada from Guyana in 2014. Before moving, both had completed bachelor degrees in Engineering at the University of Guyana.
Wanting more opportunities, the South American couple first moved to Calgary in pursuit of civil engineering jobs in 2014. Jana did not even attend her undergraduate Convocation in the rush to forge a new life in North America.
"We've always been fascinated with Canada," says Sean.
Unfortunately they hit the economic downturn in Calgary and were forced to find any job they could, none in engineering. After two years, they decided to take their savings, move to Ottawa and leap into graduate studies.
The MEng is part of a joint program with the University of Ottawa called the Ottawa-Carleton Institute for Civil Engineering. Students register at the university with which their supervisor is affiliated, but have free access to classes and facilities at both universities.
The Sarrans are enamoured with Carleton's campus and Sean is a huge fan of the sporting facilities, especially in comparison to what he had experienced in Guyana.
"I love that I can see different games—basketball, soccer, and I've grown to appreciate hockey. I get to see all college-level sports."
Jana loves the academic facilities, especially the library, and is impressed by the faculty.
"Carleton's engineering faculty are extremely helpful and responsive," says Jana, who praises the flexibility of professors. Sean concurs. "Every professor was instrumental in helping us complete our masters. They are always there to offer guidance and the interactions are really good here."
Far from home, they are happy to build a life in Canada and stay here.
"Ever since moving to Ottawa, I think Ottawa is the best place for us," says Sean.
"To come from a developing country to a North American university and excel, I can't hide the pride," says Sean. "We were scared and apprehensive, but we worked harder and harder."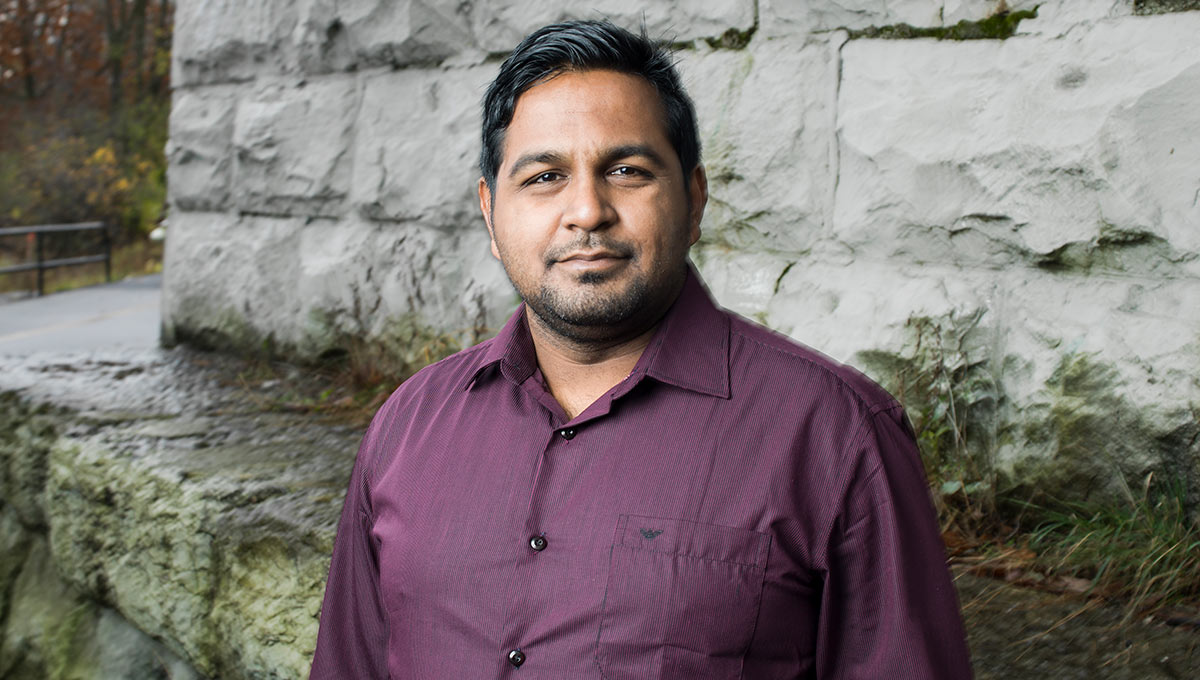 Home Support System
They share textbooks but do not take turns going to classes for each other.
By Sean's calculations, they both have the exact same GPA, but confirmation of that will come when their degrees are conferred on November 18. Sean admits that there is some friendly banter when one of them gets a better grade, but they focus on working together and motivating each other.
"They are a very good team," says Khan.
"Although they work independently on their assignments and papers, they are also mutually supportive. They are very eager to learn and do not complain about a heavy workload."
It's pretty simple to Jana.
"We just want each other to do well."
Monday, November 13, 2017 in Convocation, Engineering, Graduate Students
Share: Twitter, Facebook