By Leah Coppella
Photos by Giordano Ciampini
Nana Osei was already working toward his dream of owning a business while doing a Bachelor of Environmental Studies at Carleton University.
Now, as co-founder and CEO of Bôhten, an eco-luxury eyewear line, he uses reclaimed material in his effort to make green products high-end.
Osei was born in the United Kingdom before moving to Ghana. He later grew up in New York, then made his way to Ottawa, where Bôhten was born in the final year of his undergraduate degree.
He took a distinctly personal approach to Bôhten, connecting his morals with his business acumen.
"I've always found ways to incorporate sustainability into lifestyle," Osei says.
Incorporating Sustainable Fashion into Lifestyle
The concept of sustainable glasses grabbed his attention when he went to visit family in Kwahu, Ghana, the highest habitable place in the country. There, he realized that he had family in the wood and timber industry, sparking the idea of sustainable wooden glasses.
In summer 2012, he joined the Carleton Entrepreneurs program offering access to market-specific expertise while supporting student startups. By the end of the year, Osei had partnered with four other students from different disciplines to learn from their own perspective and build Bôhten.
"That program opened up the doors," Osei says.
Though it was a slow burn, Tony Bailetti, director of Carleton's Technology Innovation Management (TIM) master's program, had connections with companies in Ottawa that Osei was able to pitch.
When Osei graduated in 2013, he launched the business at Ottawa Fashion Week. And, in 2014, he was featured on Dragon's Den, Season 8.
"I was really just in the right place at the right time, finally."
Since then, Osei has managed to secure financing and supply chains in Ghana, turning his small startup into a company ready to become a global leader in eyewear manufacturing in Africa.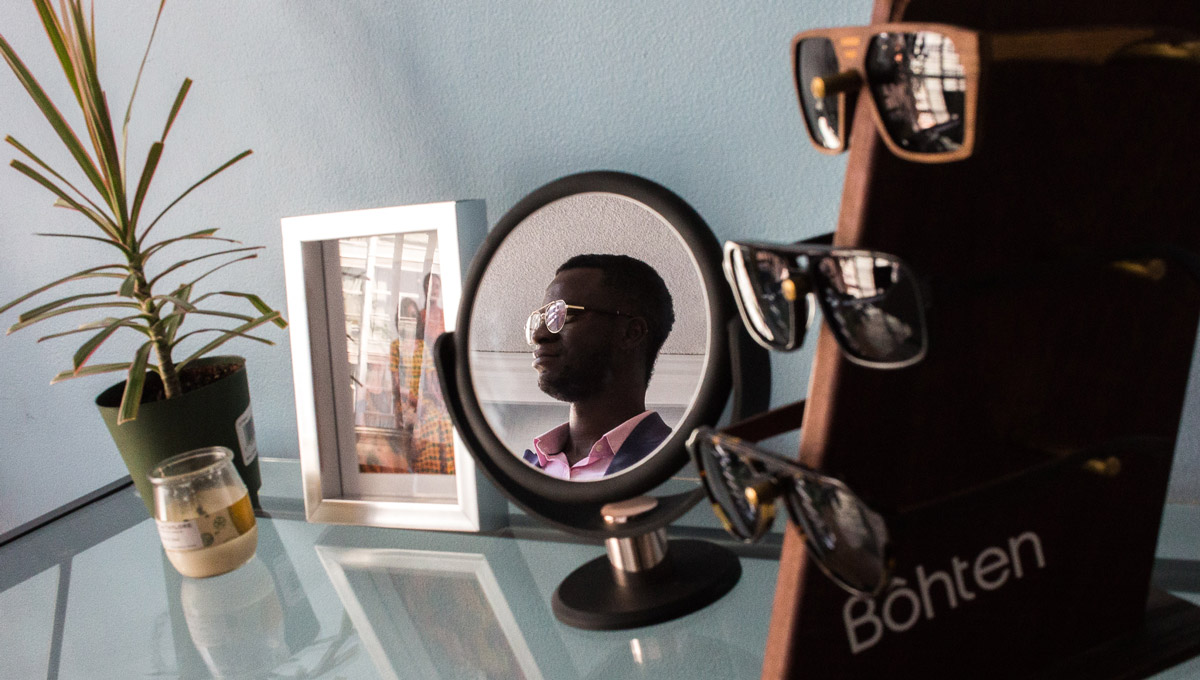 Learning to Overcome the Fear of Failure
While the company's commitment to sustainability comes first, it has also become a Canadian fashion leader. By using locally accessible materials with a low footprint, the firm has expanded into custom fit glasses in modern styles.
Bôhten has come a long way from Carleton's classrooms. Still inspired by his Ghanaian roots, the brand has graced the pages of Elle magazine, GQ and Vogue Italy, among some of the biggest fashion magazines around the globe.
"Carleton University was crucial for Bôhten, because that's where we formed the foundation of it," Osei says.
The best advice he can give to entrepreneurs at Carleton is to see failing as an important part of learning.
"If you overcome the idea that you're going to make mistakes or fail, you'll be fine," he says. "Because then you can finally get out there and try."
Wednesday, January 15, 2020 in Alumni, Faculty of Arts and Social Sciences, Technology Innovation Management
Share: Twitter, Facebook