By Joseph Mathieu
Photos by Melanie Mathieu
On Sunday, Jan. 29, artists, art lovers and well-wishers filled the Carleton University Art Gallery (CUAG) for a 30th anniversary party. The stunning CUAG space echoed with music, chatter and laughter as it opened its blockbuster exhibition.
"One of the most important things I've learned in this work is that it's all about relationships," said CUAG Director Sandra Dyck at the launch. "Everything we can hope and dream about doing — in our lives, in our work, in society — is grounded in the character and quality of our relationships to and with others, and in the care, attention and accountability we bring to them."
Drawing on Our History highlights relationships in the practice, collection and curation of drawings as well as the efforts between eight collaborating curators and eight contemporary artists that brought the exhibition to life.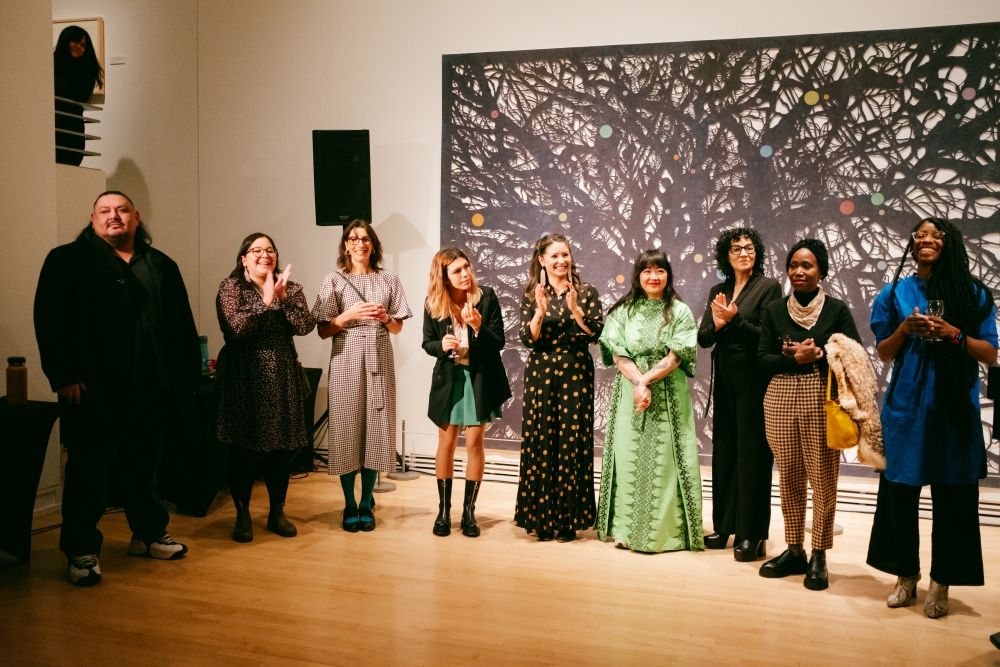 Three curators from CUAG — Dyck, Heather Anderson and Danielle Printup — invited five guests, all of whom have organized CUAG exhibitions before: Anna Khimasia, Kosisochukwu Nnebe, Alice Ming Wai Jim, Heather Igloliorte and Alexandra Kahsenni:io Nahwegahbow.
Each curator invited a Canadian artist to showcase their drawings or drawing-based works alongside some 70 pieces selected from the Carleton art collection's 13,720 drawings. The invited artists include multi-disciplinary visual artists and makers Sharon Norwood, Kablusiak, Jagdeep Raina, Nalakwsis, Marigold Santos, Jay Odjick, Mélanie Myers and Gayle Uyagaqi Kabloona.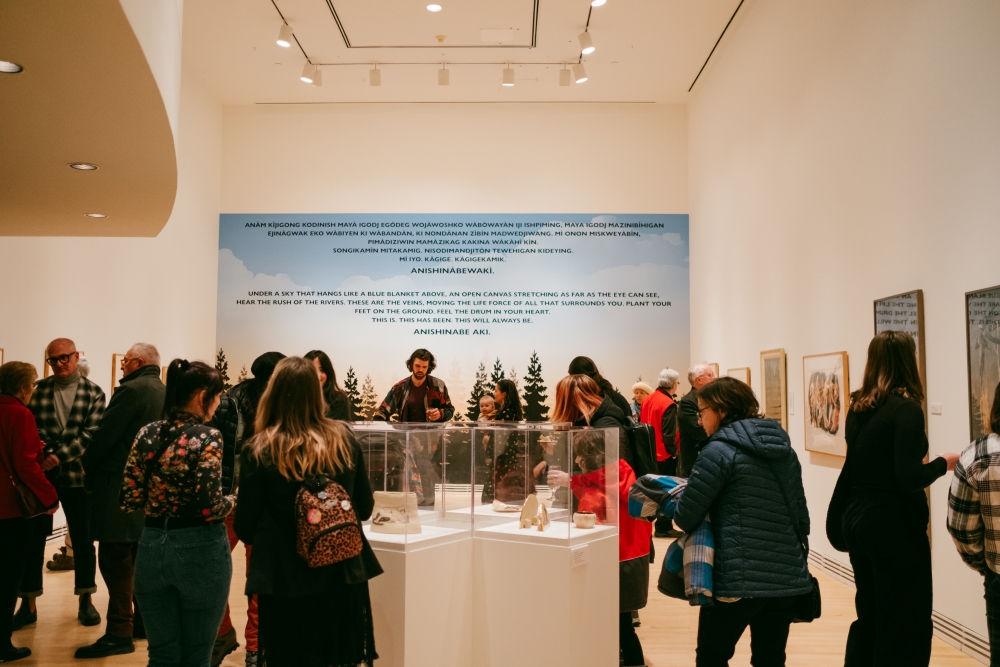 All told, the almost 60 artists on display form a representative glimpse of the CUAG's history of art collecting. The exhibition features the first drawing purchased for the collection—Carleton College Crest and Motto (1951) by Elizabeth Harrison—as well as its most recent acquisition—Ed Pien's Medusa (2022), a grand tracery of silhouette, colourful circles and shimmering black paper.
"It's exciting to pause and think about where we've been, where we can and could go now and in the future, and to extend a deep and heartfelt 'thank you' to all the people who have supported the gallery over three decades," said Dyck.
Another tradition at CUAG was on full display: artworks of old in conversation with brand new pieces. Anishinàbewakì / Anishinabe Aki (2022), an anchor piece by Algonquin artist Jay Odjick, is a massive digital depiction of a hazy landscape of pine, sun and sky. Above it is a poem in Anishinaabemowin and in English that invites the reader to appreciate the blue of the sky, the sounds of water and the fact they are standing on Algonquin land.
In her land acknowledgement and welcome address, Elder Claudette Commanda said it was the first thing she saw: the beautiful scenery of the trees crowned with the Anishinabe Algonquin language.
Alongside Odjick's piece are three other depictions of the land: Gatineau Stream (1980), a pastel by Kenneth Lochhead; Be Kind to Animals (1976), Alex Janvier's detailed abstract curves; and Glade and House (prior to 1945), an oil painting on paper by Emily Carr.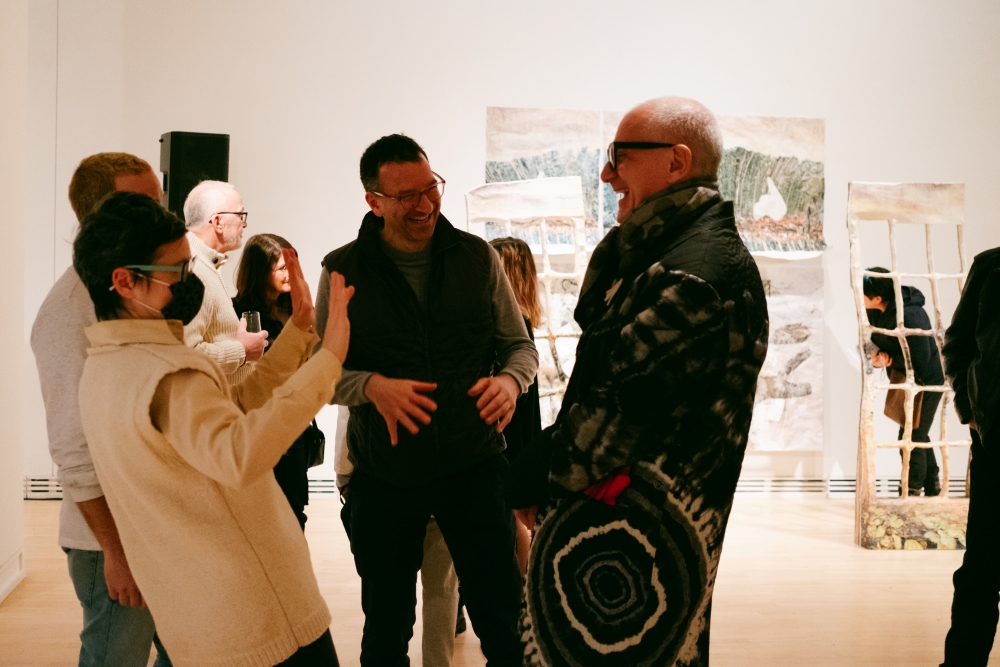 By returning to each piece, the four works allow visitors to feel four interpretations discussing amongst themselves — saying new things from across a span of almost 80 years.
Through its intimate look at the practice of drawing, Drawing on Our History also showcases the gallery's evolution. CUAG first opened in September 1992, in large part to 57 Canadian artworks and a generous financial gift from Ottawa's Frances and Jack Barwick in 1984.
"This was a transformative gift that came with a very important caveat," said Carleton's President and Vice-Chancellor, Benoit-Antoine Bacon at the Sunday event, "that the university had to provide adequate and appropriate display space and continuing care and protection for the collection."
From its beginning, CUAG aspired to be a vital cultural hub on campus. It links students, staff and community members to art and new ideas, and it nurtures emerging artists as well as upcoming curators. About a third of the 376 exhibitions presented at the gallery since 1992 were curated by Carleton students.
It also offers experiential learning opportunities. Last fall, more than 50 Carleton classes visited the gallery to engage with art through discussions and activities. This work is done thanks to the small but mighty CUAG team that continues to produce experimental projects in exhibition, publication, digital and public programming.
"We will keep evolving as an organization, listening and learning how best to serve others by and through supporting their work," said Dyck. "We will keep experimenting and keep producing exciting projects in collaboration with many others."
Drawing on Our History runs until May 7. Admission is free. 
Friday, February 3, 2023 in Art Gallery, Arts and Social Sciences, CU Anniversaries
Share: Twitter, Facebook