By Joseph Mathieu
Photos by Chris Roussakis
Carleton University's Technology Innovation Management (TIM) program and the TIM Review welcomed the innovation world to Ottawa through the "ISPIM Connects Ottawa" conference. During the three-day event, 180 delegates from 20 countries shared insights around the theme of "Innovation for Local and Global Impact."
Organized by the International Society for Professional Innovation Management (ISPIM) — with Carleton's TIM Program as the local host — ISPIM Connects Ottawa was the first ISPIM event to be hosted in the nation's capital. It was held from April 7 to 10, 2019 at the Telfer School of Management, Bayview Yards innovation hub, and the Delta Hotel in downtown Ottawa.
In addition to keynote speeches, a research lab for graduate students, 80 research paper presentations, panels, debates, and workshops, the event featured site visits to three of Ottawa's innovation hotspots: Wesley Clover and the L-Spark accelerator in Kanata, the Zibi sustainable community and redevelopment project near the Chaudière Falls on the Ottawa River, and the newly opened Ottawa L5 private test track for connected and autonomous vehicles (CAV) in Nepean.
The event provided an opportunity to showcase Ottawa's capabilities while engaging with a diverse, international audience to share lessons learned and better understand challenges facing Canada's capital region.
"The diversity of insights and quality of content presented were particularly important. This conference brought together international and local representatives from academia, industry, government and community," said Tony Bailetti, director of the TIM program.

Engaging With the Ottawa Innovation Community
Long before the delegates arrived, the TIM program engaged with the Ottawa innovation community to identify three important "innovation challenges" that were locally important but also globally relevant. The goal is to build up Ottawa's existing knowledge and capabilities in these three challenging areas: how to scale start-ups, how to best adopt artificial intelligence (AI) and analytics, and how to better innovate with government.
"We see the conference as a platform that will create value for the local community by enabling a dialogue involving a strong international audience," said Stoyan Tanev, TIM associate professor. "The three challenges provided the focus for this dialogue."
Since 2012, faculty of the TIM program and Chris McPhee, editor-in-chief of the TIM Review, have participated in ISPIM events around the world. The TIM Review has published the best papers delivered at the ISPIM conferences.
Bringing an ISPIM Connects conference to Ottawa was a natural fit with the TIM Review and the TIM program, said McPhee. "There's a real parallel about what we're interested in and what ISPIM is interested in, not only from the innovation management perspective, but in terms of how we value diversity and bringing together industry, academia, practitioners and governments.''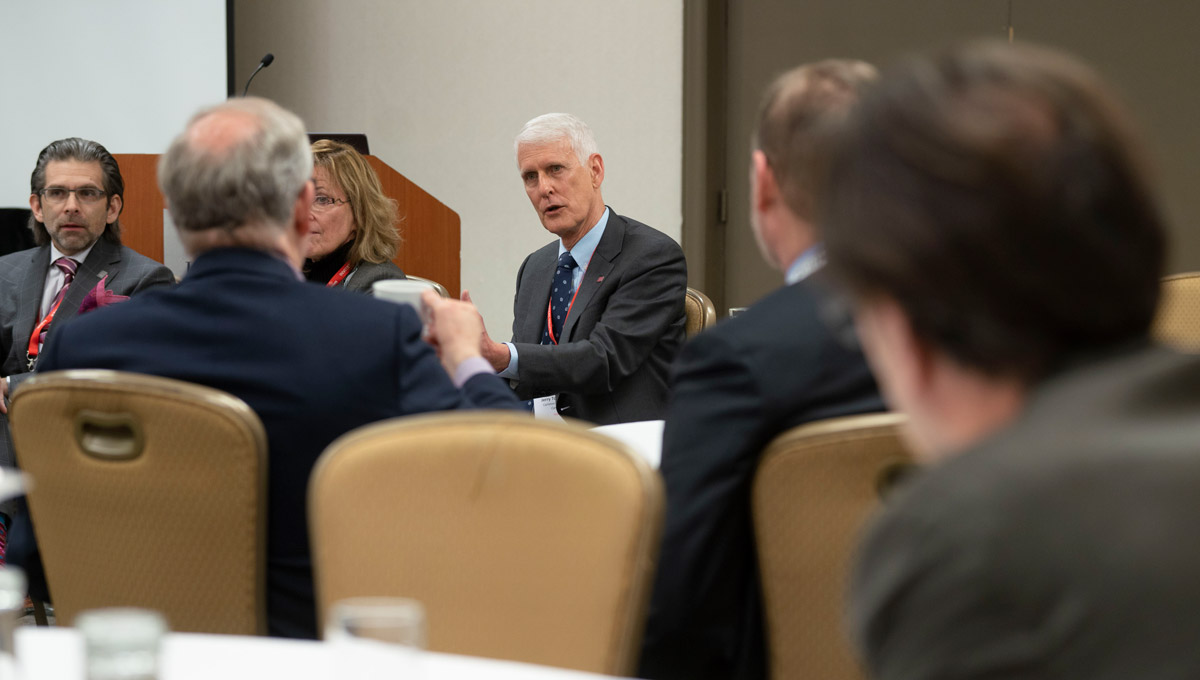 Engaging with the Wider World of Innovation Management
The conference opened with keynotes talks delivered by three Ottawa heavyweights in the innovation domain: Terry Matthews (the founder of Mitel, Wesley Clover International and dozens of other companies), John Shannon (director general at the National Research Council of Canada), and Roseann O'Reilly Runte (president and CEO of the Canada Foundation for Innovation, and former Carleton president).
Representatives from NASA, Nokia, Wesley Clover, MindBridge AI, Sales Choice, Searidge, Exaptive, Cetana AI, Quest Innovation Management, Red Canari, Arena Blockchain, Growth Hub, Earthwise Global, BridgePoint Effect, Ontario Centres of Excellence, City of Ottawa, Government of Canada, Invest Ottawa, Defence Research and Development Canada, The Ottawa Hospital, Assembly of First Nations, China Management Society, rInnovation Group, universities from 20 countries, and many other organizations attended the event.
A panel of high-ranking executives from Ottawa's colleges and universities added local academic perspective on the three challenges. "In terms of scaling, that's where our strength is," said Jerry Tomberlin, Carleton's provost and vice-president (Academic).
"If we have challenges as a community and as a country, it's probably after that: how do we actually keep those companies here in Ottawa, here in our region, or even here in Canada?"
Guy Levesque, associate vice-president of Research Support and Infrastructure from the University of Ottawa, La Cité President Lise Bourgeois, and Algonquin College President Cheryl Jensen also detailed efforts at their institutions. Each one echoed that being competitors in a small market doesn't mean they can't collaborate.
The panel also touched on the joint Ottawa post-secondary project called Education City. "I think it works because we already have deep collaboration between the institutions," said Tomberlin. "We are much stronger when we work together."
After an intensive three days of engaging with the wider world of innovation management, the organizers are hopeful that the insights shared and connections made can now be used to convert the local innovation challenges into innovation and research opportunities, as well as TIM students' projects and theses.
Wednesday, April 17, 2019 in Faculty of Engineering and Design, Sprott School of Business
Share: Twitter, Facebook