By Alyssa Tremblay
Photos by Darren Holmes
Colourfully dressed and slathered in SPF, Carleton students, staff and faculty moved through the sunny streets of downtown Ottawa as part of the 2023 Capital Pride Parade on Aug. 27.
Drawing thousands of spectators, this year's edition of Ottawa's Pride festivities marked the first instance that a local university joined the parade as a collective official marching group.
The idea to have Carleton join the Capital Pride Parade came from Sprott School of Business Bachelor of Commerce student Aanya Baindur.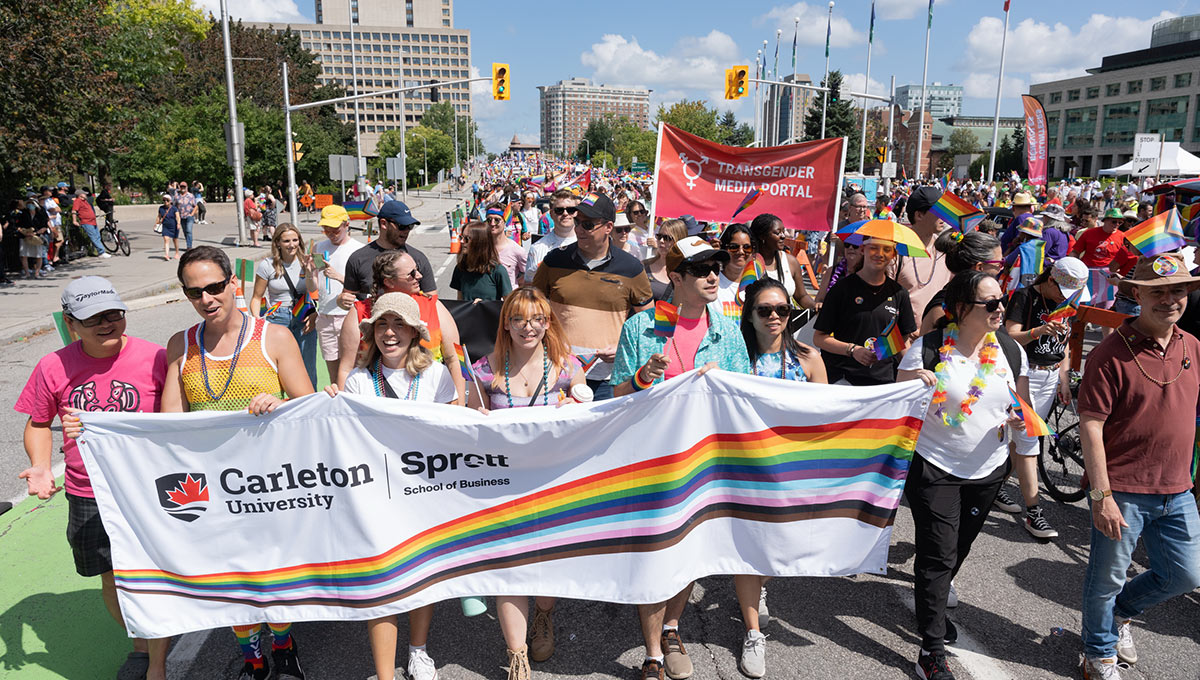 "I marched last year at Toronto Pride and it was an incredible experience," recalls Baindur, who moved to Ottawa this past winter.
"When I saw Capital Pride was coming up here, I realized I had no one to march with."
Rather than waiting to see if someone organized something, Baindur thought "if not me, then who?" and pitched the idea to the dean's office at Sprott, who connected her with the Student Experience Office (SEO). From there the idea spread quickly across campus, with Carleton community members from every faculty signing up to participate.
On top of this great turnout, Baindur was happy to see the Carleton parade contingent cheered on by alumni lining the sidewalks, excited to watch their alma mater participating in this important annual event celebrating 2SLGBTQIA+ people and their rights.
"It shows that there are absolutely wonderful people at Carleton," says Baindur, expressing her gratitude to the SEO and, notably, her supporters at Sprott for helping her champion the idea to the broader university community.
"Carleton has shown that the best way to support 2SLGBTQIA+ students in concrete ways is to empower them to be leaders," she says.
"The first step to being heard is to speak. The best solutions often come from the community itself, so it's important to give 2SLGBTQIA+ students a platform."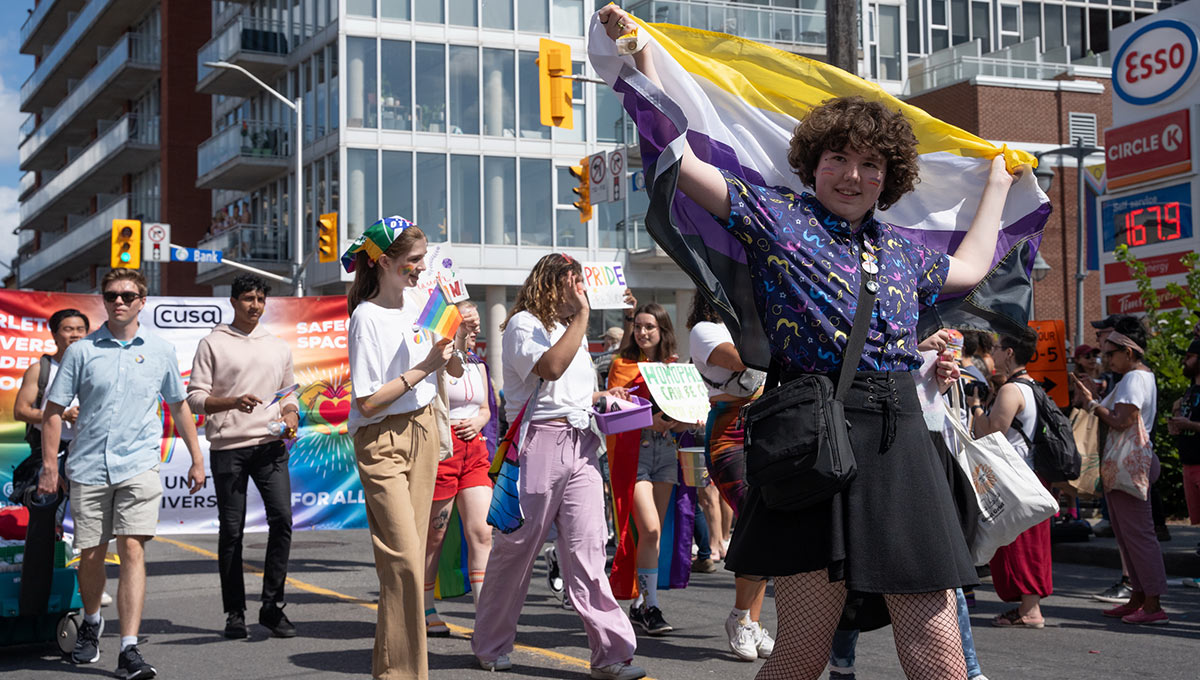 Getting Ready for Carleton's Pride Festival
In addition to winning a Carleton University Student EDI Research Award and running her non-profit Trans Advice Initiative to help trans and gender-questioning people find their identities, plan their transitions and access gender-affirming care, Baindur also founded the new Carleton Pride Society.
The society is one of 14 campus groups involved in organizing Carleton's 2023 Pride Festival, a week of events for 2SLGBTQIA+ students and allies from Oct. 10-15.
While programming is still being finalized, sociology student and Pride Festival coordinator Arleth Lugo Ruiz says that the festival's capstone event will be a Halloween Prom fittingly scheduled for Friday, Oct. 13.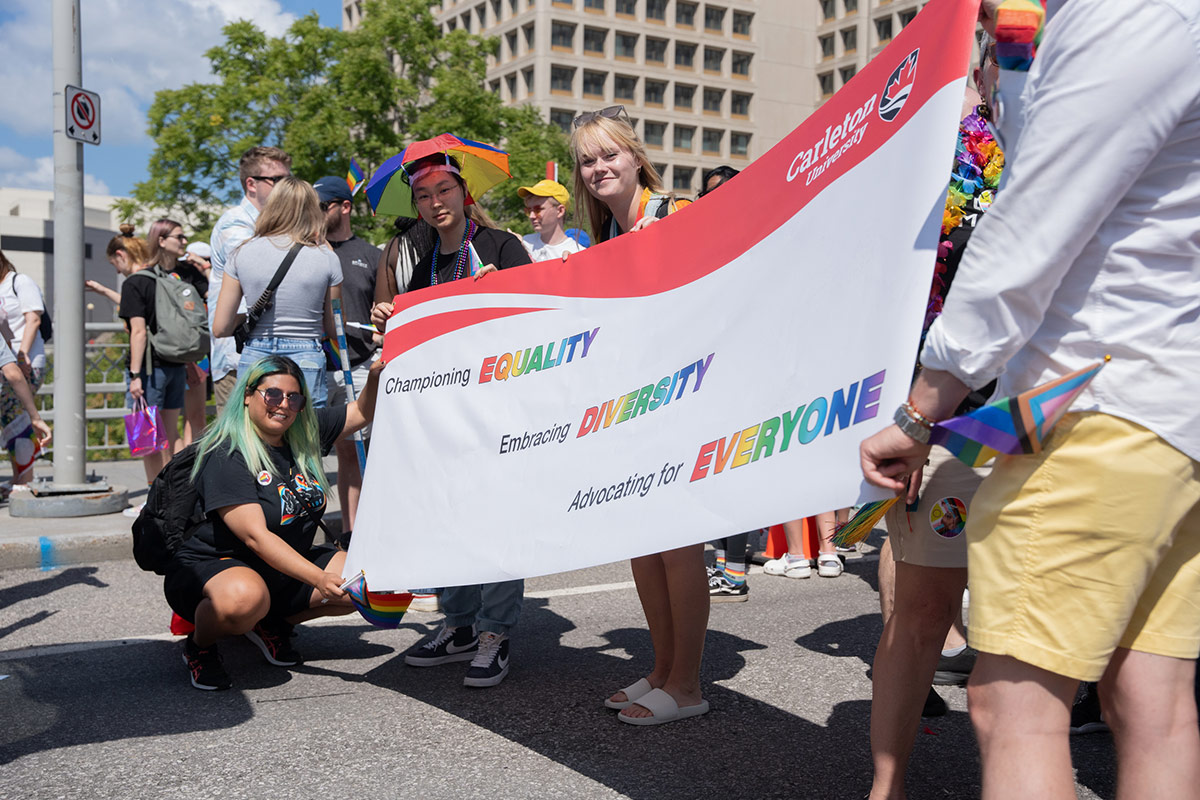 "Within our community, not everyone was out during high school or able to attend prom in a way that reflected their true identity. Events like this give us the chance to go to prom with who we want and in a space where we're surrounded by community."
The Halloween theme also encourages people to dress up in creative ways and explore their gender presentation through clothing and costumes.
Ruiz explains that the goal of Carleton's Pride Festival is to ensure students know that their identities are celebrated and protected on campus.
"Carleton is home to a lot of international students and there are a lot of places in the world where 2SLGBTQIA+ people are persecuted," says Ruiz, who also noted that students of all stripes have expressed excitement to learn that Carleton has a pride week.
Carleton's Pride Festival will also mark the launch of a 10-episode podcast hosted by Ruiz called "Under the Rainbow", featuring interviews with ten faculty, students and Ottawa community members.
To learn more about Carleton's Pride Festival, including opportunities to volunteer and how to purchase a limited-edition Pride shirt designed by Carleton student Angel Xing with all proceeds benefiting 2SLGBTQIA+ students, visit carleton.ca/seo/pride-festival.
Monday, September 18, 2023 in 2SLGBTQ+, Community
Share: Twitter, Facebook