By Elizabeth Howell
Photos by Chris Roussakis
Eric and Brett Lindros. Junior Seau. Sidney Crosby. Bob Probert. What do these athletes have in common? They all suffered concussions that either ended their careers or temporarily sidelined them from their sports, or were factors in their deaths at a young age.
Adults, children and professional or amateur athletes who play high-impact sports are all susceptible to concussions. Twenty per cent of Canadians have suffered concussions playing sports, a 2015 Angus Reid poll discovered.
A Carleton professor whose research focuses on minimizing concussions has received a nearly $700,000 boost through a collaboration between the Canadian Institutes for Health Research, which has been funding cutting-edge work on brain injuries for many years, and the Natural Sciences and Engineering Research Council of Canada.
"The primary purpose of a helmet is to prevent skull fracture, and on that front, helmets perform marvellously," says Oren Petel, the co-principal investigator on new concussion research from Carleton's Department of Mechanical and Aerospace Engineering.
"One of our objectives is to develop tools that will change the manner in which we evaluate helmet performance in an effort to reduce the incidence of concussion."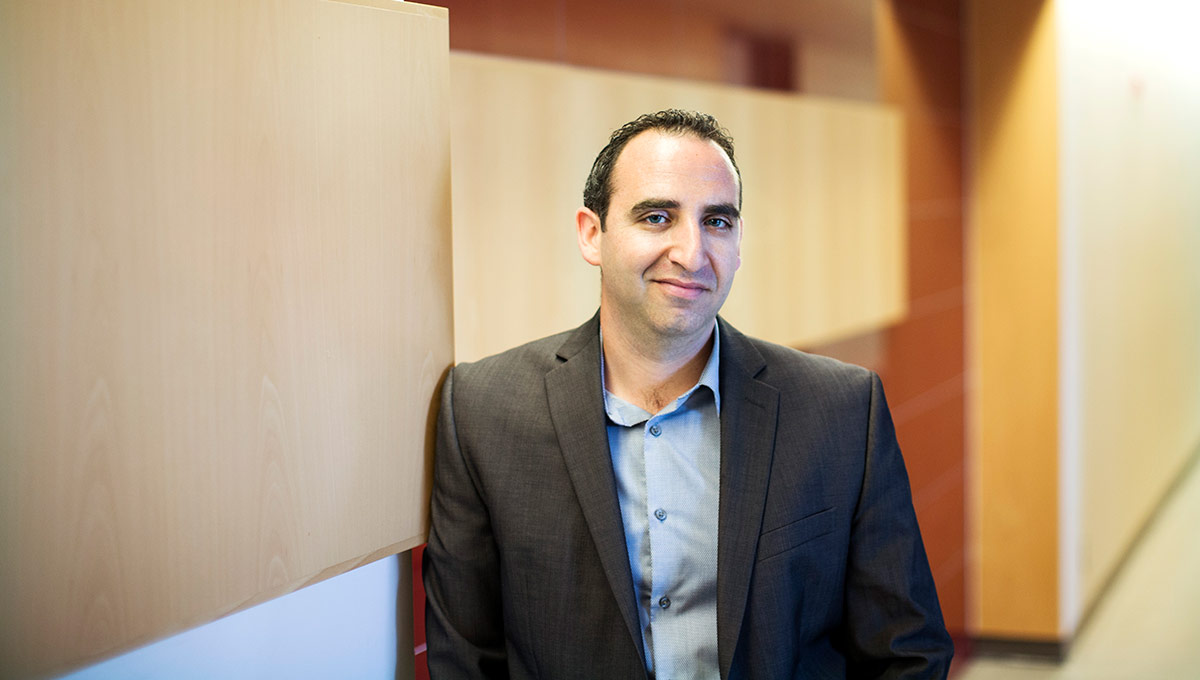 Concussions Can Have
Long-Term Effects
While the short-term effects of concussions are debilitating — for instance, nausea and headaches — long-term research shows that concussions can also lead to medical conditions such as depression or an inability to concentrate, making it difficult for people to participate in the workplace or in household activities.
A new $681,857 three-year multi-institutional collaboration led by Carleton's Impact Dynamics Research Group, in partnership with the Neurotrauma Impact Science Laboratory at the University of Ottawa, aims to provide better information for medical professionals on how concussions affect the brain — and more important, new tools in the fight to prevent these injuries from happening in the first place.
"The traditional approach to evaluating helmet performance is based on acceleration thresholds and involves testing with fairly rigid head models," says Petel.
"Our focus is to develop the tools that will enable us to measure such characteristics as brain deformation during an impact event, which is directly relevant to suspected injury mechanisms involved in a concussion. This will require concurrently developing a more compliant and detailed head model or 'headform.'"
To refine helmet certification procedures, advanced head and brain surrogates that accurately mimic the head and brain during impact need to be developed. Brain and head surrogates are available in several different forms, but lack the sophistication and "biofidelity" to accurately predict concussions. Moreover, limited cadaver data is available to guide our understanding of concussion.
"There is an urgent need for more experimental data," says Hanspeter Frei, a co-investigator from Carleton's Department of Mechanical and Aerospace Engineering. "Our collaborative research brings together experts in mechanical engineering, kinesiology and neurosurgery to establish an extensive experimental dataset using cadavers, which will guide the validation of cutting-edge computer simulations and the design of more compliant headforms, and could lead to improved helmets in a few years that will better protect athletes."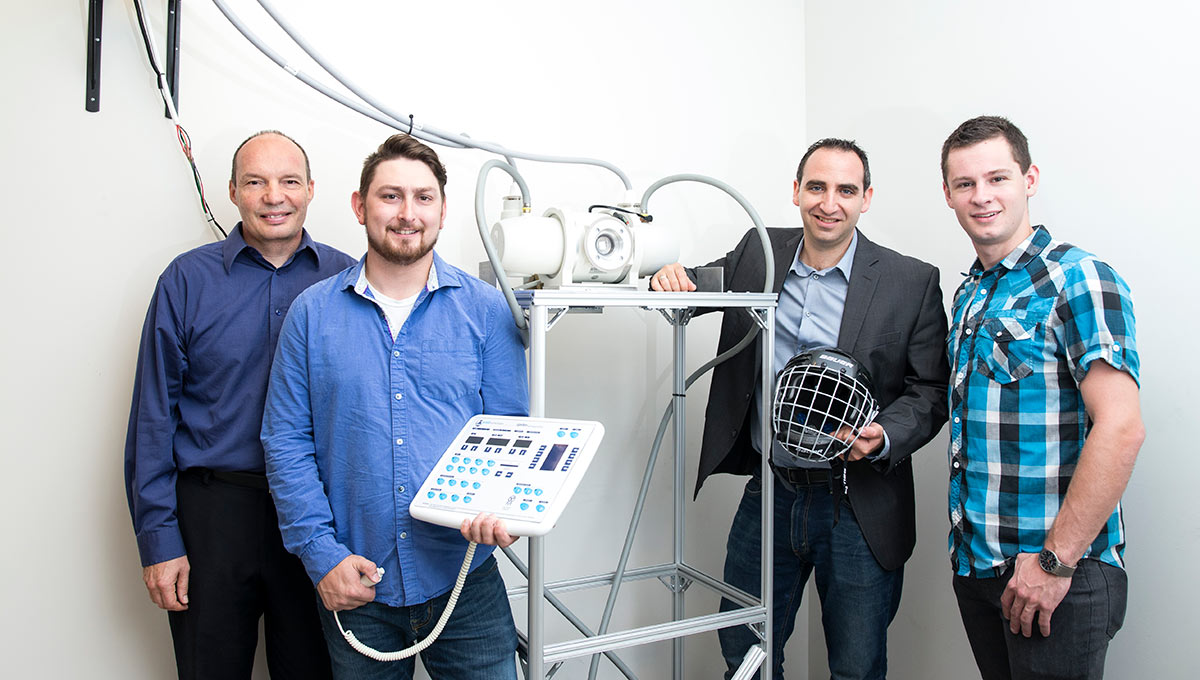 An Urgent Need for Data
The research will begin with animal cadavers and elastomeric phantoms (a polymer that mimics biological tissues) in the fall, and will progress towards the use of human cadavers the following year. The project will make use of a state-of-the-art high-speed cineradiography facility at Carleton, which produces X-ray movies at thousands of frames per second, to capture how the force of a blow transfers into the head, and how this force deforms the brain.
This X-ray system, funded through a previous $314,543 grant from the Canada Foundation for Innovation awarded to Petel in 2015, is one of the fastest in-lab radiography systems available for this kind of research. It will help the researchers obtain data on the response of cadavers to impact, measure internal deformation fields, and create accurate "tissue-simulating" headforms more representative of the human head, says Petel.
With validated computer models, researchers can then investigate a wide range of impact scenarios and use this information to create accurate surrogate brains and headforms for helmet validation and certification, according to Frei. The sooner this work can be performed, the better it will be for athletes of all high-impact sports — whether professional or amateur.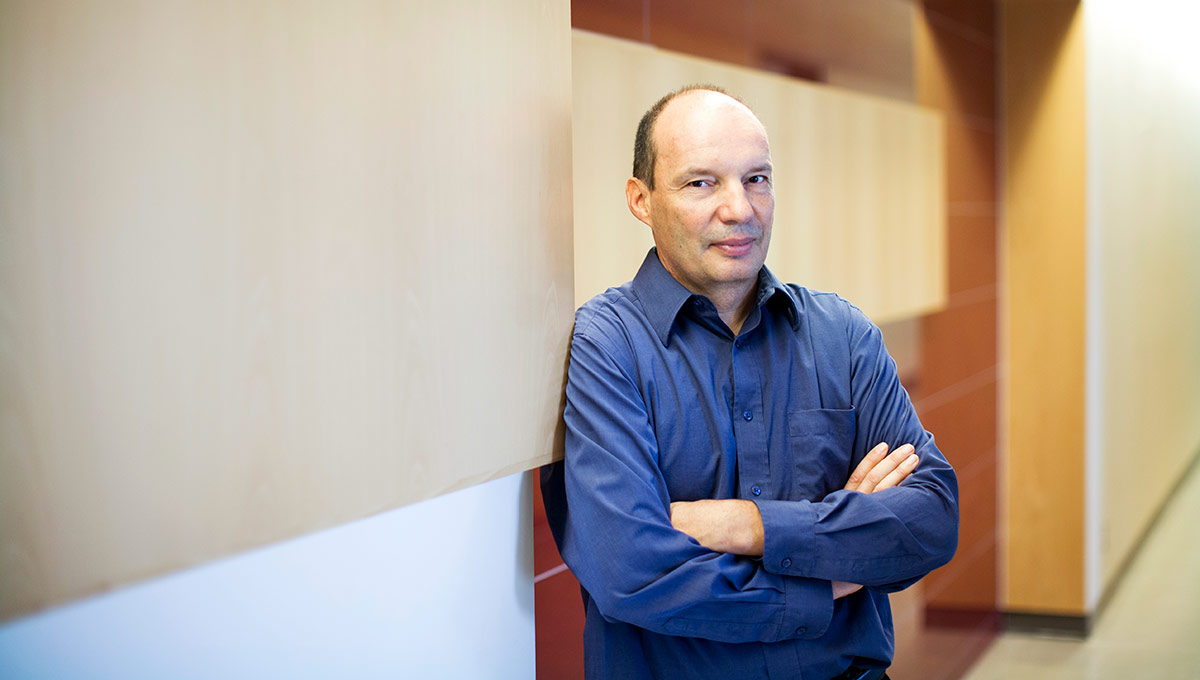 Children and Youth Most At-Risk
Children and youth under age 18 have been identified as the age group most at-risk for concussions. Generally, however, it is difficult to focus research on this particular group because cadavers tend to be of older people, says Frei.
"That's a limitation of our study," he adds, "but it's also true of many other kinds of research on cadavers."
The Carleton researchers are collaborating with co-principal investigator Blaine Hoshizaki (University of Ottawa) and Patrick Bishop (University of Waterloo) on this effort. Their expertise in helmet testing and concussion is essential to this project. The group hopes that this research collaboration will continue beyond the scope of the current program.
At Carleton, three graduate students are currently working as research assistants on the project alongside Frei and Petel. Other partners include the Defence Research and Development Canada Valcartier Research Centre, the National Institute of Standards and Technology and industrial partner Cadex Inc., which makes testing apparatuses for head impact research.
Top photo: Oren Petel; middle photo, left to right: Hanspeter Frei, Scott Dutrisac, Oren Petel, Stéphane Magnan; bottom: Hanspeter Frei.
Wednesday, July 19, 2017 in Engineering, Health, Research
Share: Twitter, Facebook