By Dan Rubinstein
Photos by Fangliang Xu
When Zoë Williams was a kid, cross-country skiing with her parents and siblings on a trail network near their home in North Bay, Ont., her mother would hand over a walkie talkie and let her daughter circumnavigate a challenging five-kilometre loop on her own.
Sometimes, with the device in a pocket, Zoë would inadvertently push the talk button and her mother would listen to the seven-year-old singing to herself as she swooshed through the woods.
"It was very liberating to be able to go out and conquer the trails on my own," says Williams, whose parents weren't diehard skiers but wanted to nurture an appreciation for winter and find an affordable sport they could do as a family, one that didn't entail driving their six children to a string of different activities.
"Skiing is something that's been both constant and changing throughout my life," continues Williams, one of the stars of the Ravens Nordic ski team, whose family moved to Cantley, Que., in 2005 when her father, English Prof. Grant Williams, got a faculty position at Carleton.
"Being outside and being in motion in a natural setting has always been good for my mental health. It's always been a place I could go and feel comfortable, no matter what was happening. But it's also been a place for me to grow.
"There are things you can control and things you can't control when you're skiing, so it's been a way for me to get to know myself in a way that no other sport could."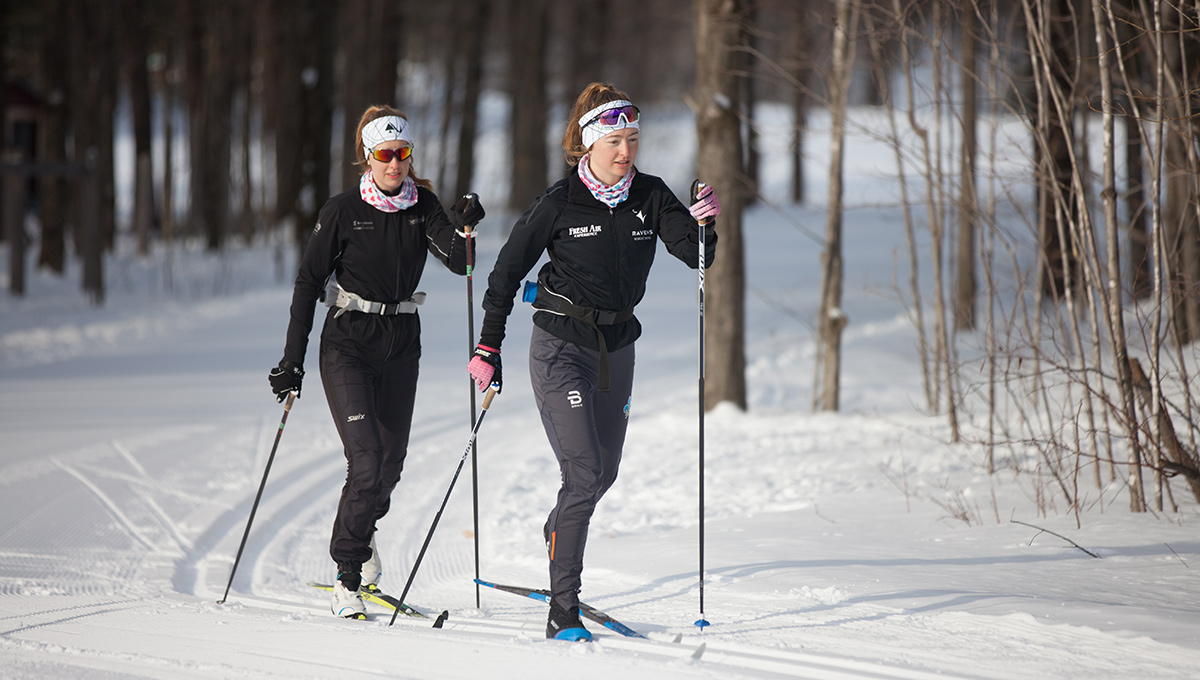 Another Carleton Sports Dynasty
In late February in Sault Ste. Marie, Ont., Williams, now 22, helped lead the Ravens women's Nordic ski team to its fifth straight Ontario University Athletics (OUA) championship — a sports dynasty alongside the men's basketball program at Carleton.
The men's ski team also won the provincial title in Sault Ste. Marie this season, its first OUA championship since 2017.
That's the same year that the Carleton women last won the Canadian university nationals, which Williams was excited about competing in again, until the coronavirus pandemic cancelled the late-March meet in British Columbia and put a premature end to the ski season.
But Williams, a fifth-year Neuroscience and Mental Health student minoring in Psychology, hopes to get back onto the trails soon — and she isn't overly concerned about sliding back into ski mode.
After all, it's a sport that she's been immersed in for nearly two decades, and she loves every aspect of it — the demanding training, the focus on technique, the mental strength and physical stamina required — as well as the challenge of balancing skiing with studies that are also a passion for her.
"Not many people decide to pursue cross-country skiing and university at the same time," says Williams, explaining that when elite skiers in Canada turn 18, they typically relocate to one of three national training centres — in Thunder Bay, Ont., Mont-Sainte-Anne, Que., and Canmore, Alta. — rather than attempt to juggle sport and school.
"People usually view it as an either-or thing. But a national training centre probably wouldn't have worked for me. It wouldn't have been conducive to me enjoying the sport."
It helps that cross-country skiers, like other endurance athletes, tend to peak in their late 20s and early 30s, giving Williams time to continue developing as a skier while at university — a path that she hopes to help validate by example.
It also helps that her parents decided to settle in Cantley, a short drive from the Nakkertok Nordic ski club, whose trails she trains on and whose teams she races for, instead of buying a house in the city. The couple homeschooled their children, and in winter, gym class often consisted of sending their girls and boys outside to ski.
"When you're going hard and moving quickly over the snow, it feels like you're flying," says Williams. "Skiing means many things to me. But really, it's just fun."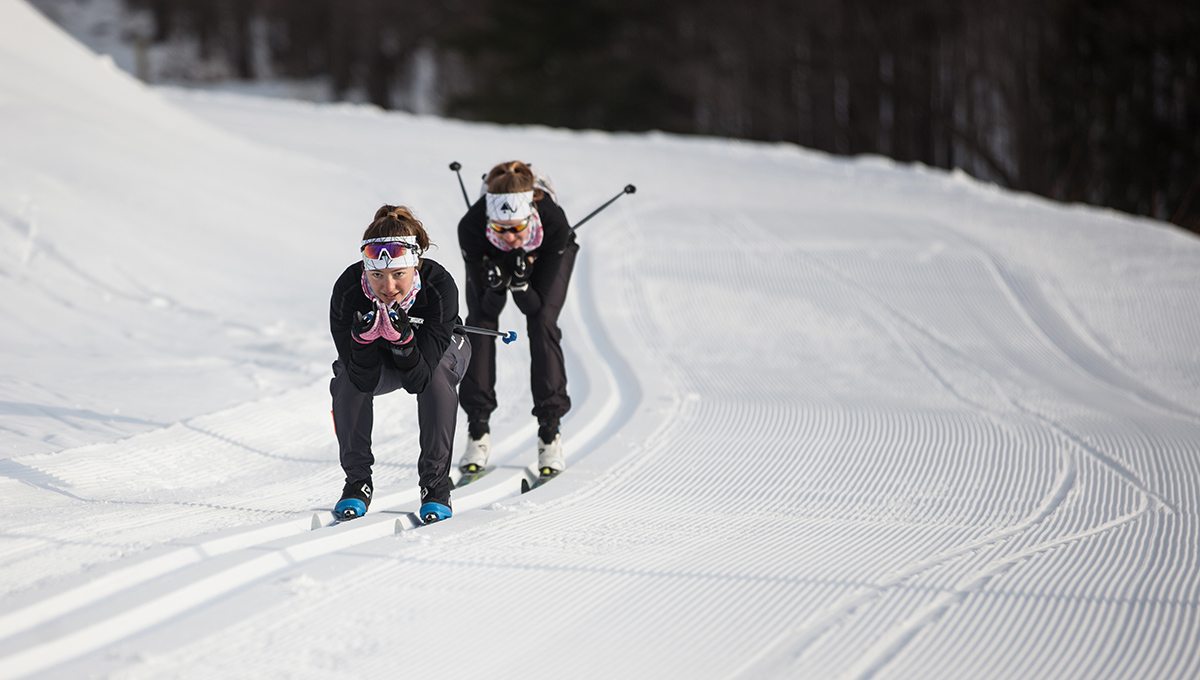 Olympic Dreams for 2022
Like many competitive cross-country skiers, Williams does both classic and skate, and she races distances that range from 1.5-kilometres sprints to 30 kilometres.
In addition to the Ravens — which her younger sister Bronwyn joined last season — she's been a member of the junior national team and Quebec's provincial team and has competed in World Cup races.
Because she's only taking three courses a term to allow for time to train and ski, Williams will still have a semester of school to finish after this spring. And even though this is her last year of OUA eligibility, she's hoping to compete for Carleton alongside her sister at the World University Championships in Switzerland in 2021 — and she'll be working toward her dream goal of representing Canada at the 2022 Winter Olympics in Beijing.
Attempting to qualify for the Olympics will mean putting grad school on hold for now, but Williams approaches her education with the same type of zeal that she displays on the trail.
While still working on high school courses at home, Williams took a first-year Neuroscience class at Carleton taught by Prof. Kim Hellemans, whose passion for the field was infectious and stoked a growing interest in science and biology.
Williams is currently doing research on microbiota — bacteria in our guts — and their role in the bi-directional gut-brain communication axis. Specifically, through lab work involving mice, including voluntary wheel running, she's exploring how exercise impacts depressive or anxious behaviour, an area that has potential human health implications.
"Exercise is something that's emerging as a way to treat depression and anxiety," says Williams, who is also curious about test results differing in female and male mice, which could be significant considering that male mice are generally used for experiments because their physiology is not impacted by reproductive cycles.
"I'm really interested in this."
Nordic skiers have the highest grade point averages among varsity athletes at Carleton, something that Williams attributes, in her case, to time management.
"Having both skiing and school keeps me balanced and keeps me honest," she says. "Having less time to do things keeps me focused and productive. If you have a small window of time for studying, you've got to study. Skiing is a difficult sport. It teaches you to work hard.
"I'm definitely going to do master's degree," continues Williams, "but first I'm going to take a break from school for a while. That's been my motivation, the light at the end of the tunnel. Instead of fitting skiing into my life, I want to flip things around and just ski."