By Dan Rubinstein
Photos by Mike Pinder
"These days, when the world seems to be in turmoil, many of us are concerned, so it's more important than ever to refocus on the conservation of cultural heritage and natural environments, because the threats they face are even greater."
So says Gustavo Araoz, president of ICOMOS, the International Council on Monuments and Sites, who is at Carleton this week for the Digital Workflows for Heritage Conservation symposium, the 26th international meeting of the council's architectural photogrammetry committee (CIPA) and the first time the group has convened in North America.
More than 350 delegates from at least three dozen countries attended the symposium at Richcraft Hall, co-chaired by Carleton Immersive Media Studio (CIMS) researchers, Mario Santana Quintero and Stephen Fai, and conservation technologist Christian Ouimet from the Canadian government's Heritage Conservation Service. It featured keynote addresses, presentations and discussions about new technologies and leading research in the field of digital heritage conservation.
"Carleton has a long and distinguished history of paying attention to heritage and restoration to promote scholarship and practice in this field, and to inspire the next generation of heritage conservationists," Pauline Rankin, the university's associate vice-president (Research and International), said during the opening ceremony.
"Carleton has emerged as a leader in heritage conservation research and education," added Fred Afagh, interim dean of the Faculty of Engineering and Design, "with expertise in digital documentation, fabrication and more."
"We are in Ottawa to discuss new ideas, to discover new technologies and to share knowledge," Santana Quintero, Fai, and Ouimet wrote in their welcome message. "And it is not just about the how of using digital technologies in the service of heritage conservation — it is very much about the why.
"While digital technologies continue to transform how we record heritage places and how we share that information, we must also address the ethical questions of who owns this information and to what ends it is used. Who controls the story? This is CIPA's unique contribution to the greater field of heritage conservation — a mix of technical expertise, passion for local and world heritage, and critical reflection."
Mario Santana Quintero is painstakingly working to document and preserve some of the world's most important heritage sites. Read more.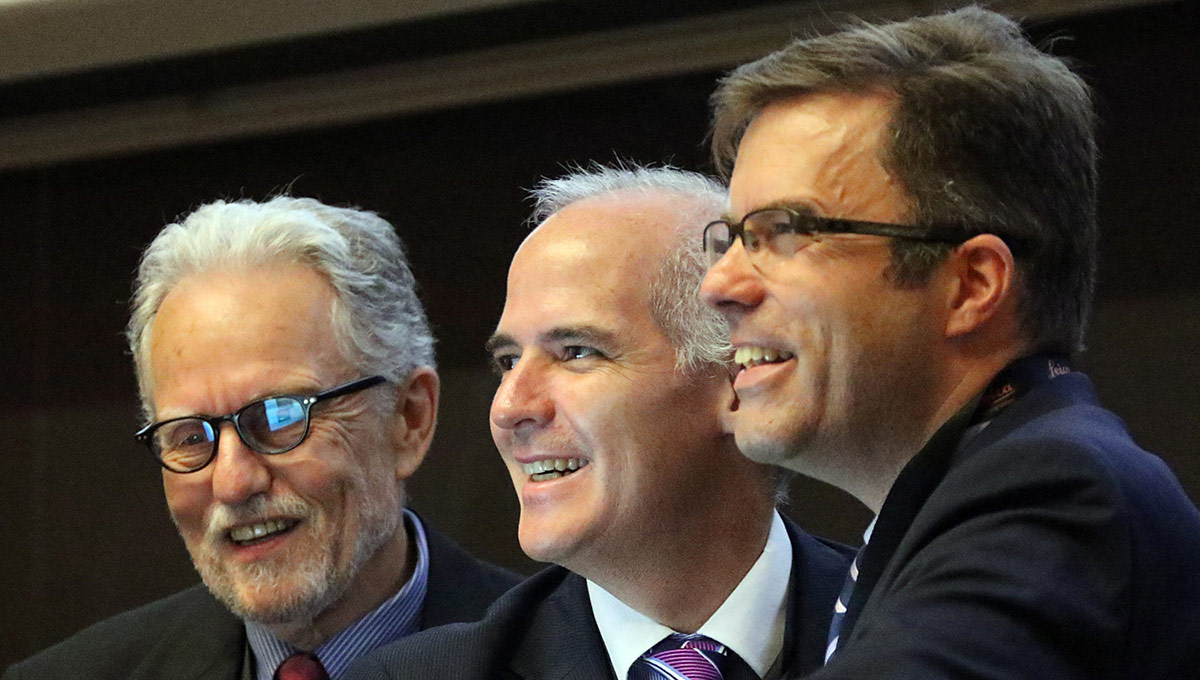 Addressing Ethical Questions
The first keynote Monday was delivered by Richard O'Connor, chief of Heritage Documentation Programs with the U.S. National Park Service (NPS).
O'Connor introduced the service's three main programs — the Historic American Building Survey (HABS), Historic American Engineering Record (HAER) and Historic American Landscape Survey (HALS), which date back to 1933, 1969 and 2000, respectively — and explained how they underpin the agency's efforts to document and mitigate damage at the country's historically significant sites. The National Park Service also prepares standards and guidelines for heritage documentation, he said, and, like Carleton, helps educate the next generation of heritage professionals.
The NPS data acquisition flow has evolved tremendously over the years. Hand measurements of objects and artifacts stopped in 1997 as digital technologies such as laser scanning and GPS emerged and became more effective and affordable. But the clear and concise reports prepared by the agency, not to mention the continuity of information provided, have a major impact, said O'Connor, because "one of the biggest issues we face is explaining to people why the sites we're looking at and documenting are historically significant."
O'Connor showed examples of some of the National Park Service's work, from documenting the early 20th century gold mining industry in California's Death Valley — part of the HAER focus on industrial processes — to a very engaging animated virtual tour of the immigrant processing facilities on New York City's Ellis Island.
High-definition scanning and other digital documentation techniques can capture huge volumes of data very quickly, said O'Connor, but one of the end products remains measured drawings that accurately describe a site — and one of the challenges is to find a way to store the data securely to ensure it is never lost.
The Carleton Immersive Media Studio has created a virtual reality exhibiting showcasing some of the most iconic spaces on Parliament Hill. Read more.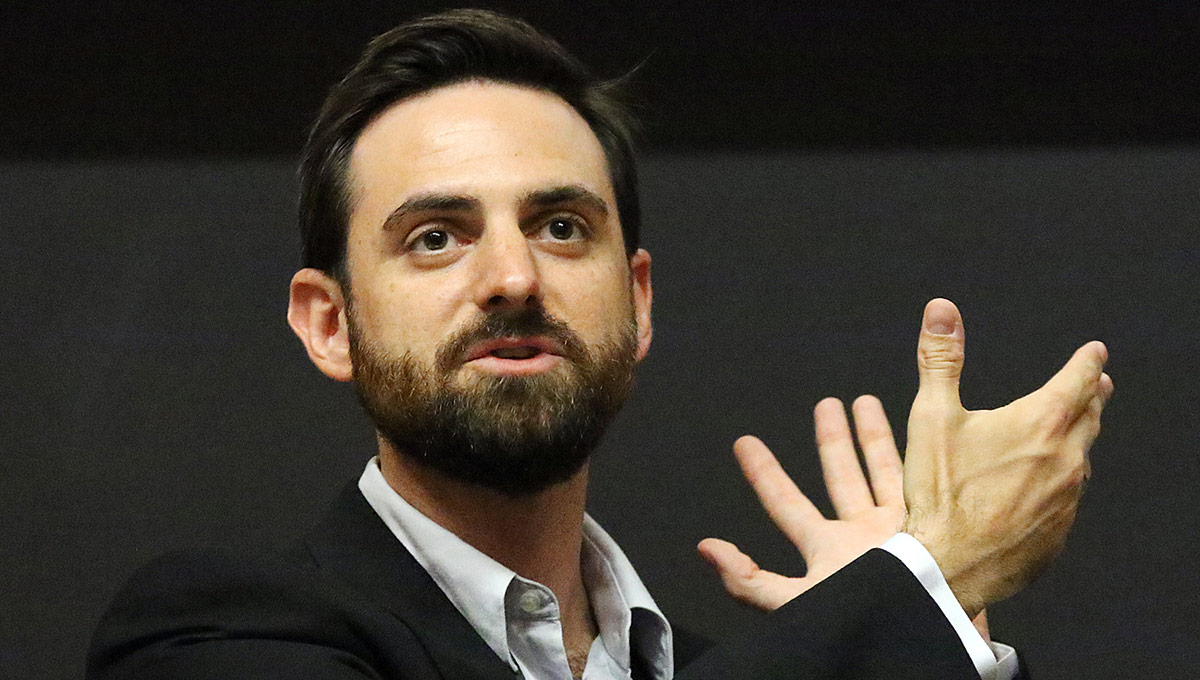 Conserving Culture and Sharing Our Global Story
O'Connor was followed at the podium by Chance Coughenour, a program manager with Google Arts and Culture, an arm of the tech giant that partners with non-profit organizations such as museums to "conserve and share our global story as widely as possible, to as many people as possible," he said.
"People regularly say how much the historic climate of where they live, work and play contributes to their lives," said Coughenour. "Visiting large or small historic locations connects us to the past, whether it's where we live, or to connect to the arts and culture of the places where we travel."
But historic sites and artifacts face a range of threats, he continued, including intentional destruction, natural disasters, looting and damage from heavy tourism. By partnering with  appropriate organizations and "crowdsourcing digital memories" with the right tools and platforms, Google Arts and Culture can help digitize, manage and publish high-definition images, compelling stories, virtual tours and more.
"Our mission," said Coughenour, "is to democratize access to the world's arts and culture."
To date, Google Arts and Culture — available online or via a free app — has partnered with more than 1,200 organizations in more than 70 countries, and has collected more than six million cultural assets.
Some of these projects involve new physical tools — for instance, Google's Art Camera, which takes high-res photos of artworks, painted ceilings and so forth. Others, such as virtual museum tours, use tools that have been evolving alongside the rapid development of the Internet.
"At this point," said Coughenour, "we don't have any limits."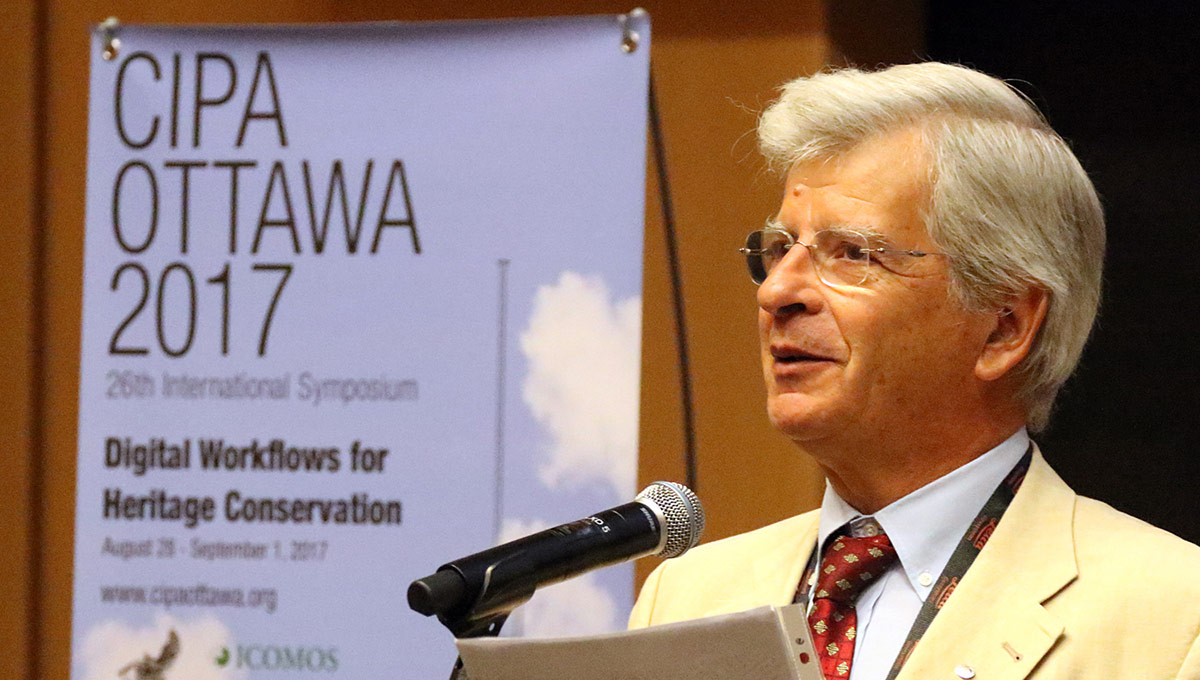 Highlighting Research at Carleton
Some of the sessions at the CIPA symposium were technical in nature, including workshops focused on heritage inventories and 3D scanners.
Others — such as a keynote by CIMS PhD candidate James Hayes, who is using a pair of jointed-arm industrial robots for digital fabrication — highlighted research that's underway at Carleton.
Also on the agenda were poster sessions, industry exhibitions, and a day of technical tours, including visits to heritage sites in Montreal, Kingston and small-town Ontario, as well as a Parliament Hill tour and an exploration of post-war modern heritage in suburban Ottawa.