By Dan Rubinstein
Photos by Mike Pinder
As a systems and integration engineer at General Dynamics Mission Systems – Canada, Carleton University alumna Jasmine Shaw works on systems that are installed in Canadian Forces CH-148 helicopters.
These systems, which Shaw helps design and test at the company's Ottawa headquarters, are essential to helicopter functions such as navigation and mission planning.
"It's a really fantastic environment to work in," says Shaw, who started the job last August after graduating in spring 2016 with a bachelor's degree in Biomedical and Mechanical Engineering.
"The company doesn't underestimate its junior engineers. They give you meaningful tasks and responsibilities, and there's definitely a lot of room for personal and professional development."
Shaw, a former president of the Carleton Student Engineering Society, shared stories about her work and education at the Faculty of Engineering and Design's Celebration for Women in Engineering event held at Richcraft Hall on May 13.
The annual gathering, which includes networking and question and answer sessions, brought together Carleton engineering students, alumni, faculty, staff and high school students interested in engineering. It's part of an extensive array of outreach events and initiatives organized by the Faculty of Engineering and Design (FED) to encourage women to study engineering and help bring greater gender balance to what is often seen as a traditionally male profession.
Despite growing up in a very "pro-science" and "pro-math" household with a mother and father who are both engineers, Shaw initially applied to study cognitive science at Carleton. A visit from one of FED's academic support officers to her high school convinced her to try engineering instead.
"He basically said: 'Work hard and you can do it,'" recalls Shaw. "Having a support system before and during university is really important."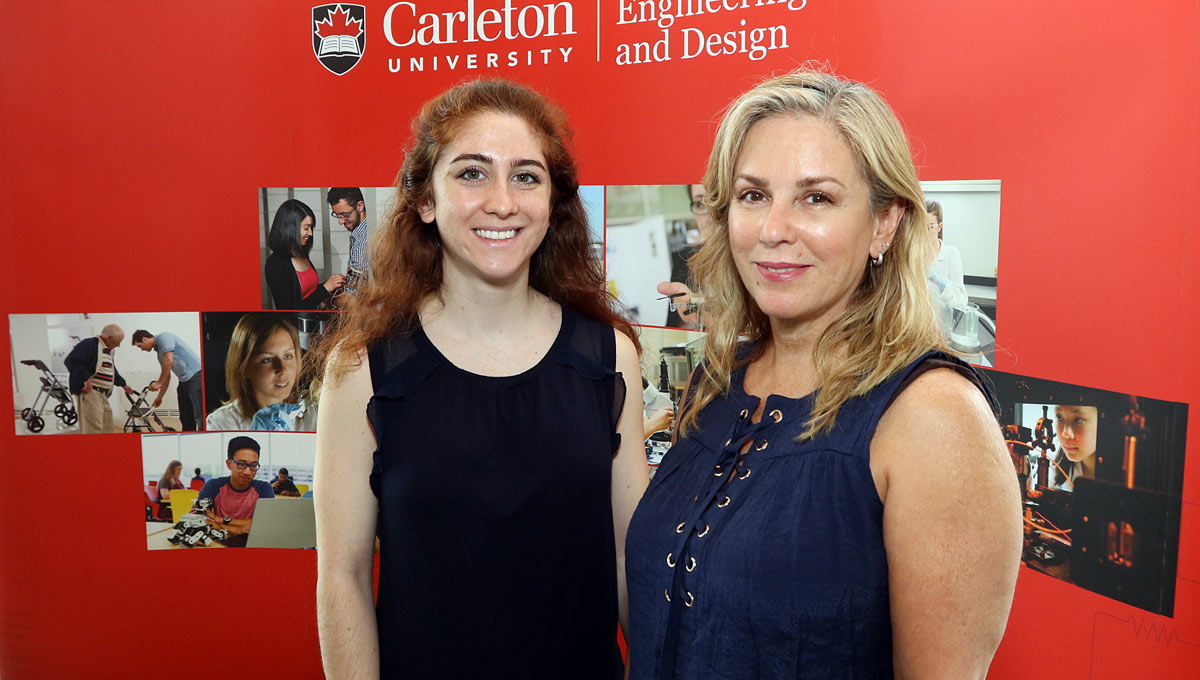 Putting a Support System in Place
Shaw's undergraduate experience at Carleton began on a positive note. Every team in the EngFrosh fall orientation event had at least one woman leader, which helped students acclimatize.
That made a big difference to Shaw, who was inspired by the mentorship of successful women engineering students. She was also motivated by the program's demanding assignments, which created a "we're all in this together" atmosphere in the classroom that trumped gender issues.
"All of these things encouraged me to keep going," says Shaw, "and reminded me why I'm passionate about engineering."
Since graduating, Shaw has remained active at FED outreach activities, participating in events such as Carleton's annual open house in the Greater Toronto Area for high school students who are considering engineering.
The faculty also reaches out to younger students through Virtual Ventures, which runs camps, clubs and other events specifically for girls. The Engineering & Computer Skills Badge Day for Girl Guides and a STEM Badge Day for Pathfinders, for example, bring girls onto campus for fun engineering activities, interaction with women engineering students and faculty members, and lab tours.
Although she has always been supported by her mother Beyhan Kaya – a fellow Carleton alumna and General Dynamics Mission Systems – Canada colleague – Shaw knows it's important to encourage girls in elementary school to keep an open mind about exploring STEM (science, technology, engineering and math) possibilities. She also sees the value of encouraging parents to do the same.
"Being exposed to STEM wasn't an issue for me," says Shaw, "but I think that informing parents is one of the things that can have the biggest impact."
Kaya, who graduated with a bachelor's degree in math and computer science in the early 1980s and also spoke at the May 13 event, says there was no focus on encouraging women to go into engineering when she was a student. To her, it was a path to a solid career.
The high-tech sector was booming in Ottawa at the time and she worked as a software consultant for a number of years before becoming a senior systems engineer at her current company.
"I think mentors and role models are extremely important," says Kaya. "They give young people something to strive toward."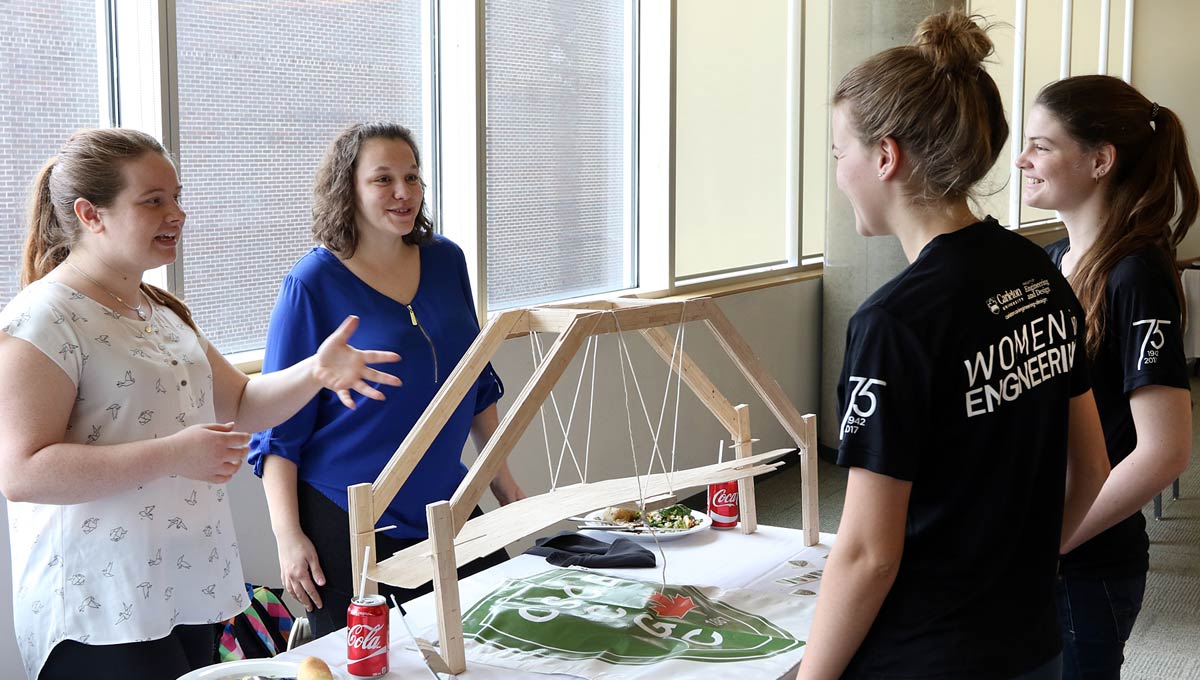 Financial Assistance for Women in Engineering
Financial assistance can be very important as well. With support from its generous alumni network, FED offers several scholarships to help women in engineering programs.
The Akbar Mashaie Scholarship, endowed earlier this year by alumnus Akbar Mashaie, consists of roughly $2,000 that will be awarded annually to an outstanding student entering a FED bachelor's degree program. Preference will be given to women Aerospace or Mechanical Engineering students.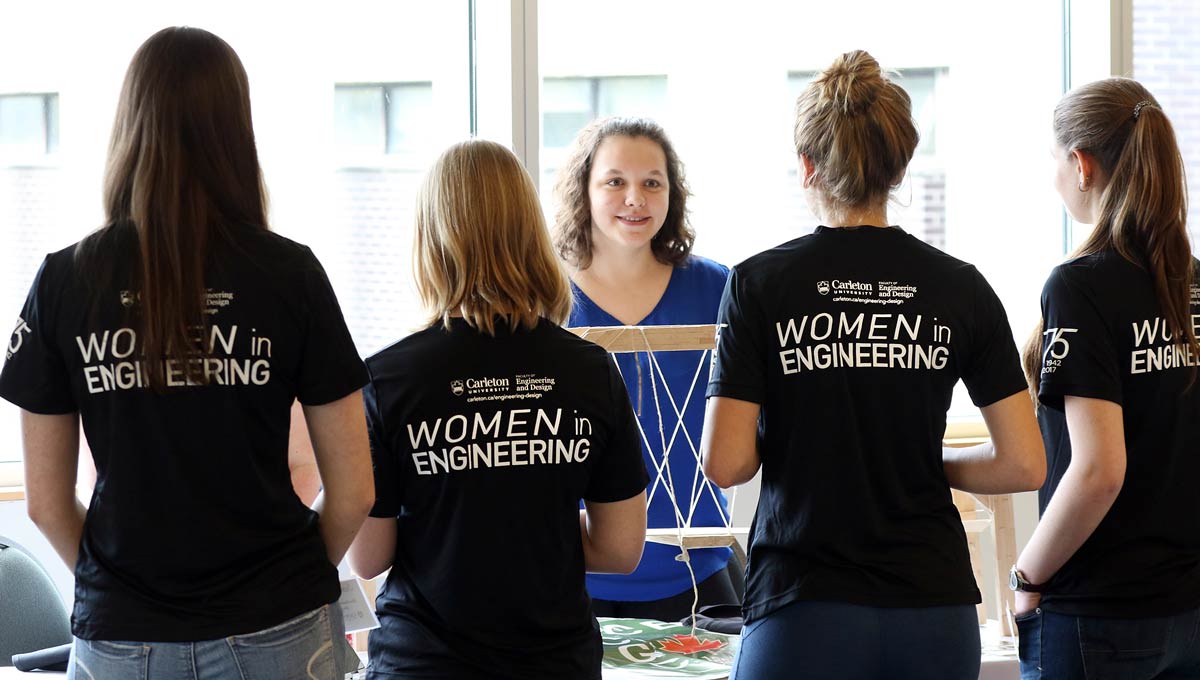 The Nemer Family Scholarship, endowed in 2016 by alumnus Elias Nemer, provides roughly $2,000 a year to an outstanding undergraduate student who is entering or proceeding from one year to another in computer systems engineering. Preference will be given to women students.
"Girls often feel as though they have to overcome greater obstacles if they want to go into engineering," says Mashaie, a mechanical and industrial engineer and the former CEO of Ottawa's multi-faceted Echelle Entreprise who earned one of his three master's degrees and a PhD in engineering at Carleton. "That can be discouraging, but offering some financial support can help."
Mashaie — whose support was motivated by the shooting deaths of 14 women, including several women engineering students, at Montreal's École Polytechnique in 1989 — knows what women in engineering can do. One of his daughters has a very rewarding job as a civil engineer in Ottawa.
"I've seen it in my own family," he says.
"Women are capable of doing anything men can do."
Nemer, who earned a PhD in Electrical and Computer Engineering at Carleton and is the technical director of R&D at DTS, Inc. in Los Angeles, has similar success stories in his family. One of his sisters is an environmental engineer; the other is vice-president of research at a university.
"I'm a big proponent of education," says Nemer, whose company specializes in digital surround sound formats. "I have four university degrees and spent a lot of my time studying, and I try to inspire others to pursue higher education because it's an invaluable asset in an increasingly knowledge-based society."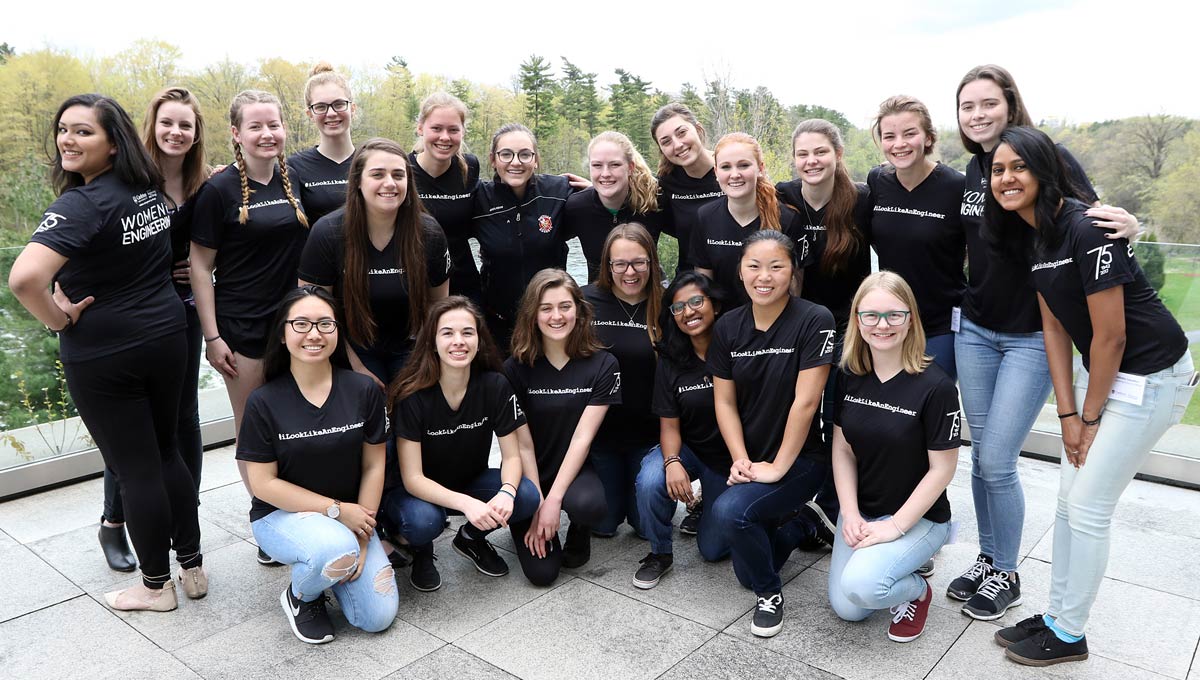 Grateful to Carleton for the many job opportunities he has had, Nemer wanted to give back to his alma mater. And because of the gender imbalance in engineering — which is particularly pronounced in computer engineering — he feels the profession is losing some great minds.
"Women and men can approach problems quite differently, and having that difference in perspective can be very valuable," says Nemer.
"Having more women engineers will help us solve important problems, and will provide role models so others follow them into this field. It's a loss for the profession without them."
To further encourage women to pursue post-secondary education and careers in STEM fields, Carleton has signed a memorandum of understanding with Lockheed Martin Canada confirming a shared commitment to support women in STEM and R&D, affirming the company's desire to increase its collaboration with Canada's academic community to expand and enhance these efforts.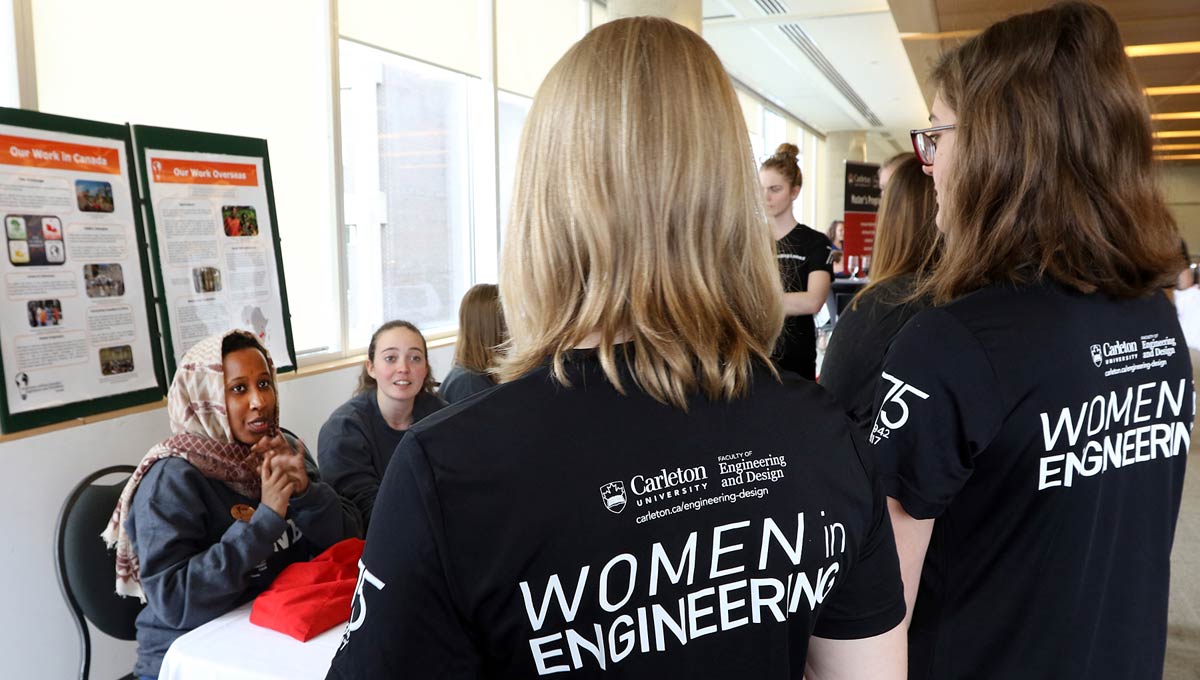 "STEM engagement is incredibly important to our business as a technology company and I am thrilled to develop this partnership with Carleton University to grow and promote women in STEM," says Rosemary Chapdelaine, vice-president and general manager of Lockheed Martin Canada Rotary and Mission Systems.
"Through mentorship, leadership training and exciting research and development activities, I'm confident that together we will make a positive impact in the Ottawa community and inspire our next generation of women to be leaders in innovation."
With support from successful alumni like Jasmine Shaw, Akbar Mashaie and Elias Nemer, as well as partners like Lockheed Martin Canada, Carleton's work to encourage more women to study engineering and other STEM subjects becomes a more powerful collaborative effort.