What comes after being heard?
After a six-year battle, the Nunavut hamlet of Clyde River has won its bid in the Supreme Court of Canada to end a National Energy Board [NEB] authorization that allowed a Norwegian energy consortium to conduct seismic testing in the waters of Baffin Bay and Davis Strait.
The Inuit feared it would permanently damage their economies, food sources and traditions.
The Supreme Court decision clarified the terms of adequate consultation, reaffirmed that regulatory tribunals can perform the duty to consult and stressed the need to consider the impact on Indigenous rights rather than the environment.
But NEB transcripts from 2011 and 2013 also attest to the demand to end what Aluki Kotjerk, president of Nunavut's land claims representative, Nunavut Tungavik Inc., called "fixed ideas" during Inuit consultations.
What does "fixed ideas" mean? For Kotierk, it means any failure to ensure that Inuit peoples have a say in projects that impact Indigenous rights. Those rights are enshrined in the UN Declaration of the Rights of Indigenous Peoples and in Section 35 of Canada's Constitution.
But it's also about when decisions are made. Kotierk and others argue that developers cannot outline the future for Inuit prior to consulting with them, essentially treating consultations as merely a step towards the ultimate authorization of a development project. The recurring demand for meaningful consultation underscores that Inuit and Indigenous peoples are often absent from discussions and decisions about their own future.
Clyde River's fight started in Stephen Harper's Canada. Under Harper, the Arctic was a standing reserve of resources of the highest economic, geopolitical and historical importance to the future. It ended in Justin Trudeau's Canada, where only communities can greenlight big development projects.
Inuit aren't anti-development
But if Clyde River's victory is going to truly result in renewed political activism and solidarity in the Arctic, the remnants of the Harper era's "use it or lose it" approach must be eliminated.
Thomas Berger, a judge who chaired the 1970s inquiry into the Mackenzie Valley Pipeline, famously wrote of assumptions about Indigenous peoples, including that they're "locked in the past," that are used to justify development. Harper's Arctic vision shared that belief.
But it's not that Inuit peoples are against development. The former mayor of Clyde River, Jerry Natanine, has echoed many others in his insistence that the Inuit are not anti-development. The trouble is Harper's vision for the Arctic kept the region locked — not in the past, but in the future.
The former prime minister once said: "Canada's Arctic is central to our identity … It is part of our history and it represents the tremendous potential of our future."
Inuit participation and benefit was presumed, or rather decided, before there was a willing community. Harper's future for the Arctic assumed Inuit would consent to and benefit from the outcome. Consultation processes continued as a mere preamble to the ultimate green light for development.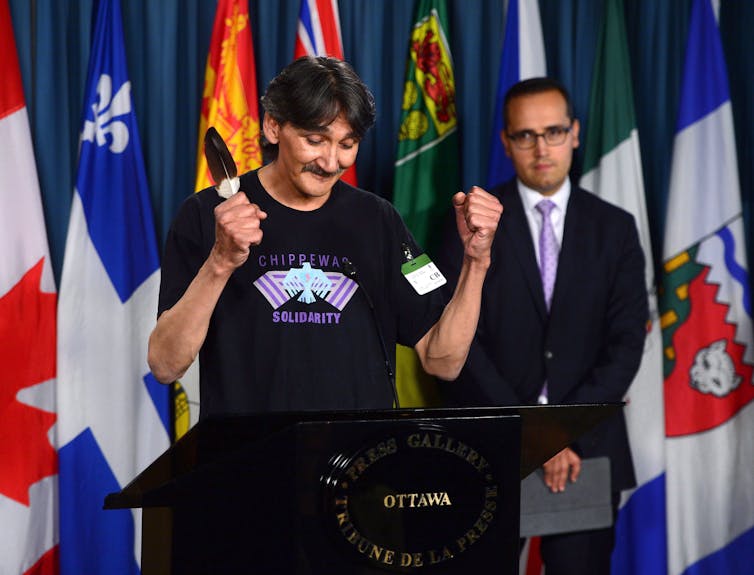 The pre-conceived assumption that Inuit would back development, and that consulation was a mere formality, was a key theme in the protests against the project.
At the 2011 consultations in Clyde River, one activist noted: "(Inuit) feel that the 'white man' continues to make promises they do not keep (and) they are tired of the white man tracking through their community and not hearing what they have to say."
Two years later, Natanine told another consultation meeting: "I wish I could welcome the company, but I don't."
An elder also said, through a translator: "It's unfortunate that you keep coming back when we didn't want anything."
Months later, industry representatives assured Inuit that "community engagement helps to identify Inuit use and knowledge of the area so that the proposed project will not impact or have minimal impact on traditional and current use of marine space and resources."
Inuit had to offer up local knowledge
That argument left Inuit in a familiar position where implicit consent, and surrendered local knowledge to "augment scientific reports" (affirmed by the Supreme as key to "adequate" consultation), was the only option.
In the related Chippewas battle against Enbridge Pipelines in southwestern Ontario, consultation was deemed adequate because funding was provided, oral testimonies were heard, rights were considered and the impact "could be reasonably mitigated." The Chippewa peoples complained, as the Inuit do, that the process amounted to little else but the chance to "blow off steam."
So what's next for Inuit in Clyde River? If the Supreme Court decision calms the waters of Baffin Bay temporarily, there nonetheless remains much that's unresolved. Consultation can't continue to be theatre for predetermined outcomes, economic or otherwise, if Trudeau's insistence that Inuit have the final say on development is to be taken seriously.
An important part of the story, then, is Clyde River's response to move their local and territorial claims into global contexts. In doing so, Clyde River's appeal moved "meaningful" consultation outside the legal processes.
Greenpeace, Inuit joined forces
The Supreme Court case was notable for the surprising partnership between Inuit and Greenpeace since the environmental group's official apology for its anti-sealing campaign. The Arctic Home campaign, connected to Save the Arctic, drew global and celebrity attention to Arctic development, hunting and Indigenous rights.
The campaign also placed these rights in the same league as climate disaster, starvation and the end of the Arctic. Ironically, Greenpeace's alliance with Clyde River and its fight against seismic testing used the same emotional appeals that worked so well in its anti-seal hunt campaign.
In one video, actress Emma Thompson proclaims the Supreme Court case affects "whether [Inuit] survive or not." In another, Inuit are described as defenders of a world on the edge.
Today, "the end of the Arctic" is a common theme in climate change discourse, as it was in the Clyde River campaign. Predicting the apocalyptic impact of the seismic survey, and tying it to both climate change and greedy resource development, meant that Greenpeace supporters could "save" the Inuit from this future while affirming their right to exist.
This type of global momentum outside the courts is promising if it can help billboard the Supreme Court's decision, and result in stopping governments and developers consulting Indigenous communities as an afterthought, without any real intention to listen to them.
As the impact of climate change and development continue to affect the Arctic, Inuit must be involved in addressing them wherever and whenever they occur.
---
This article is republished from The Conversation under a Creative Commons license. Carleton University is a member of this unique digital journalism platform that launched in June 2017 to boost visibility of Canada's academic faculty and researchers. Interested in writing a piece? Please contact Steven Reid or sign up to become an author.
All photos provided by The Conversation from various sources.

Tuesday, August 15, 2017 in The Conversation
Share: Twitter, Facebook