By Lisa Gregoire
Photos by Josh Hotz
Dominion-Chalmers United Church was built as a sacred space for worship in 1912-1914, but on April 1 the sanctuary echoed with a new kind of exaltation thanks to a budding partnership between Carleton University and the Ottawa Symphony Orchestra (OSO).
The OSO's first-ever performance in the newly renovated Carleton Dominion-Chalmers Centre drew more than 700 patrons and multiple standing ovations for three dynamic works performed under the masterful hand of OSO music director and maestro Alain Trudel.
Before the concert began, Trudel welcomed the enthusiastic crowd and thanked Carleton staff, faculty, its board of governors and donors for helping to secure the future of symphony in Ottawa.
"We're very happy to be in this space," he said. "Tonight you're going to hear music that is meaningful but is also made by, and for, our community.
"I have to say a very special thank you to Carleton University for inviting us to play here, but also to make it possible for us to play. You can see that the stage has been extended, but also extended again."
The crescent stage, which was expanded by more than six feet, has an extra four-foot portable extension to accommodate the full orchestra. Trudel said everyone at the OSO, from the board of directors on down to the players, are excited about their new relationship with Carleton.
"Just being here was instrumental, was key, in the Ottawa symphony's future," he said. "It's very important for us to have a home. We are humbled by this opportunity."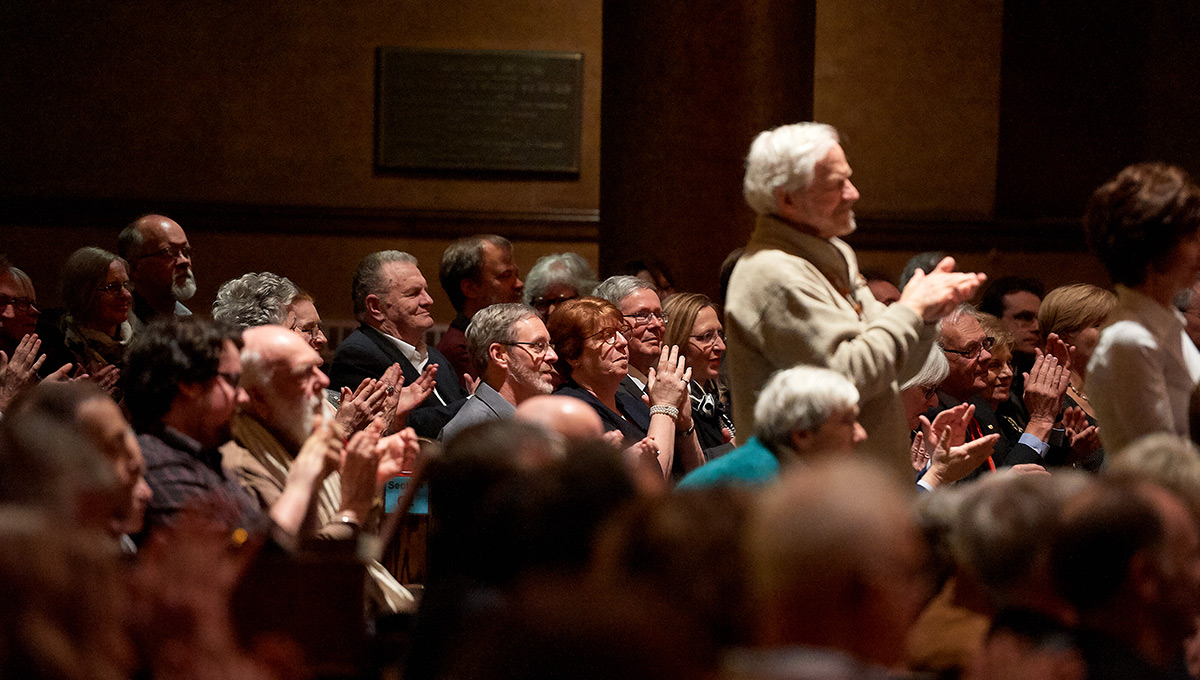 Symphony Partnership Will Spark Experiential Learning
Carleton acquired Dominion-Chalmers United Church in 2018 with help from a $2-million donation from the Crabtree Foundation, the largest single gift in the foundation's history.
The partnership between Carleton and the Ottawa Symphony — based in the newly christened Carleton Dominion-Chalmers Centre — will offer new experiential learning and development opportunities for Carleton students by way of internships, placements and hands-on experiences.
These could include artistic and performance collaborations; philanthropy and non-profit leadership; curatorial studies; marketing and communications; digital humanities; and arts management and production opportunities — drawing on both the many disciplines of the university's curricula and symphony operations and management.
The Carleton Dominion-Chalmers Centre itself will provide much-needed space for the university's growing music program and its Faculty of Arts and Sciences (FASS), but will also continue to serve as a community, cultural and artistic space for the broader Ottawa area.
The centre hosts more than 70 concerts and music festivals every year, and will continue to host religious services for the church's congregation.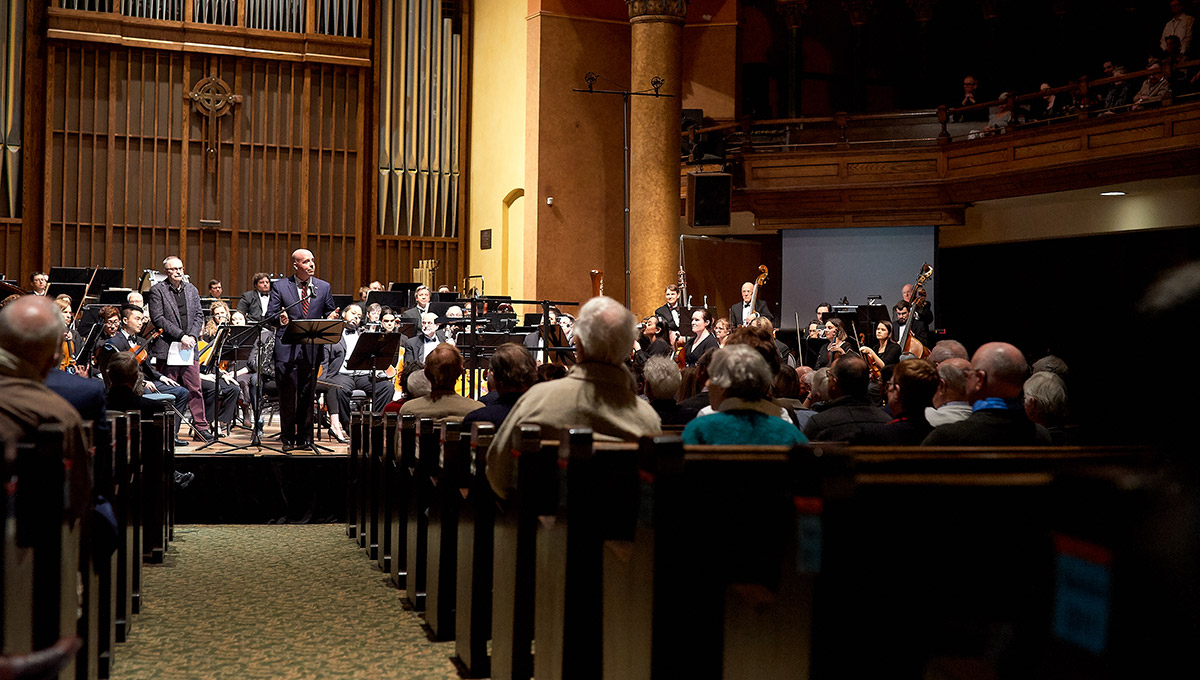 Dominion-Chalmers the Start of a New Era for Carleton
Carleton President Benoit-Antoine Bacon, who also offered a few words prior to the April 1 performance, said the acquisition of the historical church not only facilitates this kind of innovative new partnership but also marks a new era for the university.
"The Dominion-Chalmers Centre truly embodies Carleton's place in our community, Carleton's place in our city," he said.
"It's located right here, in the downtown core, and literally brings us back to our roots. We were founded not far from here in 1942.
"It's our utmost privilege to host the orchestra on our beautifully renovated stage this evening. Working together will further enhance arts, culture and learning in the city, enriching both its cultural fabric and the lives of all citizens."
Bacon took the opportunity to welcome Mara Brown as the newly hired first director of the Carleton Dominion-Chalmers Centre. Brown most recently worked as the senior operations manager for Toronto's Tafelmusic Baroque Orchestra and Chamber Choir, an organization connected to Trinity-St. Paul's — a United Church that's also a social justice and arts centre.
"Mara Brown's unique background in education, arts management and capital renovations makes her an excellent choice to lead the transformation of Dominion-Chalmers into a vibrant arts, performance and learning centre," FASS Dean Pauline Rankin said in a release.
"I am absolutely delighted to welcome Mara to Ottawa and the Carleton community."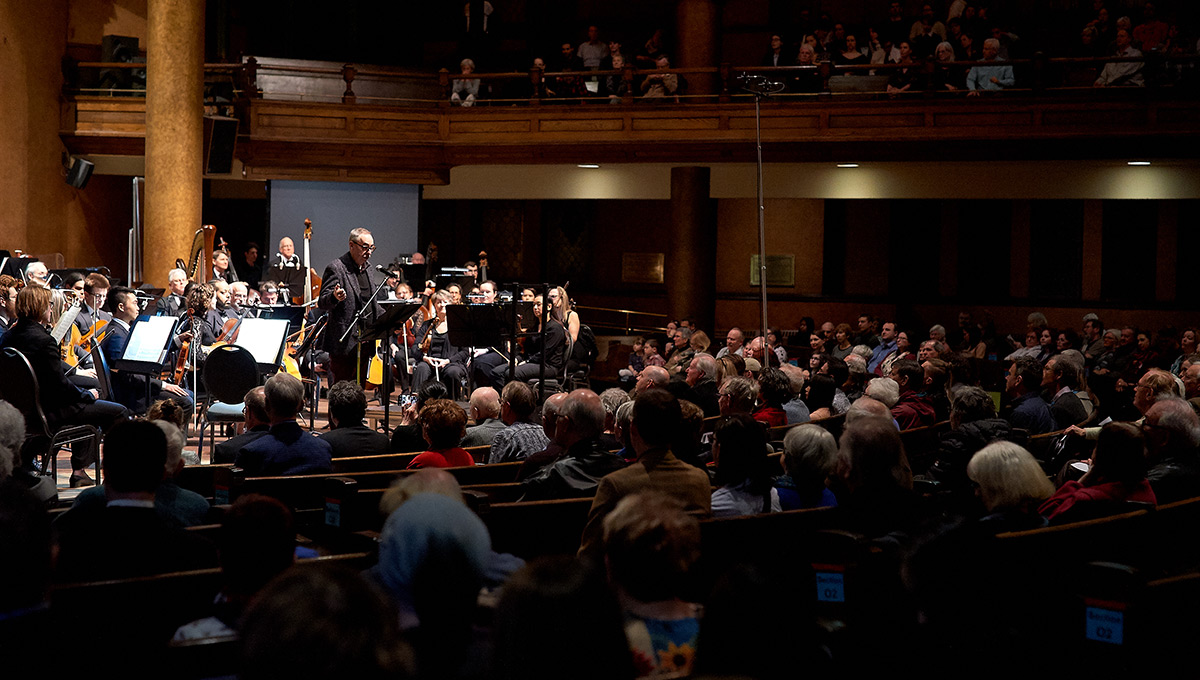 A Celebration of Music
While official speeches were necessary to mark the auspicious occasion, they were brief, so not to detract from the evening's celebration of music.
As musicians began tuning on stage in preparation for their performance, a hum of anticipation grew among patrons enjoying wine and cheese in Woodside Hall.
As the speeches concluded, lights dimmed, casting a golden glow on the orchestra from the sanctuary's rust and orange walls. Then the opening notes of Canadian composer Alexina Louie's Songs of Paradise filled the air, floating upwards to the domed ceiling and then descending like dew.
The composition, which mixes Asian and Western musical influences, is, according to the evening's program, an "expression of the mysteries and wonders of nature and art," and pleased an audience anxious for the buds and birdsong of spring after winter's endurance.
The crescent stage, which projects deep into the seating area, seemed to erase the line between performer and audience creating a profoundly intimate viewing and listening experience.
Following Songs of Paradise, Trudel welcomed guest soloist and Ottawa native Kerson Leong to the stage for a performance of Sergei Prokofiev's Violin Concerto No. 2.
Leong, a renowned young violin virtuoso and currently artist-in-residence with the Orchestre Métropolitain de Montreal, brought passion and flourish to the stage, his bow arm at times a blur, especially in the movement's breathless, exhilarating finale.
After a brief intermission, during which the orchestra plumped up to about 100 players, the audience settled in for the pièce de résistance, a performance of Gustav Mahler's Symphony No. 5.
The stirring composition is, according to the program, an exploration of humankind's two great opposites — tragedy and joy. It unfolds in five movements over three parts, beginning with solo trumpet and funeral march and winding through unpredictable tempo changes and complex passages, both spare and robust, before accelerating to the rousing finale.
If the night's performance was any indication of what's to come, classical music lovers in Ottawa have much to look forward to.