By Dan Rubinstein
Photos by Chris Roussakis
In Chase Joynt's short experimental documentary "Akin," the writer and moving-image artist explores his shifting gender presentation and his mother's transition into Orthodox Judaism, and their shared secret history of sexual violence.
"My Father, Francis," from musician, artist and community organizer Casey Mejica, best known known for fronting the orchestral pop band Ohbijou, comments on kinship, diaspora, devotion and the factory as a place of creativity.
Vivek Shraya's "Holy Mother My Mother" is a portrait of motherhood shot by the artist/author during the Navaratri festival in India.
"G.I.M.P. Boot Camp," from academic, artist and athlete Danielle Peers, a wheelchair basketball world champion turned communications studies scholar, uses satire to navigate between the social expectations of able-bodiedness and disability.
All four Canadian short films, which are screening with the filmmakers in attendance in the River Building on Friday, Feb. 26, are "provocations rather than answers," says Hannah Dyer, a professor in Carleton's Institute of Interdisciplinary Studies and one of the organizers of the event. "One of the things these films do is break apart homogenous notions of sexuality within the LGBT community."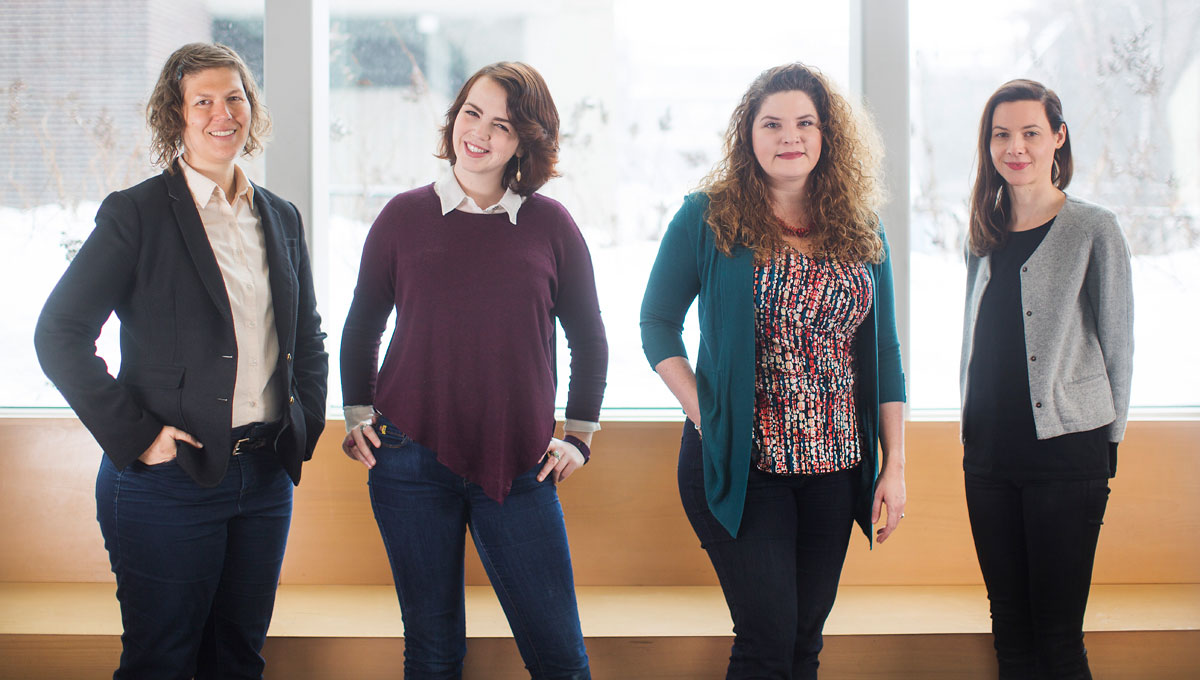 By incorporating issues such as race, diaspora, ability/disability and gender identity, the films work against the notion of "progress," says Dyer, who started teaching at Carleton in September. "Our society might be changing in some ways, but not all of us are protected by these changes in the same way."
For an artist, experimental film can be compelling way to address these questions because the medium is so open to ambiguity.
"There are some big difficult themes in these films," says Dyer, "and there isn't an easy way to package or wrap them up."
"Film, like performance art, enables the communication not only of the things we may want to say, but also the things we cannot put into words," says Peers. "Our bodies hold and express all kinds of knowledges and strategies — the ways we dress, move, feel, express, and so forth — that cannot easily be either transcribed or described.
"Film enables us to share these kinds of knowledges, which can be extremely important for, for example, folks who are non-binary in their gender or ability."
"Film captures what can be communicated in silence, and often silence is what couches difficult conversations," agrees Mejica. "My father's acceptance of my queerness is a quiet gesture, and film can capture these subtle intimacies."
"While writing affords readers an opportunity to imagine images atop a lyrical landscape, images offer powerful opportunities for audiences to create their own narratives," says Joynt. "Films are aesthetic opportunities to engage complicated questions."
The event, Sexuality, Aesthetics, and Embodied Resistance, will include an opening reception starting at 5 p.m. and a discussion with the filmmakers after the screenings.
It came together after Dyer and Laura Horak, a Film Studies professor cross-appointed with Carleton's Pauline Jewett Institute of Women's and Gender Studies, realized they had a similar idea in mind. They collaborated with Child Studies Prof. Monica Patterson, Dan Irving (Sexuality Studies), Rebecca Schein (Human Rights) and Film Studies master's student Evan Read Armstrong to plan the program.
"There's so much going on these days with transgender cinema," says Horak, whose work investigates gender and sexuality in film history, and whose new book, Girls Will Be Boys: Cross-Dressed Women, Lesbians, and American Cinema, 1908-1934 (Rutgers University Press), will be launched at the SAW Video Media Art Centre in downtown Ottawa on April 8.
"Today, happily, more transgender and gender non-conforming people are able to tell their own stories and represent their experiences in everything from feature films and TV shows to experimental films and YouTube videos. This is a welcome development and it's wonderful that the long-burning transgender movement is finally bursting into mainstream consciousness."
At the same time as digital technologies are democratizing storytelling, allowing artists with an array of perspectives to send their films out into the world, there's something powerful about an audience gathering in a room to watch these works on a big screen.
"If you're in a theatre with a group of people, it nudges you toward not being so distracted by things like your phone," says Horak. "It helps you engage at a more holistic level.
"You don't have to take a bunch of classes to get something out of these sorts of films. They are very visceral. They demand your attention and help you think differently and even feel differently — and maybe be more open to different types of experiences."
The event also meshes with Carleton's interest in public humanities, adds Dyer.
"Films are entertaining and encourage people to participate in important conversations," she says. "Films get things going. This is different than formal academic talk, though the two can work together in valuable ways."
"Film can be much more accessible to a much larger range of people than any of my academic work," says Peers. "It is pretty rare for someone outside of graduate school or academia to read one of my publications, but my films are often watched by non-academics, undergraduate students and others. So, for me, this is a chance to share theories and ideas with those who may not otherwise access them."
"I believe that no film is interpreted or experienced exactly the same way by two people," adds Joynt. "Similarly, our ability to know sexual and gender identity is never fixed, as we are always routing new knowledge through our own experiences. These shared instabilities create incredibly fertile grounds for creative exploration."
---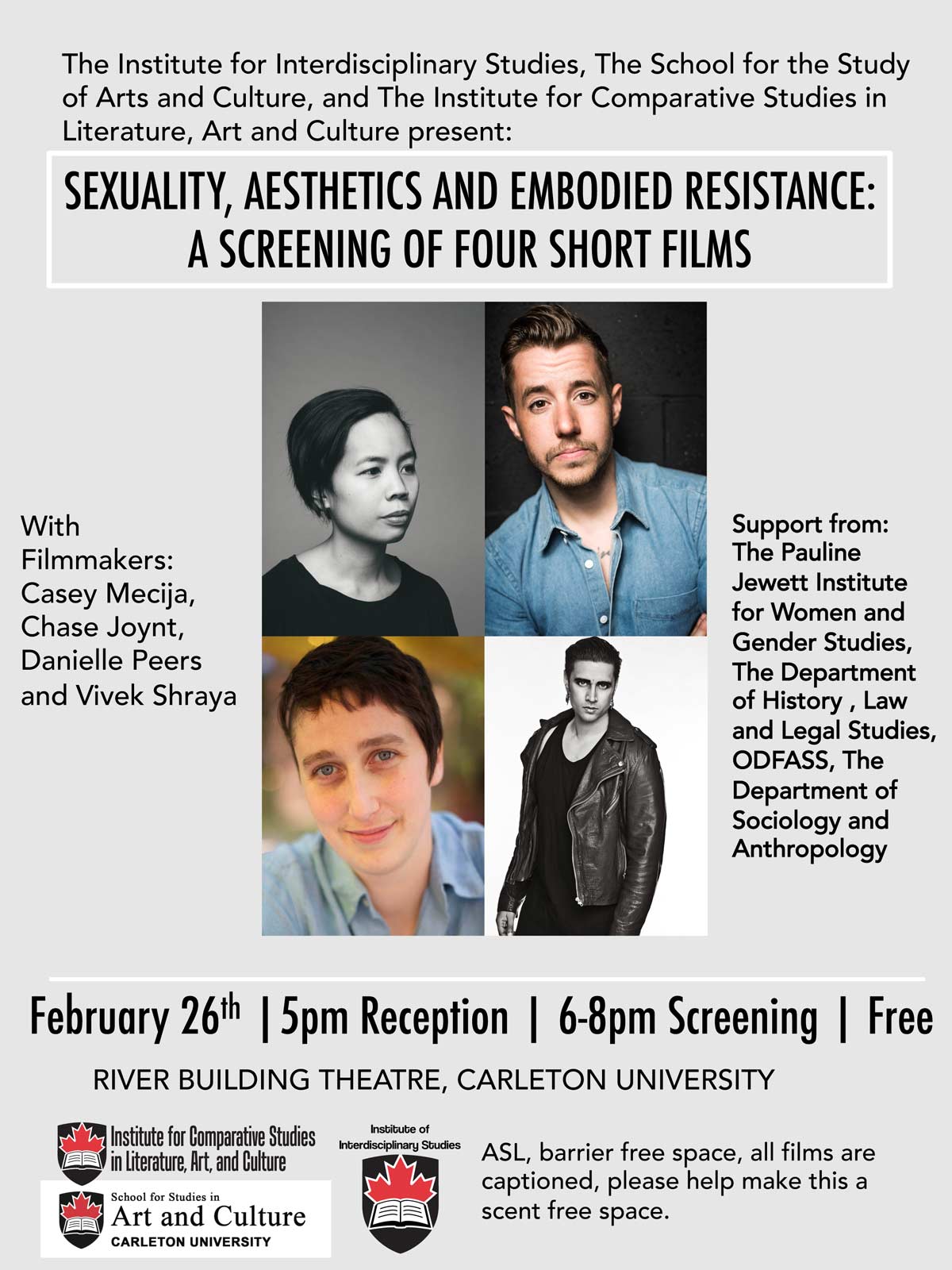 Wednesday, February 24, 2016 in Arts and Social Sciences, Film
Share: Twitter, Facebook