By Joseph Mathieu
Photos by Chris Roussakis
The annual economic cost of mental illness in Canada is estimated to be $51 billion. The human cost is 11. That's how many Canadians die by suicide each day.
To end the stigma around mental illness and bridge the gap between education and services, Carleton University hosted its second annual Psychology Mental Health Day on Oct. 10, 2019.
More than 500 mental health advocates, students and researchers gathered for the full-day session held on World Mental Health Day, an international initiative by the World Health Organization.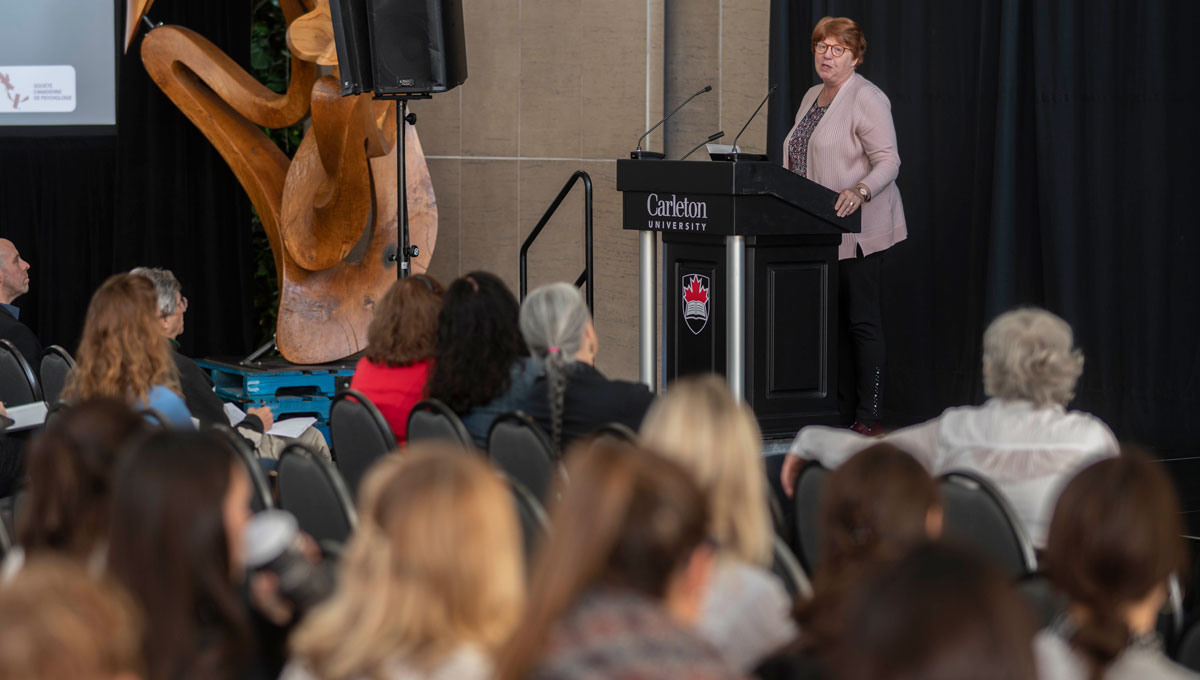 Psychology Mental Health Day Aims to End Stigma
"The urgency of the mental health crisis among youth is undeniable and startling," said Pauline Rankin, dean of the Faculty of Arts and Social Sciences.
"As the veil of secrecy and shame around mental health issues has lifted in recent years, giving voice to mental health challenges with which we cope on a daily basis has become a critical source of healing and strength."
Organized by the Department of Psychology and led by its chair Joanna Pozzulo, the event was created to raise awareness on mental health issues and highlight efforts to promote well-being at Carleton.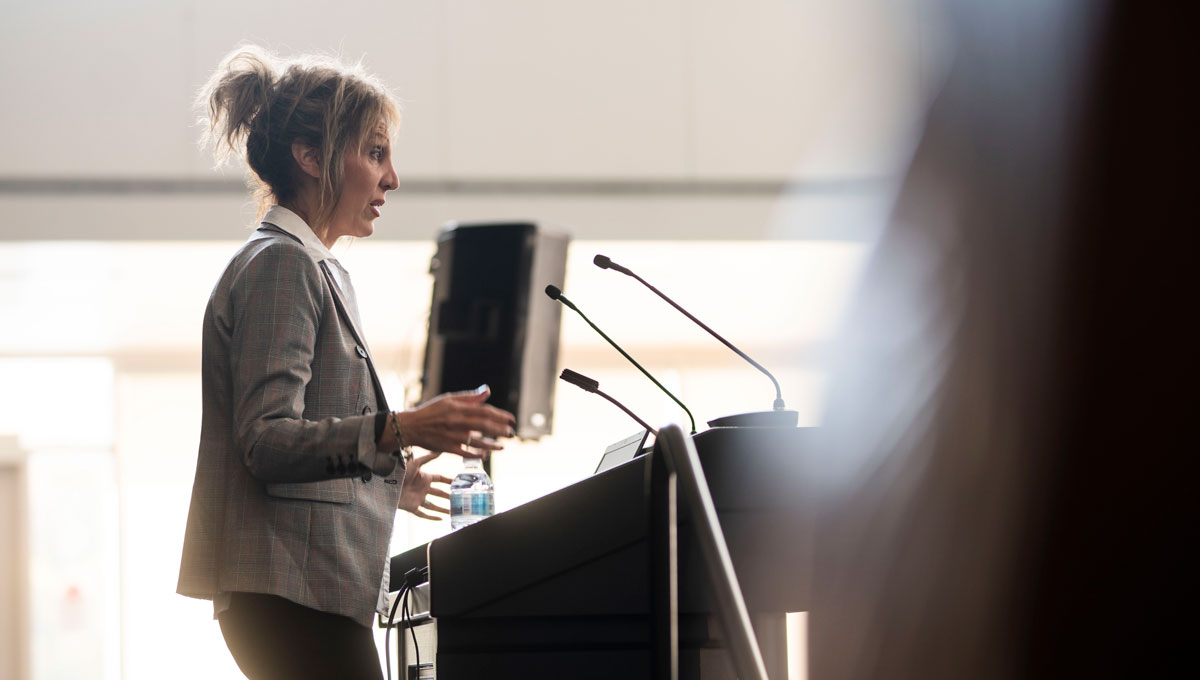 Indigenous Concepts and Mental Well-Being
Benny Michaud, assistant director of Equity and Inclusive Communities and head of the Centre of Indigenous Initiatives, described how student well-being could benefit from a Cree-Michif concept called wahkootowin. Simply put, wahkootowin means all people share responsibilities and social obligations toward one another as one big family.
"We can help people understand that no one should be walking alone," said Michaud, "that we are all related and that we all have a responsibility to one another."
In this framework, children are the nexus of all communities and grandparents or Elders are their first teachers. This way, the shared history can easily pass on to future generations.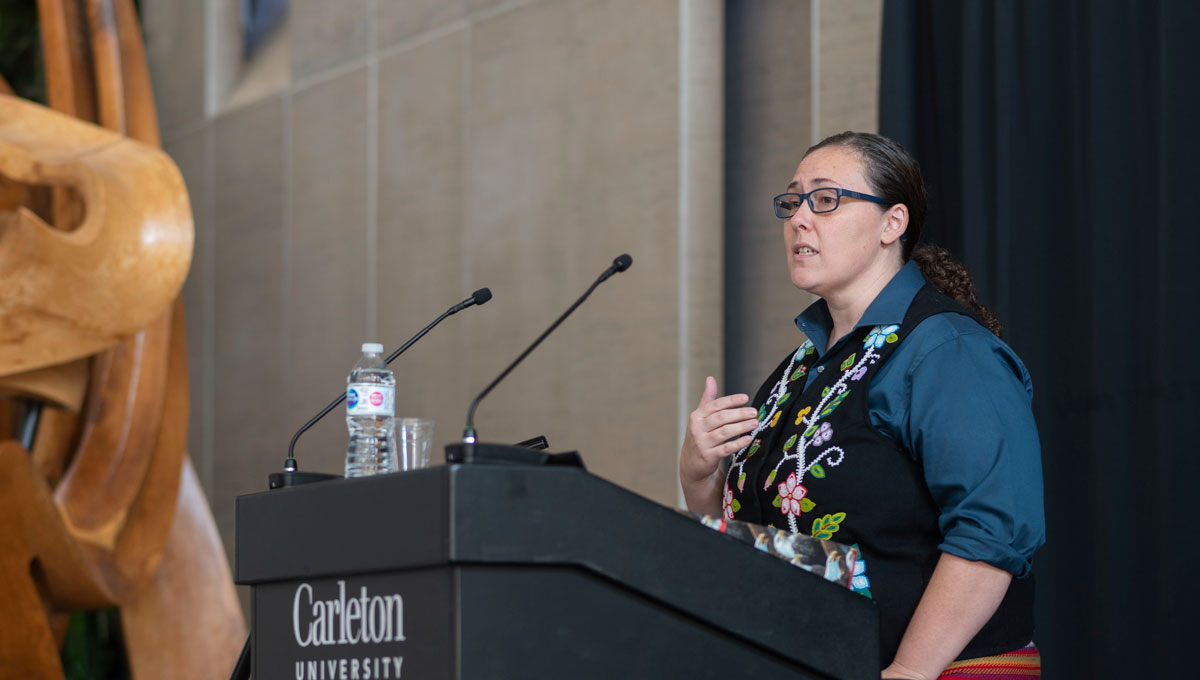 Michaud talked about her own journey as two-spirit Métis. Originally from Saint-Boniface, Manitoba, Michaud grew up in a school system in which her Métis identity was consistently challenged and trivialized. Teachers and books described her people as nothing more than a mix of biological races without acknowledging their Michif language, culture and heritage.
"Indigenous people and communities know that when a young person can no longer understand their purpose, the idea of living a good life — or living any life at all — becomes impossible."
Central to the Indigenous notion of health is that everything is connected. It's a holistic concept best described by Midewiwin-Anishnaabe Elder Jim Dumont, said Michaud.
In a guide by the Centre for Addiction and Mental Health and Canadian Institutes of Health Research, Dumont said: "Wellness from an Indigenous perspective is a whole and healthy person expressed through a sense of balance of spirit, emotion, mind and body. Central to wellness is belief in one's connection to language, land, beings of creation and ancestry, supported by a caring family and environment."
The event also featured several breakout sessions with speakers such as Prof. John Zelenski on the effects of the natural world on a person's well-being, Prof. Rachel Burns on the relationship between diabetes and depressive symptoms, and clinical psychologist June Pimm on the history of autism definition, diagnosis and treatments.
Mental Health Day Highlights Services on Campus
Presentations over the lunch hour touched on myriad support services currently offered across campus, and others to come.
Carleton's Healthy Workplace, developed by the Office of Quality Initiatives, offers workshops and activities for staff and faculty to promote physical activity and mental health. Alongside the Employee & Family Assistance Program, new support programs are in development to support staff and faculty in times of need. FASS is also launching a pilot support network for its faculty.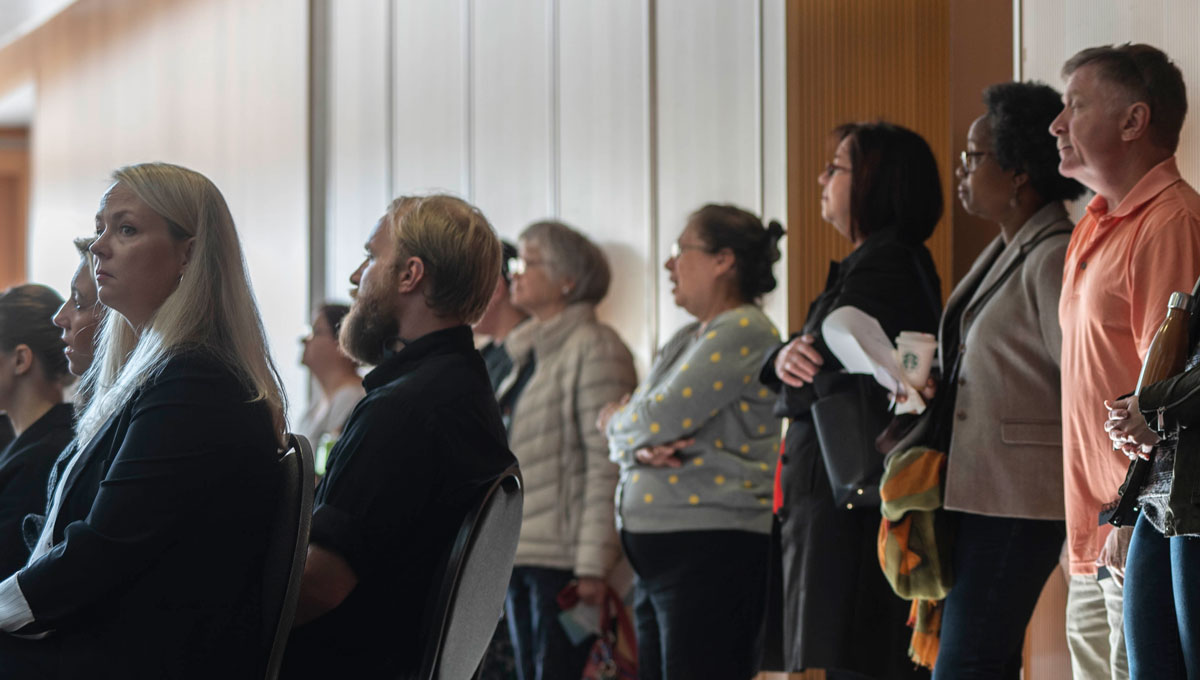 Health and Counselling Services offers individual counselling, group support, same-day counselling, and psychiatric care and counselling. The Office of the Vice-President (Students and Enrollment) offers a comprehensive list of services on their Mental Health and Well-Being website. Student support services, a pop-up wellness centre, mental health workshops and the Carleton therapy dogs program are just a few of many initiatives.
For the keynote lecture, Psychology Prof. Michel Dugas of the Université du Québec en Outaouais offered a concise history of clinical psychology and an overview of his anxiety disorder treatment research.
In 1959, Hans Eysenck concluded that psychotherapy as it was then practiced was ineffective without psychology's insight into human behaviour.
"This marked an important change in our way of understanding psychotherapy as a practice rooted in science," said Dugas.
In 1976, psychiatrist Aaron T. Beck suggested that how people think affects how they feel — a radical thought for the time, since anxiety and depression could be seen mainly as the result of faulty thinking.
For the last 25 years, Dugas has been interested in generalized anxiety disorder (GAD), which involves excessive worrying about every aspect of everyday life. It has just recently been recognized as a serious mental illness, not simply the state of being a "worrywart." Someone with GAD has a fundamental fear of uncertainty.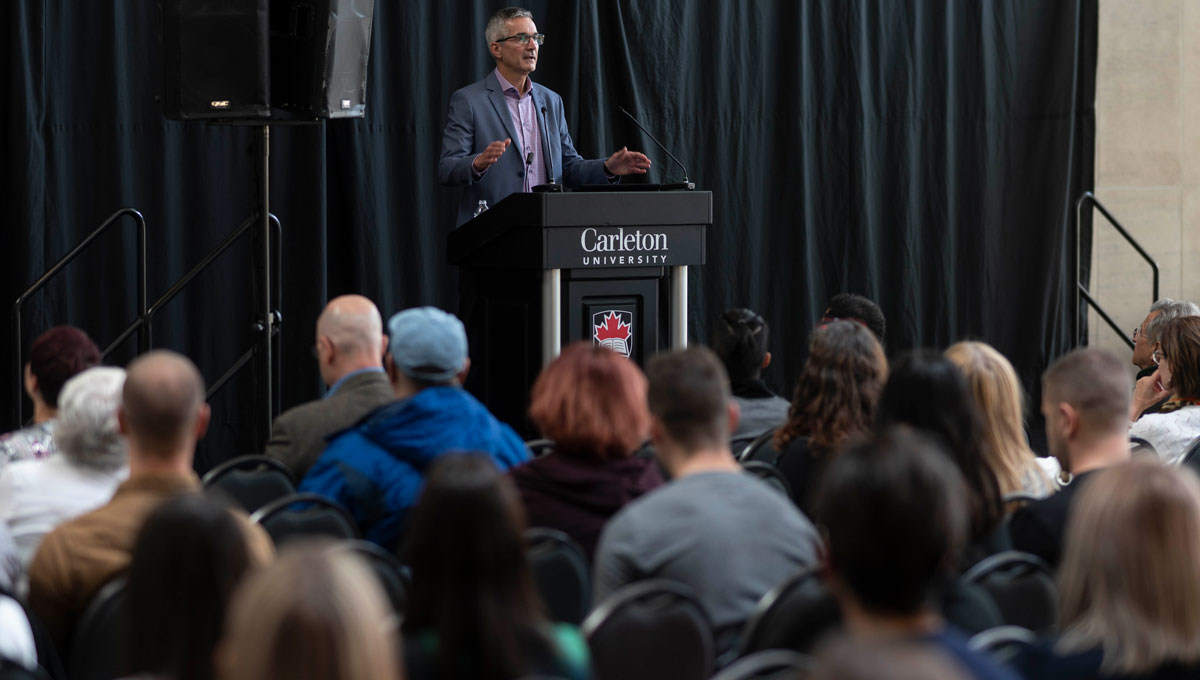 Since 2000, Dugas has developed treatment which allows patients with GAD to re-evaluate the worth of worrying and exposes them to uncertainty-inducing situations.
His research connects cognitive therapy with exposure to the object of fear — in this case uncertainty — while asking patients to predict what will happen. When their expectations of trouble or pain turn out to be unfounded, they can see a new way of thinking.
"We want to help clients to be in situations where their predictions are very different from what actually happens," said Dugas.
While new ways of thinking don't replace the old ones, patients or people suffering quietly can benefit from having a different perspective at their disposal.
By the time they reach 40, half of Canadians will have been personally affected by a mental illness.
"What is new and liberating and gives me hope, even in a moment in which mental health issues seem to be escalating exponentially, is the fact that we are increasingly sharing our stories out loud," Rankin said in her opening remarks.
President Benoit-Antoine Bacon Shares His Experience
She introduced Carleton President Benoit-Antoine Bacon as a leader in breaking the mental health stigma in academia, calling his installation address of a year ago a "watershed moment.''
Bacon talked about challenges growing up in a dysfunctional family with a father who was struggling with his own mental health and substance use, but who would have never considered seeking help because of stigma.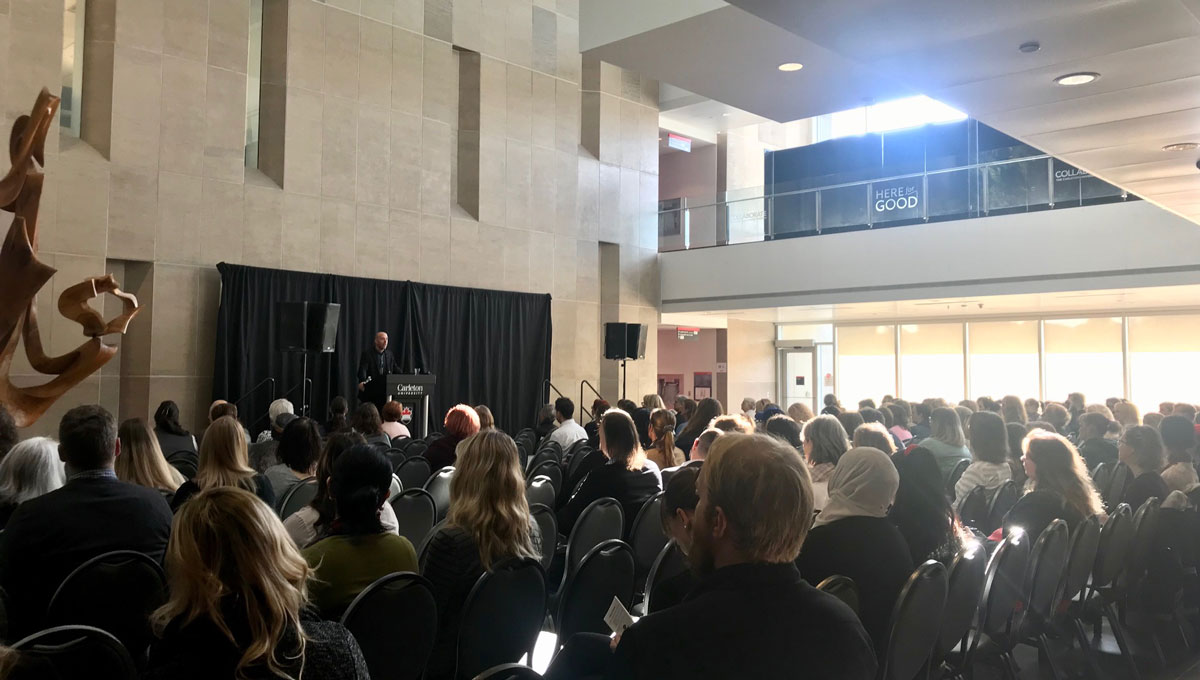 "Multi-generational trauma is a major epidemic largely undiagnosed because nobody wants to talk about that," he said. "It underlies such a huge proportion of mental health issues, of substance use and of suicides."
People who grow up in similar situations are likely to self-medicate with drugs or alcohol as an attempted solution to living with trauma. More than 10 years into his journey of recovery, Bacon decided to talk openly about his experiences so people suffering in silence would feel less isolated.
"The most important lesson that I take from my journey is that we all carry a burden," he said. "And there's nothing more important than to respect and honour each other's individual journeys of healing."
Wednesday, October 16, 2019 in Psychology
Share: Twitter, Facebook