On Oct. 13, 1945, a certain football team took to the field for the first time.
It had been an idea floated that September, over pints at the Bytown Inn on O'Connor Street. Several engineering students from Carleton College decided to start a team. They borrowed equipment and brown and orange sweaters, and they made their way to Ste-Anne-de-Bellevue, Qué.
They lost that first game to Macdonald College of Montreal, but came roaring back in a rematch the following week. That first year, the team played four games. The whole operation cost about $1,000, which was funded by raffling bottles of rye whiskey.
Today, the Carleton Ravens football program looks a little different. A lot can change, after all, in 75 years.
Those changes—and all the wins, losses and close calls—have been memorialized online through a series called 75 years/75 days by Carleton Athletics. Former Ravens kicker Jeffrey Morris, now publisher of Morris Newspaper Group, dove into several archives to uncover the long football legacy of nail-biting games, interesting stats and strange anecdotes.
"The pandemic has made us rethink all the things we were going to do for the 75th anniversary," says Morris, who spearheaded the 2020 celebrations. "But at least this is something that can keep Carleton football at the forefront."
Despite the lack of games this year, Carleton Athletics can still celebrate some of its football greats. Tales of glory abound from the 75 years/75 days series and, throughout the school year, the Ravens will be naming a Team of the Decade and Offensive and Defensive Players of the Decade for each decade of Carleton football.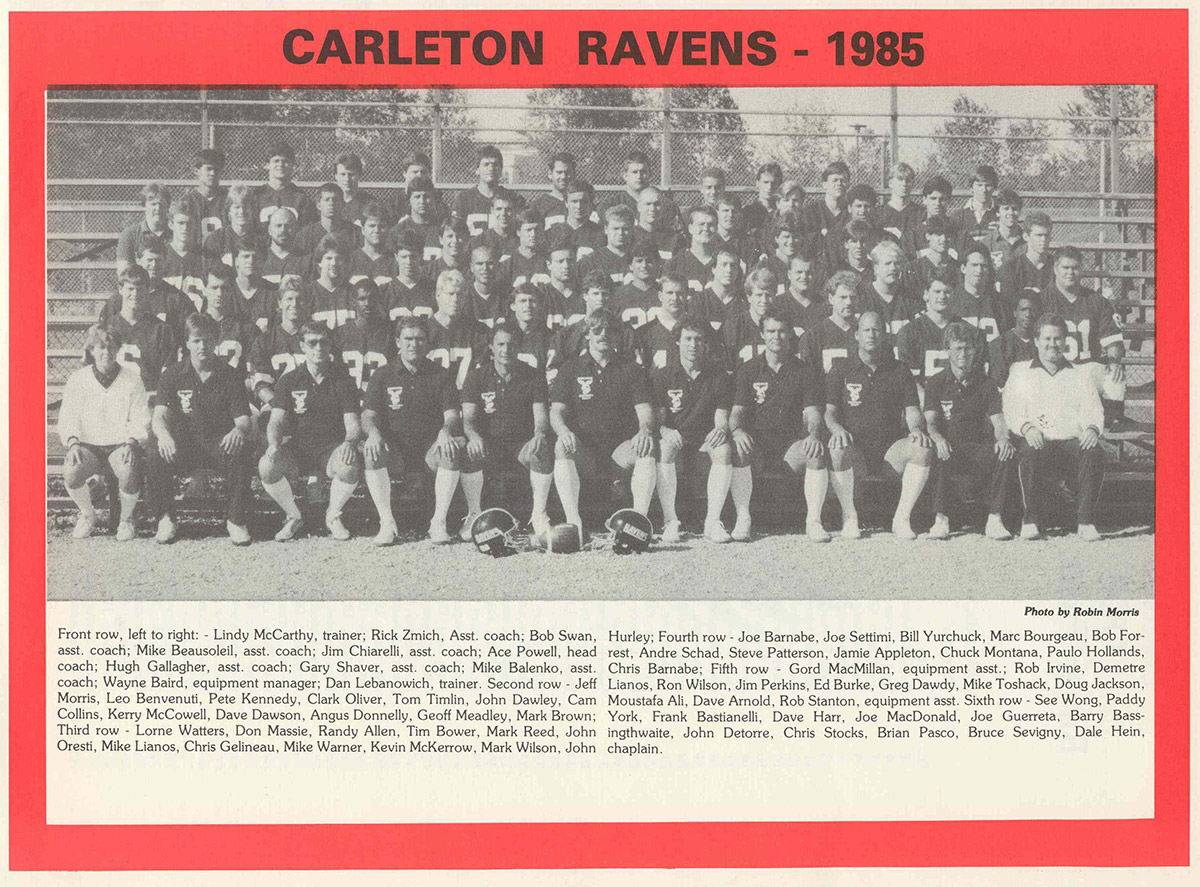 A Long History with Many Firsts
A history as long as Carleton's football is one of many firsts.
There's Stu Kennedy, the offensive lineman who, in 1953, was the first Raven ever drafted to the Canadian Football League. The first father and son to both don the Ravens jersey were Ed Gladu in the 1950s and Steve Gladu in the '80s.
The most recent first occurred on Oct. 11, 2019 when, "Josh Ferguson had perhaps the best first start of any Carleton Ravens running back in history as he rushed for 187 yards and two touchdowns on 32 carries in a 35-30 win over McMaster."
And there's the great Ottawa football rivalry of the annual Panda Game, which first took place in 1955. Whether it was in the '50s or in the 2000s (when 24,000 people attended) the Gee-Gees competing against the Ravens for a stuffed panda named Pedro and yearlong bragging rights has always been a huge local event.
Arguably the greatest moment in Carleton football history was in 2014, when the Ravens won their first Panda Game in 20 years.
"The ball just fell into my hands," says Nate Behar, who caught the 55-yard Hail Mary pass from Jesse Mills.
These moments and many more are updated daily on GoRavens.ca.
"I wanted to bring Carleton's history to life in a way that's never been done," says Morris, who has planned the series since 2018. "I want to make sure this stuff is never forgotten."
Morris played for the Ravens from 1982 to 1986 and was the all-time scoring leader until 2017. He grew up in Prescott, where his father, uncle and grandfather were all journalists.
Morris became a sports writer and went on to be a weekly NHL columnist for ESPN.com in the early aughts. He's spent two years diving deep into old newspapers and score statistics to create the 75 years/75 days series and to host the Carleton Ravens Football Alumni podcast, which began in March 2019.
He's also writing a book, tentatively titled 75 Years of Carleton Football, which he hopes to have completed by the end of the anniversary. All the proceeds of the book's sale will go to the Ravens football program.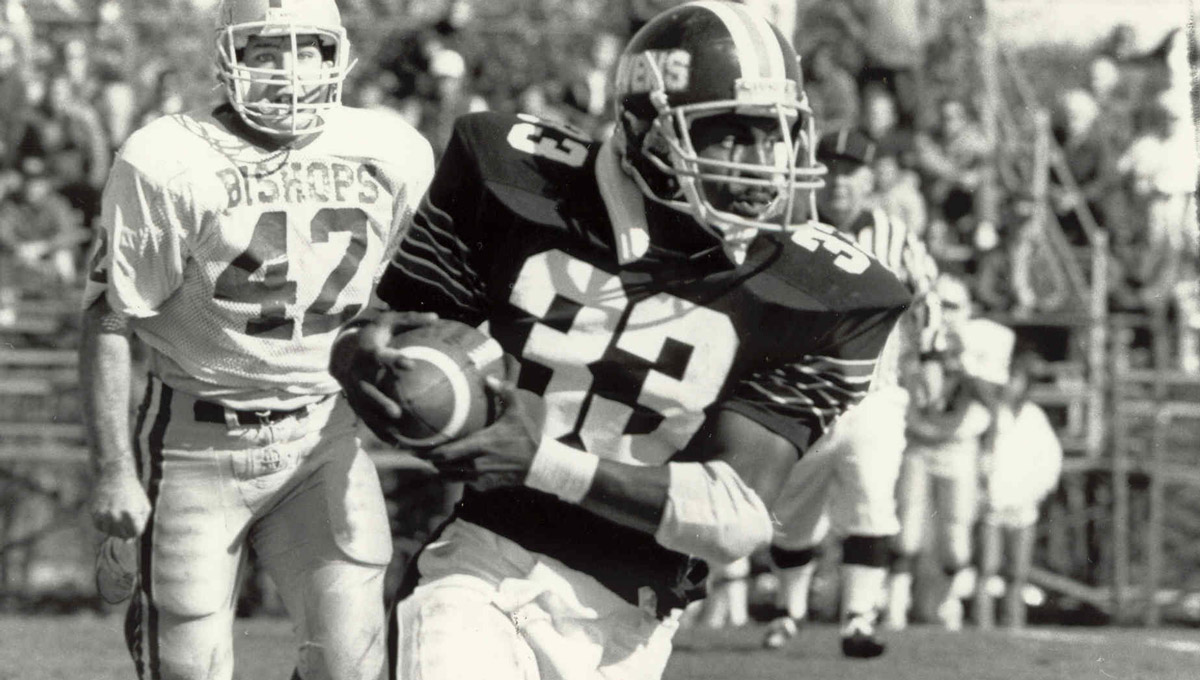 Old Crow Society's Passion for Ravens Football Continues
"The first thing I think of is just how many lives have been affected by the program in a positive way," says Kevin McKerrow, president of the Old Crow Society, Carleton's football alumni organization.
"It goes beyond simply the players. Head coaches, coaching staff, trainers and the physical rehab people have all had experiences in the football program that I'm sure served them well and helped them move forward in their lives."
Two hiatuses—one in 1951 and another from 1999 until 2013—add up to 60 years of Carleton football. But even while the Ravens slumbered, there were former players and supporters waiting in the wings to bring it back.
McKerrow, who played as offensive guard from 1983 to 1986, was chair of the steering committee that planned the Ravens' return. He led the charge of several dedicated Old Crows from four different decades who all wished to see football return to Carleton.
Discussions began in earnest in 2008 when John Ruddy and President Roseann O'Reilly Runte became involved. Ruddy, who had been a cornerback from 1970 to 1975, would make a large commitment to Carleton's program of $2.5 million. Runte had just joined Carleton and had been instrumental in reviving the football program at Old Dominion University in Virginia.
Other Old Crow initiatives are now coming to fruition where a Football Hall of Fame will be established, the launch of which will be announced in the coming months.
"Ravens football has a deep, rich history at Carleton University," says Jennifer Brenning, Carleton's director of Recreation and Athletics. "Football is a wonderful way to start the school year and spend a fall afternoon. I am always amazed to see how this sport is embraced by our community."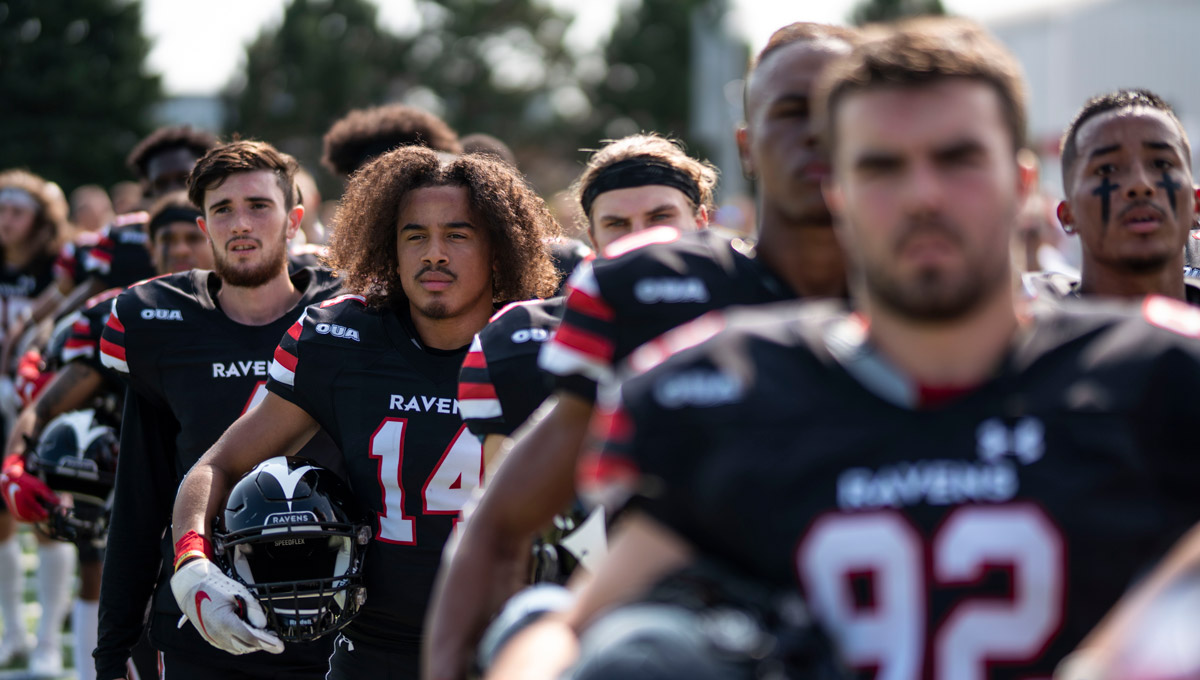 Forging Friendships and Long-Lasting Bonds
While the outside community has invested heavily with Carleton Ravens football, so have older generations of players invested with new ones. It is, like all great sports stories, about one big family.
"It was such a big part of everybody's life when they were there," says Morris. "I'd been a Raven for just five years but it defined who I was."
Over 75 years, the family has grown to include older generations of players showing interest in the newer Ravens. A program to have Old Crows as mentors for the Ravens has helped the newest players dive into a high-end football program while adjusting from high school academics to university.
The effort is led by Head Coach Steve Sumarah, and alumni Dave Boles, a centre, and Mark Lee, his quarterback, who played in the '70s. In these strange times, when all uSports have hit the pandemic pause button, the program is even more important. Boles and Lee have led this program to reach out to new Ravens this year, including the 30 recruits of fall 2020.
"Anytime the alumni can engage with the Ravens current players it goes a long way," says Sumarah. "We had young and old alumni reach out and form that bond with the first-year players who are living a very different experience than they thought. The success rate on both sides means this will be an integral part of the program going forward."
Playing football together can forge bonds and friendships that border on brotherhood, says Morris. Sharing football stories can do the same. This type of new connection, and the reconnection of older relationships, is the whole reason Carleton is marking this 75-year milestone in as many ways as it can.
"This level of engagement we've seen is first step to becoming more involved," he says. "Just connect yourself emotionally and be a part of it again, because we want people to come back into the family."