By Matt Gergyek
Photos by Josh Hotz
Natalie Prowse gently attaches three electromyography (EMG) electrodes to the arm of Eliza Ali, both Neuroscience PhD students at Carleton University.
The tiny red and black cables run from Ali's arm into a pocket-sized battery powered box where another set of cables branch out, sticking to Prowse's arm.
With the clutch of her fist and the bend of her elbow, Prowse sends minute electrical currents from her brain down the nerves of her arm, through the wires and into Ali's arm muscles, causing her arm to twitch and flex uncontrollably.
"It feels so weird," Ali says.
"The kids love doing this to their parents," Natalie responds.
The demonstration was part of a showcase of the human brain, presented by Carleton's graduate and undergraduate programs in Neuroscience, at an event called Brain Bonanza held at the Canadian Museum of Nature on June 9 and 10.
The event, presented in partnership with the Ontario Brain Institute, is geared to informing visitors about a wide-array of topics related to the human brain, from sensation and memory to illness and injury.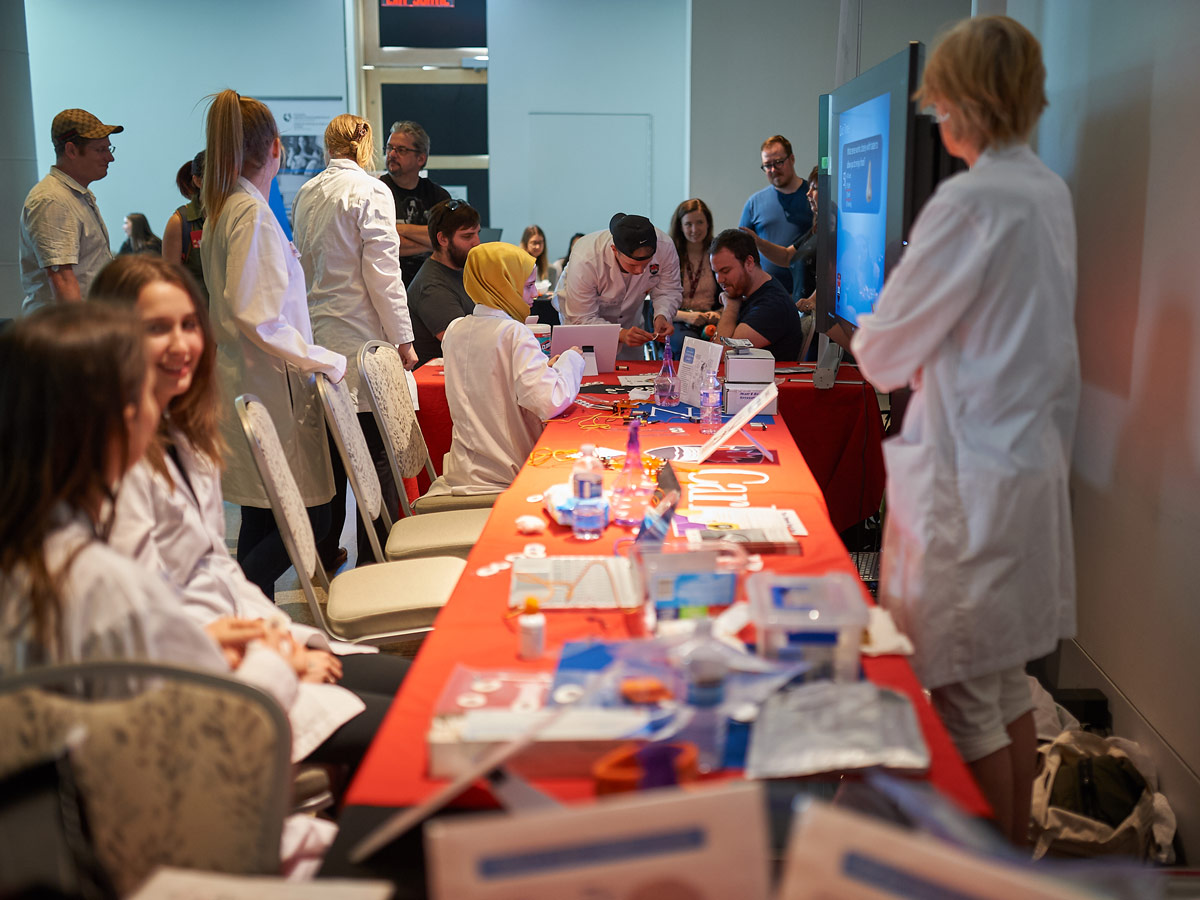 Brain: The Inside Story
The event was part of the museum's Brain: The Inside Story exhibit, which runs until September.
Carleton students, in collaboration with Ottawa's chapter of the Society for Neuroscience, took the opportunity to showcase the raw power and unique abilities of the brain for all to see.
"What we're trying to do is get people interested in neuroscience research and solving the mysteries of the brain," says Prowse, who organized Carleton's activities at the event.
The team held a variety of different demonstrations, including a robotic claw that could be operated through muscle movement and a sensory taste test using jelly beans, which turned out to be quite the hit for the younger crowd.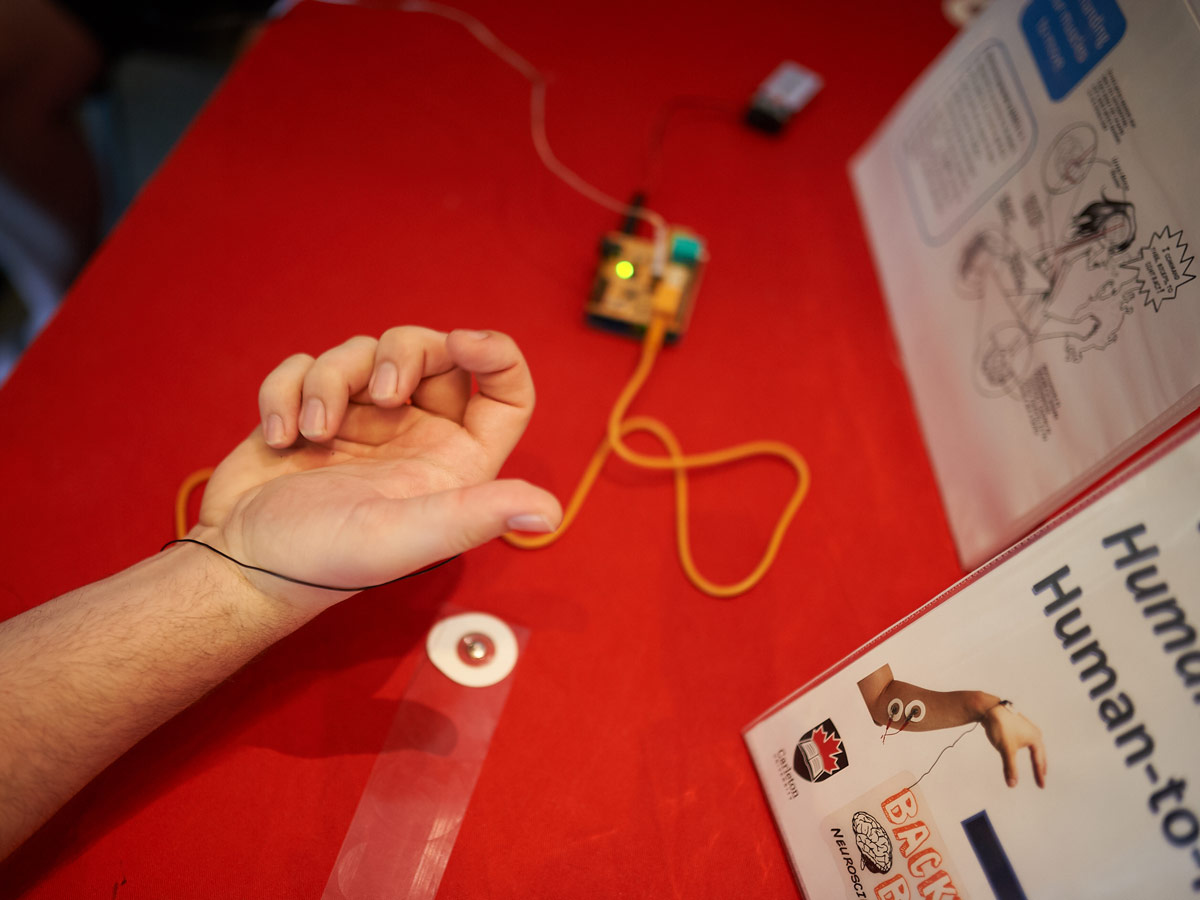 Giving Future Neuroscientists a Kick-Start
One of the main goals was to give the next generation of scientists a kick-start on their career paths.
"As youth ourselves, we can inspire those who are [our age] or younger to know more about their brain and open doors to talk about neurodegenerative diseases and mental health," Ali says.
"It is especially important to involve youth because they are the future and their ideas will change the face of research, medicine, mental health services and much, much more," says Rebecca Prowse, a fourth-year Neuroscience and Mental Health student with a minor in Psychology.
"I think it is really important to make science accessible and exciting to everyone."
Other groups at the event included SickKids, the Ontario Brain Institute (OBI), Parkinson's Canada and the Mood Disorders Association of Ontario (MDAO), to name a few.
"Getting young people interested in science is an awesome thing," Natalie Prowse says. "If you find something that makes your brain go pop and makes you passionate about solving that problem, go for it."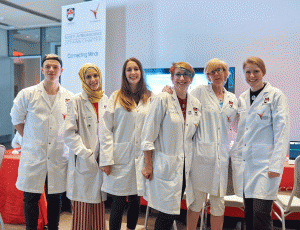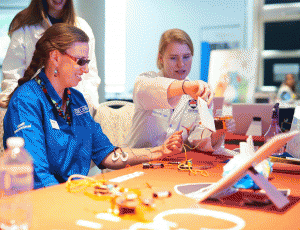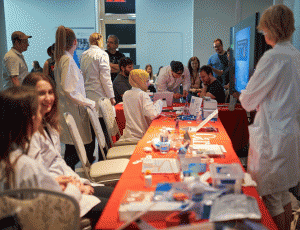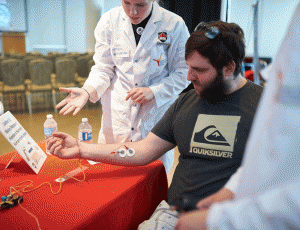 Wednesday, June 13, 2018 in Faculty of Science
Share: Twitter, Facebook