By Leah Coppella
Photos by Chris Roussakis
Alumnus Alan Abelson graduated with a commerce degree in 1950 – before Carleton College even became Carleton University. He recently turned 91 years old.
"I fool everybody," he said during a recent reunion celebration.
"And I'm still swimming three times a week, so I keep going!"
Ableson was the most senior of all the alumni attending the annual Milestone Anniversary Celebration on Sept. 21, 2019 to honour important graduation anniversaries, starting at 25 years.
He came armed with a folder filled with Carleton memorabilia and notes on entering the school in 1948, when the president was Maxwell MacOdrum.
At the time, the college was located on First Avenue and had 550 day students and 1,500 night students.
"Even back then, the journalism [program] was very popular there; they came from all over the country for journalism."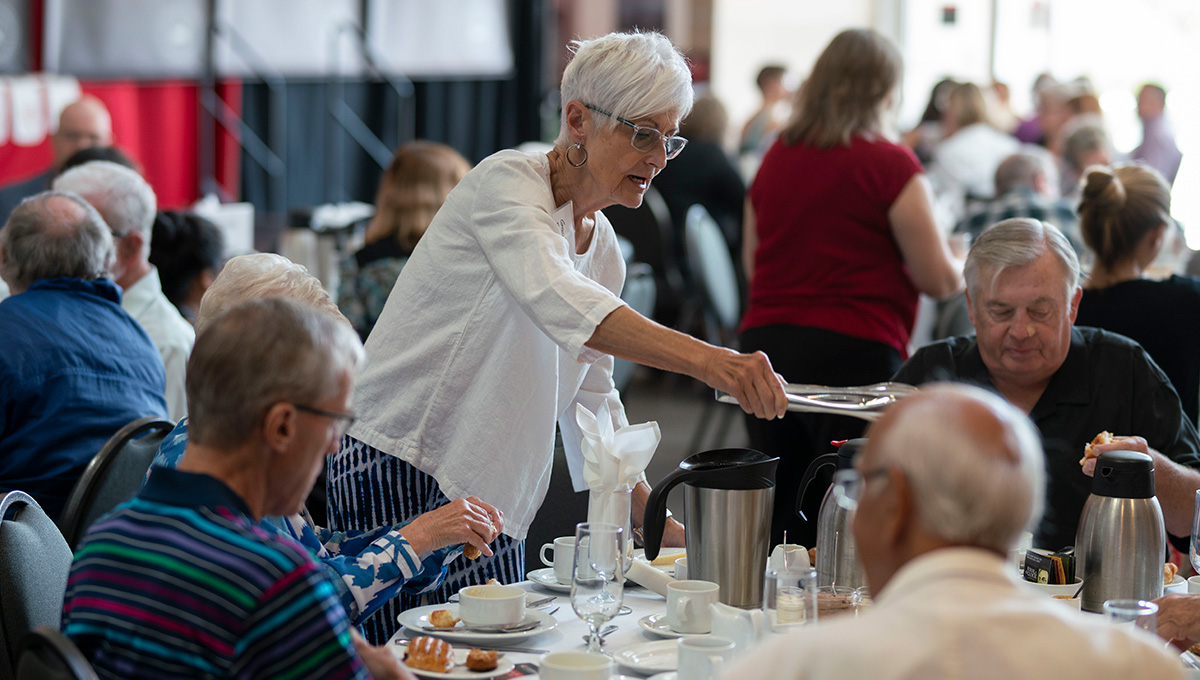 "Class of the Half Century."
Abelson, who played for the football and basketball teams, showed his fellow alumni a photograph taken of him by the Ottawa Citizen. He also showed off a silver chalice.
"In '50, my final year, I was the president of my class and I stumbled upon these on Sparks Street."
Abelson held up the goblet, explaining how he bought one for each graduating student in the program.
He read the custom engraving out loud.
"Carleton College, Commerce '50 . . . Class of the Half Century."
He looked up from the mug and smiled, shaking his head as he recounted memories of being a young student in the 1950s.
President Benoit-Antoine Bacon, who spent time with Abelson and all the alumni, said the annual event symbolizes continuity.
"Universities write their story with each generation of students and one generation always leaves something to the next," he said.
"When alumni like Mr. Abelson come back to campus, the university gets to touch base with its history. The values that these alumni brought to Carleton 50 years ago or 25 years ago still influence how we do things today. It's been amazing to see so many self-determined paths taken, and so much good done by our alumni."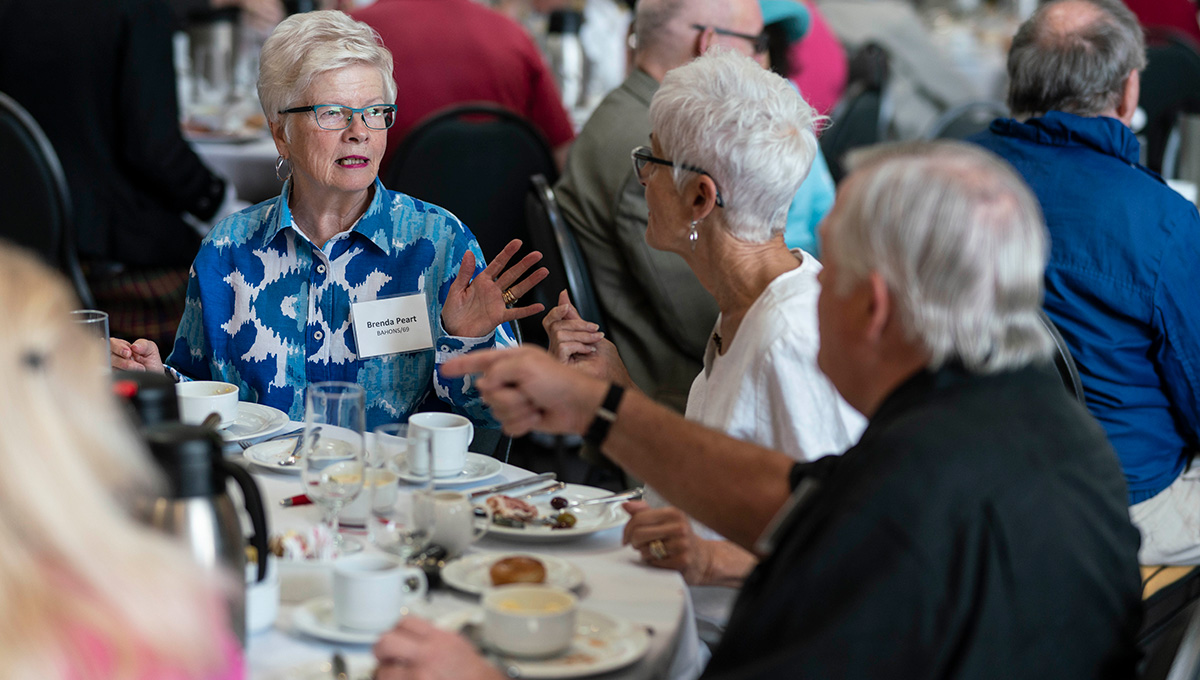 The Carleton Connection
Bagpiper Jack Coghill, a proud Carleton graduate, piped the head table into the morning's celebration. Speakers included Barry Wilson, who has three Carleton degrees and worked for 35 years as a journalist for the Western Producer, as well as youth worker John Watters, who completed an Honours BA in 1990 and went on to do theological studies at Saint Paul University.
"It's important for us to remember the alumni and to let them know that there is still a connection, regardless of where they are or where life takes them," said Alumni Association President Mat Main.
James "Sandy" Patry graduated with a bachelor's degree in Engineering in 1969. He later worked in the Department of Mechanical and Aerospace Engineering at Carleton. After 10 years here, the high tech started booming and so he left to take work at defence companies like Davis Engineering, where he hired Carleton graduates.
Patry came to the event so that he could catch up with fellow alumni he had lost touch with over the years.
"It's hard to keep track of the guys that graduated 50 years ago because most of them are all over the world now, so I thought I'd come here and see if I knew anyone."
Patry says that Carleton has remained innovative in their programs, and things have changed a lot since he was a student.
"There's so many different fields now covered under engineering, like humanoid-type studies that we'd never even heard of in '69," Patry said.
"And we've got computers now!"
Today, Patry works in international finance with his wife, Suanne Dorion, also a Carleton engineering graduate. They are currently working for FreeBalance, a public financial management solution created specifically for government systems.