By Joseph Mathieu
Photos by Shawn Peters for Ottawa Symphony and Josh Hotz
For budding classical musicians, playing with professionals can make a big difference.
That's why the Carleton Music Department and the Ottawa Symphony Orchestra (OSO) have partnered to allow students to train and perform alongside experienced musicians.
The official collaborative agreement, which begins in fall 2021, will give students experience with intimate chamber ensemble and larger orchestra settings. Students will hone technical skills and gain performance experience with professional musicians in the Carleton Dominion-Chalmers Centre (CDCC).
"CDCC literally sets the stage for this new collaboration between Carleton Music and the OSO," says Alexis Luko, assistant director of Carleton Music.
"We're excited to launch our collaboration with a focus on performance, mentorship and experiential learning."
The OSO has called the CDCC its performance home since 2019, shortly after Carleton acquired the building. The hope was that the placement would lead to learning and professional performance opportunities for music students in many different ways.
Students can develop playing and performance skills in classical music as part of their Bachelor of Music program in the School for Studies in Art and Culture. They will have the opportunity to work and perform with an Ensemble in Residence, train in the Carleton-OSO Student Chamber Ensemble, and perform in the Carleton-OSO concert series.
Luko expects to see other partnerships—as well as informal and improvised collaborations—spring up between established and emerging musicians, and the community at large.
"This collaboration offers Carleton students the opportunity to have a real presence in the community," she says. "It's a great way for our musicians to be recognized as contributing to the cultural fabric of Ottawa."
Professional Wind Players Will Start Mentoring
The OSO, which turns 55 this year, can host between 60 and 90 musicians on stage. Of its 48 core musicians, five experienced wind players will be available to mentor and teach Carleton students.
The Carleton-OSO Ensemble in Residence members will include clarinetist Shauna Barker, oboist Susan Morris, bassoonist Ben Glossop​, flutist Lara Deutsch and French horn player Olivier Brisson.
For Deutsch, who trained at McGill University and has been with the OSO since September 2018, playing at CDCC makes her feel closer to the crowd.
"It feels as though that invisible barrier which often exists between the stage and the audience is no longer there," she says.
"I really enjoy that we have more opportunities during and after concerts to chat and connect with our audience members."
Connecting with young players is just as important. Deutsch relishes the challenge of instruction, of finding ways to address the individual issues from student to student.
"I know that this experience will be as much of a learning experience for me as it will be for the students," says Deutsch.
It is, in essence, an artistic exchange across generations. Getting feedback from mentors in real-world settings is something all musicians should get to experience.
"It reminds me of a life-changing opportunity I had at McGill," says Glossop, who has played bassoon with the OSO for 23 years.
"I performed a Mozart Divertimento as part of a pre-concert opener for the New York Philharmonic at Carnegie Hall. I've had a great many mentors over the years and the chance to give back to the next generation of musicians is something very important to me."
All members of the wind quintet in the Carleton-OSO Ensemble in Residence have been invited to serve as performance instructors in the Carleton Music program. One will serve as the director of the Carleton-OSO Student Chamber Ensemble, which will play in a new Sunday concert series alongside the quintet, as long as it safe to do so.
To launch the partnership, members of the Carleton-OSO Ensemble in Residence recorded a series of small concerts, from duets to trios, at CDCC in September.
The concerts, which are being premiered in the OSO's initiative with Rogers tv Ottawa, entitled, Eine kleine Distanced Musik, will air on Rogers tv this fall and winter. The first concert will be broadcast on Nov. 20, 2020, featuring Butler Morris playing Three Dialogues for Oboe and Piano by Robert Fleming, a composer who previously taught at Carleton in the 1970s. These performances will also be aired subsequently online in the OSO's ReJOYce series over the coming months.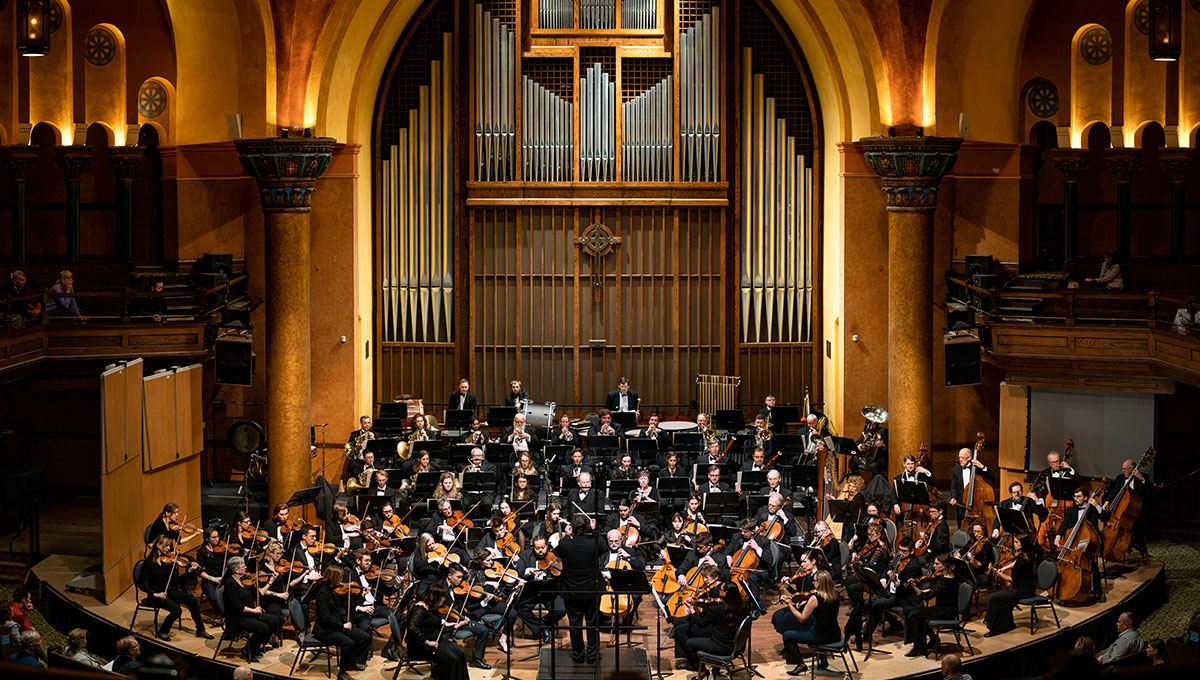 Connected to the City
CDCC is a space for rehearsing and instruction, for study and concentration, but also for the joy and levity that inevitably comes with performance. It's an objectively beautiful performance hall that offers amazing acoustics.
"Arts, education and community beautifully collide in the Carleton Music and OSO partnership," says Mara Brown, director of CDCC.
"This is a fantastic example of the university and community collaborative programming that CDCC aims to continuously foster."
The partnership represents a deepening of connections with the Ottawa community, one of the OSO's biggest goals and a response to Carleton's Strategic Integrated Plan, which calls for the university to "Serve Ottawa."
The OSO regularly recruits more musicians as positions become available. Up to five Carleton Bachelor of Music students that audition and are accepted into the OSO will have their chairs in the orchestra sponsored by the Faculty of Arts and Sciences (FASS) and the CDCC, thanks to Brown and FASS Dean Pauline Rankin.
"By forging this relationship with the Ottawa Symphony Orchestra, Carleton's Music department is creating career-making opportunities for aspiring professional musicians," says Rankin.
"In turn, it offers a highly-respected Ottawa arts institution access to the next generation of musical talent."
The win-win partnership also benefits Ottawa audiences with more classical music and diverse program offerings. Local music lovers can even play their own part.
Ottawa resident Fred Weihs had followed the re-development and new programming of CDCC with great interest before deciding to donate to the cause.
"I believe that Carleton has shown tremendous vision and a very strong commitment to the broader music community in Ottawa," says Weihs.
"Not only does CDCC preserve one of the most beloved concert venues in the city, it is providing space and promoting partnerships among Ottawa music organizations."