By Susan Hickman
Photos by Chris Roussakis
When Samuel Dubois first considered pursuing his master's in Architecture at Carleton University, he had his mind set on a project about municipal libraries in Quebec.
But when his supervisor learned he was from the asbestos mining town of Thetford in Quebec, she suggested he focus on his hometown.
And so, Dubois decided to create a utopian district in Thetford, where the last asbestos mine closed in 2012. His project earned him first place (and people's choice award) at the Carleton 3MT competition on March 15, where he impressed a four-judge panel with a three-minute, one-slide presentation of his thesis.
"My grandfather worked for 22 years in the asbestos mines," Dubois said. "Now, I am proposing a design for the scarred landscape, how to reclaim and repurpose the site. I propose to heal the land and ultimately hope to trigger a new sense of identity for the people of Thetford."
His project would cover a two-kilometre area and include housing, public institutions and park space while bridging two neighbourhoods separated by mine extraction sites.
"It's speculative," Dubois said, "but I went to Thetford last fall and met with people at city hall and they were very receptive."
The 3MT, developed by the University of Queensland in Australia and now held at universities worldwide, has been an annual event at Carleton since 2013. It celebrates graduate student research and challenges participants to communicate the key concepts of their work in an engaging presentation of three minutes or less.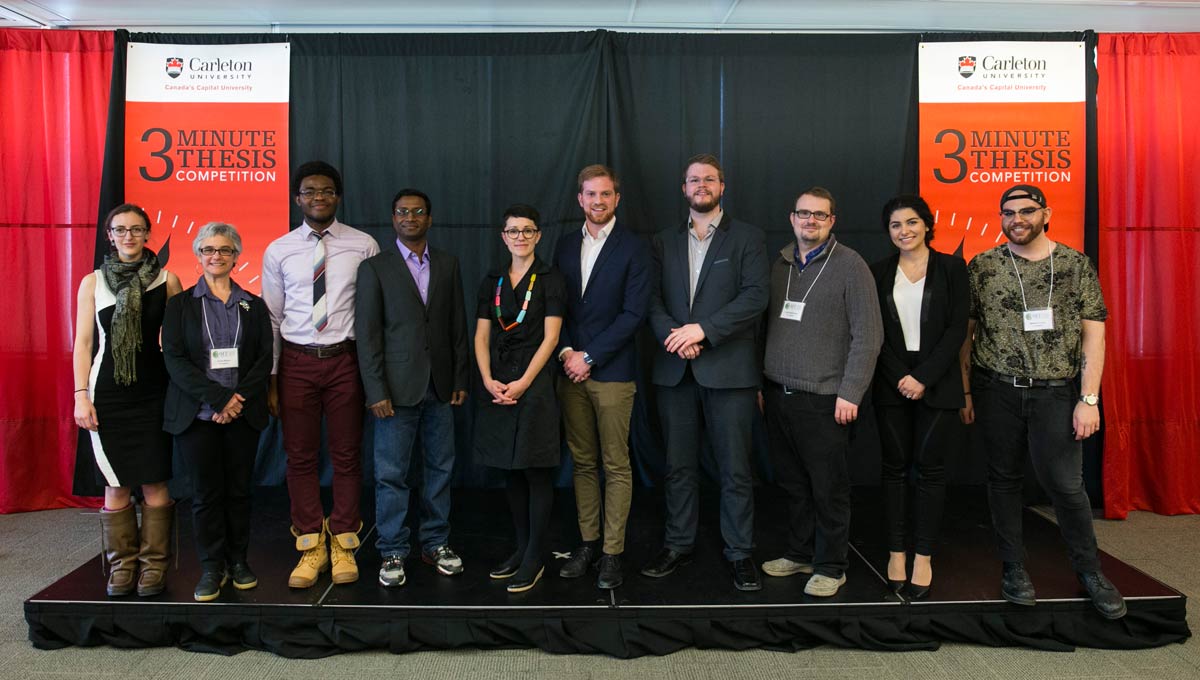 Carleton 3MT Presents
a Personal Challenge
Dubois, who will go on to the provincial competition in Waterloo in April, said participating in the 3MT competition was not only a good way to resynthesize his project and practise for his upcoming final defence this spring, but also a personal challenge to perfect his English, as his first language is French.
He receives a $1,000 prize and another $250 for pulling in the people's choice award.
Twenty students participated in the semi-finals March, with half going on to present at the finals in the afternoon.
"We saw an upsurge in interest this year," said David Lafferty, co-ordinator of graduate professional development at the Faculty of Graduate and Postdoctoral Affairs (FGPA). The participants were offered information and training sessions by the FGPA and Department of University Communications.
"We listen to their presentations or ideas and give them feedback," said Lafferty. "The most common advice is to keep it simple, focus on the most important things, have a structure to the presentation, start off broad, show how your own research fits into that context and then end with the impact it can have. We have to pull them out of the purely academic mindset and tell them to avoid the expert lingo of their discipline."
FGPA Dean Matthias Neufang, who hosted the competition, said the event "shows the wide spectrum of research conducted at the university."
This year's competition was judged by three outside experts: Dominique Bérubé, vice-president of research programs at the Social Sciences and Humanities Research Council of Canada; Ruth Zowdu, managing editor at CBC Ottawa; and Jeanette Southwood, vice-president of Strategy and Partnerships for Engineers Canada; as well as Don Cumming, Carleton's director of communications.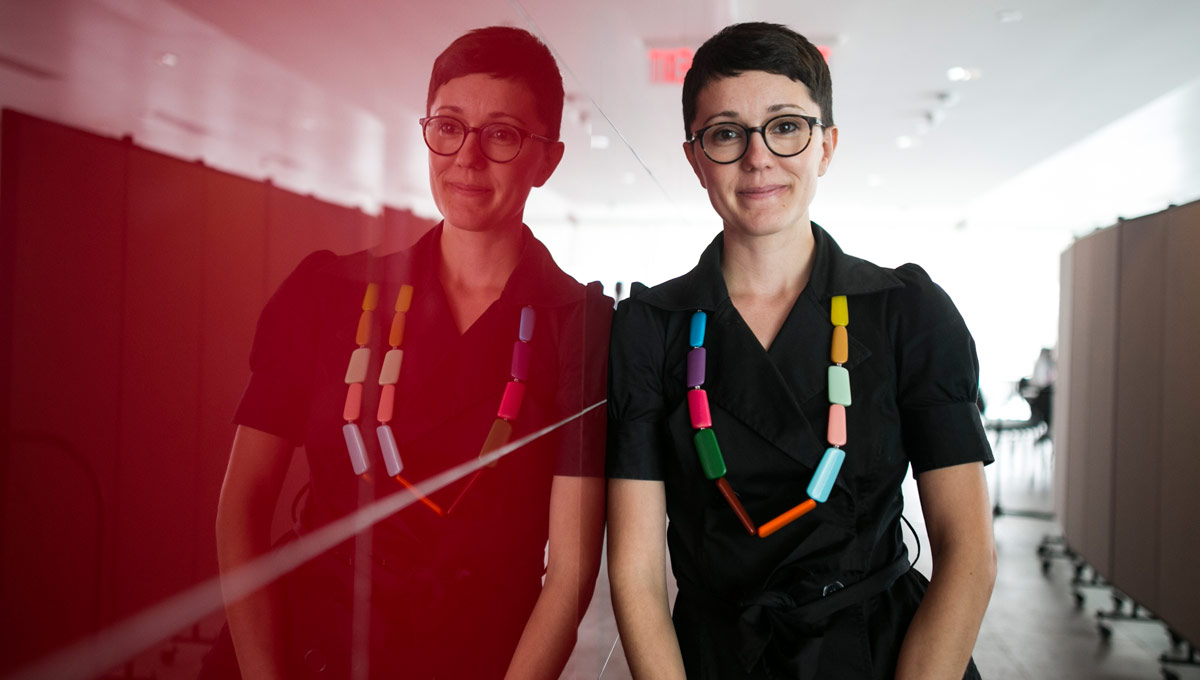 A Wide Spectrum of Research
Sanita Fejzic's presentation on Truth-Telling in Fiction: Inspiring Empathy earned second place. Fejzic said she turned to writing fiction after becoming bored with her editing and writing work at a local museum four years ago. She quit her job, pursued her second degree at Carleton in English Literature (her first was a Commerce degree), and published her first book last year, Psychomachia.
"I wanted to see how fiction is a form of truth-telling," she said. "Post-truth was Oxford Dictionary's Word of the Year last year, but the problem of truth is older than Plato.
"My research," she said, "considers if fictional stories have the power to inspire empathy for those whose lives are not like our own."
Fejzic received a $500 prize.
The third prize of $250 went to Neuroscience doctoral student Derrick Matthew Buchanan, who presented his research on brain stimulation as a cost-effective treatment for mental health and neurological disorders in children.
"When I was younger, I wanted to be an archaeologist because I had the urge to discover something nobody else has found,"' he said. "With the study of the brain, I can make endless discoveries."
Buchanan hopes his research will find solutions to speed recovery of children without resorting to medications.
"It's a neuroscience approach to a clinical endeavour," Buchanan explained.
The 3MT event enabled him to hone his teaching and speaking skills, he said.
"I learned to deliver a message clearly and concisely and showcase my research, as well as gain some traction in the community and gauge feedback regarding the importance of my research."