By Ellen Tsaprailis
Photos by Chris Roussakis
Former Raven and Ottawa 67's hockey player Brett Gustavsen has begun a new phase in his life, making the transition from student athlete to a career in the federal government.
The defensive forward played 113 games as a Raven and finished his U SPORTS career with 18 goals and 28 assists. The self-professed penalty killing expert had played five seasons in the Ontario Hockey League before arriving at Carleton, including four years with the Ottawa 67's, during which he scored 52 goals in 256 games.
Having recently graduated with a bachelor's degree in environmental studies, Gustavsen considers himself retired from hockey as a player but is still involved as a player development coach with the Ottawa Jr. 67's. Now he's focused on his career, and last fall he was hired as a marine policy analyst at Transport Canada in the department's Domestic Vessel Regulatory Oversight branch.
We recently spoke with Gustavsen about his experience at Carleton.
Where did you grow up?
I grew up in Scarborough, Ontario, with my parents and younger brother. My brother and I both played hockey in the winters and lacrosse in the summers and thank our parents for involving us in sports from a young age. I was drafted by the Ottawa 67's in 2009 and left for Ottawa at only 16, so I spent the latter half of my teenage years growing up in Ottawa, which is home to me now.
What made you decide to pursue post-secondary studies at Carleton and play for the Ravens?
I was recruited by Ravens hockey coach Marty Johnston. I was playing for Belleville at the time, in my final season in the Ontario Hockey League, and knew it was time to pursue an education while still being able to play hockey. I did not know what I wanted to study, but I did know a few things for sure. One, I wanted to continue playing hockey at the highest level; two, I wanted to join an elite U SPORTS team that would have the chance at competing for a national championship; and three, I wanted to stay in Ottawa because it had become home for me. Carleton fit all those filters, and when I got there I was met with great teammates and a coaching staff who were all great leaders and role models to us players.
Can you describe your student experience at Carleton?
I was a little lost at the start of my first year as our hockey team took a trip to Germany, Austria and Italy to play against professional teams in each country. It was the trip of a lifetime and one that I will never forget. Getting back was a reality check but it turns out being out of school for a few years after high school was the best thing for me as I found myself very interested in a vast number of courses and fields of study. Knowing that hockey would take up a large amount of my time at school, I decided I would pick my major that summer and complete my degree through the summer months as well when hockey was in the off-season. I chose a degree in environmental studies because I wanted to understand how the world functions on an environmental, economic and social scale. I figured it would provide me with the best life tools after leaving Carleton. I owe a lot to my professors, academic advisers and the students who helped me when I couldn't be in class due to a game. I loved Carleton and miss it today and thank the school for providing me with the tools I needed to achieve success both in the classroom and on the ice.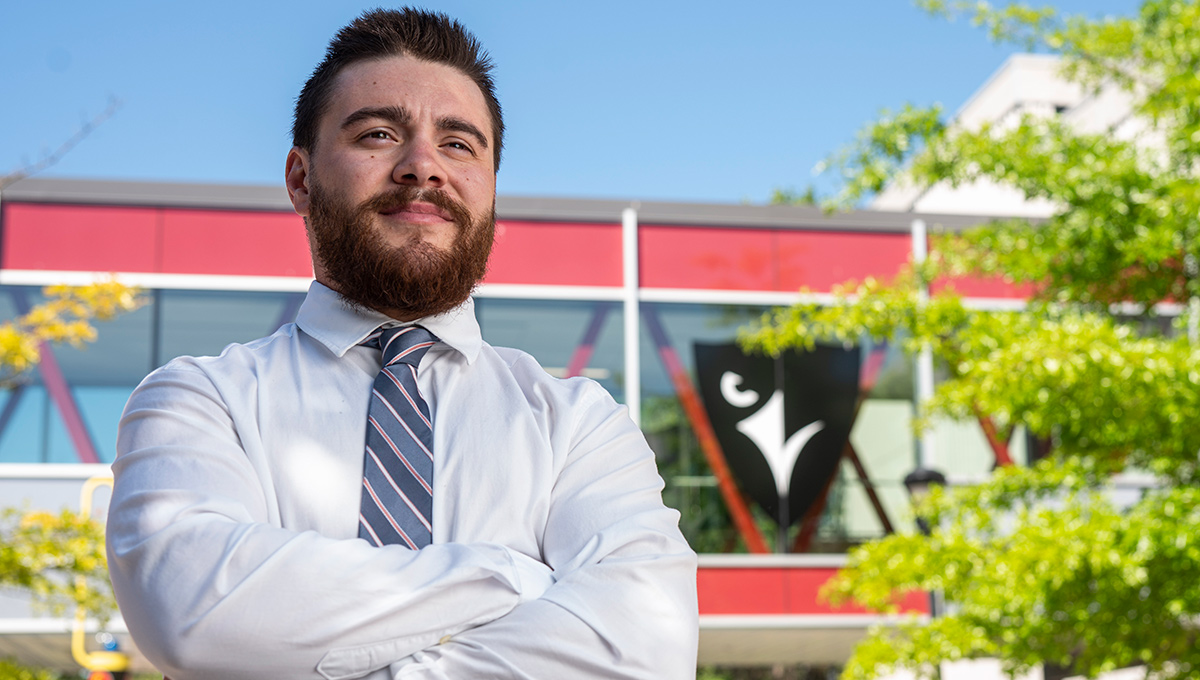 I will always be a Raven and I owe a lot to my coaches, teammates and medical staff. Carleton has a first-class program that cares about the well-being of players, sportsmanship and winning. We were always a gritty team that was highly-skilled and led by an exceptional coaching staff. I do not have one negative thing to say about the program because they treat you fair and expect the best out of every player. I learned a lot from my coaches: Shaun Van Allen, Marty Johnston, Joey Manley, Mark Cavallin and Ryan Medel. These guys work long hours to produce excellence in you as a hockey player, but most importantly, you as a person. I respect people like them because they never want or expect credit for what they do behind the scenes — they do it because they want the best from you. When you are playing in front of coaches like that you will always go the extra mile, and I think it reflects in our season stats and national championship berths. My biggest regret is not winning a national championship; however, I know with the formula they have created it will not be long until the Ravens bring back a ring. Lastly, the most important part of my time at Carleton was the teammates I got to share my time with. We always had fun, we always pushed each other and we always took care of one another. I have made friends with people I will stay in touch with for life.
As both a student and a successful hockey player, how have you found the transition from athlete student to full-time career?
The transition for me was obviously a change in schedules; however, as a hockey player who had to manage my studies at the same time, I would say I just used what I was taught. Hard work, time management, team work, respect and loyalty are things you can be taught not just on a rink and not just in a classroom but anywhere in life. When I got ready for my first day of work I remember treating it like it was a game day. I went to bed early, had chosen dress clothes the night before, ate a good breakfast and went to work. I was in a new environment — just like entering a new class or being traded to a new team — so I set out a bunch of goals I wanted to accomplish that day, that week and that year. Do not get me wrong: there was doubt and uncertainty. However, I was going to learn from that day just like I had learned a new forecheck or a new theory in the classroom. I knew I was going to make mistakes or not know something at first, but to me that is the greatest gift.
What made you decide that a career at Transport Canada was the direction you wanted to start with?
My goal at the end of university was to find my next team where I could contribute to a bigger cause. I have always been one to love the water and I knew that I wanted to find work that revolved around that and safety. I have always wanted to learn about Canadian policies and how important decisions are made. As a government employee, I wanted to serve a greater purpose and the people of Canada. With Transport Canada, we provide oversight and enforcement to marine operations, ensuring that they protect life, health, property and the marine environment, and at the same time ensuring an efficient and sustainable marine transportation system.