Benny Michaud is a proud Michif (Métis) eagle clan person from St. Boniface, Winnipeg, Manitoba.
In the Michif language their traditional name is kaa-natawiyiweet dans la sud oschi, which means Medicine Person from the South, and their gender identity is tasta-eeyinew, which loosely translates into "a person in between." In English, the terms they tend to use are two-spirit or non-binary.
"What has sustained me in my life is the cultural knowledge that has been shared with me about the unique gifts I carry as a two-spirit person," they say.
"Knowing the stories of my family, my community and my people gives me strength."
As a child, their parents supported and encouraged Michaud to express themselves as a two-spirit person. This part of their identity, however, was not always celebrated, nor is it regularly represented.
In completing a BA, B.Ed. and MA at three separate universities, they were only taught by one Métis professor. It was during the completion of their undergraduate degree at Carleton University that they met Brenda Macdougall, who taught a Métis Studies class. Now, 20 years later, Michaud teaches that same class.
"We need more two-spirit people, particularly those who present as non-binary or trans folks, to hold leadership positions within universities," they say.
"The more inclusion we have, the more empathy and compassion will be felt by our students."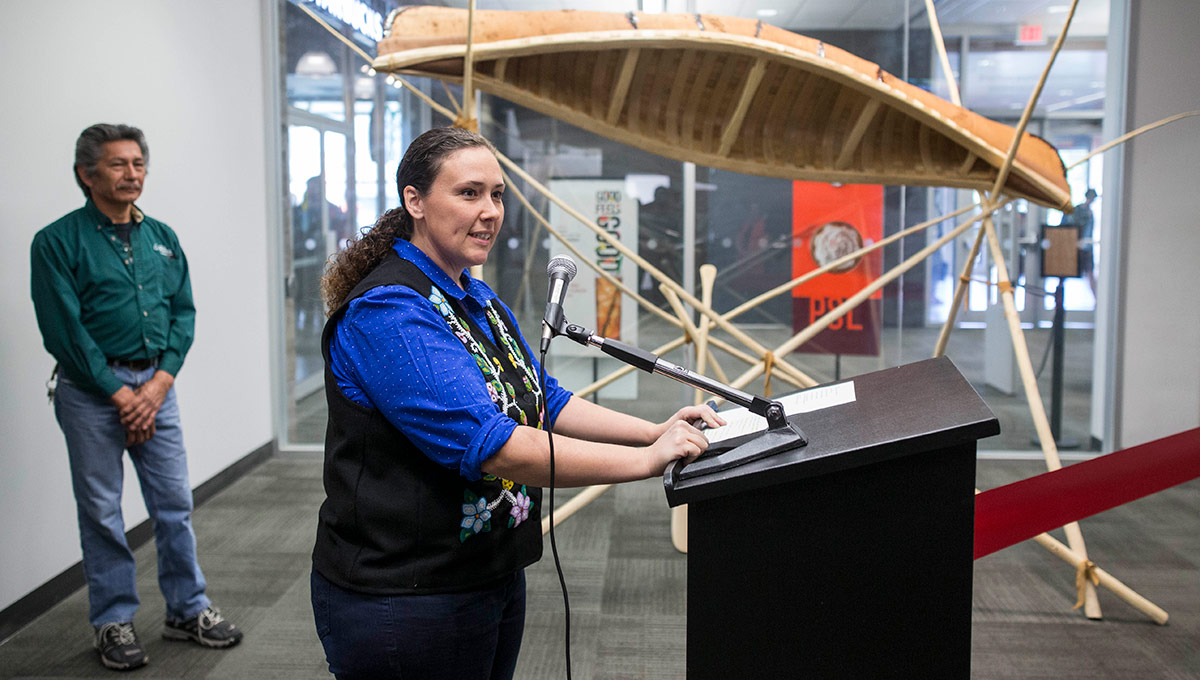 Academic, Cultural and Spiritual Supports
Today, Michaud is director of the Centre for Indigenous Support and Community Engagement and a co-chair of the Carleton University Indigenous Strategic Initiatives Committee (CUISIC). They joined the CII team as Indigenous Liaison Officer in October 2016. They work to ensure that Indigenous students have the right academic, cultural and spiritual supports, and they engage with the community at the Ojigkwanong Indigenous Student Centre throughout the school year.
In 2019, Michaud and the CII team hosted the inaugural Kinàmàgawin Symposium, which in Algonquin means "learning together." The symposium allowed students, staff and faculty to learn about Indigenous teachings from Indigenous faculty and furthered reconciliation dialogue on campus.
"Now, I work within the Métis community and with urban Indigenous peoples to create inclusive spaces for two-spirit people so that we can reclaim our role within community, and particularly, within ceremony."
During Pride Month, Carleton University is celebrating some of the many achievements and contributions of our 2SLGBTQ+ community members. Visit our Pride Month page through the month of June to read new stories about them.