By Elizabeth Howell
Photos by Chris Roussakis
Digital platforms are how youth express their views about the world, and those views should not be discounted, says a Carleton researcher.
Dale Spencer, an associate professor in the Department of Law and Legal Studies and winner of the Faculty of Public Affairs (FPA) Research Excellence Award, discussed how young people engage with digital worlds at a faculty symposium Wednesday, Feb. 26, 2020.
Spencer began with a youth most people know – Greta Thunberg – as an example of what they can accomplish working in digital spaces. Thunberg is a 17-year-old Swedish climate activist who has been holding protests since August 2018.
Her example has spurred people from all around the world to hold their own protests, and has led to numerous accolades and opportunities for the young activist – including speaking at the United Nations. But it also exposed Thunberg to cyberbullying and mocking on Twitter, most famously from U.S. President Donald Trump.
Spencer urged that her example not be ignored or attributed to immaturity. People like her, he said, "serve as examples of young people exercising civil rights, and how powerful young people are as beings." Unfortunately, he added, the backlash Thunberg faced from sometimes "curmudgeonly adults" is, he said, "indicative of how adults treat young people."
Historically, teenagers and young adults have been portrayed in dominant discourse as a malleable group, since their ability to participate lies more in their potential than what they are able to offer today, Spencer said. Some young people have even been "described with the language of deviance and delinquency" simply for taking a stand against the status quo, he added.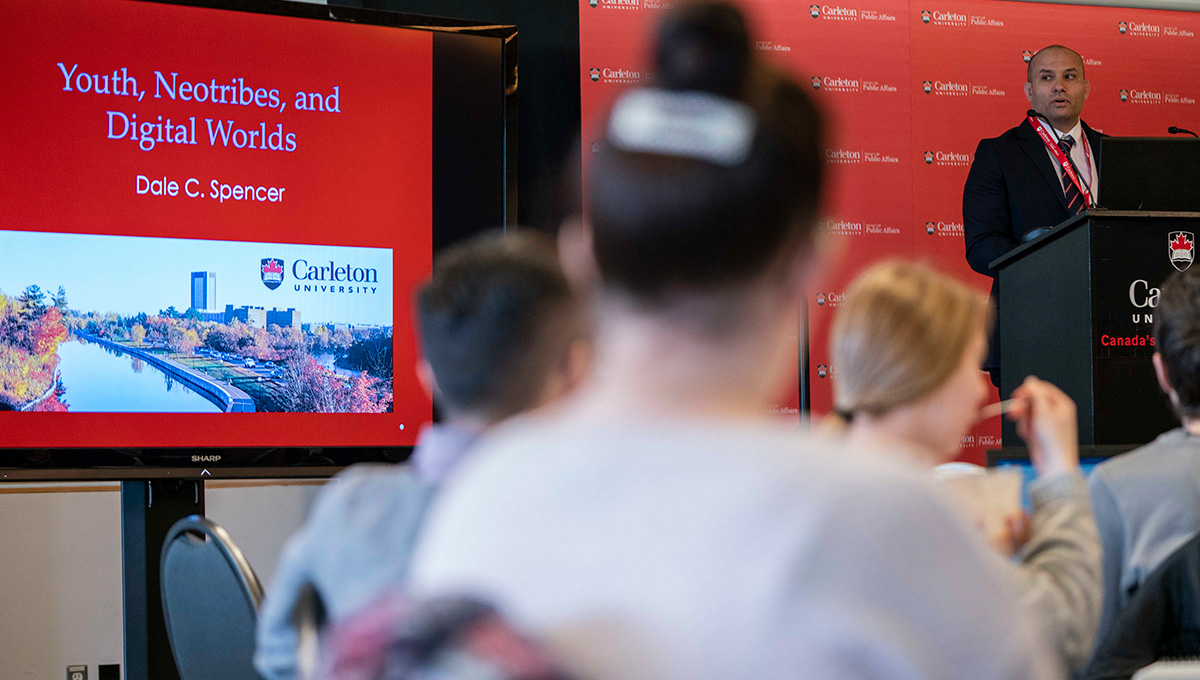 Digital Worlds: Meshed, Interwoven Reality Extending Real-World Connections
More and more, the rise of digital worlds are not in isolation with the real world – especially with youth who grew up with constant access to the Internet and use it for communicating with friends, keeping up with workplace trends and participating in community events such as gaming. In the past, these online connections were seen as distinct from other aspects of our lives, Spencer said, adding: "Today it is increasingly understood as a meshed, interwoven reality extending real-world connections."
While the online world is more and more a part of our everyday lives, Spencer (as well as some audience members) pointed out its dangerous potential. While enabling youth to reach a wide audience, it exposes them to potential dangers to their mental health. Cyberbullying is the facet most often discussed among adults, he said.
Adults are often "worried about the wrong things" because they fail to take the time to ask youth not only how they use digital media, but also experience it.
That is something Spencer is working to change. His research project investigates how young people "interpret the digital worlds they inhabit."
His research shows that youth engage in digital platforms using a neotribal approach, which means forming groups or "tribes" centred on common interests.
Youth participation in these platforms can lead to positive outcomes, including making effective decisions and living with confidence. "It enables opportunities for young people to share their insights," he said.
Having completed a survey of young people's engagement, Spencer is now working on focus groups and individual interviews to learn about their participation in digital worlds.
Often, he pointed out, young people are using digital platforms that – at least when they were designed – were adult-centered. When used incorrectly, these platforms can lead to issues such as loneliness. But he cautioned that it is more prudent to "pay attention to the dynamics as they play out online" to better understand how youth "make their way in digital worlds on their own terms."