By Tyrone Burke
Photos by Tracey Nolan
On any given night, more than a thousand people stay in homeless shelters in York Region, a sprawling set of suburbs north of Toronto. Every one of them has a story, but few can be as tragic – or as hopeful – as Ben Williamson's.
While living at a youth shelter, the future Carleton student maintained grades in the high 90s, sat on the Premier's Council on Youth Opportunities, and served as a policy advisor to his local Member of Provincial Parliament. All the while, Williamson was living with a severe disability that confines him to a wheelchair and limits his ability to write.
"I knew that if I could get past this point in my life," he says "I describe it as a tornado…I would succeed. I would do well. And I just kept fighting, because to me, there was no other option. There is no other option."
Ben Williamson's Quest for Success
Williamson's path to Carleton has been anything but typical.  Just a few months ago, he didn't know when – or even if – he'd finish high school, much less start university. Due to the accommodation requirements for his cerebral palsy, Williamson's high school recommended he be placed in an intensive program that could provide the support he needs – mainly a scribe to write for him – but the program was designed for students with developmental disabilities. Through it, he was able to take only two courses per semester, and they were not university prep courses.
Williamson was winning awards for academic achievement, but was unable to enrol in academic courses. The school would allow him to leave the intensive program, but he'd also have to leave the support it provides behind. Alternatively, he could stay in the program, but it would take three additional years to complete high school. Even then, the course work would not match his intellectual ability or ambitions. Down the road, the articulate Williamson is eyeing law school and a career in child advocacy.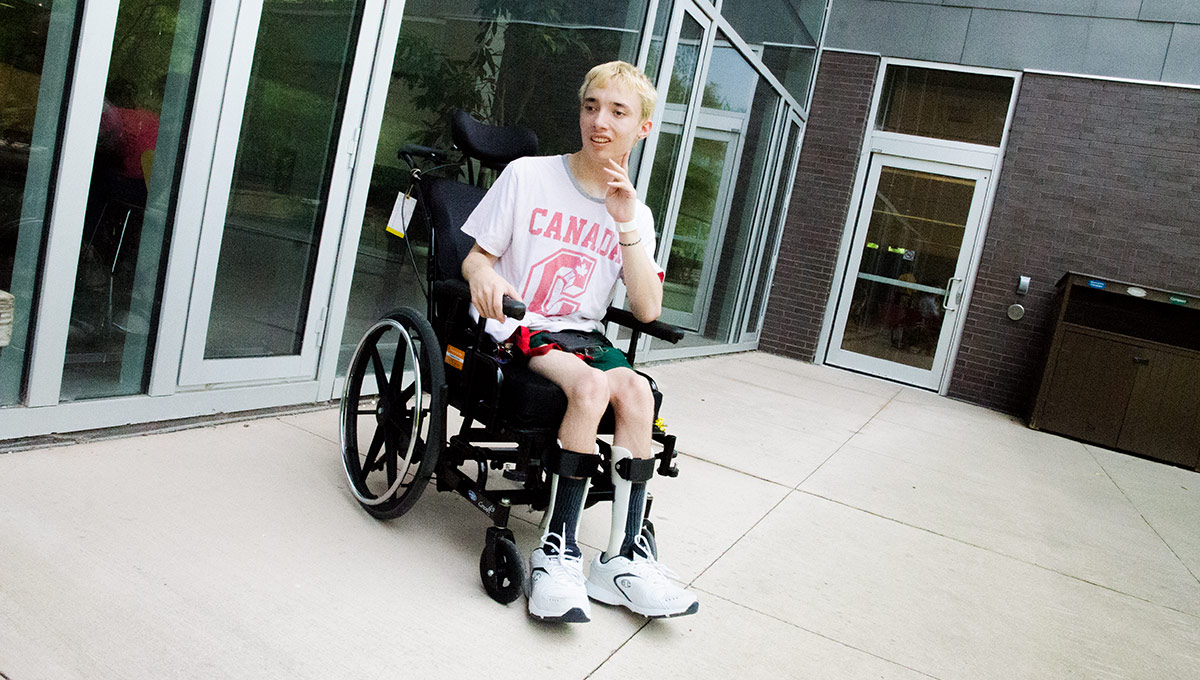 Williamson's situation was too tenuous to last that long. Living in the shelter, with medical expenses running to hundreds – even thousands – of dollars a month, he just couldn't afford it.
School became so stressful, that Ben decided he needed to leave after he completed his co-op placement at the local constituency office of MPP Chris Ballard, most recently Ontario's Minister of Housing.
Under Ballard's wing, serendipity took over. He connected Williamson with David Onley. Ontario's Lieutenant Governor from 2007 – '14, Onley used his term as the province's vice regal representative to advocate for Ontarians with disabilities.
"It really didn't take long to see that this was a very, very smart young man, facing very adverse circumstances," Onley says. "I immediately thought of Carleton, primarily because of the attendant care program, but also the complete commitment to accessibility it has on so many different levels. It's a true commitment."
"I just thought there must be some way to provide some assistance. I didn't know what it was going to be."
A Network of Support
Seeking to ascertain if there was a program for someone in Williamson's situation, Onley reached out to Larry McCloskey, director of Carleton's Paul Menton Centre for Students with Disabilities, which co-ordinates academic accommodations and support services. McCloskey recommended the Enriched Support Program (ESP), a bridging program that provides academic support designed to help students transition to university.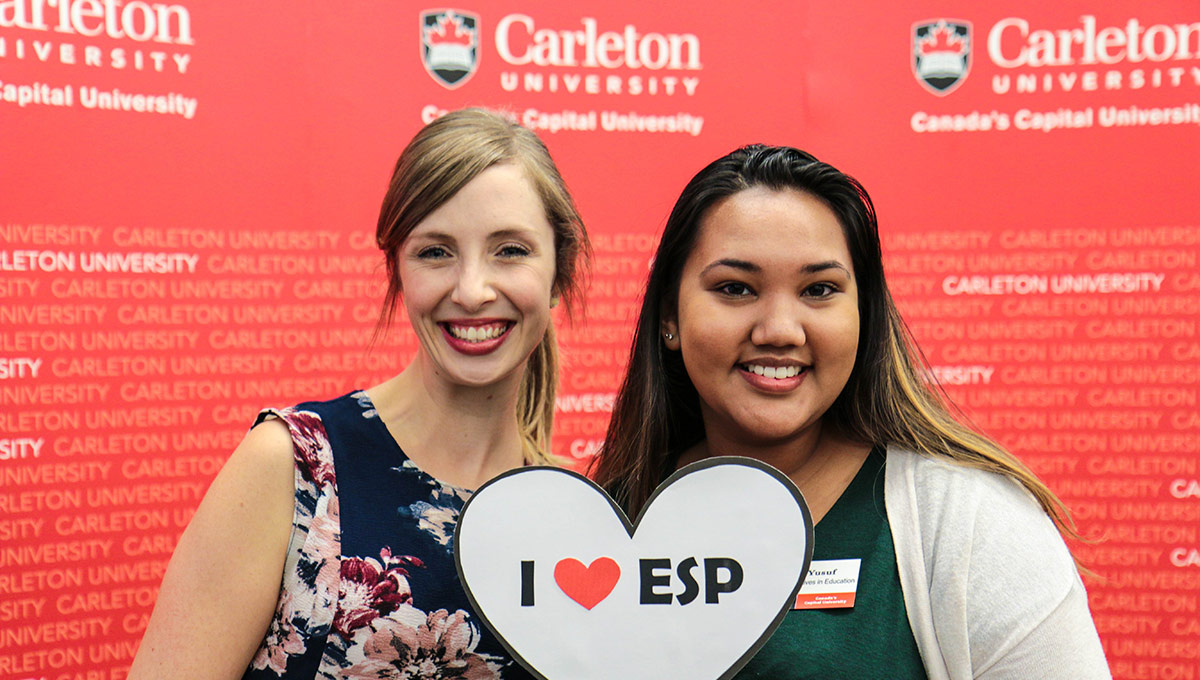 "The program isn't set up specifically for students with disabilities," says Susan Burhoe, its co-ordinator. "It's for students with a wide range of personal circumstances that might have interfered with them being as successful in high school or college as they might have been otherwise. We're set up for the exceptions. We give people a chance."
Founded in 1996, the ESP keeps with Carleton's long tradition of being an accessible institution.
"There were people on campus who said we have this tradition of access, and we want to maintain some sort of commitment to that," said Burhoe, who started a GoFundMe campaign to help cover Williamson's expenses. "So they started this program as a way to do that, but maybe in a bit more of a responsible way.
"We didn't just say come down, and sink or swim. We said come, and we'll give you some support in navigating this new system."
Students accepted into ESP enrol in three courses, and two non-credit seminars. If they maintain a minimum GPA, they automatically earn admission. The lighter course load helps ease students' transition to the new set of expectations that come with university and, for a student like Williamson, it provides a chance to continue his studies that otherwise wouldn't exist.
"Carleton is the doorway to the rest of my life," he says. "Where it will take me…I don't know. I used to think I had a plan. I had a five-year plan in my head. I'm going to finish high school, and then I'm going to go to university. I've kind of stopped making plans, because I feel like they're going to change, but in a good way. I had always envisioned applying to Carleton one day…but then David Onley and Susan Burhoe came into the picture and they completely changed that. They are the reasons that I'm going to university. I owe them everything."