By Elizabeth Murphy
Photos by Chris Roussakis and Chris Cline
When the leaves begin to change colour, it is a sure sign the highlight of Carleton University's autumn calendar is fast approaching. From Sept. 15 to 22, 2019, the campus will welcome thousands of proud alumni and members of the community for Throwback, the annual Homecoming celebration.
The renowned Ravens school spirit will be on full display as people gather to share memories, highlight Carleton's achievements and celebrate an enduring positive impact in the community.
"We look forward to welcoming alumni back to campus for Carleton's seventh annual Throwback celebration," says Mark Savenkoff, director of Alumni and Donor Relations.
"This year, the program has expanded to include over 30 events, ranging from art gallery exhibitions and guest lecturers to milestone reunions.
"Homecoming is a special time for members of the Carleton community to reconnect with former classmates and professors, learn about exciting developments on campus, and cheer on our Ravens to victory."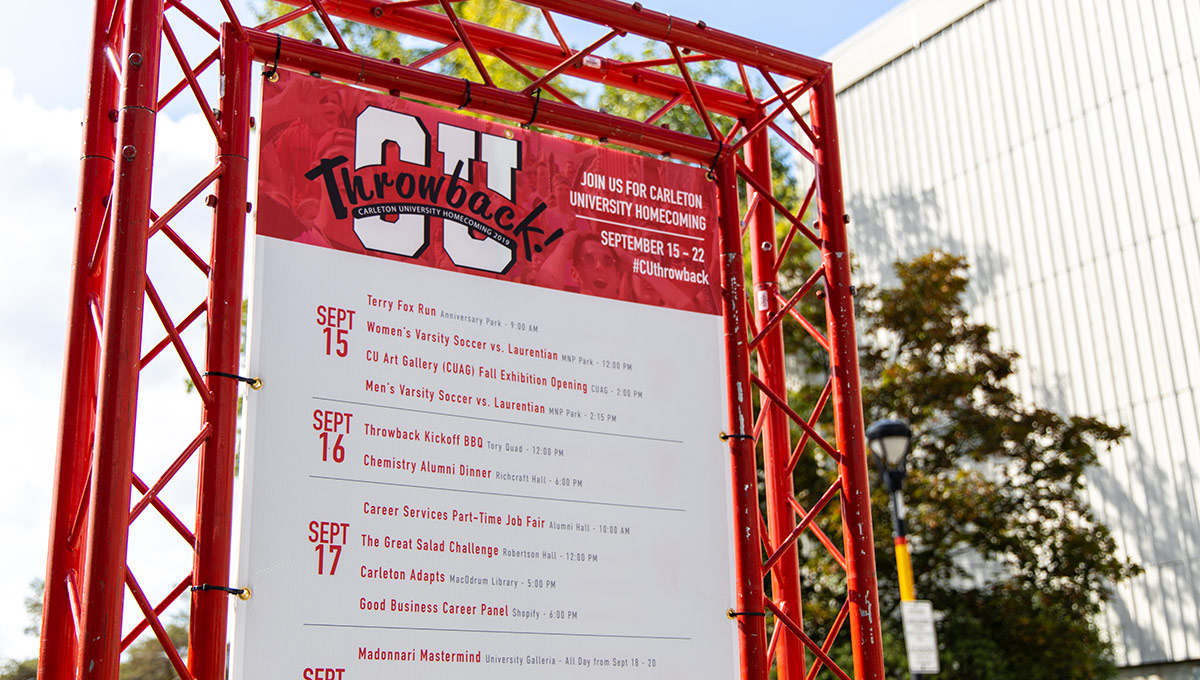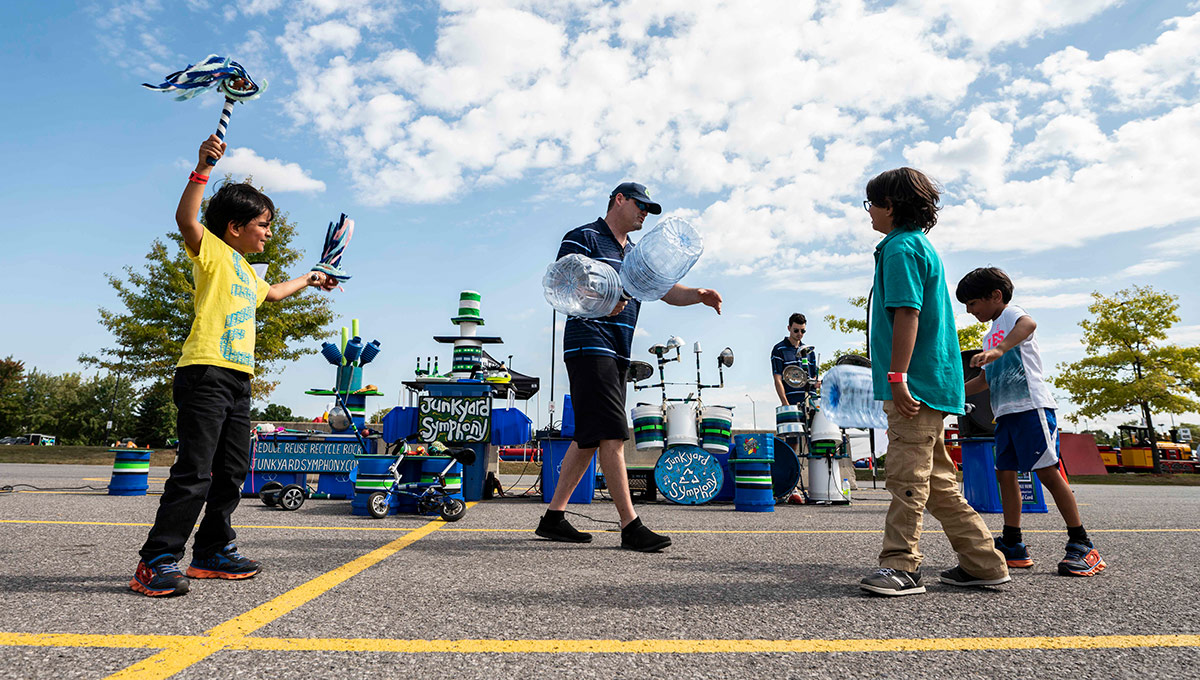 Events for Students, Faculty, Staff and the Community
Tuesday is full of Throwback events, including a daytime job fair for students and a salad culinary challenge. That evening, a Sprott alumni career panel will be held at Shopify, while MacOdrum Library will host Carleton Adapts, where panelists will defend their favourite book-to-movie adaptation with the winning film screened.
On Wednesday, Throwback will host two Cinquecento: Carleton Celebrates Leonardo da Vinci events. On the floor of the University Centre Galleria, artist Francois Pelletier will start re-creating Leonardo da Vinci's famous portrait of Lucrezia Crivelli using temporary mediums such as chalk and continue his work over three days. Later that night, the lecture Divine Nature of Leonardo by Art History Prof. Randi Klebanoff will examine da Vinci's work through concepts of God and the cosmos that informed his 15th century world.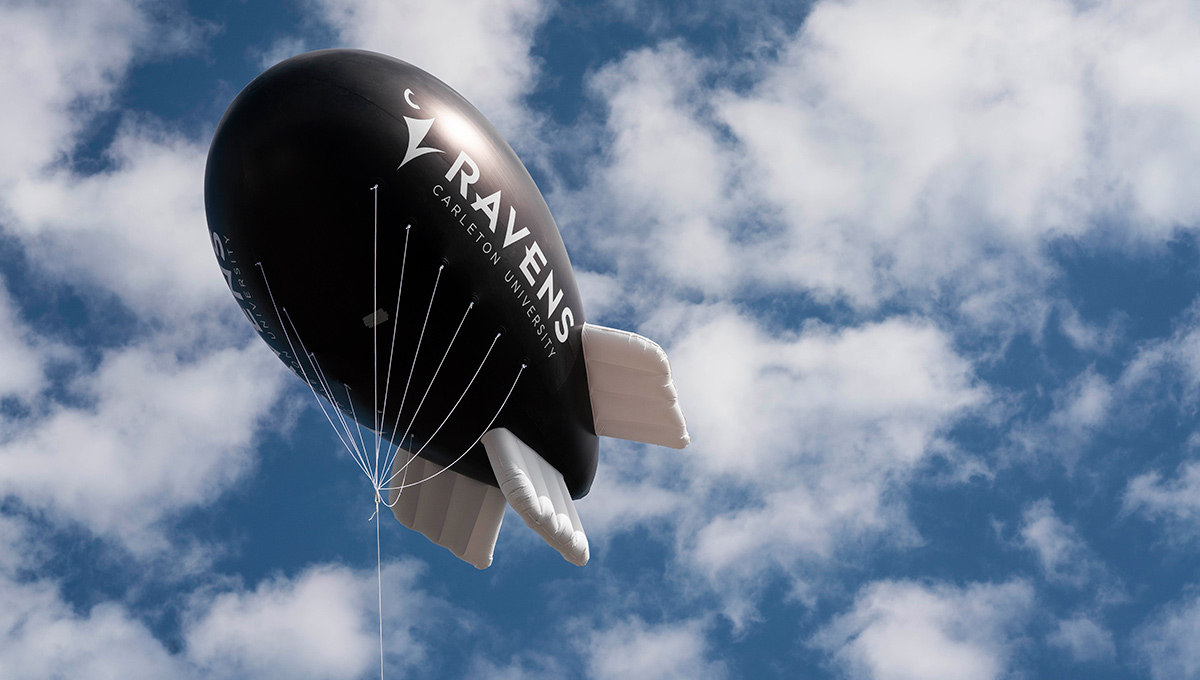 Seeking a learning opportunity during the lunch hour? Carleton's Healthy Workplace will host Mental Health and Well-being in the Transition to University with Psychology Prof. Andrea Howard, who will discuss the findings of her study into student success and well-being during the transition to university.
As the week rolls to Thursday evening, the School of Journalism and Communication will host the 2019 Attallah Lecture. This year, Lilie Chouliaraki, chair of the Department of Media and Communications at the London School of Economics, will deliver the talk War on Mobile Phones: Technology and Truth in the Age of Digital Witnessing. For those looking to cheer on the Ravens, the women's hockey team will face off against the University of New Brunswick that night.
The Friday edition of Throwback features the Faculty of Public Affairs' 2019 Currents Lecture on the federal election. Hosted by alumnus David Coletto, chief executive officer and a founding partner of Abacus Data, an expert panel will discuss pressing issues of the election. The Campus Activity Board will host the first Epic Bingo of the year and the Department of Sociology and Anthropology will be kicking off its two-day 50th anniversary celebrations.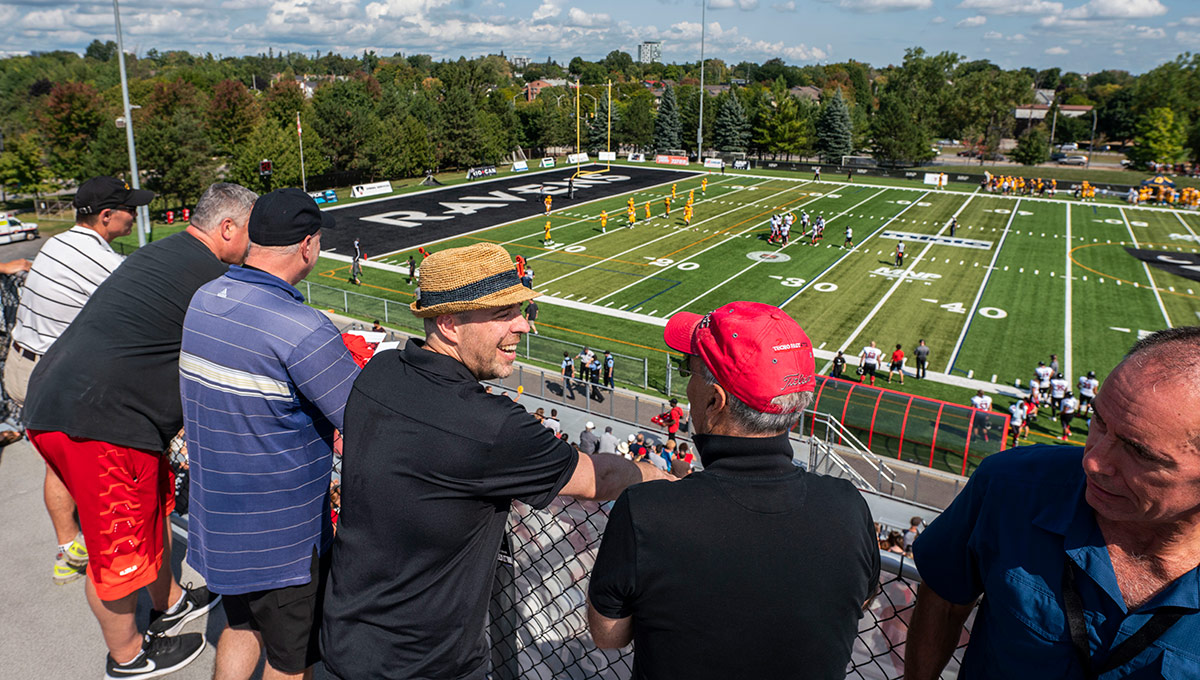 Ravens Rally Around Football Team
Over the weekend, Throwback shifts into high gear. The community is invited to a Ravens Rally ahead of the Homecoming football game. The rally will feature a performance by Tragically Hip tribute band Little Bones, food trucks, local craft beers by Overflow Brewery and more. Admission is free and donations in support of Carleton's Fund for Good are welcome. The Carleton University Students' Association will also hold a pep rally event at Oliver's that will feature food, drinks and prizes. The Ravens will take on Waterloo in the Throwback match at 1 p.m.
For those looking to explore Carleton's beautiful campus prior to the game, MacOdrum Library will be hosting historical campus walking tours.
Throwback wraps up on Sunday, Sept. 22 with two Ravens teams taking to the field. Men's soccer will face opponents from the Royal Military College of Canada, while women's rugby squares off against Laval.
The 2019 chapter of Throwback will close with a celebration of the restoration of a 5,200-pipe Casavant organ – the centerpiece of a new performing arts space at the Carleton Dominion-Chalmers Centre –– with an afternoon of storytelling, music and community.
From expert panels and community rallies to athletic excellence – Throwback is sure to have something for everyone.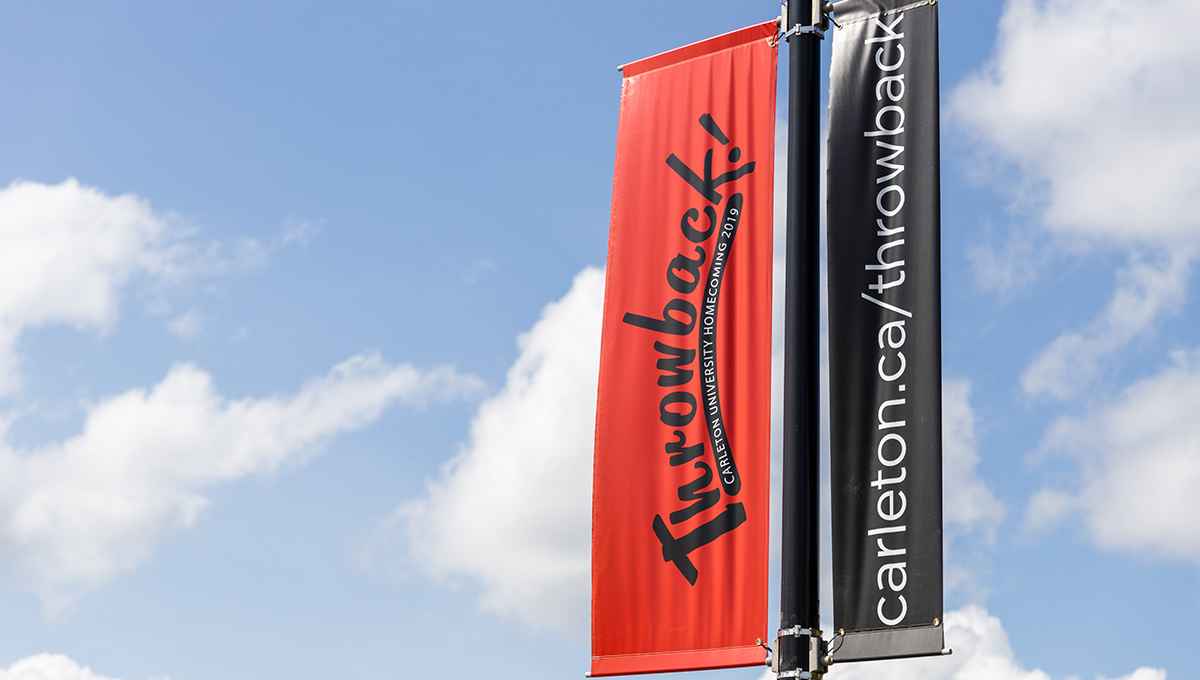 Wednesday, September 11, 2019 in Alumni, Athletics, Faculty of Arts and Social Sciences, Faculty of Engineering and Design, Faculty of Graduate and Postdoctoral Affairs, Faculty of Public Affairs, Faculty of Science, Sprott School of Business
Share: Twitter, Facebook