It was a million-dollar surprise for Carleton University's Relay for Life co-chairs Amreet Gill and Daria Lutz.
When the two students met last summer to begin planning this year's fundraising efforts, they reviewed individual sums raised during the last nine years and realized they were $155,000 away from seven figures.
"[Raising $1 million] was never a goal, but more a reflection of the program being so amazing and growing more each year," said Lutz, co-chair of participant engagement.
This year's event raised $159,960 – and counting – allowing them to hit $1 million.
The Carleton Relay for Life chapter was established in 2009 and it's the first post-secondary institution to raise that much money for the Canadian Cancer Society.
"For the last six years, we were the Canadian Cancer Society's biggest event in both revenue and participants across Canada, amongst all post-secondary institutions," said Gill, co=chair of event experience.
The 12-hour fundraiser, which started at 7 p.m. on March 8, 2019, attracted 950 members of the Carleton community – mainly students – who gathered in teams and took turns walking laps around the track in the university's Fieldhouse.
But how do you keep so many people awake through the night? Inspiring stories of survival and resilience certainly helped.
Carleton University's Mateo Peralta, a fourth-year Journalism student diagnosed with leukemia in his third year, opened the ceremonies by sharing his remarkable journey. Peralta will graduate this spring.
The survivor's lap is also a mainstay of the event. Those who have survived or are currently living with cancer kick start the relay by completing the first lap. This year, survivors included students and alumni.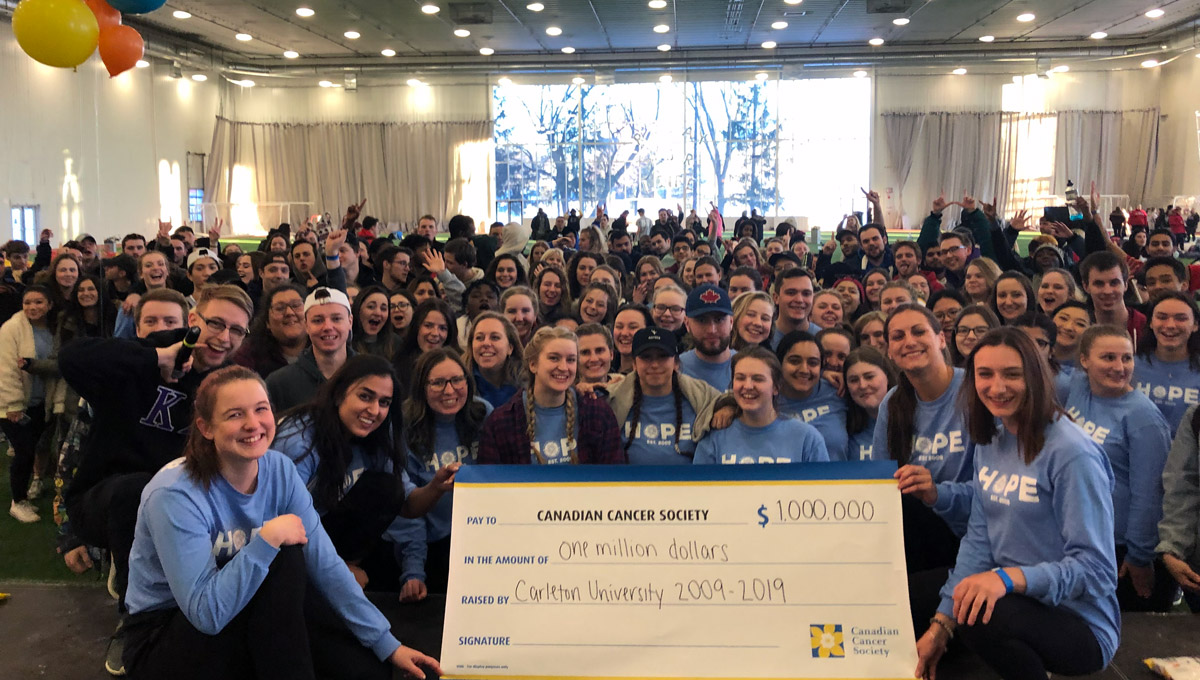 The 10-year event came full circle when the chapter's first co-chair and Carleton alumna Komal Minhas returned to open the ceremony, with participants lining the track and holding candles in honour of the people for whom they are raising funds.
Minhas was diagnosed with cancer in 2016 while producing Dream Girl, a film that shared empowering stories of female entrepreneurs and subsequently made its debut at the White House. In addition to her own diagnosis, Minhas shared she had also experienced the loss of a friend to the disease – a friend who was one of the original members of the CU Relay for Life organizing committee. However, she also talked about the hope and inspiration Relay for Life provided for her fiancé when he was looking for ways to support her after her own diagnosis.
"[The luminary ceremony] really puts everything in perspective," said Gill.
"It really helps motivate us to continue with the program," agreed Lutz.
As the co-chairs get ready to graduate, they hope the charity's fundraising success will continue. Their message to continuing students: "Come out to the relay just once, or join the committee and take a leadership role. It's incredible when we team up and work together to do such an amazing thing for the community."
The co-chairs would also like to thank the many departments at Carleton for their support.
"This is impossible without our campus partners. We thank Student Affairs, CUSA, the Student Experience Office, Athletics and Dining Services for the resources and support they have provided."
Faculty and staff can also take part. Registration for the March 2020 relay will open in November. To get started, visit their Facebook page.
Wednesday, March 27, 2019 in Community, Student Experience
Share: Twitter, Facebook