By Ellen Tsaprailis
Photos by Chris Roussakis
Carleton University's Justin Yan has made the top ten of a major North American architecture student competition, the only winner from Canada, with his ingenious adaptation of an old building.
The American Institute of Architects Committee on the Environment (AIA COTE) holds a Top Ten for Students competition that invites architectural students across North America to compete. The 2018 competition, named INNOVATION 2030, had more than 1,000 participants.
Yan, a first-year Master's of Architecture student created his project – City Centre Glassworks: An Adaptive Reuse Workshop and Experimentation Facility – as a workshop space for manufacturing architectural glass.
"My project was centred around adaptive reuse, taking an existing building and reinventing it for a new purpose," says Yan.
"The building we were given was the antique store in City Centre which in the 1920s was a stair factory."
The student competition, held in partnership with the Association of Collegiate Schools of Architecture and in collaboration with Architecture 2030, recognizes "10 exceptional studio projects that demonstrate designs moving towards carbon-neutral operation through creative and innovative integration of design strategies."
Competitors had to be in third-year studies and higher, and had to submit designs that protected and enhanced the environment by using an integrated approach to architecture, natural systems and technology.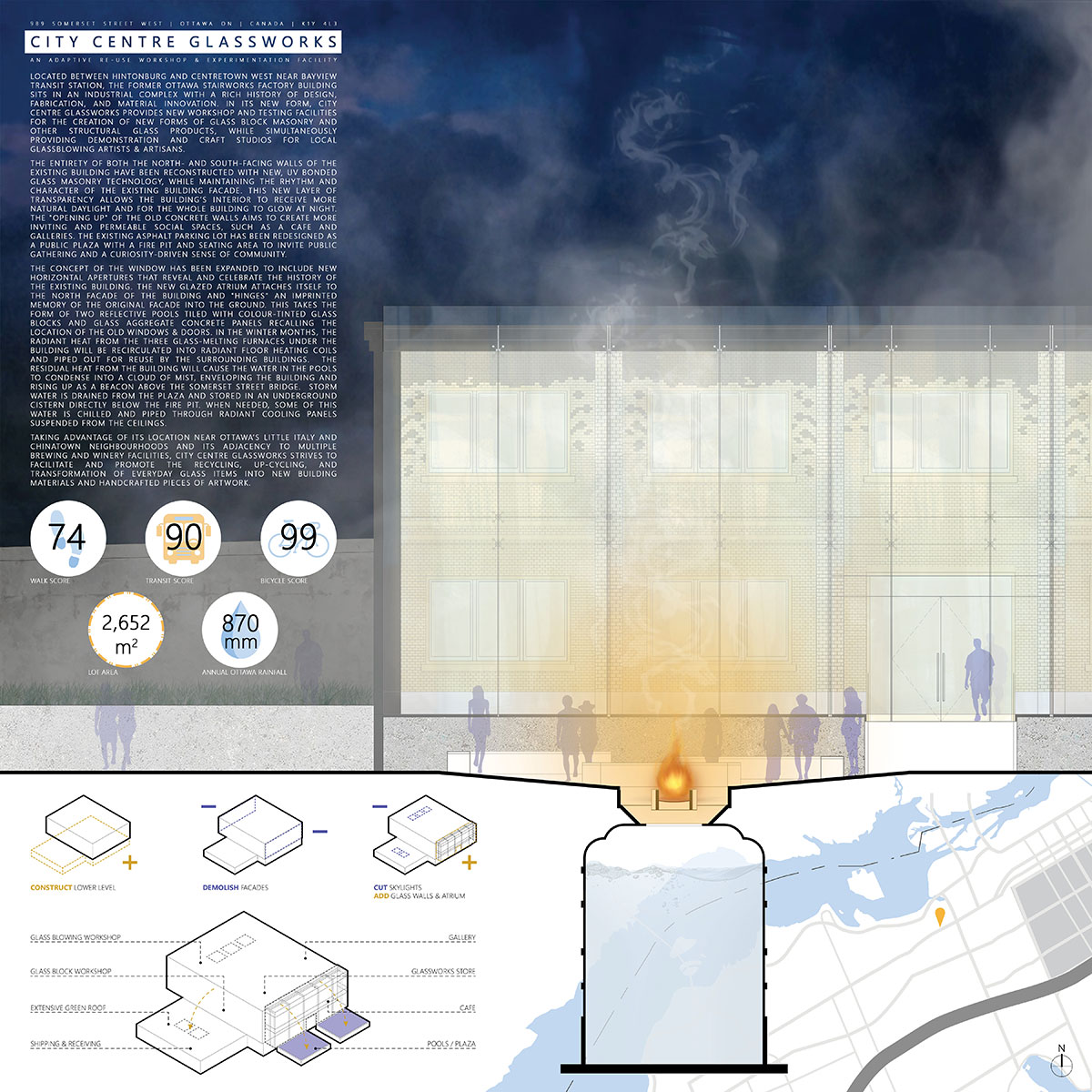 Gateway Design Studio Gets Students Thinking Sustainably
Yan's faculty sponsors were Prof. Sheryl Boyle and Visiting Prof. Claudio Sgarbi. His project was a part of the Azrieli School of Architecture and Urbanism's Graduate 2017-2018 Gateway Design Studio. The design course brings together ideas from the graduate Advanced Building Course to get students thinking about sustainability.
Yan credits Carleton's architecture program with rounding out students' knowledge through recycling, teaching about adaptive reuse, and bringing in more concepts of sustainability. "The more we learn about sustainability outside of design class, the more naturally we integrate it into our designs," says Yan. "It prepares us for the real world."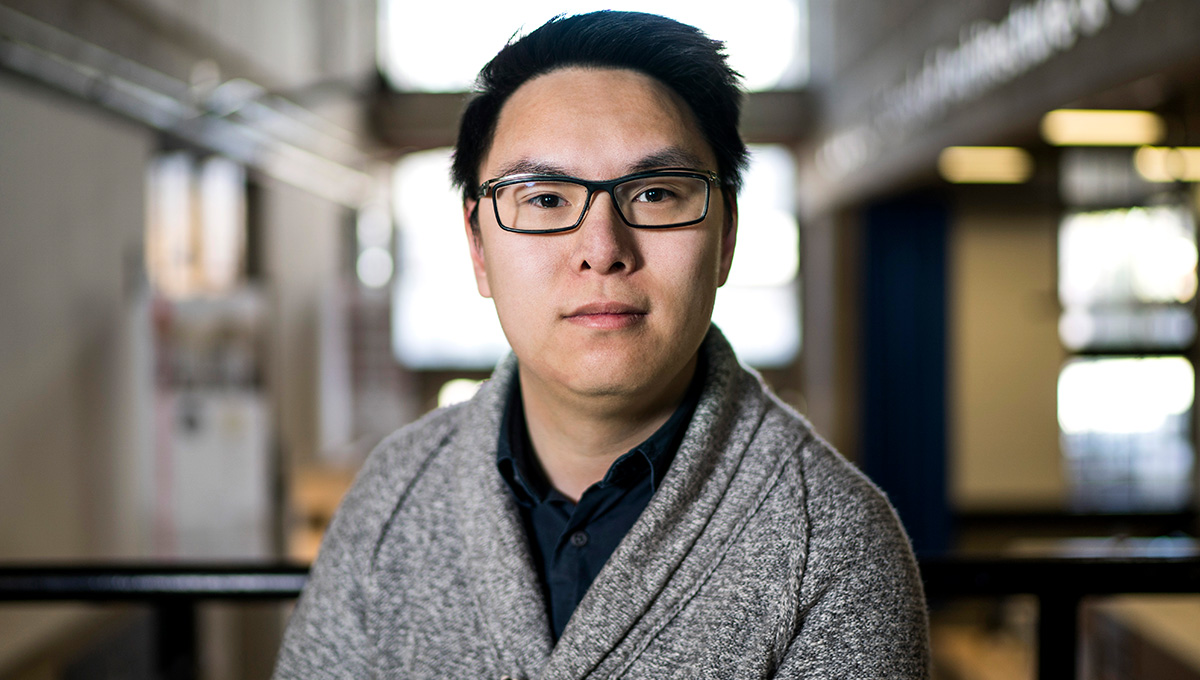 "People in my generation are not going to be designing new buildings but repurposing and redesigning what's already there."
Justin was on a six-week course in London, U.K., when he got the news he had won.
"I couldn't sleep," shares Yan.
"I had worked so closely with Sheryl and Claudio to submit my work that to be rewarded for all that effort, it feels great."
Winning a US$2,000 prize, Yan is headed to New York City in June to attend AIA's National Convention where his project will be displayed. He will also get a paid summer internship at a North American architecture firm.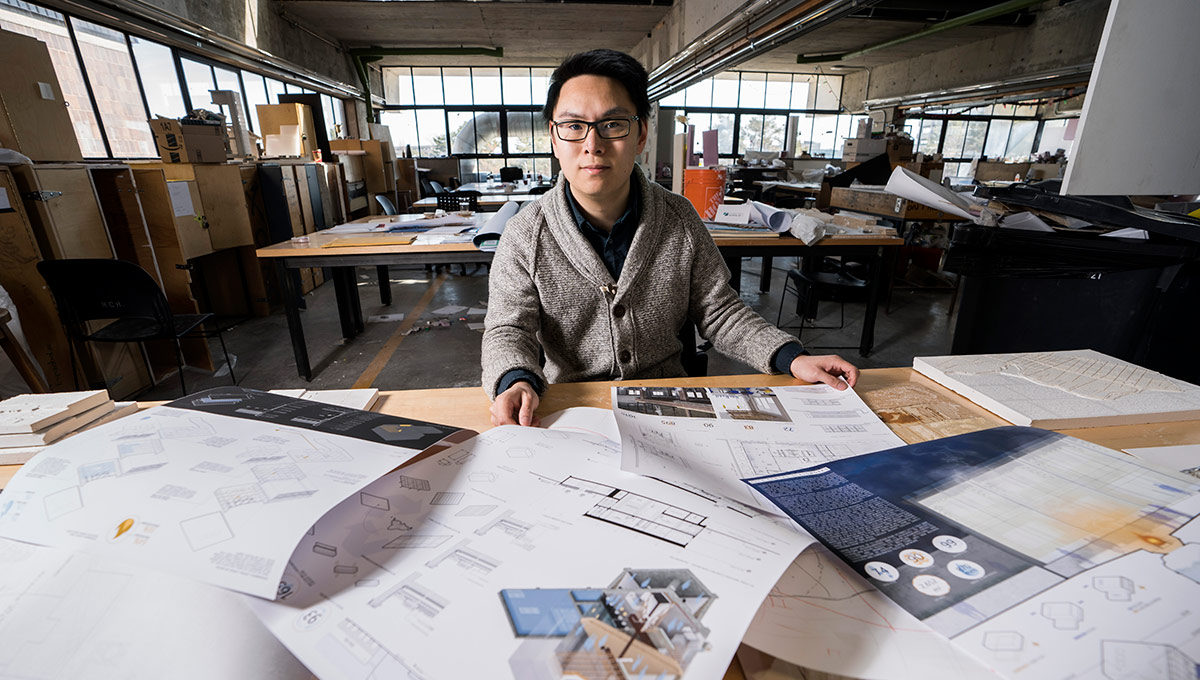 Second Prestigious Architecture Win in Two Years
Boyle is celebrating a prestigious architecture student competition win for the school for a second year in a row. Last year, her student Jesse Bird won the AIA's Here + Now Competition.
The competition jury praised Yan's project by stating, "This adaptive reuse project utilizes the heat from making glass to warm the building and save on energy; a superb adaptation for the Ottawan climate. The buildings' programs and systems are well designed and tailored for each other. A wonderful example of this is the rising mist, created from residual heat, brings an element of delight to the project.
"The architectural exploration is plausible and grounded in reality."
According to Boyle, some architects have a loud voice and others have a subtle voice. "Justin's project is truly subtle architecture with a high level of craft and very fine detail," she says. "His exceptional dedication to address the 10 sustainability goals of the COTE Top Ten was outstanding and winning the competition is a fine reward for his hard work."
"Some people say these kinds of subtle projects don't win competitions, but I was really happy to see that his did."