The pandemic affected many Canadians financially—and charitable giving took a pretty significant hit too. Donations for 2020 are expected to be as much as 37 per cent lower than they were in 2019. But in spite of that, charities have found innovative ways to continue making an impact—and a resource run by Carleton alumni is helping them do it.
"Our vision is to be a professional resource for the social impact world," says Vinod Rajasekaran, publisher and CEO of Future of Good, a membership-based digital publication that covers the social impact sector in Canada.
"That's our North Star. We want our publication to enable professionals to stay current and help them do their jobs really well."
Even before the pandemic, the social impact world was changing—driven by demographic shifts, reconciliation with Canada's Indigenous Peoples, decolonization and disruptive technologies.
"In order to execute your mission, you need to have an understanding of what is out there, whether you are tackling hunger, advancing gender equality or taking on climate change," says Rajasekaran, who graduated with a Bachelor of Engineering in Aerospace and Mechanical Engineering in 2005.
"You need to know what is getting traction, and stay on top of interesting initiatives, innovations and practices that may still be at the fringes, but have the promise to become mainstream."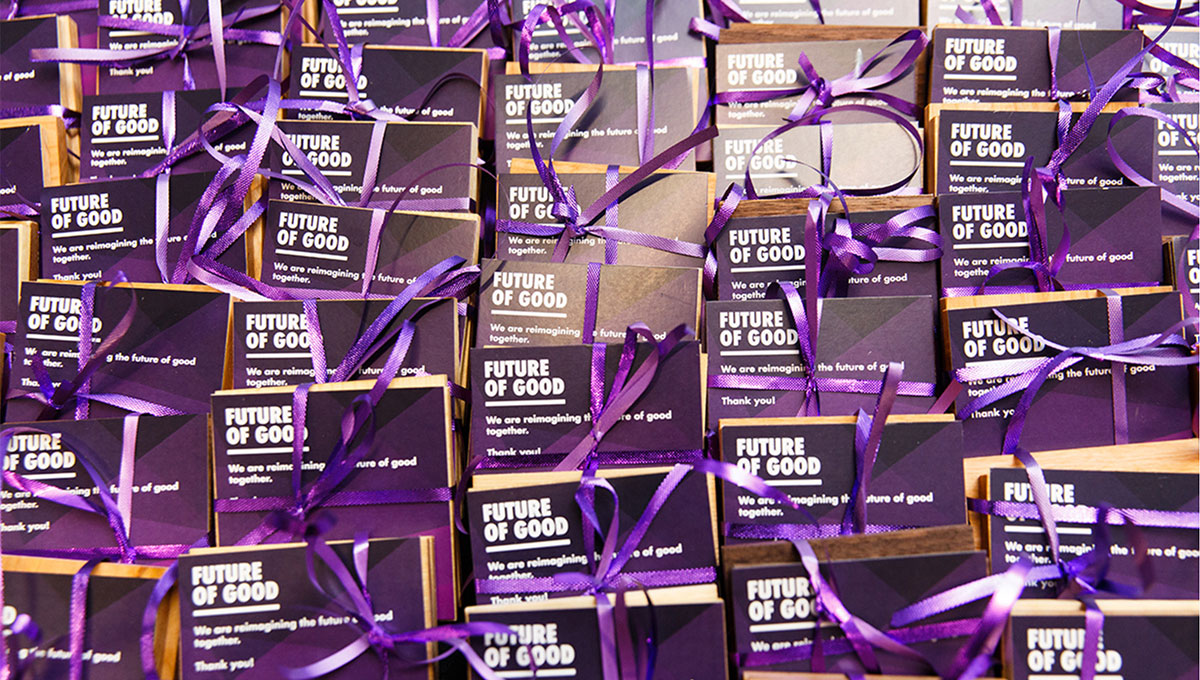 Bringing Together Social Impact Professionals
Future of Good began as a one-off conference in 2017. On the 150th anniversary of Canadian Confederation, many sectors organized conferences to consider their future in a rapidly transforming technological landscape. Rajasekaran observed that volunteerism, philanthropy and international development were changing too—but no one seemed to be talking much about it in Canada. So he organized a two-day event that brought together social impact professionals from across the country.
The gathering left attendees wanting more, but Rajasekaran wasn't certain of the best way to provide it. Staging another conference was an obvious possibility, but Canada is vast, and charities have limited resources and time. After consulting with social impact professionals across the country, Rajasekaran decided that a digital publication that covered the sector would be the best way to fill the need.
"We wanted to bring people the best coverage, the best content and the best insights—no matter where they are. You can be in Kuujjuaq, Nunavik; Mahone Bay, N.S.; or Scarborough, Ont. It doesn't matter. That is really hard to do as an in-person event. This helps us do it."
The onset of the COVID-19 pandemic presented Future of Good with new challenges, and its editor Kylie Adair had only been with the publication for about a month when lockdown began in March 2020.
"I was just getting my feet wet, and had only just started to take over Future of Good's editorial calendar, but we made a decision that was pretty risky for a small publication with limited resources," says Adair, who graduated from Carleton's Bachelor of Journalism program in 2015.
"We decided to throw out our entire editorial calendar and everything we had planned and devote ourselves entirely to covering the impacts of COVID-19 on the social impact world.
"During the pandemic, a lot of media coverage has focused on how charities were struggling—losing revenue or having to close down. That is really important to cover, but there was not a ton of coverage on all of the innovation that was happening in the social impact world. We identified that as a gap, and made it part of our regular coverage. We created a project called Canada's top 100 recovery projects, and crowdsourced stories about 100 projects happening across Canada that are helping people recover.
"Some are led by individual people and some by large organizations. Now, it has been almost a year, and we're starting to look at a series of stories that ask the questions: what has permanently changed, what has not and what should?"
Thursday, February 18, 2021 in Alumni, Community, Leadership
Share: Twitter, Facebook