Carleton University's Institute of African Studies will host 17 West African women academics over the next three years as part of the highly competitive QES Advanced Scholars West Africa program. Only 11 proposals including Carleton's were retained this year.
The institute received $287,360 for the Queen Elizabeth Scholars program, which is supported by the International Research Development Centre (IDRC), Rideau Hall and Universities Canada.
First created in 2014 to improve global talent exchange between Canada and other nations, the QES program aims to develop the next generation of innovative leaders and community builders by providing enriched academic, professional and cross-cultural experiences and by facilitating lasting local and global community engagement.
This particular initiative will offer exchanges for doctoral researchers and postdoctoral fellows between Carleton and West African countries with a focus on gender equality.
"It is an honour to be selected for the QES program, and a wonderful opportunity to build on Carleton's long-standing commitment to African scholarship," said President Benoit-Antoine Bacon.
"This important partnership between the Institute for African Studies and West African academics will open an exciting new chapter of collaboration."
The project's principal investigator and professor of African Studies, Nduka Otiono, called the project "Wurin ta na yin rubutu," the West African Hausa language equivalent of "a room of her own to write." He says it was inspired by an Africanization of Virginia Woolf's 1929 essay A Room of One's Own, which described challenges still faced by women today.
"We recognize that women academics in West Africa, despite having attained higher levels of education, might continue to face personal and institutional constraints in completing the requirements of the PhD and early career advancement," said Otiono.
"Women's triple roles of production, reproduction and community management increase the barriers women confront in building an academic career. By providing often lacking resources and an enabling community of stakeholders and facilitators, this project is designed to create intellectual and logistical support, including space and time away from non-research obligations, for West African women on a research development trajectory."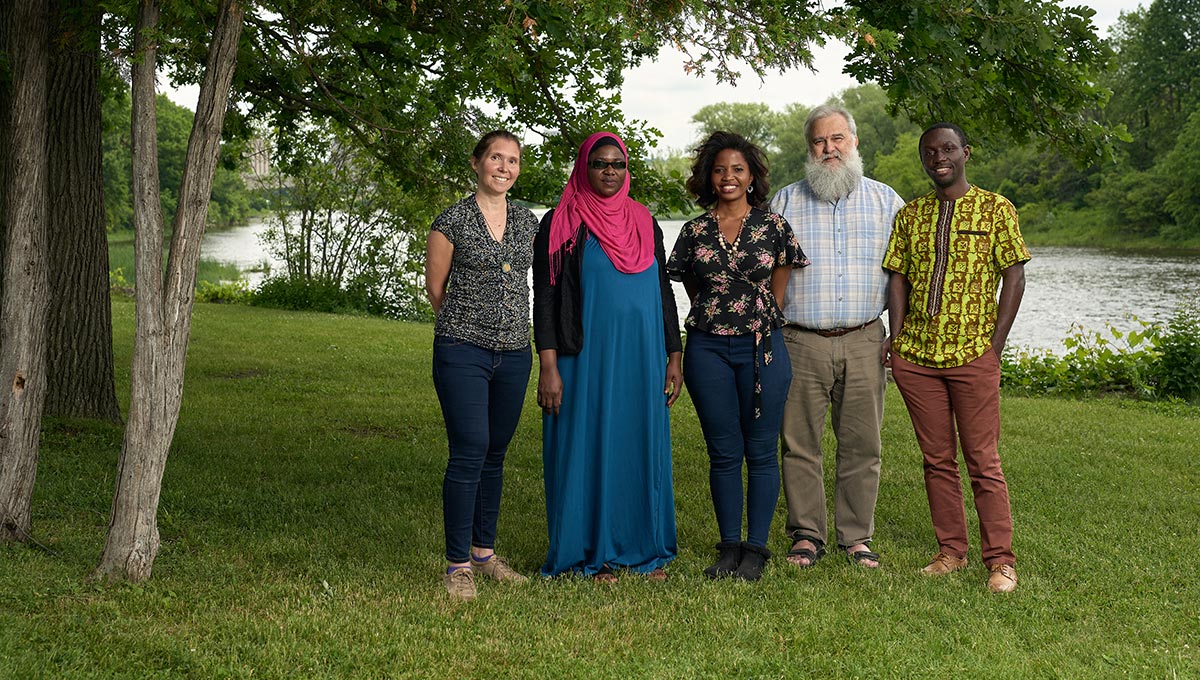 Overcoming Structural Challenges
The researchers coming to Carleton will represent a variety of disciplines and will collaborate with faculty members in units across the campus, including the Sprott School of Business.
"The challenge that African women lecturers and researchers face include structural challenges that individuals find difficult to overcome on their own," said Prof. Aisha Fofana Ibrahim, assistant deputy vice-chancellor at Fourah Bay College, University of Sierra Leone, and adjunct professor at Carleton University, who collaborated with Otiono on the proposal.
"Canada's leadership in focusing on women leaders is a catalyst for change, and I certainly want to be part of supporting women doctoral candidates, postdocs and early career faculty with PhDs gain the training, networking, leadership skills, and practical application of the research in the research placements."
The institute will help facilitate placements with a number of partners, including IMPACT-Partnership Africa; CODE, an NGO that promotes literacy; the Afro Canadian Chamber of Commerce; and the University of Sierra Leone. It will also facilitate co-creation of research proposals between the selected scholars, Carleton facilitators and placement partners.
The partnership includes plans for virtual collaboration until restrictions imposed by the COVID-19 pandemic have been lifted. It is scheduled to continue through 2024.
Thursday, December 17, 2020 in African Studies, International, Research
Share: Twitter, Facebook