Graduation is a time for students to reflect on their years of hard work and achievement. In November 2021, more than 1,300 students received degrees that recognized their dedication to education. For those who have excelled in their studies, Carleton awards numerous medals to honour their work.
Carleton announced the medal winners, including students who won the Governor General's, Chancellor's and President's medals, on Oct. 22, 2021—the same day it conferred the fall graduating class degrees.
Researcher of Extreme Animal Adaptation Wins Governor General's Gold Medal
The Governor General's Gold Medal is awarded to one graduate student at the head of the graduating class.
The fall 2021 recipient is Hanane Hadj-Moussa, a PhD graduate in the Department of Biology. Her dissertation "Molecular Adaptations of Mammalian Hypoxia Tolerance" examined how animals survive a lack of oxygen.
The study of animal adaptations to extreme conditions has significant potential impacts for humans. "There's a lot of therapeutic and medical applications," says Hadj-Moussa.
"For example, if we can figure out how animals like naked mole-rats can survive in low oxygen environments, then we can apply this knowledge to the treatment of stroke, ischemia and RNA drug design."
Hadj-Moussa joined the Carleton community as an undergrad to study environmental science. Once her first year concluded, she switched her program after finding her passion in biology. A master's degree at Carleton followed before she pursued her PhD in Prof. Kenneth Storey's lab.
During her graduate studies at Carleton, Hadj-Moussa conducted research into the arsenal of defences animals have for overcoming their extreme environments. From freeze-tolerant frogs in Ottawa and their application for organ preservation, to hibernating lemurs from Madagascar and torpid marsupials from Chile relevant for research into extended human space travel, to the metabolically-suppressed Red Devil squid lurking in the ocean depths of Mexico.
Carleton's picturesque location next to the Rideau River had distinct advantages for Hadj-Moussa when she was conducting research on low oxygen levels and crayfish. "I could go from fieldwork in the river, to publishing a paper, to teaching and mentoring students along the way," she says, noting the convenience of the river's proximity to her lab.
In addition to her research, Hadj-Moussa was also involved on campus during her time at Carleton—volunteering with the Science Student Success Centre (SSSC) and being an active member of Carleton's rock-climbing club.
Hadj-Moussa began a new role as a post-doctoral research scientist at the Babraham Institute affiliated with Cambridge University, where she will be conducting research on aging and metabolism.
Hadj-Moussa has some advice to share with incoming science students—including those who would like to dive into research.
"Get involved in research as early as you can, see what courses you like and from there build off of that feeling."
The Governor General's Silver Medal was awarded to Sarah Rosa for her standing as the undergraduate student at the head of their graduating class. Rosa graduated with a Bachelor of Arts Honours in Psychology.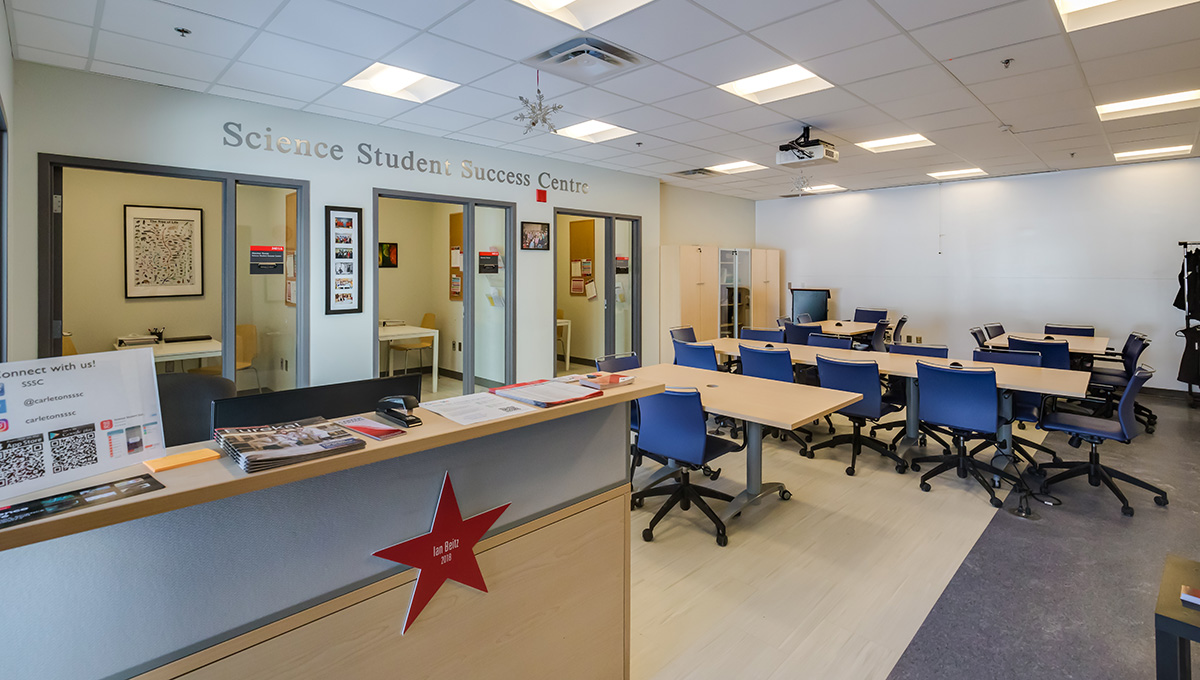 Chancellor's Medal Winner Notes Importance of Experience
The Chancellor's Medal is awarded in the name of the university's Chancellor to a graduating undergraduate student of outstanding academic achievement. Faculty of Engineering and Design graduate Christopher JiaJun Wang is the recipient for fall 2021.
Wang was initially drawn to studying at Carleton because of the opportunity to participate in a co-op as part of his degree.
"I highly valued finding workplace experience while in school and therefore Carleton Engineering seemed liked a great fit," he says.
Getting involved outside of the classroom at Carleton also provided Wang experiential learning opportunities, such as taking part in a hackathon.
"It really was a great experience to spend 24 hours with my friends building something truly unique," Wang says. "Looking back now, I can tell that our project was something shoddy and basic, but when we started, it felt like our brains were bursting at the seams trying to hold all the new information we were learning."
Wang notes that his social circle was an important aspect of his academic success during his studies and encourages incoming students to find support from their peers.
"I can certainly say that I would not have achieved this level of academic success without the friend structure that I've been lucky enough to find during my time at Carleton University," he says.
"In my experience, the best academic help, the best career advice and the best personal support that I received during my degree came from my friends."
While Wang's immediate plans are to join the workforce to gain more professional experience, his involvement in machine learning research leads him to expect a return to academia in the future.
President's Medal Winner Highlights Faculty Support
Reilly Michelle Dwyer knew she wanted to study the law well before university, participating in mock trials when she was still in high school. The Law and Legal Studies graduate decided to study at Carleton due to the strong depth of experience of its instructors and professors.
"I noticed that other universities were more focused on the theory of law, whereas Carleton seemed to have more professors that had actually practiced," she says.
Her passion for the subject shone through as Dwyer was awarded the President's medal, which is given to the student with the highest standing in a general degree program of studies.
Dwyer found her faculty members engaging, supportive and dedicated, which in turn has encouraged her to continue to pursue her legal studies.
"It was very obvious that they have a passion for what they were teaching and they really cared about passing that on to students."
In addition to her excellent academic performance, Dwyer also maintained a full-time job with the Canadian Coast Guard during her studies. Following graduation, she will be moving into an Operations Officer role, an experience she plans to leverage for her future legal career.
"My overall goal is to gain a greater understanding of maritime law, so that I can eventually become an admiralty lawyer."
Reflecting on her time at Carleton, Dwyer recommends students not be afraid to reach out for help when they need it.
"There is a kind of a stigma that goes against asking people for help but, the fact is, when you lean on other people it shows you have the intelligence and understanding that you're not going to know everything right off the bat," she says.
"If you are able to lean on the supports that you have and use them to your advantage, you show that you are a stronger student—not a weaker one."
Monday, November 15, 2021 in Awards, Convocation, Convocation 2022, Grad Stories, Graduate Students
Share: Twitter, Facebook