A welcoming committee of red and black swarmed Alumni Hall on March 21 as the Carleton Ravens brought home a sixth consecutive national win from the CIS men's basketball championship in Vancouver.
The Ravens triumphed over the Calgary Dinos and reclaimed their national crown on Sunday, March 20 at the University of British Columbia.
Banners, television reporters, a DJ, with fans and cheerleaders greeted the players as forward William Kohler carried in the W. P. McGee Trophy to thunderous applause. The players all happily dropped their bags and soaked in the cheers as they found family members amid a sea of high fives and hugs.
"I'm extremely happy with how everyone has stuck with it throughout the year and obviously with how the season ended," said interim Head Coach Rob Smart. "All of them have had a great year and worked really hard. I'm very proud of what they've accomplished."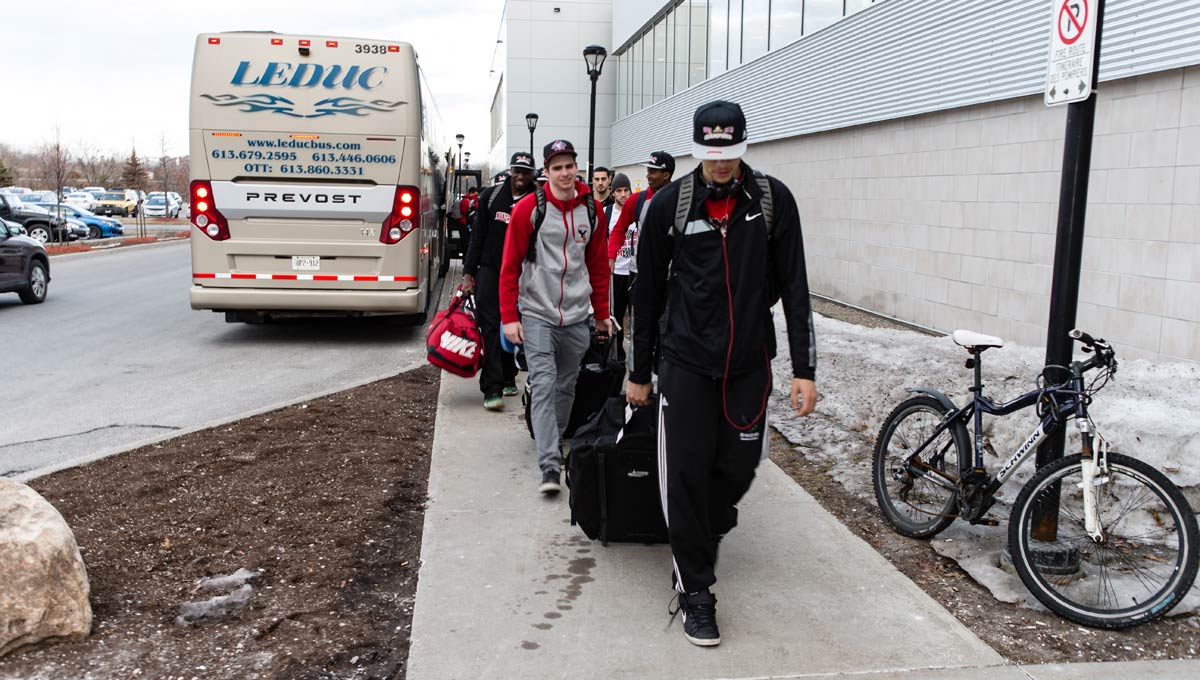 Smart, who replaced his uncle Dave as head coach during the latter's sabbatical, beamed with pride as he hoisted the CIS Final 8 Trophy for the cameras.
The Ravens men's basketball team has won 12 national titles in 14 years with three generations of players.
This year's national win is Carleton's sixth in a row since 2010-2011, just one win short of tying the record back-to-back champions, the Victoria Vikes.
Such a successful program requires major dedication of both coaches and new players, since most Ravens usually can't remain on the roster for more than four years.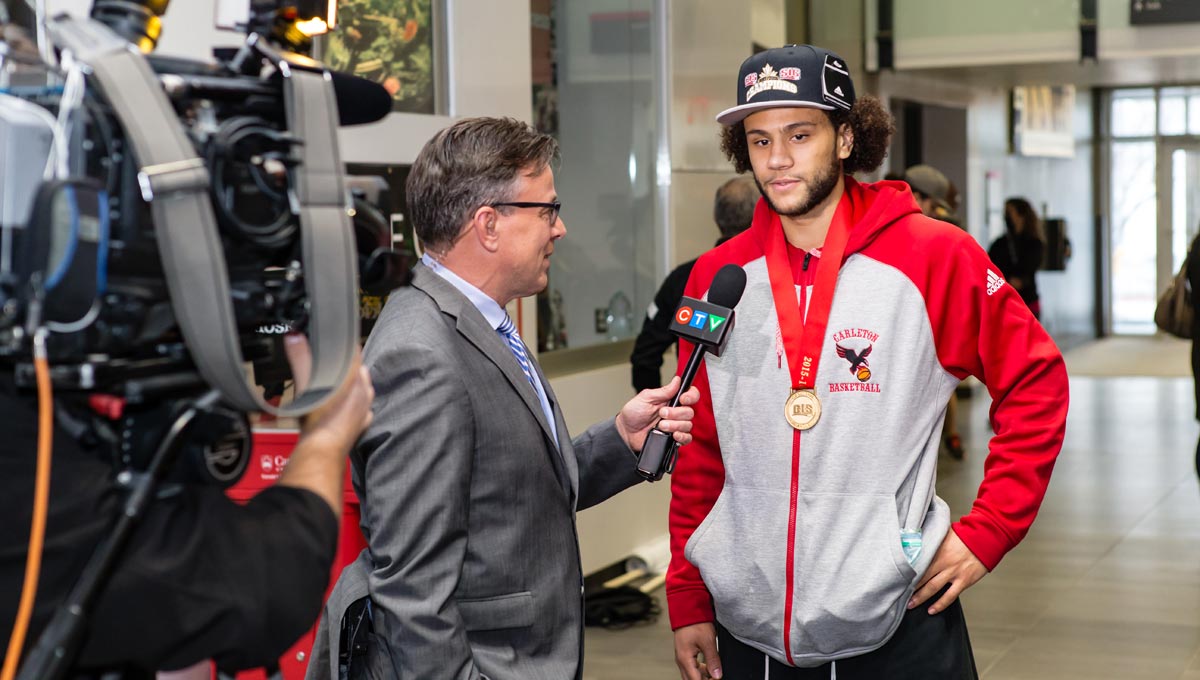 With less ceremony but just as much pride, the Jack Donohue Trophy for Most Valuable Player was also returned to Alumni Hall. On Sunday, fourth-year guard Connor Wood took 22 points from the Dinos and was named one of the top five championship all-stars, alongside teammates Ryan Ejim and Guillaume Payen Boucard. His performance all season and in the Final 8 showdown earned him the MVP title for 2015.
"I did not expect that, I was not thinking about it all," said Wood, "but it felt pretty good to be named MVP."
This fall's absence of star players Thomas and Philip Scrubb indicated that 2015-2016 might have to be a season to rebuild. Since both brothers graduated, they've gone on to professional basketball leagues, Thomas at Kataja Basket in Finland and Philip at AEK Athens in Greece.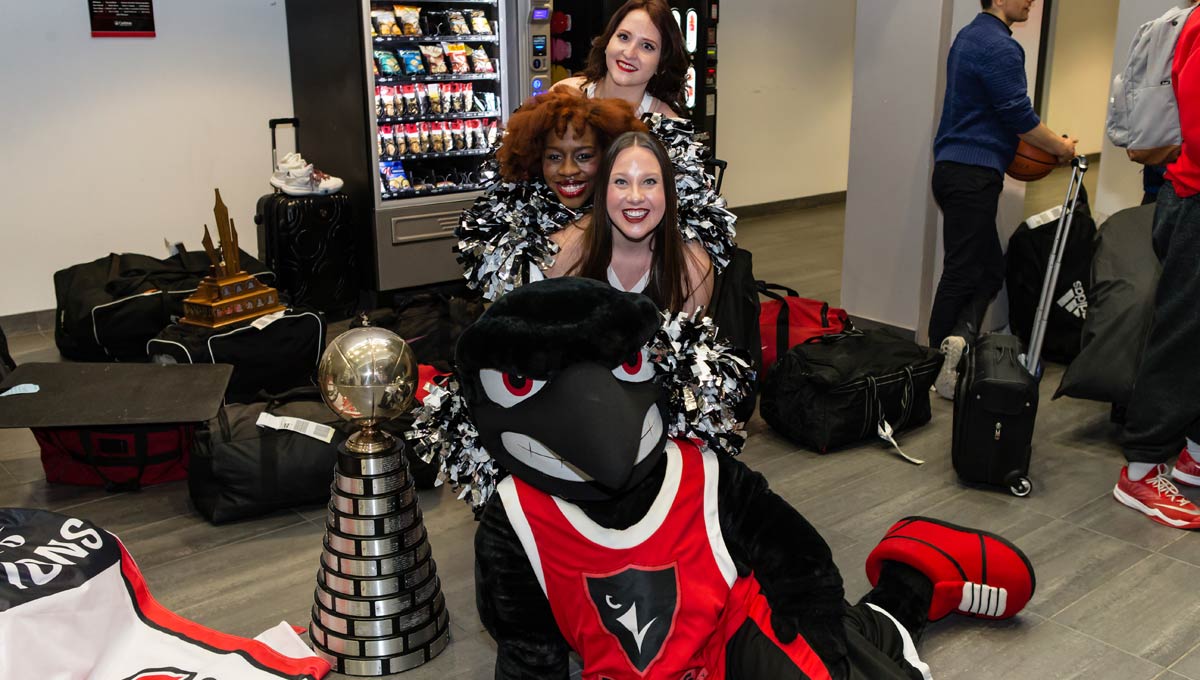 But returning teammates like Wood were always right alongside the point leaders in past seasons, as well as other Ravens champions Ejim, Payen Boucard and Kaza Kajami-Keane.
Fourth-year Kajami-Keane netted 15 points on Sunday, while Payen Boucard managed to scoop up 10 rebounds and 12 points. Ejim added 12 points with six rebounds and four blocked shots. All five starting players reached double digits that pushed the Ravens final score just above 100.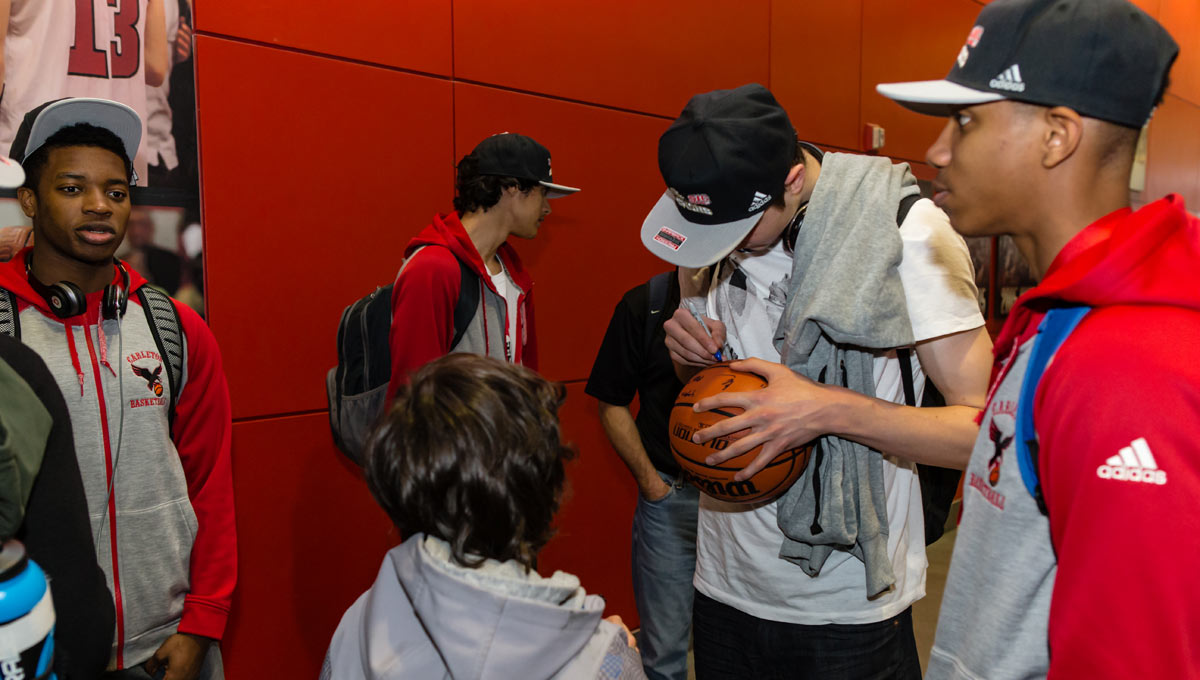 Almost 4,500 spectators gathered at UBC's Doug Mitchell Thunderbird Sports Centre for the championship game, where the Ravens tore ahead in the first quarter to keep a firm advance over the Dinos. Although the Canada West champions valiantly tried to overtake the Ravens lead, the University of Calgary team was unable to close the margin that grew from 12 to 16 points in the first half. The final score was 101 to 79.
It was a perfect end to a tremendous season that saw the Ravens lose just three games, one to the Ryerson Rams and two to the Ottawa Gee-Gees.
Tuesday, March 22, 2016 in Athletics
Share: Twitter, Facebook